Artificial Intelligence (AI) is changing the way of doing things at a rapid pace in today's world of business. This bot revolution has spurred excitement about unrestrained prospects of what people can achieve with machine augmentation. The brand, reputation and position everything of companies is being challenged. Disruptive start-ups are dominating the entrepreneurial landscape. Making customer experience more personal is the key to surviving and winning the battle with your competitors. Win the customer's heart and strengthen the engagement bond with the customer. How?  By building Intelligent Customer Segmentation that supports the Know Your Customer (KYC) business drive.
Intelligent Customer Segmentation (ICS)
Artificial intelligence is already widely used in business applications mainly to streamlining operations and improving efficiencies. Here the idea is to use the power of Artificial Intelligence to create an Intelligent Customer Segmentation (ICS) tool by understanding customer psychographics, spend behavior and interests. The purpose of this tool is to create AI based customer segmentation. This will be done by training a computer on the relevant data and features. Multiple machine learning models will intelligently categorize the customer into one of the predefined psychographics categories. Some examples of such categories are given below however; these can be discussed and finalized with Business.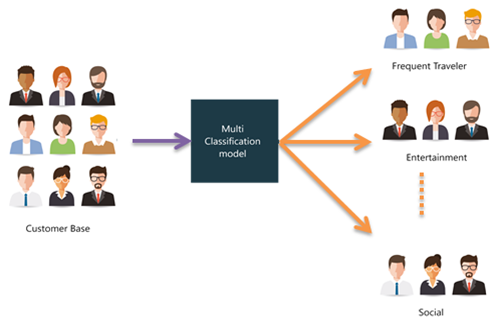 How ICS works?
To determine the psychographic category, machine learning models will be trained on four complex features as shown in below figure. Note that data to build these four features will be obtained from Business Data Repositories, Google Analytics and Social Platforms.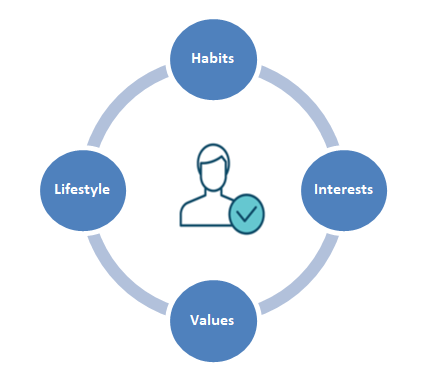 Details of the Key Features are given below:
1)     Habits  
Habit describes the collection of traits that someone consistently exhibits over time. Customer Habitual Factor (CHF) will be calculated by traversing customer transaction and digital data over regular periods. A component of the model will be trained to calculate the CHF for each client for both primary and supplementary card holders.
2)     Lifestyle
Lifestyle is the collection of someone's day-to-day activities: their associations, where they live, where they spend their time, etc. Customer Lifestyle factor (CLF) will be calculated using customer transaction and lifestyle data. Furthermore transaction tickets, lounge and additional data will be traversed to further optimize the CLF based on the frequency of rentals, air bookings and hotel bookings over regular intervals.
3)     Interests
Interests include hobbies, pastimes, media consumption habits, and what occupies someone's time. Customer's transaction data will be analyzed to understand which type of industries customer spend the most. What are the frequency and the volume of transactions?  Customer Interest Matrix (CIM) will be developed to rank the customer interests. A separate component of the machine learning model will be trained to evaluate CIM.
4)     Values
Someone's values describe their sense of right and wrong. Customer Sentiments Score (CSS) on the social platform will be calculated. This will be combined with Customer Feedback Score (CFS) and Customer Loyalty Score (CLS). Separate components in the model will be developed to calculate the CSS, CFS and CLS score. This also will be determined at both primary and supplementary card holders.
Applications of Intelligent Customer Segmentation (ICS)
Business can gain several advantages by integrating ICS with business applications. Here are few of them:
Provide ability to create revenue-driving personalized customer experiences by providing relevant offers to customers.
Provide ability to aid in the identification of optimum distribution strategies for new products/services.
Provide ability to create targeted campaigns for specific segments of customers to increase sales and revenue.
Provide ability to develop better engagement with your prospective customers.
Cheers :)