In the 21st century, COVID-19 is the first pandemic that spreads worldwide and affects major world's population. Thanks to technology and AI-powered projects that use machine learning to target a broad range of fields for outbreak assessment. The growing trend in COVID-19 cases is due to the sudden reopening of cities after a complete lockdown. It forced the Governors to pause the reopening or implement smart lockdown in hotspots for COVID-19.
Identification of COVID-19 hotspots empowered by technology
Technology helps to resist the spreading of the outbreak in the big cities for a potential attack of coronavirus. Pakistan's Planning Minister Asad Umar referred the use of technology for tracking and identifying pinpoint areas to impose smart lockdown there.
The Federal Government of Pakistan asked Dr. Umar Saif, CEO of SurveyAuto, to practice his technological expertise. He created a web portal that simplifies COVID-19 control by implementing smart lockdown after identifying hotspots. It provides real-time information that's easy to consolidate in one place.
Interestingly, one cannot calculate the actual number of rising patients via a single metric. For instance, the results may differ due to the three factors:
The number of tests increased at a particular time.
Transmission rate increased.
Both factors together can also result in rising COVID-19 patients.
NCOC strategy to identify COVID-19 hotspots
The National Command and Operations Centre (NCOC) detected 20 big cities at high risk of COVID-19. The pandemic already affected more than one million people countrywide. It identifies by using the strategy of testing, tracing, and quarantining (TTQ). The TTQ technique quickly checks for active coronavirus patients and efficiently quarantine that specific area. NCOC talked about the operationalization of oxygenated beds and further ventilators to support patients. Moreover, it asked the National Disaster Management Authority(NDMA) to provide on-time critical healthcare instruments.
World Health Organization adjured Pakistan to apply lockdown in the country as the number of affected patients increased at a high rate. That results due to the leniency in the countrywide lockdown strategy during the last months. The twenty hotspots areas:
Karachi, Quetta, Rawalpindi, Faisalabad, Lahore, Peshawar, Swat, Sukkur, Larkana, Gujrat, Sialkot, Ghotki, Hyderabad, Multan, Dera Ghazi Khan, Mardan, Khairpur, and Malakand.
Hence, it forced the government to impose smart lockdown across vulnerable areas as the majority of people became infected with it.
SurveyAuto technology
It is a technological organization that deals with the computer sciences domain. It offers unique systems to collect high-quality and reliable information from the field. SurveyAuto comes up with a strategy that only highlights the hotspots of the coronavirus disease. It pinpoints the areas with a high number of COVID-19 infected patients. Thus, it helps to permit locomotion around the country by sealing only concerned areas. It also offers a positive influence on economic dealings that will otherwise be affected severely. The working technology behind SurveyAuto is as simple as one can say. It will take a seventy-five-billion-dollar research industry by using artificial intelligence. Let's discuss this.
How SurveyAuto collects data in real-time?
It works on advanced technology that uses Artificial Intelligence (AI) & Machine Learning (ML) as a national contribution to fight coronavirus. The users can easily install this application in their smartphones. Moreover, it favors them to know are they healthy or infected in real-time without going to any hospital for testing. It exceptionally marks, tracks, and screen survey areas using Machine Learning on Satellite Imagery & Hyperspectral Imagery. It provides high-quality information about collected data by analyzing voice and images automatically.  
How SurveyAuto efficiently detect hotspots of the COVID-19?
It collects data from water bodies, farms and fields, industrial buildings, and houses to check their vulnerability for coronavirus activity. It provides information about exact survey targetsby combining the available and collected data. Besides, it diminishes the need for any pre-survey and avoids human errors to support a clear and compelling AI-based analysis.
It gathers information from all well established and poverty areas by using satellite imagery strategy. Furthermore, it also analyzes Call Data History to get information about people with coughing. Its system is efficient enough to visualize farm areas and any natural catastrophe at day and night to save the community. SurveyAuto delivers the tracked and monitored information in no-time to access the changes and take action accordingly.
How the final results of SurveryAuto helps government?
In simple words, people who are working in the government's fields having smartphones install the SurveyAuto App. Consequently, it produces an easy to get epidemiological and mathematical graphic analysis. The system sends the collected information to the government to take quick action about the outbreak. It uses a machine-learning strategy coupled with satellite imagery to detect COVID-19 occupied space. The system uses the SEIR COVID-19 prediction model to count houses, produce population maps, and outbreak spread rate graphs.
Faisal Sultan statement about SurveryAuto technology
After all, prediction models use the obtained analysis to share on-time updates about the hotspots of COVID-19.  It ultimately helps to lockdown only those specific areas. SurveyAuto strategy inspired Doctor Faisal Sultan, the PM's focal person for the outbreak; he shared a statement:
''Grateful to Umar Saifand his startup SurveyAuto for providing the platform for hotspot-based selective lockdown in Pakistan. It is based on sophisticated mathematical and epidemiological models to highlight hotspots and enables the govt to monitor compliance.''
Dr. Umar Saif, the Chief Digital Officer of Jang/Geo Media Groups, didn't take even a single penny. He said in a conversation that nothing is more valuable than the safety of Pakistan and its residents. In one of his tweets, he added that SurveyAuto is a joint AI and Big Data technology to conveniently apply Smart Lockdown.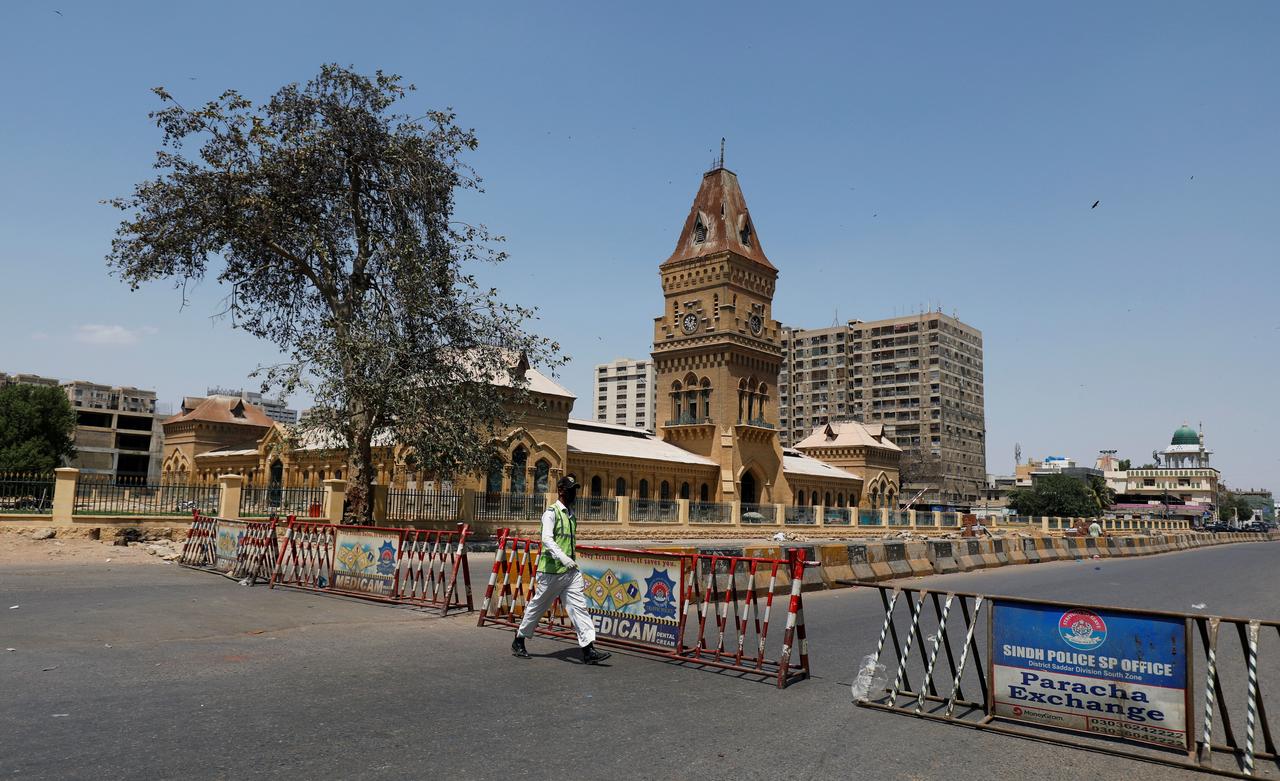 Advantages of using AI-based SurveyAuto technology
The technology under discussion also involves the prediction of expected patients in every affected region. Moreover, it provides a comparison report of expected patients and hospital capacity to acquire them. SurveryAuto, while collecting field workers' data, shares real-time instructions related to standard operating procedures (SOPs). It also reduces time consumption and errors due to human inefficiency or inexperienced staff members. Dr. Umar Saif added more:
''SurveyAuto uses a crowdsourcing model and relies on machine learning to decide who reports data, where it's collected, and when and how often it is reported. It reduces cost and lessens human errors''.
However, the clock tower market of Faisalabad is one of the busiest markets in the city. SurveyAuto app recorded a significant drop in the identification of COVID-19 patients.
Bill Gates opened doors to support this innovative technology and invested in the firm. SurveyAuto Technology is in use explicitly for several other departments including:
Innovation in Poverty Action (IPA)
World Bank
ITA
UNESCO
How AI helps to monitor area after lockdown?
AI technologies, also famous as Futuristic, help humans in business as well as control pandemic spread. It's an efficient tool to fight outbreaks by focusing on healthcare and providing public healthcare services. It provides pharmacology, medical, and hospital care services to overcome the disasters of coronavirus. Moreover, it monitors crowded areas and alerts the concerned department in real-time to take the right action. Data obtained from AI technologies help to proceed with the process towards conclusions.
AI-based chest X-Ray technique
Recently, the research institutes started developing artificial intelligence-based algorithms to support the next generation. It prevents them from acquiring any disease as the AI machine learning system detects and stops the spread of the outbreak in a given time. Medical Image Screening Platforms developed by AI Laboratories detect coronavirus activity by a chest X-ray of a patient. If the X-ray shows the symptoms of pneumonia or SARS-CoV-2, the software reads information and alerts the doctor about the disease. AI reduces the time of testing that, on average, takes two weeks to minutes. So, the developed prediction models help to lower infection spread rates to a great extent.
Hospitals & public healthcare centers
AI and healthcare services helped the human community by taking their burden to identify either person is wearing a face mask or not. An intelligent-edge device is placed on the hospital's entry point. It comes with an Infrared Sensor that detects any change in optimum body temperature and alert doctors about any alarming situation. While the AI portion detects face-mask-wearing people; so, it permits to enter only those with average temperature and face mask. The science behind this technology is Azure Bot informing responsible staff at hospitals or healthcare centers in real-time about any abnormality.
The healthcare workers also utilize a wireless, easily portable, and versatile device to monitor the patient's information. It favors the front-line workers to share incoming patient's details in no time with the doctors.
Public place strategies
Different organizations are working to provide new norms to develop innovative solutions for public and crowded places. However, they offer kiosks to protect the environment from coronavirus and other related diseases by accessing body temperature. New advanced AI combined devices are efficient to detect
Face Mask
Optimum Temperature
Internal Auto-dispenser (sanitizer)
AI-based cameras monitor crowds and social distancing
L&T Smart World & Communication (Larsen & Turbo's business unit) developed an AI-based camera with crowd control technology. The cameras are installed with deep learning analytics to access the crowded area and share real-time triggering information with the police station. The crowd should not exceed the limit of five; otherwise, the police officers have to take action and disperse people.
Vehicle movement and AI detective technology
The given exceptional technology predicts the distance of the vehicle from the residence of its owner. Moreover, no driver can drive beyond a set limit of traveling even to buy goods. The vehicle's location is under constant investigation by Machine Learning that uses Automated Number Plate Recognition (ANPR) System. The technology is currently in action in Hyderabad, where the police don't allow automobile movement beyond three kilometers. Otherwise, the efficient ML system sends signals to the police that allows them to take any action.
Selfie-based AI tracker to watch people's activity in quarantine
It's an exciting and unique way to monitor population activities under lockdown. Vijna Labs, a Bengaluru based firm, started Home Quarantine Tracking System. The platform uses a fool-proof Artificial Intelligence application that people install in their smartphones. To start, they have to share their name, cell phone number, selfie, and COVID-19 related information. The individuals then register themselves with the app that requires verification. Once the verification process completed, the individual is now allowed to upload selfies and location tags automatically.
A private cloud-based AI server receives this information and scans the face and his location in real-time. It records the first geolocation of a person as his home and saves this information in a live dashboard. When the guy again shares his selfie, it should match the primary location to avoid warning.
Hence, if it mismatches with live database details, it will trigger a response from the authorities to take action. In this way, it helps keep people at home to maintain social distancing and ultimately save lives. The app is currently in use in India, and its functionality is highly based on artificial intelligence.
Surveillance cameras outside's front doors
China installed cameras insides the homes to examine when people leave their places with artificial intelligence. All international arrivals are asked to stay at home for at least two weeks. The government assigns them to wear electronic-bracelets that are in real connection with their smartphones. Resultantly, it sends alert notifications to authorities if the quarantine people leave or change their places. Poland also launched an app that asks for selfies to confirm that people stay in quarantine.
There is a variety of technologies that secured many lives by using AI principles to combat COVID-19. Authorities around the globe are trying to track the COVID-19 spread and monitor the people's behavior towards this pandemic.AI helps to track patients, stop the spread, monitor quarantine life, control crowd in public places, access face-masks, and social distancing. Furthermore, there is a dare need of fusion system that helps to give more accurate results about COVD-19 spread and its preventive measures. With a reliable data fusion system, doctors get a better idea about patients' health and chances of recovery.