If you are here reading this post, then you must spend your time writing blogs and articles for your site, do you?
As we are living in 2022, and running a successful blogging site in this era is way more than just thinking about new ideas and targeting profitable keywords.
Bloggers have to be fast and productive in their work; the blog you post on your site must be high in quality, but you cannot obviously do all the work manually; therefore, AI technology is here to help you reduce your workload and stress.
There are plenty of AI-based tools available on the internet to help bloggers and writers ease their writing work but picking the best tool is what seems difficult.
In this post, we will discuss the 7 best AI-based online tools which every blogger will love to use in 2022.
If you want to know about the tools, keep on reading!
The 7 Best AI-based Tools to Consider
There are variety of tools available online but we have shortlisted some of the best in them, let's dive into them.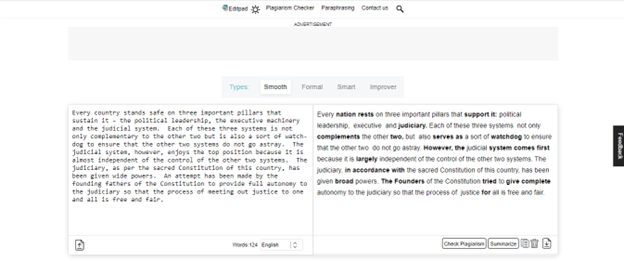 A paraphrasing tool is every blogger's best friend, and the reason is that it has the ability to create an entire blog post in just a few minutes, and the content the tool produces is free of plagiarism.
Bloggers do not have to put much effort in order to use a paraphrasing tool for their work; the tool is designed on a very sophisticated AI algorithm that takes input text from users and generates a completely new version of the text.
A good paraphrasing tool works in multiple languages allowing users to reword content in whatever language they want without even the need to pay any sum.
Mostly, there are multiple modes of paraphrasing, users can select any mode of paraphrasing based on their needs and requirement of the text.

Plagiarized content can ruin the success of any blogging site because it is strictly against the guidelines of Google to publish plagiarized material.
Google crawlers never entertain duplicated content, and what is the point of publishing content if it doesn't get the eyes of Google?
Therefore, it is mandatory to always run your blog content through a plagiarism checker and never publish it unless and until it is free of plagiarism.
A plagiarism checker is designed with AI technology, and it works by taking the input text from the user and then checking it for plagiarism by comparing it with all of the sources available on the internet.
The tool takes very less time to do all the comparisons, and once the comparison is completed, it generates the results by mentioning the total percentage of plagiarism and by highlighting the plagiarized text in different colors.
3. Text Summarizer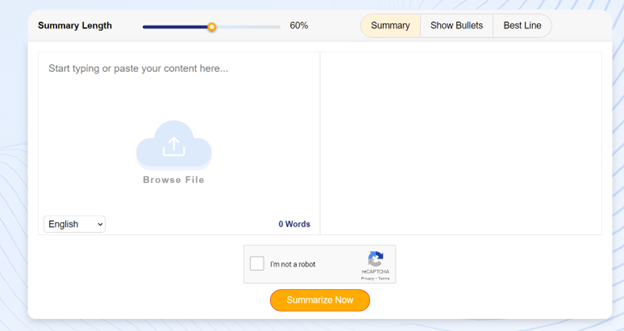 Next, we have a summarizing tool, and as obvious from the name, the summarizing tool is an artificial intelligence-based tool that condenses lengthy texts into simple and shortened text.
The most important sentences, which provide an overall overview of the discussion, are often included in summaries generated by the tool.
Bloggers usually have to add a solid conclusion at the end of every blog post, and the conclusion must include the main theme of the post; to write the conclusion, bloggers have to read the whole content, which takes time.
Therefore, the simple and easy solution is to copy the complete post and paste it into a text summarizer; the tool will generate a short summary including all main points and sentences, which can then be used as a conclusion.
The tool is simply amazing as it asks users whether they want to generate a summary in bullets or sentences.
Users can also specify the total number of words for the summary; if they want the total summary of 200 words, they can simply specify it in the tool.
4. Grammar Checker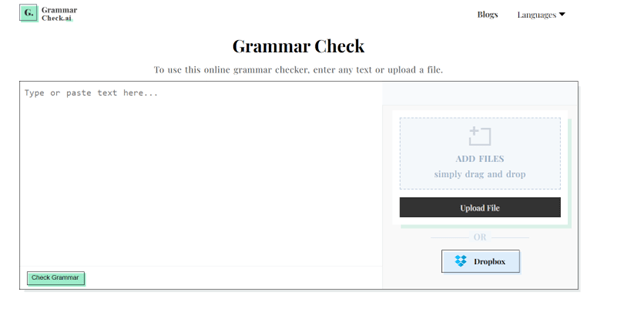 A well-written blog post must be free of all grammatical, spelling, and punctuation mistakes, and to ensure this, we generally proofread our blogs before publishing them on our site.
Proofreading normally takes a lot of time and energy, and still, there are chances that we can skip the mistakes; if we publish content with grammatical mistakes, it will consider poor quality content, and we can never rank with such content.
Therefore, it is good to take help from technology. A grammar checker will not just find grammatical and spelling mistakes in our content but also fixes them within just a blink of an eye.
The content proofread by this tool will not leave a chance of any mistake because the AI that works behind this tool goes through each line and word of the text.
The grammar checker works for multiple languages, which means you can find grammatical errors in English and other languages as well.
5. Keyword Density Checker
Now that you have created content for your blog post and you have targeted your profitable keyword, what about the frequency of the keywords in your content?
Obviously, you don't want to publish content with keyword stuffing; therefore, it is important that you use an AI-powered tool to check the density of keywords in your content.
The tool will tell you the density of long tail keywords as well as the short tail keywords, which can help you rank better on a search engine though keyword density is still a small ranking factor considered by Google.
Last Words
If you are looking for the best AI-powered tools to streamline your content writing work, this post is for you; we have discussed the 5 best tools which every blogger needs to use in the year 2022 and the rest to come.
Have a look at them and grab the tool which suits your requirement.

About the Author
Annie Bay is a writer and SEO Expert since 2014.