We've all been there. You're furiously typing away at your keyboard, trying to get the next blog post out before hitting publish. And then...you hit publish, and it's just not what you wanted. The formatting is off, you found typos and grammatical errors at first glance, and now you need some help proofreading your work before it goes live. Luckily, there are plenty of tools out there that can help! Here are our top 7 favorite content writing and proofreading tools:
ChimpRewriter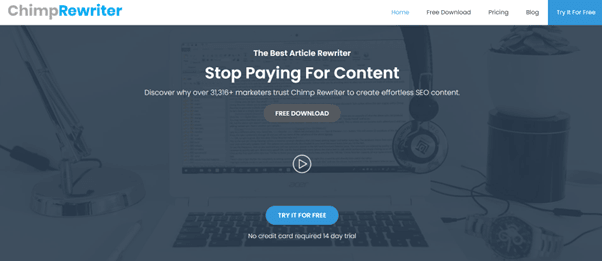 ChimpRewriter top-of-the-line content writing tool. It's a freemium tool that comes with 14 days trial. It will generate content for you that you won't have to proofread. But still, I always recommend proofreading before publishing because machines and programs can be quick but can't be smart like real humans. So there's no harm in using AI tools for help, but never 100% rely on these tools.
ChimpRewriter uses complex algorithms to grab content from various sources, spin and rewrite them using AI and NLP technology and gives you almost 100% perfect and unique content for your blog.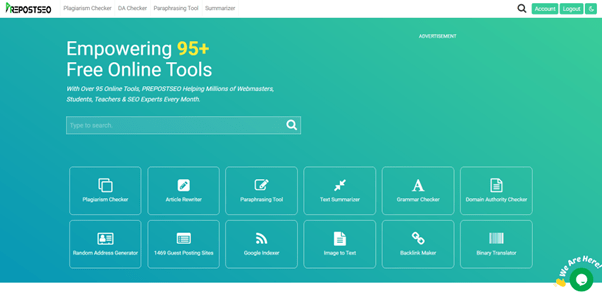 Prepostseo is a great hub of proofreading tools with various tools for checking grammar, spelling, word count, readability, and keyword density. It also offers a plagiarism detection tool, which can be helpful if you're trying to avoid being caught out by someone else's work on your website.
This website has been my favorite because it offers a bunch of tools a writer needs in daily life. These tools can help a writer in various ways, especially writing and proofreading your blog posts and articles. To assist in writing, PrePostSEO has a paraphraser tool that can help in generating unique content in minutes. While grammar checker, spell checker, and readability checker will assist and speed up your proofreading.
Paperrater
Paperrater is a free online proofreading tool that can be used to edit your writing. It gives you the opportunity to check grammar, spelling, and punctuation by simply inserting a text into the tool. You can also use it to check readability by modifying different styles of writing so that they fit in with your audience's expectations.
Paperrater has been around for many years now and has proven itself as a reliable tool for those who need help editing their work before submitting it for publication.
Cite it for me
Cite it for me is a free tool that checks the bibliographic style of your paper. It checks for citation errors and gives you suggestions on how to fix them. It's the best tool for students and researchers because it offers a unique service.
It also checks for plagiarism, which can be caused by copying text from other sources without citing them properly.
Cite It! works well as an academic writing tool because: it provides information about the different types of citations used in scholarly papers; it has built-in tools that help writers find relevant information about their topic (e.g., a list of relevant journals); and it provides feedback on how well certain elements fit together within each section/subsection so that they flow smoothly throughout the entire document(s).
Ginger
Ginger is a free grammar checker and proofreading expert that can be used on any website and has the ability to detect many different types of errors. It has a mobile app, which you can download from Google Play or Apple iTunes, depending on your platform of choice.
Ginger also comes with an extension for the Chrome browser, so you don't have to download anything extra to get started; it's ready right away when you open up your web browser after the installation has finished!
Suppose you're looking for a tool that allows proofreading before submitting your work to an editor. In that case, Ginger should be at the top of your list—it's easy to use without being too complicated or overwhelming (which means less time spent trying out different programs).
Ginger is the second best choice after PrePostSEO because it offers all the tools a writer needs to write and proofread. PrePostSEO goes a step forward by offering technical tools for SEO writers to check SEO friendliness and keyword density.
Wordy
Wordy is a copy editing and proofreading tool that allows you to write in the cloud and share documents with others.
It has a free version and paid versions, but if you want the full power of Wordy's premium features (like its ability to automatically format your work), then you'll need to upgrade for $14/month or $49/year.
Wordy also offers mobile apps for iOS, Android, and Windows 10 devices so that all of your writing can be done on the go! If you have access to an Apple Watch or Android Wear device, they're also compatible with these apps too (but don't expect them all).
Hemmingway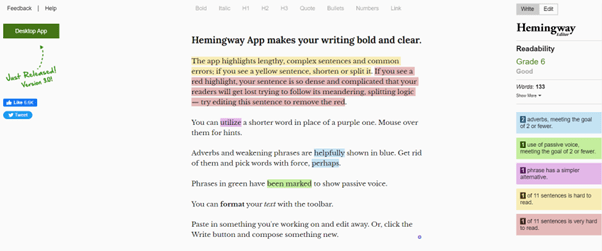 Hemingway is a web-based writing app that helps you write and edit your text. You can also use it to create outlines, organize your thoughts, and do more than just write on paper.
Hemingway is a free writing app that helps you write and edit your text. It's easy to use, with an interface that looks like those of other word processors such as Microsoft Word or Google Docs. But it is more than just Word Processors because here, you will get proofreading suggestions while you are writing. It shows readability score, word count, grammatical errors, punctuation errors, spelling mistakes, and other suggestions that can polish your writing before submission.
Conclusion
We've covered a lot of different writing and proofreading tools here, but these are the ones that we think can stand up in most situations. If you're looking for a free tool that might help with your content, we suggest Grammarly and PrePostSEO. Having used it ourselves, we can say it's an excellent choice for both beginners and experts alike!