With every passing day, the awareness of social issues is increasing, making every responsible citizen find ways to contribute to society's betterment in one way or the other. This has resulted in an increase of socially "Conscious Consumer Spending" (CSS), with #CCSIndex up by 25% in 2021 from 2020. This heightened trend manifests that people are spending their money more consciously. As a responsible and Socially Conscious Consumer, you must be donating your money or volunteering your time by participating in a charitable event to support a charity. If you are a shopping lover at the same time, Amazon offers you to contribute to social good along with the fun of shopping. AmazonSmile – a signature program by Amazon, enables its users to adopt CCS by giving back to society along with a delightful shopping experience.
AmazonSmile is a simple and automatic way to donate to a charitable organization of your own choice without any extra cost. Amazon has approximately 310 million customers all over the world – almost equals the entire US population. If these customers make a conscious choice and purchase items via amazonsmile.com, they can support a charity and contribute to social good.
Whether you are a socially responsible Amazon customer or a representative of a charitable organization who wants to be a part of Amazon Smile to get aid, this blog will be a useful guide. We will discuss what AmazonSmile is, how it works for consumers and charities, its pros and cons for both, and many more. Let's start!
What is AmazonSmile? How it helps you Support Charities?
AmazonSmile is a private foundation by Amazon under section  501 (c)(3) that works to serve various causes of charities, including animal welfare, women empowerment, child education, sanitation, and many more. It is an attraction for socially responsible shoppers that does not cost them any extra. They will not just find the same price and huge selection with a delightful buying experience as amazon.com; they will also get the additional benefit of donating 0.5% of their eligible purchase amount to their favorite charitable organizations. Since the Amazon Smile foundation is built to make donations, the donor will neither pay any extra charges for the donation nor tax. He will pay the same amount as he would pay if he bought that product from amazon.com.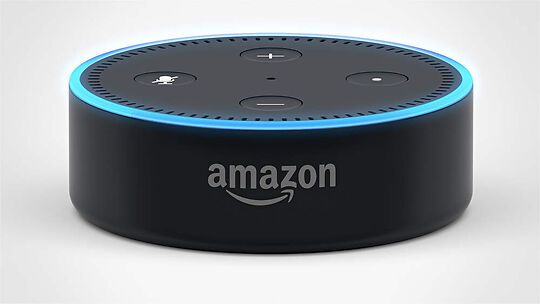 When a customer visits amazonsmile.com and makes an eligible purchase, the foundation deducts 0.5% of the paid amount and saves it into the fund for their selected charitable organization. It happens each time they make any eligible purchase on AmazonSmile. After a quarter, the foundation calculates the collective donation made by a customer's purchases within that quarter and deposits it to his selected charity through electronic funds transfer. If, at any time, the donor wants to trail his donated amount generated via purchases/shopping, he will just hang over the name of the charity, and it will display all the relevant information.
Though AmazonSmile is not the only example of giving to charity while shopping, because of its unique and convenient tech solution, it ranks at the top with total donations of over 377 million USD to charities since its launch in 2013.
What Purchases are Eligible for AmazonSmile?
All the products on amazonsmile.com are not eligible for charity; they are just tens of millions. To check if the product you are going to purchase is eligible for donation or not, click on its product listing and explore its product page. If you find the tag "Eligible for AmazonSmile Donation," it means that with its purchase, AmazonSmile will donate 0.5% of your purchase value to your selected charitable organization.
What is AmazonSmile Charity Lists Program? How does it Work?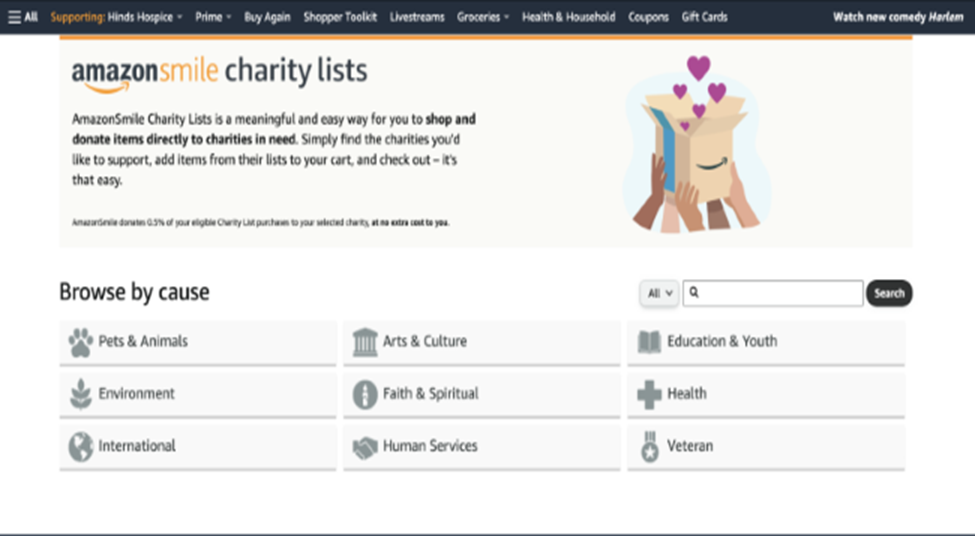 It is an additional feature of AmazonSmile that allows customers to shop for items for those in need and donate directly to the charity of their choice. The charities create and share the list of charitable items they need the most at the Amazon Smile program. To donate items from the Charity List, visit amazonsmile.com, get amazonsmile login, select your favorite charity, and explore its charity list of items that the organization needs the most. Purchase them for charity, and sign out. Amazon will deliver your donated items from the charity list to the charity's verified address.
Besides donating the charity items, AmazonSmile will also donate 0.5% of your paid amount to your selected charity. Hence, by using AmazonSmile Charity List, you will be donating charity items and the fund also to your favorite charity.
To donate items from the charity list on your mobile phone, go to the amazon shopping app, then click the "Programs and Features" menu, and tap "Charity Lists." Select items from there, and purchase to donate the same way as discussed before.
How does AmazonSmile work for Consumers?
AmazonSmile is a simple and the best platform for Amazon customers to support their favorite charitable organization every time they shop. Though a new Amazon user might find AmazonSmile a bit daunting and might be reluctant, but it is very easy to use once they activate their account on amazonsmile.com and understand how it works. Let's discuss this in detail!
Turn On AmazonSmile and Donate
To avail the noble cause of donations while shopping, you will have to turn on "AmazonSmile." Let's walk through the steps to use AmazonSmile on your desktop or mobile devices; however, the iPad and tablet app does not support this program. For more details, please visit smile.amazon.com/onthego.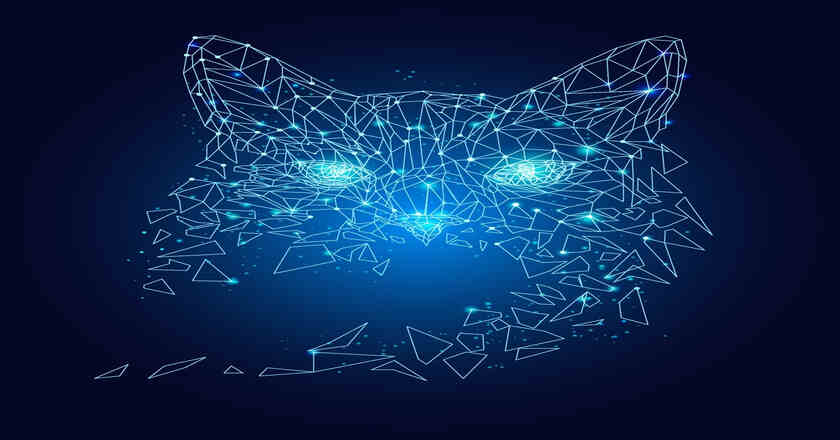 How to Turn On AmazonSmile on Web Browser?
To turn On AmazonSmileon your desktop/web browser and donate funds, follow these steps:
Activate an Account on AmazonSmile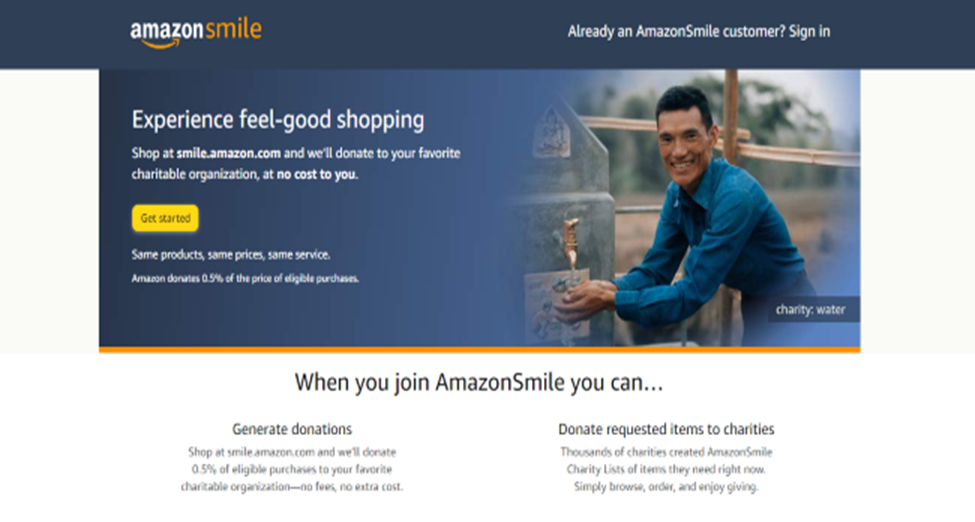 Visit amazonsmile.com; you will find the AmazonSmilelogo at the top left corner of the page. Then click "Get Started" and follow the instructions on the page to set up your new account. If you are already using Amazon and have an account, then it will simply ask you to enter your email/phone number and password for amazonsmile login; you don't need any separate account for Amazon Smile; the same account you use for amazon.com will also work for this amazonsmile.com as well.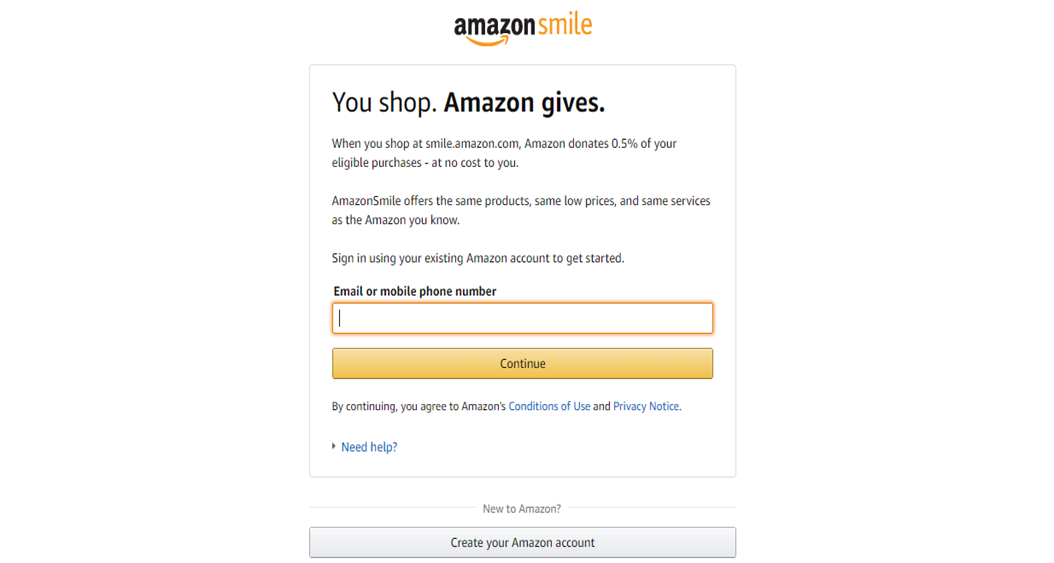 Out of over 310 million active accounts of Amazon customers, 90 million are of Amazon Prime members. If you are the member of Amazon Prime , you will also enjoy amazonsmile prime perks. If you don't have it but want to join, create Amazon Prime Account or avail of its free trial membership.
Select a Charity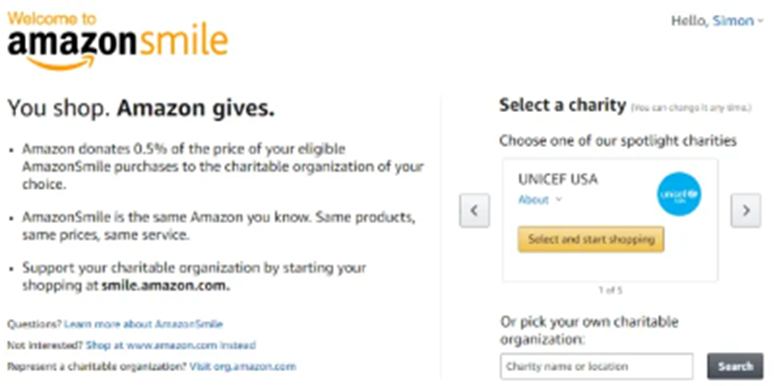 After amazonsmile sign in, you will be driven to a list of more than one million eligible charities. Select any charity of your choice from the list. As the list of charitable organizations is huge, you will most likely find one you always trust and prefer. Red Cross, World Wildlife Fund, Planned Parenthood, and ASPCA are among the spotlight charities of Amazon Smile. However, if you look for a specific organization of your choice within your surroundings, you can explore it by name or location. If you plan to change the charity organization at any moment, it's not a hard task.
Start Shopping, and Donate
Once you select the charitable organization, go to amazon storefronts and start amazonsmile shopping the same way as you normally do at amazon.com. Explore the items that you want and make an eligible purchase. Once you purchase that item, 0.5% of the purchase amount will be deducted from your payment and automatically donated to your selected charity. Afterward, AmazonSmile will remember your selected charity and show it on your account; whenever you go for amazonsmile log in to visit amazonsmile.com and make an eligible purchase, it will again deduct 0.5% from your purchase price and add up to your previous contribution. The accumulative donation will be transferred to the charity after a quarter. At any time, you can check your AmazonSmile account to know how much you have contributed by far. Once you have donated funds, check out smile.amazon.com. Please bookmark this page for a quick visit and donate.
How to Activate AmazonSmile in App?
Using the Amazon App, you can turn on AmazonSmile on your Android phones (version 7.0+) and iOS devices (version 12+). Follow these steps to activate amazonsmile app, and donate from your mobile phone:
Download the latest version of the Amazon "Shopping" app from the App Store if you have iPhone. In case of Android phones, download the app from Google Play.
If you are already an AmazonSmile member, start using it following the below-given steps. However, if you are a new member of the program, first sign up at smile.amazon.com before going through these steps.
On your mobile phone, open the app of "Amazon Shopping."
Tap on the (≡) to navigate the main menu.
Click Settings and select "AmazonSmile."
Choose the charity for donations.
A set of on-screen instructions will appear; follow these to activate AmazonSmile in app.
Once you activate AmazonSmile app, any eligible purchase you make from this app will generate a 0.5% donation from your purchase price that will be later transferred to your selected charity, as discussed above.
How does AmazonSmile work for a Charitable Organization?
For a charitable organization to get selected by the AmazonSmile shoppers for charity, first of all it must appear in its charity list. However, just appearing in the charity list by AmazonSmile is not enough; an organization has to register itself at amazonsmile com to receive donations from eligible purchases. For registration, go to org.amazon.com and click on "Register Now." In the search bar, look for your organization name or search it by EIN. Then tap the "Register" button next to your charity name. Read the agreement and follow some simple instructions to get registered; that's all!
Though the list contains the names of more than one million charity foundations, all of them are not registered at amazonsmile.com. If an amazon shopper selects your charity, but unfortunately you have not registered it, you will not be able to receive donations. However, Amazon Smile will send a notification to your organization, realizing you need to get registered to receive donations. If you give a prompt response and get it registered, then AmazonSmilewill transfer the donations to your charity after a quarter. But if you fail to register your organization, all the accumulative donations will be transferred to another registered charity after eight quarters.
How to appear on AmazonSmile's List?
To appear in the charity list of AmazonSmile, a nonprofit organization must meet the following criteria:
It must be a Public charitable organization, as AmazonSmile does not include any private foundation in its charity list.
It must be qualified under Section 501 (c)(3) with good IRS standing.
It must not support other organizations unless specified as Type 1, 2, or functionally integrated Type 3.
It must have a USA-based headquarter.
It must be a recognized organization in its states and territories of incorporation.
It must not be engaged in any illegal activities.
How to Register with AmazonSmile?

"AmazonSmile Org Central" is the platform where charitable organizations get registered. If you are a representative of a charitable organization and meet the criteria mentioned above, visit org.amazon.com for registration to receive donations through AmazonSmile. Registering at amazonsmile.com is a simple and easy process; you just have to read the agreement carefully and accept it. However, remember that Amazon Smile can unregister your organization at any time if it finds changes in IRS standings or any violation of your agreement. It can also drop you off if it finds any changes in your email or bank account. Therefore, an organization must keep on checking its status on AmazonSmile even after it has enrolled itself. However, before amazonsmile.com proceeds to unregister your organization, it will notify you about you getting eliminated, so you will have to fix the issue promptly. Remember, at AmazonSmile, claiming your account is free of cost, but if you don't claim, you may likely lose accumulated donations.
If you belong to a nonprofit organization and have any further queries in your mind, visit this page to make your confusion clear. Also, review the "AmazonSmile Participation Agreement" to get further details.
Does the Donation of 0.5% of Purchases make a Good Substitute for Direct Donations to a Charity?
Well, there are differences of opinion on it.
According to some thinkers, it will be worthwhile with the gradual increase in online sales, as global e-commerce retail sale is increasing at an exponential rate. It was worth $5.2 trillion in 2021, which is predicted to hit $8.1 trillion by 2026, with an overall increase of 56%. Alibaba is the largest eCommerce retailer of the time, with above $700 billion in online sale value in 2022. However, the forecasts reveal that by 2027 Amazon will surpass Alibaba by generating $1.2 trillion in online sales. With this huge predicted uplift in sales value, it is believed that even a tiny donation of 0.5% from each sale at AmazonSmile will contribute massively to a charitable organization.
The other group believes that 0.5% of your purchase is not a substantial donation. It means if you want to contribute just $25, you will need to make purchases worth $5000 on Amazon. Hence, to make a significant contribution, you will have to purchase frequently from amazonsmile.com.
As Sandra Miniutti, the marketing VP at Charity Navigator, says:
"Unless you are a huge shopper, these types of giving scenarios should not be a substitute for donating directly to a charity that you have vetted and trust."
Pros and Cons of AmazonSmile for Consumers
Pros
An easy and exciting way of making donations while amazonsmile shopping.
No additional cost beyond the actual purchase price.
No need to ponder what items would be the most useful for your selected charity, as you can view the most needed items from the charity list provided by your favorite charitable organization.
Cons
The donation amount is very small. If you are a socially responsible consumer who has always contributed massively to support institutions helping the poor and needy, you can't depend solely on this platform, as these little donations can't be a substitute for larger donations.
You can donate to just one charity of your choice at a time. You select a charity initially, and all your donations are collected for that single charity. If you want to donate to more than one charitable organization, you will need to switch to the previously selected one, and then all your donations will go to that single charity. If you want to donate to your two favorite charities at a time, as you would have normally been doing while making direct donations, it's not possible on AmazonSmile.
It needs double-checking. When you visit amazonsmile.com, it requires you to ensure that you are on the correct portal to work seamlessly. Moreover, before making any eligible purchase, you need to confirm from your selected organization if it is registered with AmazonSmile or not so that your donations are transferred to that selected charity.
Whether it's a larger charitable organization or a smaller one, the donors supporting their preferred organization must realize that donating via amazonsmile.com is not a substitute for the personal contribution they could make via direct donations. It just offers its consumers an opportunity to support a charitable organization while enjoying the shopping experience.
Pros and Cons of AmazonSmile for Charitable Organizations
Pros
AmazonSmile can be worthwhile for large organizations having millions of contributors. As amazon is a platform used by millions of consumers, the huge number of supporters for a large organization can contribute enough when the fund adds up, though individually, they seem small. CharityNavigator – the world's largest and self-regulating nonprofit evaluator, confirms that some charities on AmazonSmile have collected millions from the program.
Setting up for AmazonSmile is very easy and quick if you are a 501(c) (3) charity.
Statista (2021) reveals that the Amazon shopping app is used monthly by 98 million consumers in the USA, making it the second largest shopping app. With this huge consumer base, most charity supporters might be making purchases from Amazon Smile via the Amazon shopping app, which could be an enormous fund when added up.
Cons
The supporters' donating habit directly to their favorite charitable organization may diminish. They may feel that they have contributed to a particular organization through the AmazonSmile program, so there is no need to donate it by any other means. But actually, the donation percentage through smile amazon is too small to support a charity compared to direct donations. If the fundraisers need support for some special cause, their engaged donors via AmazonSmile may not be interested in supporting them directly.
AmazonSmile does not give you access to the personal data of your donor that you could get if the donor reached you directly. Hence, a nonprofit charity may lose any other opportunity for the donation from its Amazon Smile supporter. Simply, your organization can neither add your supporters to its database nor send them a "Thank You" note.
Your organization is bound to advertise the AmazonSmile program on its website if you want donations through it. You will have to inform your supporters that they can now donate to your organization through AmazonSmile and push them to make eligible purchases from this program.
For larger charities with a huge supporter base, AmazonSmile might contribute a significant donation. However, engaging the donors personally would be a better choice for a smaller organization if it wants to get more funds.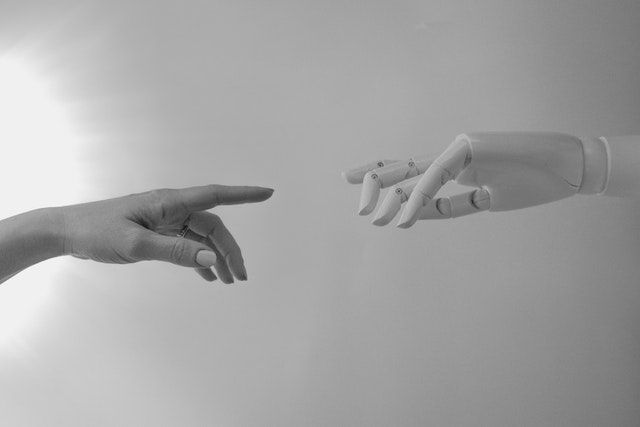 AmazonSmile – a Win for Everyone
AmazonSmile is a charitable program that offers a win-win situation for everyone, benefiting everyone included in the network – the donors, the charities, and Amazon itself. The donors can take benefit of making donations along with the fun of amazonsmile shopping. The charities meet the famous platform of Amazon to get recognized and receive donations and requested items from their old and new supporters from all over the world. Besides the donors and charities, amazonsmile.com also benefits Amazon. With the Amazon Smile program, socially responsible consumers who were not previously shopping from Amazon will be attracted to shop from this platform to make an impact of their purchases for those in need. Hence, it may further increase the number of Amazon shoppers.
Through this most popular and visible signature program, Amazon is engaging its socially aware shoppers to support their favorite charities. If you are already an Amazon shopper, who more often makes purchases from Amazon, then doing the same through AmazonSmile is a better choice to contribute to social good.