A smartwatch is an advanced wearable device that supports various apps while often monitoring your health. Serving as a light and small version of smart phone, a smartwatch is perfect for daily use as it brings convenience by offering you all the useful and updated information right at your wrist. In this modern era, technology is coupling with fashion and fitness to introduce incredibly stylish and functional smartwatches. The demand for smartwatches is expected to grow based on such continuous advancements. According to a forecast, the global market size for the smartwatch, which was $30.4 billion in 2021, will hit $156.3 billion by 2030 (20.1% CAGR), manifesting a phenomenal adoption of this smart gadget. Though it is exciting to accessorize with a smartwatch, finding an ideal balance of style and functionality is hard to conclude, particularly if you need to select the best smartwatch for women.
Most smartwatches for women come in a wide range of productivity, and fitness tracking features monitoring their stress level, sleeping and menstrual cycle pattern. In contrast, others cater more to their fashion needs. From versatility to health monitoring, these sophisticated pieces are more than just a device to tell the time. But, of course, the appearance, value and functionality of each smartwatch for women is different. In this blog, you will find a guide about the best smartwatches for women in the fashion and fitness categories. This write-up will help women make a worthwhile purchase from a bounty of the best smartwatch options available.
Best Smartwatches for Women
The modern era has introduced us to several fashion and fitness accessories like Smartwatches that make a worthwhile purchase for a modern and health-conscious lady. Various smartwatches for women offer style, fitness tracking and many other features all in one pack, making the options seem limitless. With many choices available in the market, finding the right smartwatch for a woman might be a challenge. The best smartwatches for women are generally the best for everyone; however, the particular models reviewed below may cater to women based on their wrist-friendly sizes, stylish designs and cutting-edge health monitoring features. Though some models can work with just particular smartphones, all are the ideal smartwatches for women to buy right now directly from the company or an online retailer like Amazon, where some models might be available on sale. Our most liked best smartwatches for women are discussed below.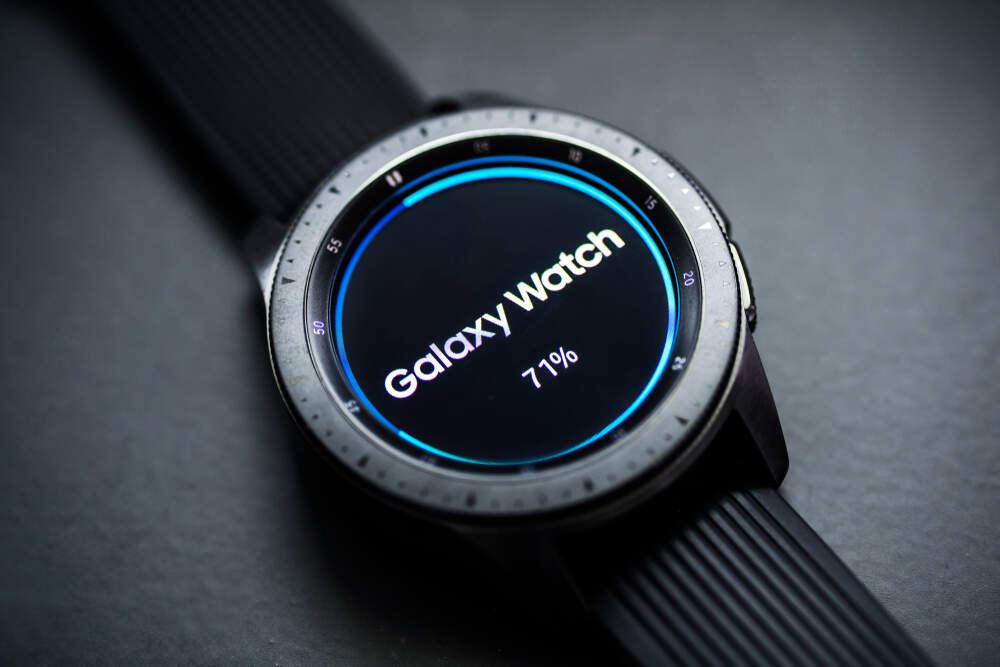 Released: September 2022
Specs:
Display Type: Retina LTPO OLED, 1000 nits (Always-on)
Display Resolution: 484 x 396 pixels (almost 326 ppi density)
Display Sizes: 41mm/45mm
Colors: Silver, Gold, Graphite
Waterproof Rating: Up to 50 meters (5ATM)
RAM/Storage: 1GB/32GB
Software: WatchOS 9.0
Connectivity: Bluetooth 5.3, Wi-fi, dual-band
Battery Life: 36hours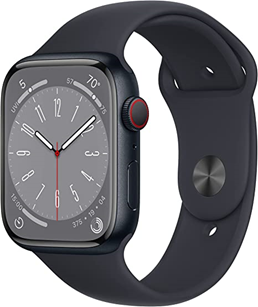 Apple Watch is among the most familiar smartwatches in the market, and its most recent addition to the lineup of smartwatches is Apple Watch Series 8. To attract fashionable and aesthetically conscious ladies, this smartwatch for women offers a huge range of straps with stainless steel and aluminum finishes. Pick different designs for the watch face and display various apps to tailor it for a particular use. This iPhone-only smartwatch is similar to series 7 but has additional safety and temperature sensor features, a smooth metal body, and an always-on display. To improve safety and fall detection features, Apple Watch Series 8 comes with an additional accelerometer and gyroscope to realize if a car accident happens. If you don't respond within 20 seconds after the car accident, it identifies that your condition is critical and automatically calls emergency services. This life-saving feature in the Apple Watch Series 8 is unique and amazing. Equipped with a great range of health and fitness apps, the Apple Smart Watch Series 8 can track your steps, detect falls, and monitor SpO2 and heart rate.
A pair of temperature sensors monitor women's menstrual cycle and ovulation. It tracks the change in body temperature after ovulation, then syndicates it with recorded cycle data to predict the evolution day. This feature in Apple Watch Series 8 makes it a valuable tool for women who desperately want to get pregnant or avoid it. They can also track their menstrual cycle for irregularities.
Whether it's about women's cycle, heart rate, ECG or any other function, all the health data is registered in the "Health App" on your iPhone. This data is encrypted end-to-end if you have a validated iCloud account, so neither Apple nor any third party can read your data. You can even receive/make calls on your smartwatch and send/receive messages, control your smart home gadgets, access Siri, make purchases using the Apple Pay app, display boarding pass and many more.
Equipped with NFC, GPS, loudspeaker, and numerous other features and styles, the Apple Watch Series 8 is a perfect all-rounder for glamourous women who want a stylish fitness tracking device on their wrist. If you want better usability, especially for composing messages, the 45mm version of the Apple Watch Series 8 is perfect as it has a larger watch face. Otherwise, go for the 41-mm version of this smart watch with compact watch face.
Pros:
Fast Charging
Crash Detection
Amazing Retina Display
Temperature Sensor to monitor ovulation and menstrual cycle
Sleep Tracking is improved
eSIM functionality
ECG Certified
Cons:
High Price
Only compatible with iPhones
No 3rd party watch faces
Battery life needs improvement
Among all the rip-offs, "high price" is the most concerning factor when purchasing this smartwatch for women. If you are price conscious iPhone user, Apple Watch SE2 is a good alternative with almost the same features at a low price.
Released: August 2022
Specs
Display Type: Super AMOLED (1.4 inches, Always-on)
Display Resolution: 450 x 450 pixels (almost 321 ppi density)
Display Sizes: 40mm/44mm
Colors: Graphite, Silver, Pink Gold, Sapphire, Black
Waterproof Rating: 50 m water resistant (IP68)
RAM/Storage: 1.5GB/16GB
Software: Android Wear OS 3.5, One UI Watch 4.5
Connectivity: Bluetooth 5.2, Wi-fi, dual-band
Battery Life: 50 hours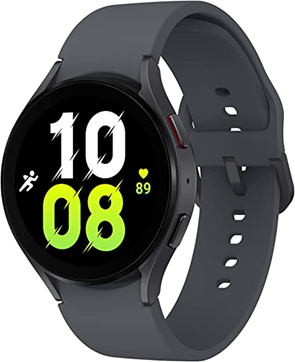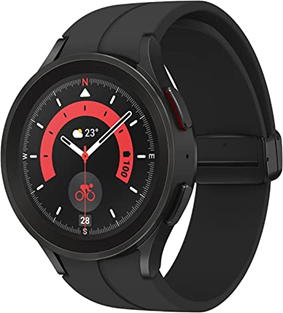 For Android users, our top pick is Galaxy Watch 5 Series, which offers two models; Galaxy Watch 5 and Galaxy Watch 5 Pro. Packed with great functionality, the features in both models are almost similar. However, Galaxy Watch 5 Pro has more outdoor-focused features and is best for adventurers with a significantly larger battery and enhanced GPS. Its sapphire crystal glass and rugged titanium case make it more durable than the base model but more expensive at the same time.
This absolute best galaxy wearable holds everything you loved in its predecessor but with add-on battery life, sturdiness, and a little design modulation. Similar to its predecessor series of Galaxy Watch 4, the Galaxy Watch 5 series also runs on the powerful Wear OS software and One UI Watch overlay. This smart watch for womenoffers numerous tracking features and Google apps like Google Play, Maps, and Google Assistant. You can even listen to music offline using YouTube Music. Equipped with notably advanced and accurate heart sensors, the Galaxy Watch 5 series is a perfect choice for fitness tracking. Like iPhone Watch 8 series for iPhone users, Galaxy Watch 5 Series enables women to track their menstrual cycle and ovulation date in the Samsung Health app. Its BIA sensor allows you to analyze your body composition. You can monitor your blood pressure and ECG data on your Samsung phone. With GPS, NFC, loudspeaker, Samsung Pay feature and more, Samsung Galaxy Watch 5 series is the best galaxy wearable for Samsung phone users.
Pros:
Fast Charging – almost 50% charged within 30 minutes
Advanced sleep tracker
Robust than predecessors
Sporty (Galaxy Watch 5 Pro)
Versatile
Added Skin temperature sensor
Longer-lasting battery life
ECG Certified
BP monitor
eSIM functionality
Swim-Proof, LTE is optional
Cons:
Skin Temperature Sensor is not active at its launch.
Digital bezel
Some features can work only on Samsung phones.
3.  Fitbit Versa 3 – Best Smartwatch for Women Who Want Style, Value and Functionality Together
Released: September 2020
Specs:
Display Type: AMOLED (1.58 inches)
Display Resolution: 336 x 336 pixels (almost 320 ppi density)
Display Sizes: 40mm
Colors: Pink Gold, Midnight Blue Gold, Black
Waterproof Rating: 50 m water resistant (5ATM)
Storage: 4GB
Software: Fitbit OS
Connectivity: Bluetooth 5, Wi-fi
Battery Life: 6 Days Plus
Compatibility: iOS and Android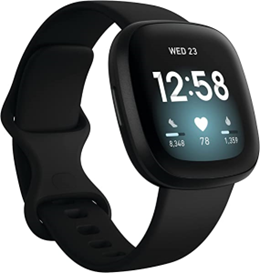 From the Fitbit line, Fitbit Versa 3 is the best smartwatch for women leading multiple tasks. This smartwatch for women perfectly makes their life-juggling easier to a great deal. Though it is not the latest model in the "Fitbit Versa" lineup, it offers more functionality and value than its successor (Fitbit Versa 4), which lacks key smartwatch features. Its multipath sensor monitors heart rate accurately and gives more detailed readings. SpO2 tracking, long battery life, and BT phone call support are buzz-worthy features this smartwatch boasts. For a woman engaged in multiple tasks, Fitbit Versa 3, which supports both Google Assistant and Alexa, is no less than a blessing to manage multitasks (Fitbit Versa 4 does not support Google Assistant). Its downloaded music and integral GPS enliven your valuable moments of privacy on a long route.
Fitbit Versa 3 is a perfect smart watch for women who want style, value and functionality in one pack. Its detailed sleep tracking feature with daily Sleep Score and snore detection make it the best sleep tracker ever. This ladies smart watch tracks ovulation and periods and offers a digital payment option via Fitbit Pay.
Last but not least, Fitbit Versa 3 is available at a lesser price than the Fitbit lineup of Sense Series with the same features.
Pros:
Competitive price.
Beautiful Display.
Long battery life.
Comfortable and lightweight.
Fast Charging (100% charged within 40 minutes).
Preloaded Sports Modes (20 plus).
Speaker with phone call support.
Microphone supporting voice assistants (Google Assistant and Alexa).
Improved sleep tracking.
Offer Active Zone minutes.
Built-in GPS and NFC.
Cons:
The App library is small.
Charging cable is exclusive.
The capacitive button on the side needs to be fixed.
Premium subscription required to avail of advanced features.
Lacks Offline Spotify music feature.
Lacks ECG capability.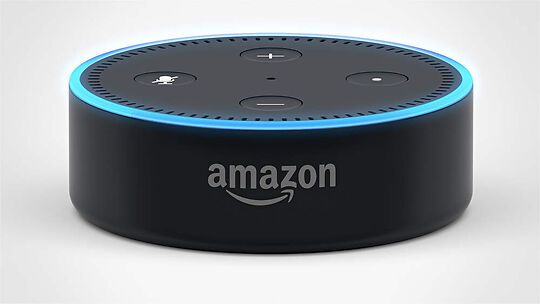 4.  Garmin Lily – Best Garmin Smartwatch for Women with Small Wrists
Released: Feb 2021
Specs:
Display Type: Grayscale touchscreen LCD (1 inch)
Display Resolution: 240 x 201 pixels (almost 313 ppi density)
Display Sizes: 34mm
Colors: Bronze bezel with Paloma Case, Gold/Black, Gold/White, Light Gold/White, Rose Gold/Sand, Midnight Orchid/Deep Orchid (leather and silicon band)
Waterproof Rating: 5ATM
Software: Watch OS
Connectivity: Bluetooth, Wi-fi
Battery Life: 5 Days
Compatibility: Android, iOS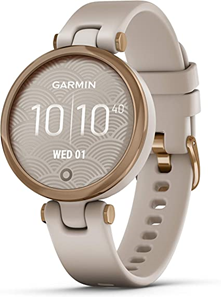 Forget the thick and massive GPS wearables by Garmin, and bring its most stylish and lightweight model of "Garmin Lily," – the best smartwatch for women who don't want a traditional smartwatch look. Among all the best smartwatches for women, we have reviewed, Garmin Lily has the most fashionable appearance and seems you are wearing an actual jewelry. The small thin straps, button-less case, patterned lens, and sophisticated hardware enhance the elegance of this smartwatch for women.
Garmin Lily smartwatch for womencomes with a pre-installed pregnancy tracking app, so its incompatibility with the Garmin IQ store does not matter much for an expecting mother. With the menstrual cycle and pregnancy tracking app, females can get a detailed overview of their health. Pair this smartwatch with your compatible smartphone and check your messages, calls, notifications, and calendar events on your wrist. Get the morning report on your smartwatch, including weather updates, body energy level, pregnancy stage, and more. With heart rate, respiration, stress, hydration, blood oxygen, and sleep-tracking features, Garmin Lily is one of the best smartwatches for women.
Pros:
Stylish
Lightweight
The display is best among other Garmin lifestyle watches
Pregnancy and Menstrual Cycle Tracking
Swim-proof
Bounty of Widgets
Small size suitable for women
Cons:
No built-in GPS
No NFC
No LTE
No Mobile Payments
Lacks in Color Display
5.  Fitbit Sense – Best Smartwatch for Health Monitoring and Stress Management
Released: September 2020
Specs:
Display Type: OLED (1.58 inches)
Display Resolution: 336 x 336 pixels (almost 317 ppi density)
Display Sizes: 40.5mm
Colors: Sage Grey, Carbon Graphite, Coastal Blue, Frost White
Waterproof Rating: 5ATM
Storage: 4GB
Software: Fitbit OS
Connectivity: Bluetooth, Wi-fi
Battery Life: 6 Days+
Compatibility: Android, iOS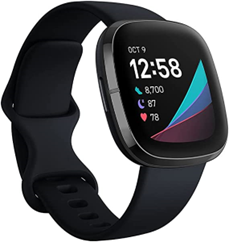 Studies reveal that work-related stress is 50% higher in women than in men of the same age. For a woman who wants to keep her well-being at the top priority in 2023, Fitbit Sense is the ultimate choice. Equipped with an electrodermal EDA sensor and stress monitoring app to track stress level, and a multipath heart-rate sensor, this smartwatch helps women observe their mental and cardiac wellness right on their wrist. Its ability to take ECG is another add-on feature to check heart functionality, whether at home or outside. Like any other advanced smartwatch for women, the Fitbit Sense temperature-reading sensor perfectly discerns whether your body's high temperature is due to fever or some hormonal changes driving ovulation. This smartwatch is also excellent for tracking sleep, menstrual cycle, and irregularities. With built-in GPS, an excellent battery life of 6 days, SpO2, heart rate and breath rate tracker and numerous other fitness features, Fitbit Sense is the high-bet option for busy and fitness-conscious women.
Pros:
Sleek Design
Intuitive Interface
Customizable Watch Face
Up to 5 Watch Faces
Fitbit Pay to make payments via your smartwatch
Can store your favorite tracks up to 300
NFC Chip
Built-in Alexa
Several granular metrics
Microphone to enable you to access Alexa and Google Assistant
Loudspeaker to make calls
Up to 20 preloaded sports modes
ECG taking capability
Cons:
No Mobile Payment
No swim tracking
Battery drains quickly in Always-on display mode
A lot of bugs
However, the company's latest model in this tier, Fitbit Sense 2, is a good call for women who want fashion and fitness together in one wearable device. This 2nd generation of Fitbit Sense comes in a slimmer and lighter design than its predecessor with a more stylish look, additional compass, perspiration monitoring and some additional workout modes but lacks health monitoring features and is available at a little higher price than its predecessor. Click here to view Fitbit Sense 2 and buy it from Amazon.
Released: August 2021
Specs:
Display Type: AMOLED (1.28 inches)
Display Resolution: 416 x 416 pixels (326ppi pixel density)
Display Sizes: 42mm with 18mm straps/44mm with 22mm straps
Colors: Black and Smoke Stainless, Rose Gold, Gunmetal Stainless steel
Waterproof Rating: 3ATM
RAM/Storage: 1GB/8GB
Software: Wear OS 3
Connectivity: BT 5LE, NFC, Wi-Fi
Battery Life: 24hours+
Compatibility: Android, iOS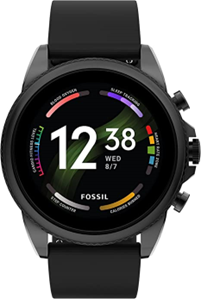 With bright AMOLED screens, a thin bezel surrounding the display, three buttons on the right, and a classy style, the Fossil offers a ladies' version of Fossil Gen 6 smartwatches to suit most tastes. On the left side of this women's smartwatch is a slit cut that marks the speaker. Launched initially with Wear OS 2.3, this smartwatch for women has now been upgraded to Wear OS 3, which helps handle the health tracking data by Fossil's Wellness app. Its battery life is 24+ hours which can't be said an improvement from its previous model of Fossil Gen 5 as the battery size has been reduced to 300mAh in this new model from 310mAh in the stellar Gen 5. However, the added Snapdragon Wear 4100+ being more power-efficient balances out that loss. Thankfully, its charging speed is faster than its predecessor; around 80% battery gets charged within 30 minutes. Moreover, Fossil has upgraded its Qualcomm processor and heart rate sensor in this latest model. The addition of a pulse oximeter is also worth appreciating.
Fossil Gen 6 offers a handful of custom battery modes you can turn on to balance the battery need. The battery-saving modes improve the usability of this women's smartwatch between charges by reducing the functioning of some other features. If you turn on Extended Mode, the extraneous such as wi-fi, speaker, and the always-on display will be turned off. Bluetooth is disabled when you activate "Airplane Mode." When the battery is low, turn on "Time Only" mode to get extra hours by working just as a watch.
Sadly, some features really challenge the battery of the Fossil Gen 6 smartwatch for women. For instance, the sleep tracking feature consumes overnight 10-15% battery. The continuous monitoring of your heart also gives a tough time to its battery life. If you want to enjoy all the features of this smartwatch for women, get it charged on a daily basis.
Pros:
Stylish
Smaller in size than the men's variant
Competitive Price
External speaker
Extra storage
Lightweight
Google Assistant and Alexa
Onboard GPS
Plenty of color options
Cons:
This new model has a short battery life (just 24 hours) as battery size is reduced.
Display is dim.
The always-on display is vague under the sun.
GPS functionality is often inaccurate.
Google Assistant is not available on Wear OS3.
Functionality reduces in battery-saving modes.
The temperature sensor is missing, so there is no data about the menstrual cycle or ovulation.
Pulse Oximeter is not approved by FDA.
Struggles with sleep tracking.
Not good for swim workouts.
For women who don't want a perfect fitness partner but a stylish and good-looking smart gadget to wear on their wrist, "Fossil Gen 6" is a good option.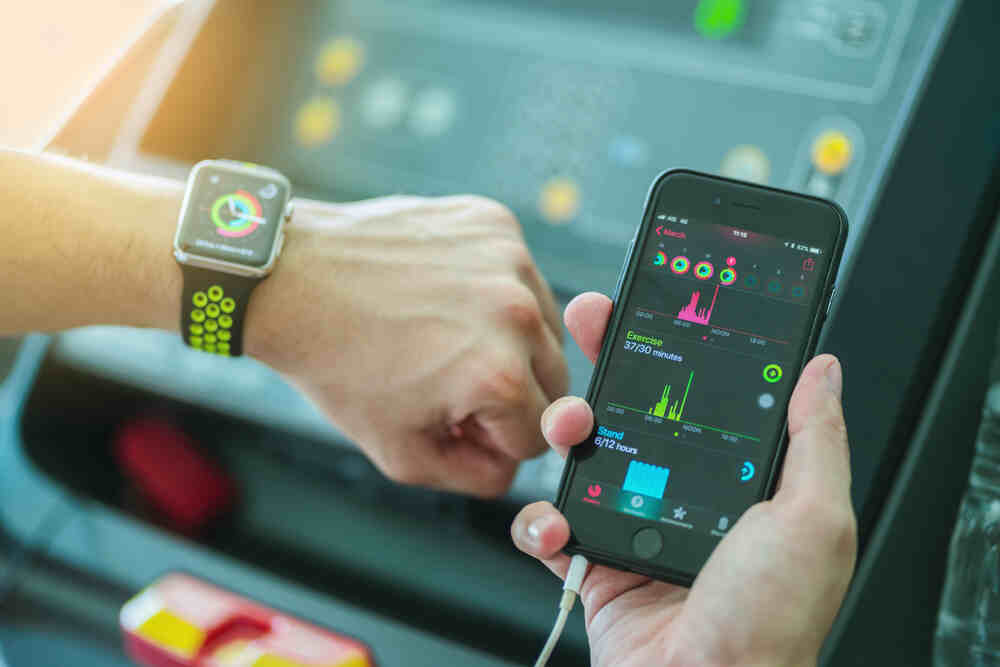 Wrap Up
Finding the right smartwatch can help you stay connected while maintaining your health and style. The Apple Watch 8 series will offer you an ultimate ecosystem experience if you are an iPhone user. For Samsung smartphone users, Samsung Galaxy Watch 5 Pro is the best smartwatch for women with a bounty of outdoor and fitness features; however, if you are price-conscious, Galaxy Watch 5 is an economical alternative. If you want a stylish and diverse design range and workout and fitness tracking features, a Garmin smartwatch or a Fitbit, compatible with Android and iOS, will help you reach your goals. For women with smaller wrists, the 34mm Garmin Lily is by far the most compact smartwatch with a plenty of fitness tracking features.