OpenAI announced that ChatGPT would soon have "eyes and ears." The possibilities of ChatGPT will expand with the release of ChatGPT plugins. Google and Bing have made substantial progress toward releasing their generative AI chatbots. Their major purpose is to enhance user experience. ChatGPT Plugins are enhancements to ChatGPT that serve as add-ons. These plugins are installable from the Plugin Store of ChatGPT. Yet, its free version currently doesn't support plugins. You must use the GPT-4 language model, which costs $20/month for a ChatGPT Plus membership. After buying a subscription, you can enable the plugin option. Also, add plugins of your desire from the Store.
ChatGPT has become the fastest-growing app in history. Over 100 million users signed up in the first two months after its debut. Plus, it counts more than 13 million daily visits. As 73% of customers call themselves "channel agnostic," we can anticipate increased user traffic to ChatGPT with these plugins. Throughout their excursion, the users want contextual and interesting digital experiences. And these plugins are exceptional at providing an excellent experience.
In this article, we'll discuss:
What Makes ChatGPT Plugins so Important?
How to Join ChatGPT Plugin Waitlist?
How to Get ChatGPT Plugins?
When Will ChatGPT Plugins Be Available?
How to Use ChatGPT Plugins?
What is Retrieval Plugin ChatGPT?
How to Uninstall Plugins on ChatGPT?
Wrapping Note: ChatGPT Plugins are Effective, but Choose Wisely!
Let's start with detail now.
What Makes ChatGPT Plugins so Important?
There are many places where ChatGPT is not good enough. One of those is math. Because OpenAI has built ChatGPT on a language model, it excels in all linguistic matters. But, if you ask it to compute the IP subnet, it will give you an incorrect answer and a faulty explanation of the results.
ChatGPT plugins mitigate these shortcomings. These enable connections with third parties who are experts in a particular service. For instance, a Wolfram plugin for mathematics allows access to the Wolfram Language. It doesn't address all ChatGPT's math issues, but it's good to have something than nothing.
Plugins are disruptive. According to research, technologies like ChatGPT will influence 80% of US workers' occupations. It will affect at least half of those workers' duties. After all, what job is there for a travel agent if ChatGPT can plan your entire vacation for you? It's still fairly early. The wild west still exists in ChatGPT and GPT-4, especially for corporate executives. However, ChatGPT plugins are the cornerstone for allowing the chatbot to perform some really amazing things.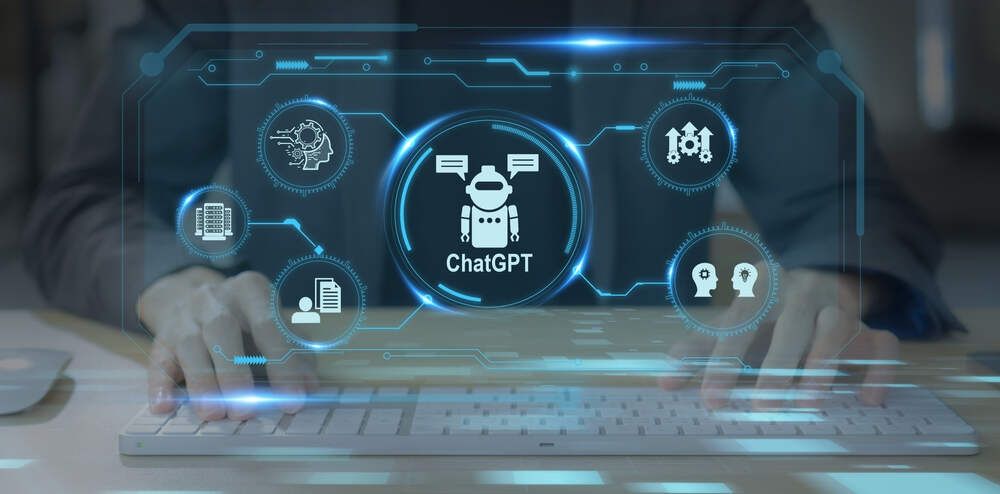 How to Join ChatGPT Plugin Waitlist?
One must join the waitlist to use ChatGPT plugins to their full potential. OpenAI has put these measures in place to guarantee that these powers are used correctly.
Go to the provided URL, and fill out the registration form to start your digital journey with ChatGPT.
Open your web browser.
Go to https://openai.com/waitlist/plugins to find the portal.
Navigate to the "Join Waitlist" area of the site by scrolling down.
Enter the required information.
Share the reason why you want to use plugins in ChatGPT.
Click the button to cast the "Join Waitlist."
Congratulations on being a member of the ChatGPT plugin waitlist.
How to Get ChatGPT Plugins?
Are you looking for "how to access ChatGPT plugins?" you are in the right place. Stay connected to get the step-by-step secret of accessing these plugins.
Step 1: Purchase ChatGPT Plus Subscription
If you don't have enough knowledge of this generative AI model, you can learn how to use ChatGPT by enrolling in easy-to-get free ChatGPT online courses. You can only access plugins by buying ChatGPT Plus Subscription. This service is available worldwide and costs $20 per month.
Login to your OpenAI account and click to "Upgrade to Plus."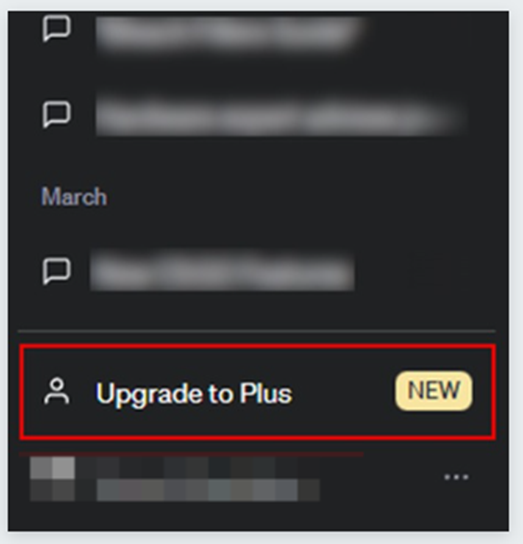 Once done, click "Upgrade plan" and complete the payment procedure to subscribe to ChatGPT Plus.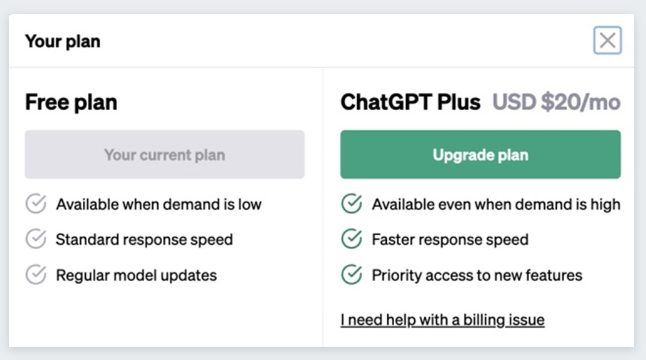 Step 2: Go to Beat Features to Enable Plugins
After subscribing to ChatGPT Plus, click on the three dots at the bottom to open a pop-up window. Click on "Settings."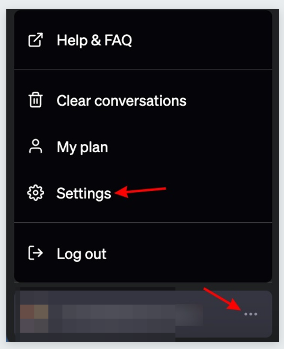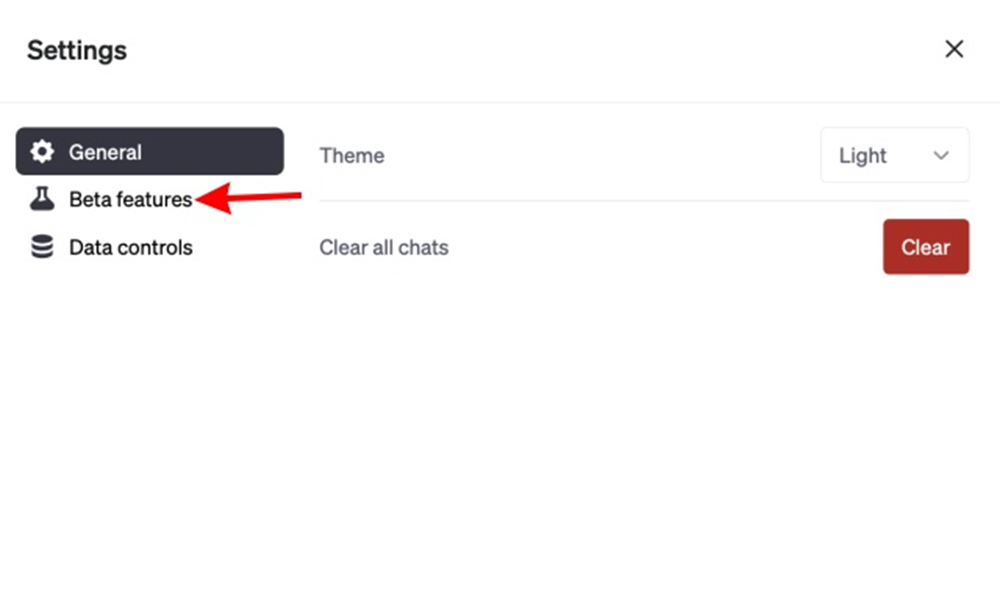 Select the "Plugins" feature to enable them.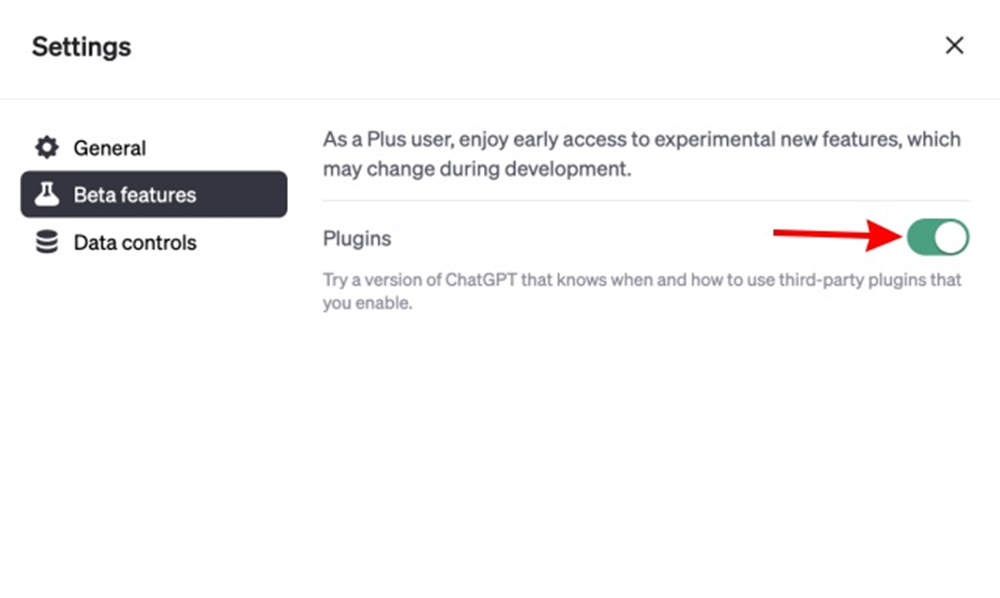 Step 3: ChatGPT Plugins Access with GPT-4
After enabling plugins in the settings, you can use them within the chatbot. Let's start with the steps:
Go to the main chat page, select "GPT-4 model" options.

Click on "Plugins" to move next.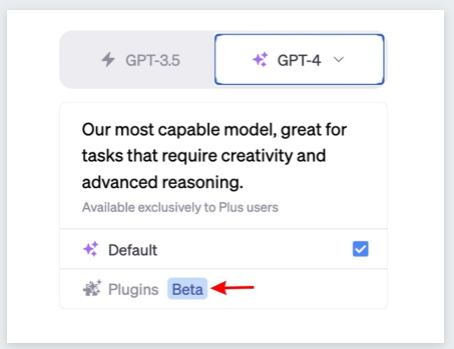 Step 4: Install Plugins from ChatGPT Store
You will see "No Plugins Enabled" here. It will expand the menu when you click on it. After that, click "Plugin Store" to access several plugins.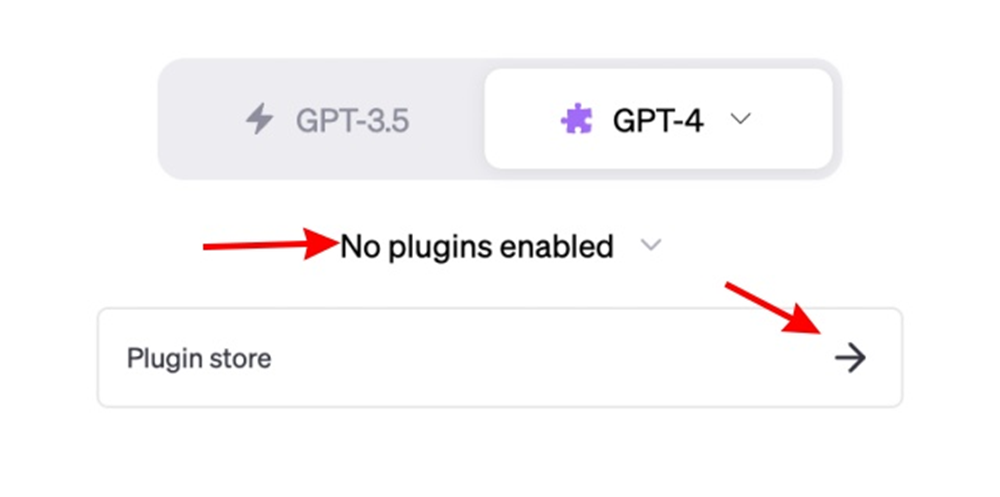 Click "Ok" to proceed with ChatGPT's disclaimer.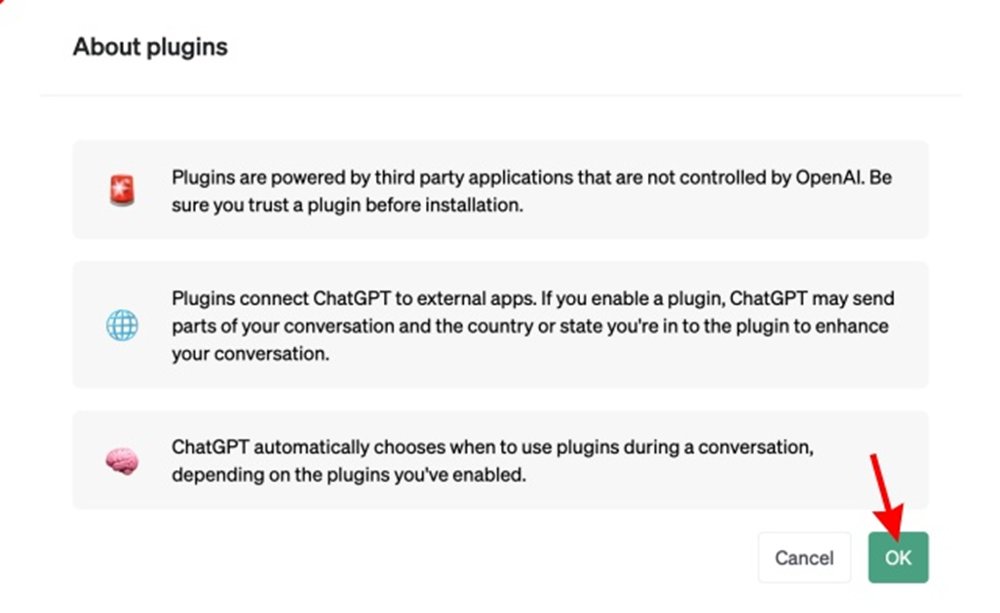 From the variety of plugins, be very selective in choosing the best that suits your needs. Click on "Install" to add your desired plugins.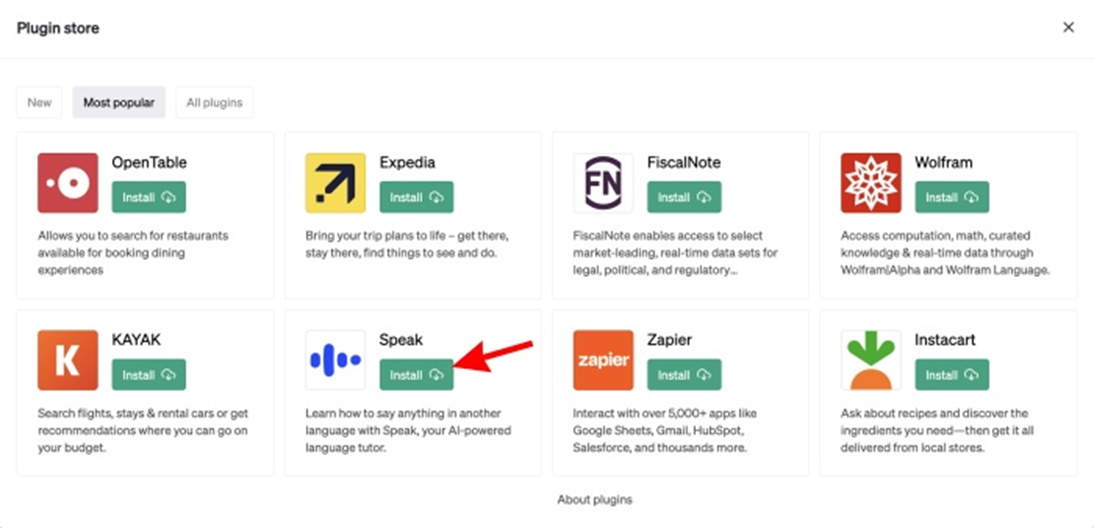 When you install the plugins, it will appear in the dropdown menu we showed above.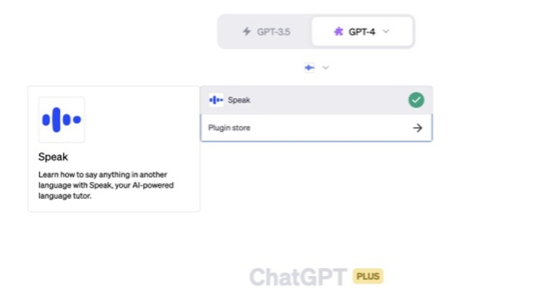 Step 5: Learn How to Use ChatGPT Plugins
Now type your request based on the plugin you installed. For instance, type a language-relevant query to speak and then press "Enter."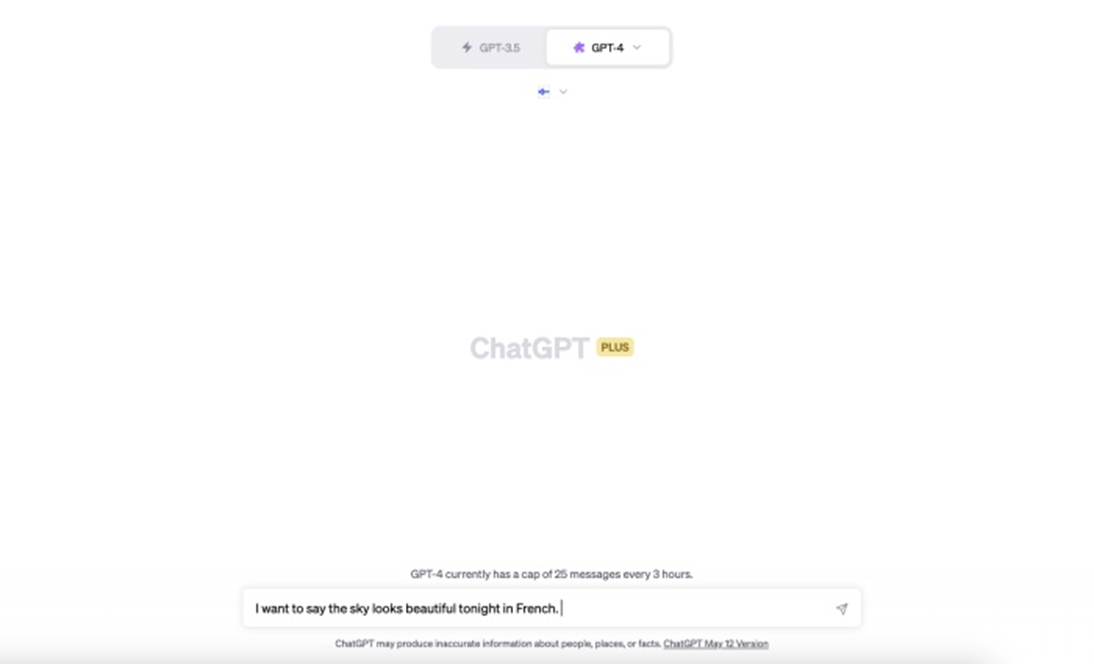 ChatGPT will connect with the plugin to share responses in real-time. Both tools will use their perfection to share exceptional results.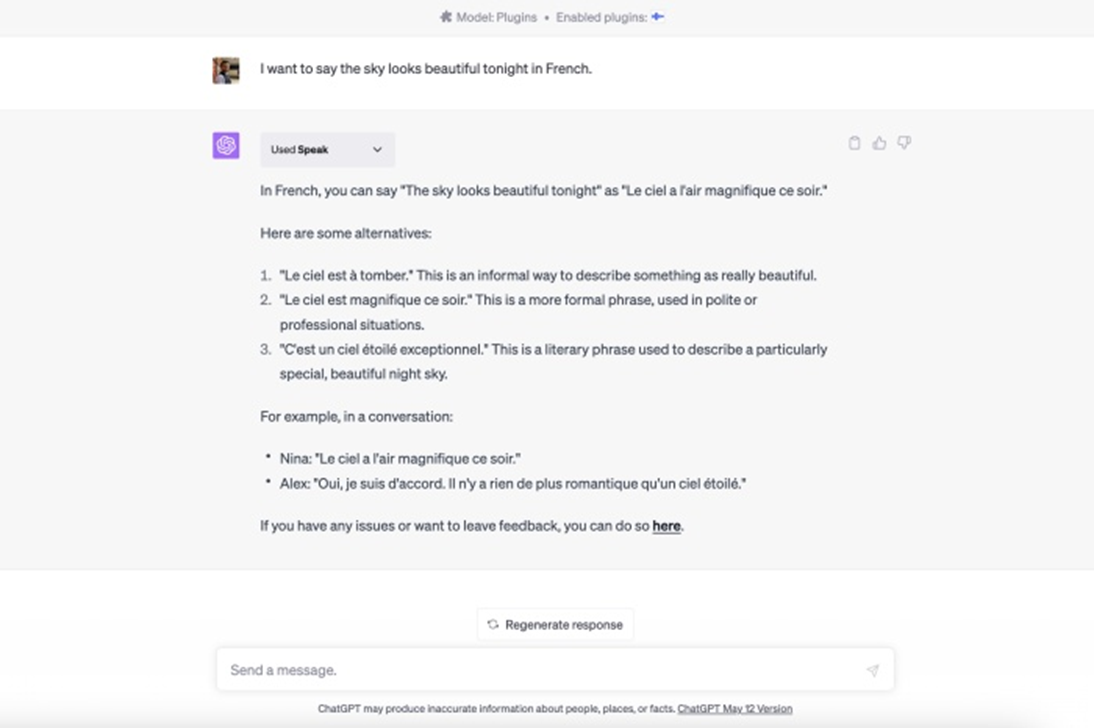 Ya-hoo! You've successfully got how to add plugins to ChatGPT.Now it's time to use plugins after installing them.
When Will ChatGPT Plugins Be Available?
Plugins help ChatGPT access the latest information regardless of its limited knowledge. These are third-party services that speed up ChatGPT's response. OpenAI recently released about 80 plus ChatGPT plugins for public use. Let's have a look at them.
For Latest News
World News
This tool helps brief news headlines. Users can access news from several sources.
2. Public
This plugin is created for the public to get real-time access to historical market data for news, asset prices, analysis, and research.
3. BizToc
This plugin offers news on business and finance.
4. FiscalNote
Users of this plugin get access to real-time political and legal data datasets.
For Image Generation
1. Bohita
This plugin involves creating apparel with image descriptions. Plus, it delivers them right next to their door.
2. Algorithm
In this life simulation, users can customize their virtual lives.
3. Show Me
In chat, users can even draw and modify diagrams.
4. Polarr
Polar r's user-generated filters enable users to polish their images and movies.
For Restaurants
1. Shimmer
Maintain a healthier lifestyle by accessing 1M plus stores and restaurants for insights and tracking meals.
2. Instacart
It suggests users' recipes based on desired ingredients and finally delivers them.
3. Tasty Recipes
Users can find meal planning, culinary inspiration, and even cooking advice.
4. Tablelog
In Japan, customers can find reservations for restaurants.
5. OpenTable
Using this plugin, users can reserve tables at eateries.
For Traveling
1. OwlJourney
It is the best tool to make your journey luxurious. It provides activity suggestions and lodging information.
2. KAYAK
KAYAK looks for cheap flights, lodging, and car rentals.
3. Turo
With Turo, users can find the perfect vehicle for their perfect trip.
4. GetYourGuide
Users can locate tours and other travel activities with this plugin.
5. Trip.com
Booking hotels and flights is made easier with this plugin.
Users may make their next vacation a reality using Expedia.
For Shopping
As its name shows, it's a shopping plugin, a favorite tool for shopping lovers. Users can use this tool to compare clothing prices from multiple online stores.
2. Shop
Millions of goods from the top companies are available for users to search for.
3. Lexi Shopper
Customers can receive product recommendations from the Amazon shop closest to them.
4. Coupert
On all online retailers, Coupert helps customers to discover the finest coupons.
For Audio Generation
1. Playlist AI
This plugin can create your playlist on Spotify for any prompt.
2. ABC Notation for Music
Users can convert ABC music notation files into wav, postscript, and midi formats.
The music, movies, and podcasts in this plugin are limitless.
4. Speechki
It is an excellent plugin for converting text to audio.
For Traders
1. Crypto Prices
It helps users obtain the most recent Bitcoin values thanks to this plugin.
2. Savvy Trader AI
It gives users real-time data on stocks, cryptocurrencies, and investments.
3. Options Pro
This plugin provides a personal options trader for all types of markets.
4. AITickerChat
Users can access earning calls and USA stock analysis.
5. Polygon
All stock and cryptocurrency market data is available on Polygon.
6. BuyWisely
With BuyWisely, users can search for the newest deals in Australia and compare costs.
7. KalendarAI
This plugin serves as a sales representative and makes money from potential clients.
For Video Generation
1. VoxScript
Use this plugin to search for YouTube transcripts.
2. Likewise
Its users will receive suggestions for TV, movies, and podcasts.
3. Video Insights
Use Video Insights to interact with online platforms for videos like YouTube.
For Real Estate
1. Wahi
Users can inquire about the most recent real estate listings in Ontario.
2. Redfin
Redfin assists consumers in locating solutions to their queries regarding the housing market.
3. Zillow
Users will search listings and look at property details using Zillow.
Users can investigate the housing market for their upcoming homes.
5. Rentable Apartments
Users can locate every low-cost housing choice in their city.
6. Manorlead
Users can discover rental listings.
For Online Businesses
1. WebPilot
Users may explore websites and create articles with WebPilot.
This plugin suggests articles written by members of the Dev community.
3. Framework
Information about SEO and keywords is available to users.
4. OWD
Users may find the ideal one-word domain for their company with OWD.
5. Metaphor
Get access to the highest-quality content in real-time with Metaphor.
6. Kraftful
This plugin helps in developing products. Users can get its assistance in finding the best practices for developing top product ideas.
7. Wishbucket
Users of Wishbucket can search across all Korean platforms and companies.
8. CreatiCode
This add-on allows users to create 2D and 3D applications.
For Educational Purposes
ChatGPT is going to revolutionize education sector with its excellent supportive features for teachers and students. You can also use these plugins now with ChatGPT Premium access to get its full advantages.
1. Noteable
Users can build SQL and Python notebooks with Notable, analyze the data, and visualize it before sharing the notebook with others.
2. AskYourPDF
Users can interact with any PDF file using this plugin.
3. Reading Links
Link Reader reads the content of the entered URL.
4. EdX
Users can access courses from top colleges at various levels.
5. ChatwithPDF
Users can ask any questions about PDF files with this plugin.
6. ScholarAI
Users of this plugin will get quick, trustworthy, and peer-reviewed data.
7. Upskillr
Users of Upskillr can design a curriculum for any subject.
8. Tutory
Users get access to on-demand, cheap tutoring.
9. Yay! Forms
Users of this plugin can produce AI-powered forms, tests, and surveys.
10. Speak
Users have the option of learning new languages.
11. Portfolio Pilot
This plugin is also known as investing guide. You can ask any question about portfolio recommendations and assessments and get a quick response.
General ChatGPT Plugins
1. Prompt Perfect
As its name shows, ask it for perfect ChatGPT prompts by typing "Perfect."
2. There's an AI for that
It is the best-ever plugin to find the best AI tool for any use case.
3. Glowing
It can create inspirational messages with great ease. Users can send and even schedule daily messages with it.
4. C3 Glide
This plugin makes live aviation data available to pilots.
5. Golden
Users can get up-to-date factual information on firms with this plugin.
6. Wolfram
Users can compute responses using technology by installing this plugin.
7. Bringing Friends
With the use of this plugin, users can find trustworthy animal carriers.
8. WeatherGPT
It helps users access up-to-date weather information for all cities.
9. Comic Finder
The users can find their favorite comics with this plugin.
10. Zapier
Over 5,000 apps, including Salesforce and Google Sheets, are available for anyone to use.
11. BlockAtlas
Users may look for datasets, ask inquiries, and view data by searching the US Census.
12. Giftwrap
This plugin suggests presents, arranges for their wrapping, and delivers them to the user.
13. Open Trivia
Users may find trivia in a wide range of categories.
14. KeyMate
Using a unique search engine, users may browse the internet.
15. Change
Use Change to become a change. It helps you find nonprofits to support the community.
16. Yabble
Use Yabble as an AI research assistant to collect data and create surveys for analyzing them effectively.
17. Health Vivian
This plugin allows users to locate employment in the healthcare industry.
18. Ambition
Users can look for thousands of local jobs.
ChatGPT Plugins for Games
1. ABCmouse
Children may engage in entertaining and instructive games thanks to this plugin.
2. Ndricks Sports
Users will learn more about NHL, NBA, and MLB professional clubs.
3. Chess
In ChatGPT, users can play chess by installing this plugin.
4. Creative Hints
It's a guess-the-word exercise.
5. Phrase Sneak
Users must predict the AI sneak three words into the dialogue.
What is Retrieval Plugin ChatGPT?
Thanks to the open-source retrieval plugin, ChatGPT can access private or corporate data sources (with authorization). It enables users to ask queries or express demands in plain language to get the most pertinent document snippets from their data sources. These might be files, notes, emails, or public documents.
Developers can install their plugin version and register it with ChatGPT because the software is open-source and self-hosted. It uses OpenAI embeddings and allows developers to index and search documents using one of six vector databases: Milvus, Pinecone, Qdrant, Redis, Weaviate, or Zilliz. Webhooks can be used to synchronize data sources with the database. Start by going to the repository for the retrieval plugin.
How to Use ChatGPT Plugins?
The first step to using plugins is to install and activate them. That's all to do. You don't need to have technical knowledge before using these plugins. Enter your prompt and see how these plugins can amaze you in several ways.
How to Uninstall Plugins on ChatGPT?
There might be several reasons for uninstalling a plugin; you have yet to find it useful or done with one-time use. Don't worry; it's very easy to uninstall an unwanted plugin.
Step 1: Go to Plugin Store
Click on "Plugin Icons," located at the top of the page, and then find the "Plugin Store" option by scrolling through the plugin list.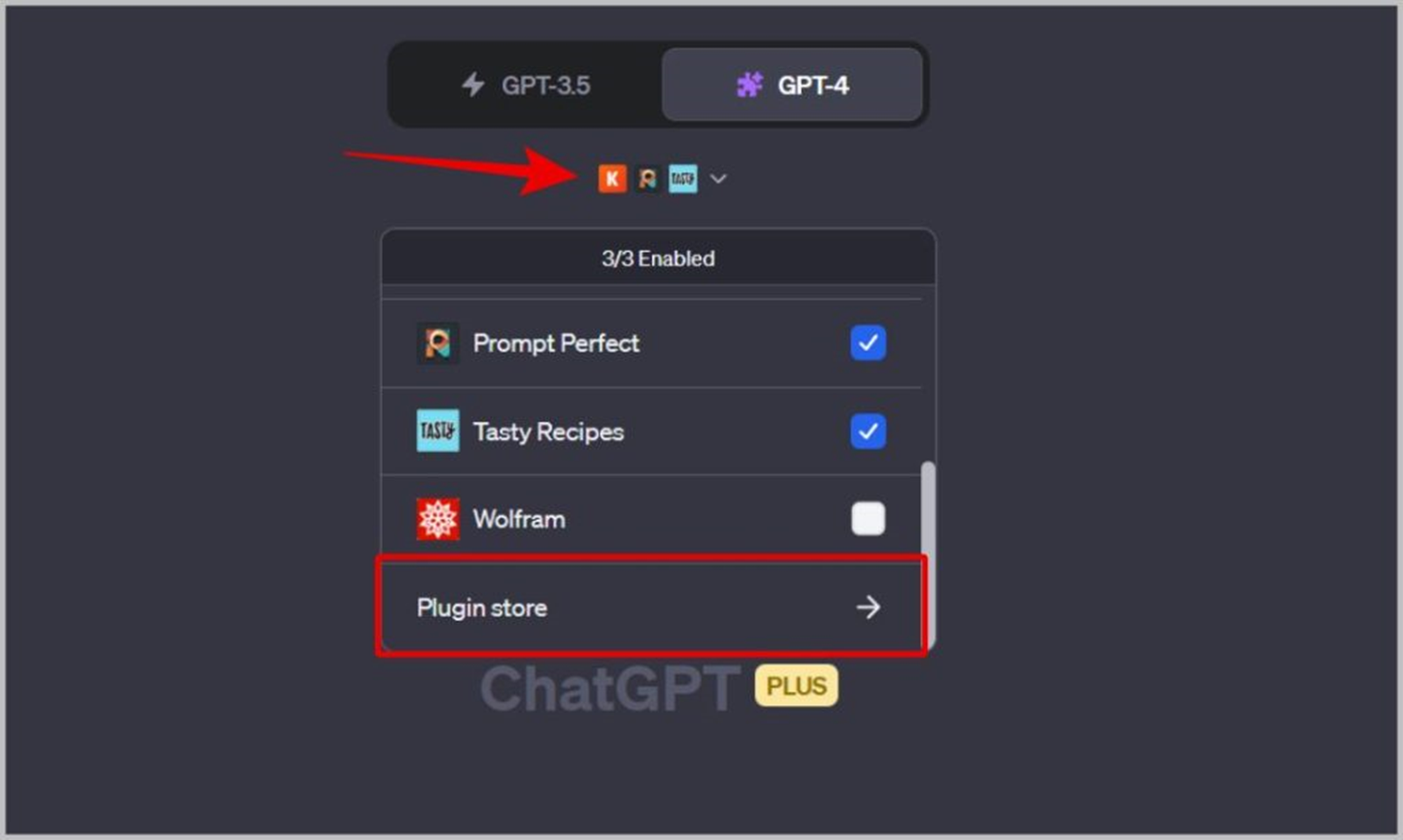 Step 2: Find Installed Plugins
You can check all the installed apps on the plugin store by clicking the "Installed" option.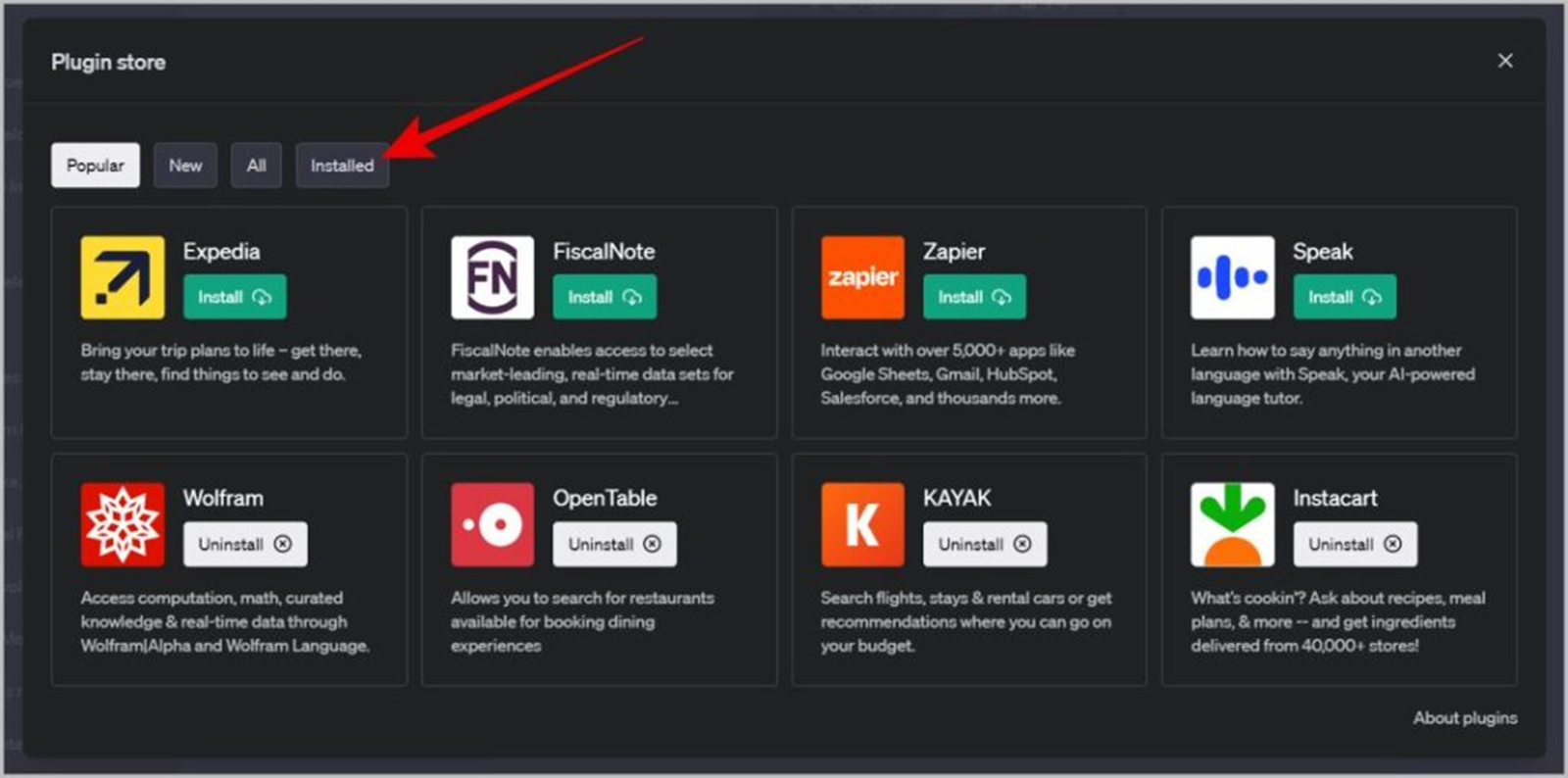 Step 3: Uninstall the Plugin
Now click on the "Uninstall" option on the same plugin.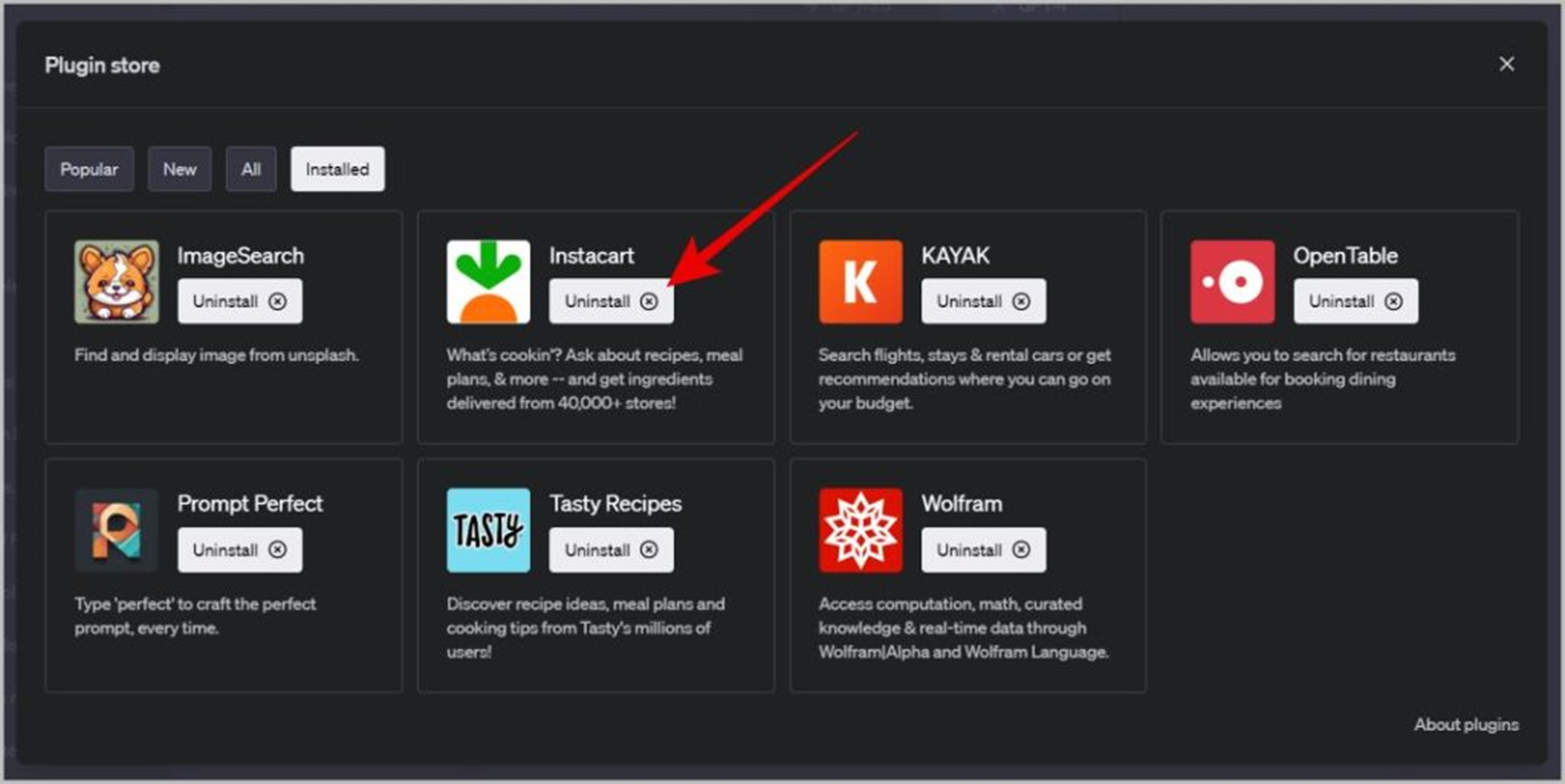 Wrapping Note: ChatGPT Plugins are Effective, but Choose Wisely!
Before installing any plugins, do your homework and remember that the plugin shop is still in its infancy. When exploring ChatGPT, you may encounter technical problems, but don't worry, we have assembled all the possible ChatGPT error solutions. Extending ChatGPT's capabilities, though, is intriguing. Observing how the environment changes over time and what innovations developers make to empower people will be interesting. The potential of AI systems will likely be empowered and unlocked by a wave of new plugins. We'll investigate the coming plugins also to see how they further enhance ChatGPT users' experience.