Imagine yourself relaxing on a couch in Texas and virtually having a trip to Paris, exploring the hotel room and all the landmarks you always dreamt of. Isn't it seem like a scene from a science fiction movie? Well, the most exciting buzzword of the time, "Metaverse," has all that stored in it. Every industry is dipping its toes into this much-hyped technology, from tech giants like Microsoft to online video game platforms like Roblox. The "Travel and Lifestyle Industry" is no exception.
Folks in this digital world are more tech-savvy than ever. They demand fantastic and seamless travel experiences without wasting time waiting at airports, railways, or bus stations. They don't even want to waste their money by moving out to a long-distance landmark about which they have no idea what it will look like or whether they would like it or not once they reach there. Wouldn't it be fantastic to have a virtual tour of such places that have always inspired you but it is hard to get there? Or even if you are planning a holiday trip, what would be more exciting to have a virtual trip in advance, walking through and virtually exploring the hotel rooms for accommodation to get an idea of what to expect there? This is all that "Metaverse Tourism" offers you by providing a firsthand immersive experience. Based on huge potential, the experts project that in the travel and tourism industry, the metaverse market will grow at 25.35% Y-O-Y in 2022. Besides revolutionizing the travel industry, Metaverse has much more to redefine our lifestyle experiences. From purchasing a dress by a top-notch brand to dining out at a famous restaurant, the Metaverse is all set to make your experience convenient and memorable.
This blog will discuss how Metaverse can be used in the travel and lifestyle industry? And how are the metaverse travel and hospitality industries transforming our Lifestyle?
Metaverse Travel and Lifestyle Industry
The travel and tourism industry has enormous prospects as people love to travel and explore the world. According to WTTC, it is the second-fastest growing industry worldwide. Its annual revenue is projected to hit $716 billion in 2022. Metaverse can significantly improve this revenue as it brings a different avenue for the travel industry to connect with travelers. Metaverse tourism helps grow the travel industry business as it inspires travelers to get an interactive VR experience. The 360-degree videos offered by a Metaverse travel company will allow travelers to view the landscapes virtually. After having a virtual tour, the travelers can get a good idea of what to expect while traveling to a particular location. Though metaverse travel is not the alternative to physical travel, it can augment the travel experience of the travelers from the luxury of their home.
Besides the travel and tourism industry, the lifestyle market is projected to show robust growth with the lifestyle industry stepping into the Metaverse. The way we book a resort, shop, dine out, get entertained, and groom ourselves are all transforming with the metaverse trend. Metaverse Tourism and Lifestyle encourage prompt and confident decisions on bookings, shopping, etc. As the customers get a more profound idea of the resort's impressive excursion, they are more motivated to book a vacation. Thomas Cook, the British Travel agent, conducted experiments with VR experiences, allowing customers to explore various excursions. A VR tour to Manhattan in the helicopter was also included in those test-drive excursions. After introducing this five-minute NY VR experience to the customers, the company got a 190% increase in the bookings for NY vacations.
Whether we have a tour to a far-distance location or Metaverse shopping, we need to get an identity called "Metaverse Avatar" to explore it.
What are "Metaverse Avatars?"

An avatar is our digital representative in the Metaverse. We must adopt it during metaverse shopping, gaming, traveling, socializing, etc. Each metaverse platform offers avatars you design for yourself and have to take while exploring that Metaverse. However, some metaverse avatar platforms give you a single virtual identity to move across different virtual worlds.
Metaverse Travel Agency (MTA) for your Avatar – "Ready Player Me"
"Ready Player Me" is a startup for metaverse avatars. This metaverse travel agency allows its users to create a 3D avatar with a realistic look and explore Metaverse. The metaverse avatars created on this platform will give you a specific virtual identity. You can move across different virtual worlds with this single portable identity, exploring more than 900 games, apps, and other VR experiences like shopping, dining out, etc. The company CEO Timmu Toke claims that in 2021, the adoption of their avatar platform grew from 25 to 900 firms. The growth rate of this metaverse avatar platform adoption is 40% per month. The company believes that by using its avatars during virtual traveling, the Metaverse can become more connected.
Other well-known metaverse avatar platforms include Genies and Crucible.
How can a Travel Industry Leverage Metaverse?
Metaverse can revolutionize the travel industry by enabling it to deliver customers an enhanced metaverse travel experience. The tourism industry can use metaverse technology to let the customers explore the places before they physically start their tour. AR technology allows the users to view their destinations before deciding to travel there in reality.
Travel experts believe that metaverse tourism will help you start your travel experience with more outstanding preparation and finish with a fantastic memory. Let's explore two excellent ways a Metaverse travel company can facilitate travelers!
1. By Allowing Comparison Shopping of their Destination
Metaverse offers endless opportunities. When used in the tourism industry, it would allow the travelers to get window shopping of the selected destinations before deciding the one to visit. They can view and evaluate the landmark worth seeing or the hotel worth living. This virtual experience would be a quantum leap from the most commonly used holiday planning mode of watching YouTube videos or deeply exploring blogs to get an idea of the place.
The travel industry can further use an Inline/Embedded AR application to guide travelers throughout their virtual visit. It would be similar to a tour guide in the physical world.
Gavin Miller, the VP of "Travel Edge" claims:
"Metaverse will assist customers in choosing their trips by learning about the region before booking." Nothing is worse than having a mental picture of what you desire only to find out you're wrong."
2.     Enabling Historical Travel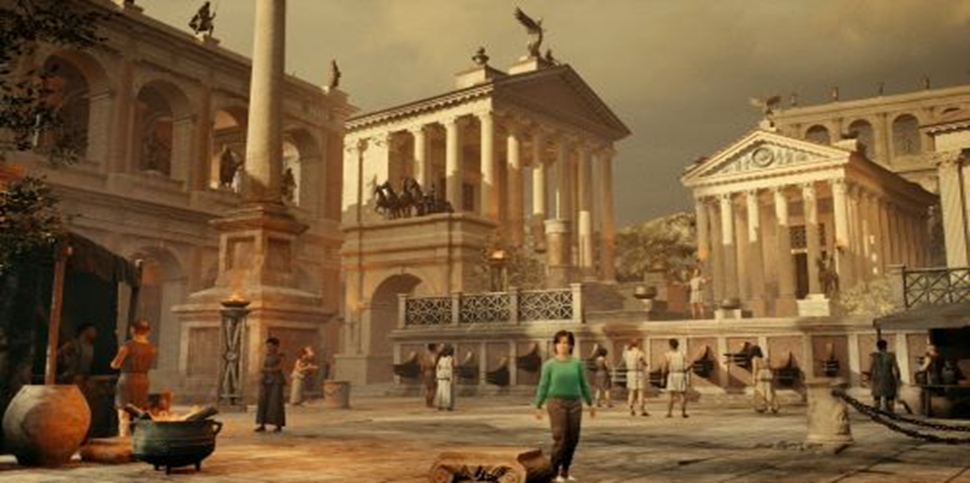 Watching an old historical movie is always a thrill. Exploring how their forefathers lived has always been a dream for the new generation. Just imagine, what if you could walk through that era, experiencing all their past glory? Yes, today, you can live this dream with the most unbelievable technology of "Metaverse ."The travel industry can use Metaverse to simulate ancient buildings and landmarks, enabling travelers to enjoy the historical places virtually. Besides the sights, Metaverse can even reproduce sounds during your virtual travel experience.
Jonasz believes:
"Metaverse has the potential to offer travel experiences that would otherwise be impossible. Like an animation that can bring the past to life around you, illustrates places at various physical scales, or allow you to interact with subtle items."
Metaverse Travel Use Cases
Though a full-blown metaverse travel experience is decades away, the industry's key players are really ambitious to embrace the potential of Metaverse. Numerous travel companies are using VR and AR to get the position of first-rate service providers and stand out in the competition.
Let's look at a few use cases of travel in Metaverse.
First Airlines– a Japan-based company offers two-hour virtual flights (domestic and international) that allow customers to travel to Paris, NY, Hawaii, and several other states without leaving the ground. At just 5,980 Yen for first-class, this metaverse travel is much more affordable than an actual tour. After boarding, you would settle down on your seat for your virtual flight. In the aircraft, you will be surrounded by the same décor as in actual. The air hostess will serve a delicious meal, drinks, snacks, etc. Once the plane lands, the passengers will enjoy a 360-degree metaverse tour of their destination.
Vueling Airlines – it is the first airline that has recently announced to sell flights in the virtual space. It has opened a new metaverse sales channel that will be operational by the end of 2022. The customers will purchase the ticket in the Metaverse that they can use in the real world. To work on its metaverse strategy, Vueling has collaborated with one of the largest metaverse platform, "Next Earth." This platform will enable its users to envisage real-world journeys. Besides providing a virtual tour and booking, Vueling has also partnered with Iomob to create a metaverse app to offer last-mile transportation services to its customers (like Uber, scooter, etc.).
Emirates Airline – the airline has recently announced introducing NFTs and metaverse travel experience for its passengers and employees. They would soon experience airline services in the Metaverse. Emirates Metaverse will allow the passengers to select a seat on the plane, virtually explore the airport and the hotel room and purchase duty-free products while staying in their homes.
Qatar Airways– Qatar Airways has also stepped into the Metaverse this year by announcing Qverse – a VR experience for those who visit the airline website. They can have a virtual tour of HIA (Hammad International Airport) and the aircraft. They can even interact with a "MetaHuman Cabin Crew," a 3D human model called "Sama." During this virtual tour, Sama narrates the script while displaying the distinctive features of the cabins. The company understands that the passengers want immersive content to explore the aircraft and the check-in area to help them decide before they book a ticket. The airline aims to make this metaverse experience accessible via the Oculus Quest VR platform.
Travelzoo – the travel service provider, gets into the Metaverse this March by creating a metaverse division called "Travelzoo Meta." It is a new service by the company that involves paid subscriptions. Travelzoo members who subscribe to this new service can access and experience metaverse travel.
Metaverse to Facilitate Immersive Navigation
Suppose you are done with the virtual tour of your planned destination and the accommodation place. Now you have decided everything and finally set out for a physical trip and reach that destination. Now the next step is to move out for your first landmark visit if you can locate it… This is again where metaverse technology will facilitate you.

Thanks to the "Google Maps" – it has recently introduced an Immersive View by combining billions of aerial images and Street Views. This immersive view feature provides the users with a comprehensive zoom look at locations. You can view a spot, landmark, or even indoor venues like an event or a restaurant via this latest attribute of Google Maps. With the help of the time slider, you can find out how a location appears throughout the day and in different weather conditions. You can even get an overview of how busy a spot could be at other times of the day.
Google confirms this advancement in the following tweet:
"Immersive view in Google Maps is a new way to experience what a neighborhood, landmark, restaurant, and venue looks like – and even feel like you're right there."
How can Lifestyle Industry leverage the Metaverse?
Metaverse is growing at an exponential rate. With this evolving metaverse trend, many segments of the lifestyle industry are either adopting or planning to use the Metaverse. From hotels and concert halls to the fashion industry, all closely observe the metaverse trend to keep themselves ahead of the curve.
Using the Metaverse in the lifestyle industry can give visitors a virtual experience of different activities they may not get an opportunity to engage with otherwise because of the lack of money, time, or other factors. For instance,
They can dance at nightclubs.
Have a trip to the museum.
Engage with top-class fashion brands.
Attend live concerts and conferences.
Book expensive restaurants and many more.
Let's walk through some primary segments of the lifestyle industry that can use Metaverse to expand their business.
1. Metaverse Hotels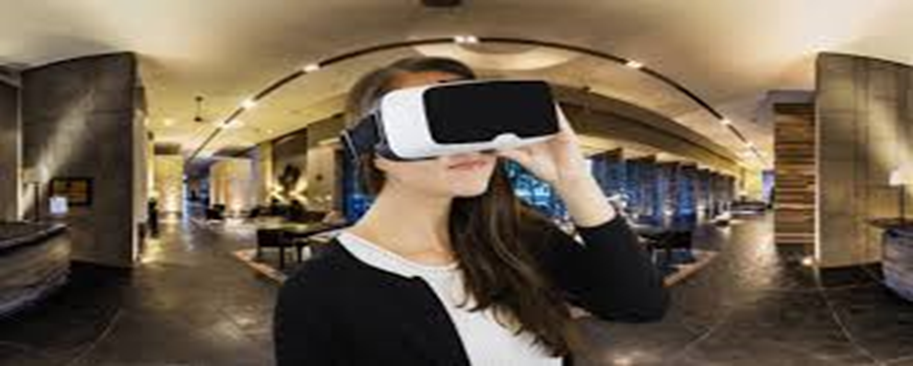 The hotel industry has to face the prime challenge of meeting the ever-increasing expectations of visitors. To deliver an outstanding guest experience, the hotel management strives for a seamless booking process besides offering a valuable package. Metaverse can revolutionize the hotel industry and reshape the guest experience that starts with their accommodation research. You can have a 3D hotel tour experience while staying at home. The hotels and resorts that adopt Metaverse allow travelers to get into the digital avatars and visit the accommodation place virtually before check-in. Hence, the travelers can get an immediate, immersive experience of the room they will book, the hotel décor, and facilities that the still images can't deliver well. A virtual 3D tour by hotels can boost the travelers' confidence and help them make hotel decisions while increasing the booking rate.
"Atlantis, The Palm," an ocean-themed luxurious hotel resort in Dubai, collaborates with one of the largest metaverse platforms, "Rendezverse," which offers a phenomenal 360-degree panoramic video to potential visitors. This VR video delivers a quick whistle-stop visit of the hotel- taking you from the main entrance into the majestic lobby, the underwater suites, the Royal Bridge, the renowned Nobu restaurant, the aquarium pool, and finally gives you a nighttime walk around the exquisite gardens.
As the success of a hotelier depends on guest satisfaction, using the Metaverse to deliver a seamless booking and living experience can thrive you among the competitors.
2.  Metaverse Shopping

H&M Metaverse Concept Store
Virtual fashions and avatars will exhibit specific value in the Metaverse as consumer behavior gradually shifts towards metaverse shopping. Metaverse offers an excellent opportunity for brands to market their products differently. Retail brands like Adidas can display their ads or any special offer within the Metaverse. For instance, it can put a billboard at some virtual checkpoint in a game like Roblox to make its advertisement visible for the user and enhance the chance for metaverse shopping of their product. The retailers can also create their digital store on the metaverse platform to display and sell their goods. For instance, H&M has recreated 11 items fin its metaverse concept store for metaverse shopping, including dresses and accessories.
When the user visits the metaverse store, he will put on an avatar and experience retail through VR headsets. They can try items on their avatar, and if they like them, they can purchase them using metaverse tokens or coins.
Hence, the retail industry can use Metaverse to deliver a superb metaverse shopping experience to the customers while enjoying the comfort of their homes.
3. Metaverse Conferences/Immersive Meetings

The tech giant "Microsoft" strives to create a metaverse inside Team. It plans to bring the virtual experience platform Mesh into Microsoft Teams. It is a giant leap by Microsoft toward the Metaverse. The tech titan is merging its HoloLens and mixed reality with video calls or meetings. In this immersive meeting on "Mesh for Teams," users will appear as avatars – they can even appear as a cartoon if they wish. They will not need to use any VR headset to attend this virtual meeting. The avatars will be enough to characterize you in 2D or 3D meetings. If you don't want to turn your webcam on, just select your animated version and demonstrate your active participation. Hence, "Teams," which serve 250 million people monthly, is all set to play a significant role in defining the corporate Metaverse.
4. Metaverse Entertainment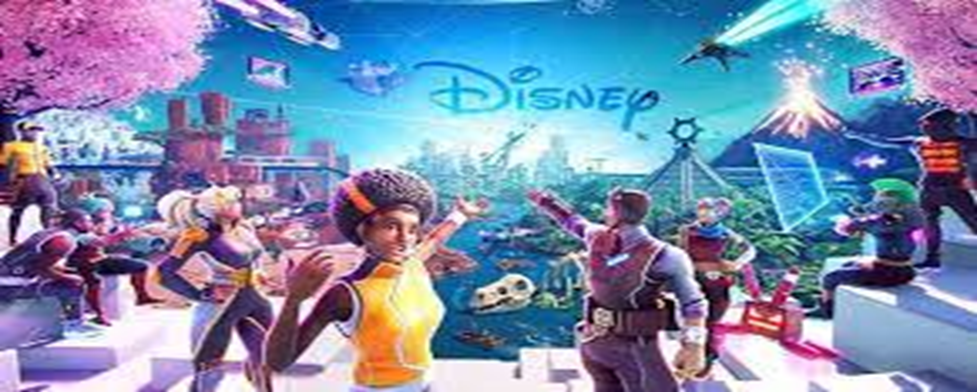 Metaverse is a multibillion-dollar fixation and is becoming a reality with the convenience and increased availability of VR Technology. At a time, the thought of having a personal VR system was perceived as a posh fantasy. But, today, a high-quality VR headset is available for just $300. Tech giants like Microsoft and HTC are not ignoring the entertainment industry. HTC and HP sell various headsets to capitalize on the VR gaming potential of Xbox. Minecraft allows its players to generate their virtual character and create whatever they want.
The entertainment titan "Disney" is working on a metaverse strategy. Disney's metaverse vision is not new. The former VP "Tilak Mandadi," about two years ago, showcased the company's interest in creating a "Metaverse Theme Park" where they would converge the digital and physical world via smartphones and wearable devices. The management at Disney claims that Metaverse will be their upcoming storyteller frontier that would revolutionize a century-old storytelling tradition. This new paradigm will give the audience a virtual experience to engage more with their stories.
Wrapping Up
The global tourism and lifestyle industry is facing considerable changes not just because of the Pandemic but also on account of disruptive technologies in the digital world – including the most buzzing "Metaverse Technology." It is inclining digital natives to get involved in virtual globetrotting. Today, consumers love and opt for metaverse tourism and lifestyle experiences. Metaverse allows travelers to test drive their planned trips. People can virtually experiment with various crazy things to figure out how they should spend their money and time once they arrive on vacation or at a music concert. However, the tech experts claim that a fully-fledged metaverse is at least a decade away. Whether you call it the Metaverse, the magic verse, web 3.0, or AR Cloud, it is sure that it is "On its Way" and is going to uplift our Lifestyle. However, a solid alliance between tech giants, tech developers, and policymakers is a prerequisite to make it all prevail sooner. It will be pretty exciting to watch out for the level the Metaverse blows up the travel and lifestyle industry in the near future.