TikTok recommendation engine utilizes Artificial Intelligence (AI) and Machine Learning to elevate content to app users around the world, and enables makers to create recordings with Augmented and Virtual Reality visual effects, immersive content, music infusion, filters and other technology enhancements. If you are looking for extreme entertainment, but you don't like to spend hours on your smartphone, TikTok is the answer. If you like short dance videos, lip-syncs, comedy, parody, or other talent videos, TikTok offers a one-stop solution. There may not be any online user who does not know about Tiktok.
Tiktok is built in 2016 by ByteDance, a Chinese internet technology company. After a successful merger with Musical.ly, Tiktok was finally launched for the United States on August 2, 2018. TikTok has become the most downloaded app in 2018 and 2019.
What Made TikTok the Highest downloaded mobile App?
Some people count the number of downloads to rank the most rated app. For this, TikTok yet stays the giant with more than 2 billion app downloads globally. Tiktok stands at 4th position with 800 million active users. Facebook, Messenger, and Whatsapp hold the top position in social media app ranking.
Of course, the content published in TikTok is fantastic and addictive. But we cannot disregard the algorithm behind this app that keeps the user flooded with the videos of interest. This article is solely confined to the backend artificial intelligence programs that made TikTok user-friendly and more interactive. This discussion includes critical features and their respective AI programs for TikTok.
How is TikTok Different from other Apps? The Recommendation Engine!
Recommendation engines are data filtering tools that work on the interest of a particular user. For this purpose, they use algorithms and searched data and then mention it as a recommendation in the sidebar of a particular platform. You can compare them with a ''shopkeeper guy.'' When you ask him for a specific item, he also shows you some other products. At the same time, these products are based on the interest you have shown previously. With the rising number of data finders on search engines, the amount of data providers also raised. Moreover, particular platforms also use recommendation engines to keep the user on their site for a long time.
There must be a reliable data basis that collects and stores information and show it in real-time. It will then favor a variety of abstract layers like algorithm, serving, and application layers to appear on the front. Ultimately, it resolves many business person's issues.
Typically, there are two standpoints for TikTok; the one represents the creator side while the other covers the consumer's side.
1-  Content Creator
TikTok supports content producers with AI to create viral content. Its robust AI system suggests the producers about keywords, hashtags, video editing, and attractive music selection.  
2-  Consumer Side
TikTok's efficient algorithm notices the likes and comments of the users. It also focuses on their retention time on a particular video and then offers them the video of their interest.  
What will Appear First in a New TikTok User's Feed?  
TikTok lowers inconvenience by not forcing the audience to sign-up first. It gets information about your taste by the first video you watch and the time you spent on it. The original content that appears in your TikTok feed is based on the data you provide during signing-up on the app. TikTok's archetype traces your location, age, and gender to show you the content that matches the above-provided information. After it, TikTok will show you data related to your first search on the engine.
The primary purpose of every app is to engage the audience for a longer time by reducing the exit rate. TikTok efficiently shows you the most loved video by the audience in your location. After getting enough information about your interest, it will trace your metrics and offer a final score.
If you click on a celebrity video, it will add it to your favorites. Then next time when you come on the app, you'll see related videos on top as a recommendation. Further, it analyses your curiosity to favor you with precise recommendations.  
There are several theories related to TikTok's algorithms. The user experience and expert analysis make their basis.
Batch Theory
When a user uploads a video, it undergoes through different batch pools to distinguish its content from others. In this scenario, the algorithm traces its watching history, personal preferences, location. Your content becomes famous if it gets more likes, sharing, and comments than usual. So, the algorithm assigns a score to your content based on the points mentioned above.
Finally, if the algorithm finds your content impressive, then it exposes your unique content to a big audience. According to this theory, it will take a week or more to become a celebrity. It also includes that engage more audience in trending topics to get more promotions.
Delay Momentum
This theory suggests the data uploaders not to delete their content; it doesn't matter how rough it is. Some users also share their experience that some pieces of their content were not so appealing. They started using the app less than before, and they eventually saw a rise in their audience. In this way, TikTok cares about its users and feel them they are essential to its community. The TikTokers get passion and start producing new content to retain the audience.
Authority Ranking
This theory suggests that the success of your account to be viral is only depends on your introductory videos. If you succeed in gaining some likes and views, then TikTok's AI considers you a perfect match. Now the algorithm provided you the audience, and you, in return, have to sustain it with fantastic content.
Three primary pillars help TikTok archetypes are:
Tagging the content
Producing user-profiles and user scenarios and
Training and helping recommendation algorithms.
Here is a detailed conversation about them.
Data and Features
Firstly., we consider what data is? Recommendation model comes with the user's fulfillment by providing the User Generated Content. For this information, input data comes from three-dimension.
Content Data
TikTok is widely in use over the world; thus, it also has a variety of information. Every type of content has a unique taste and should be in different categories. So, the system should be strong enough to show specific data in a specific recommendation.
User Data
This data includes the user's personal information like age, gender, career, and demographics. It also adds some hidden features form ML-based customer clustering.
Scenario Data
As its name shows, it tracks user's preference shifts and uses scenarios on variable scenarios. For instance, what kind of video a user loves to watch while traveling, working, jogging, and many more.
Once the data collection is done successfully, then the four critically planned features are introduced into the recommendation engine.
Correlation Features
They correlate the content characteristics with user tags, containing keywords, theme tag, source matching, and arrangement tag. Moreover, they also represent latent features like vector separation between content and the user.
User-Scenario Features
These tags monitor scenario data like physical location time, and date of content uploaded with event tags.
Trend Features
They represent a worldwide trend that becomes a hot topic in a specific time. However, they also denote top keywords, trending themes, and user interaction with them.
Collaborative Features
These features work based on a collaborating filtering strategy. It equilibrates the bias recommendation (narrow) and generalized recommendation (collaborative). Furthermore, this feature not only records data of an individual but also a group of related people with the same interests. It also traces their interests, impression click-through rate, themes, and keywords. In this way, the above-discussed features decide what to show in a particular scenario to a particular user.
TikTok Recommendation System
After video uploading, the robust algorithm uses a highly-efficient NLP and computer vision system for video analysis. Just like humans, it read every part of your video, including audio, video images, captions, and hashtags. Then it assigns it a specific category according to the content and context of the material.
The working strategy of TikTok will shock you. It exposes every new coming data to a small audience and evaluates your hard work based on the viewer's interest. After all, it will decide a score for your video as:
| | |
| --- | --- |
| Watch-again rate | 10 Points |
| Retention time | 8 Points |
| Share to others | 6 Points |
| Comments and responses | 4 Points |
| Likes | 2 Points |
Moreover, its robust AI system also distinguishes between looping and non-looping videos. Looping content doesn't help to make you viral. If your video catches the high score, it means your video is in the right list of TikTok's algorithm. It will share your video with the right audience having the same head and heart.  
Your video doesn't go viral if it's unable to get the rank, as mentioned above. But still don't lose heart, Delay Momentum Theory works here. Now you are well familiar with how TikTok retains the audience for more significant periods.  
Intangible Goals
In the recommendation model, all objectives, including clicks, likes, dislikes, comments, re-posts, and reading time, are assess-able. The algorithms use this information rightly and then show it as a prediction precisely. But there are some other imperceptible objectives; for them, the recommendation engine can't provide quantifiable information.
For the maintenance of a healthy and user-friendly environment, TikTok is going to overpower all violent content. The platform is deciding to remove all content related to pornography, scamming, pomposity, and even political news. Therefore, there is a dare need of a compatible model that can deal with this severe issue efficiently. Content Audit System supports to achieve this kind of perfection.
TikTok's Algorithms
A classic machine learning is in use to formulate the recommendation objectives to solve the incoming problems. So, algorithms as collaborative, Logistic Regression model, filtering model, GBD, factorization Machine, and deep learning are serving to solve them.
However, the recommendation system for industrial-grade needs a flexible and expandable ML platform. It helps to train a variety of models to construct experimental channels quickly. Finally, stack them all over one another to get their extraordinary performance in no-time. Consider the connection between LR and DNN, SVM, with CNN as an example.
The content classification algorithm and TikTok user's profile algorithm still need improvement.
Training Mechanism
TikTok prefers online training process in real-time that comes with less computational demands and quick feedback. Thus, these mechanisms help steam and flow product information.
They capture the behavior and actions of the users, then send it to the next model to reflect the information on the next feed. You can relate it now when you click on a particular video; the training system updates your recommendation feed instantly. So, be aware, all of your actions are under consideration of powerful AI installed in TikTok.
Most probably, Strom Cluster is favoring the TiikTok by real-time data collection. It provides instant details about clicks, likes, posts, comments, and sharing data. Their highly efficient system also contains model parameters and extraordinary features servers. You can call them a feature store and model store. The Feature Store has the power to store and serve ten million unique features and planned vectors. While the Model Store helps to preserve provision models with adjusted parameters.
We can summarize the overall process in five steps:
The online server involves real-time data capturing and then feeding it into the Kafka.
Storm cluster uses the data coming from Kafka and product features.
For the construction of new training sets, the feature store gathers updated features and recommendation labels.
Online training pipelines are responsible for the retention of model parameters. Thus, they also stock them in the model store.
Last but not least, they update the recommendation list on the client-side and then record new feedback. The primary focus is on the user's activities, and then they circulate the entire information again.
How does TikTok's Recommendation Engine work with a Consistent Flow?
No platform happily reveals its core algorithm to the tech society or share it publicly. Here is simplified version of TikTok engine workflow: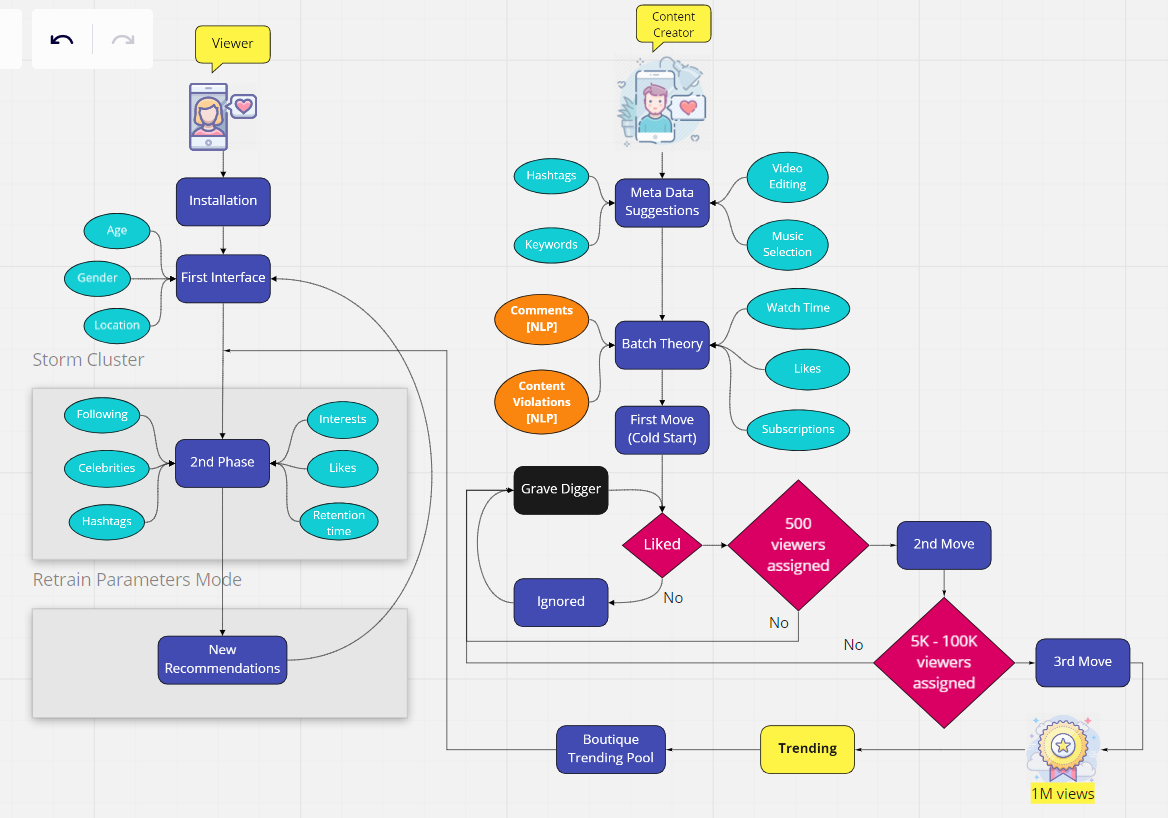 Greeks use reverse engineering techniques to provide information from hidden treasure. Therefore, we gathered the segmented information about TikTok's algorithm coming from different organizations and strategies. Here are some major conclusion points:
The Initial Move: Duo-Audit Strategy for Screening UGC (User Generated Content)
Every day, millions of users are busy uploading a variety of content on TikTok. The machine review system can efficiently detect dodges produced due to malicious content. At the same time, the manual review has not worth it in this scenario. Hence, TikTok uses a duo-review system for broadcasting audiovisual-data as its primary algorithm.
For a better understanding of manual and machine reviews, you can focus on some key features.
Machine Review
Frankly sharing, the Duo-Audit System of TikTok works based on the computer-vision theme. Its highly-developed to read not only your keywords but also images and video content. Machine review focuses on two major tasks:
It scans the content to identify if there are any cracks or pauses in video clips. Furthermore, it also verifies the written content to be copy-right free and original. If the machine find violation or suspected activity, it instantly marks the content as yellow or red for public review.
Secondly, it extracts images and critical components from the video; then, the Duo-audit algorithm scans it thoroughly. It compares the concerning data with previously stored one to recognize its originality. But the system points out the duplicated content in real-time and stops traffic towards that plagiarized content. The recommendation engine also avoids showing this type of data in the user's feed.
Manual Review
It covers three areas:
Video Title
Cover Thumbnail
Video Keyframes
The Duo-audit system declared suspicious content moves towards technicians to review it again. If they found the same, then they have the right to delete the video and also hang the user's account.
First Move:  Cold Start
You can judge that the whole information moves in an Information Flow Funnel in the recommendation engine. All right, when the content successfully passed the duo-audit review, then ultimately, it goes towards cold start traffic pool. For instance, if your first video stands by the first step, then as a reward, TikTok exposes your video to over 200-300 related viewers. Now it depends on your video quality and standard that if people like, share, or comment on it. It's a great chance to gain exposure up to thousands of audiences.
A new content creator and a social influencer compete at this step as both have similar starting ideas. But the difference is in their followers (influencer with thousands of followers).
Second Move: Metric Based Weighing
As we are going further, the algorithm system is becoming more interesting than the previous step. What's next? Let's discuss this.
If the video successfully passes the traffic pool test and gets a significant number of views, then it's a perfect match. Now the information goes for data collection and analyses. The metrics analysis includes likes, comments, repots, shares, and video retention time.
These initial metrics help the recommendation engine to give weightage to the content. It decides your overall account score based on high-quality content production. If the engine loves your content, it offers you an extra 10,000 to 100,000 traffic. It posts the unique content in the top 10% of the feed.
Third Move: User Profile Amplifier
The information coming from the second step of the traffic pool undergoes further testing to make the final decision. In this step, the algorithm decides about user profile amplification based on the performance of the content. Then it transfers the content in a specific group related to its audience. It might be concerned with sports, dance, or fashion lovers.
Its healthy system works on the principle of supposing what you demand with high proficiency. The recommendation engine builds the right connection between the user group and the content. So that it will serve you with the best service, it can provide you.
Fourth Move: Boutique Trending Pool
Precisely, less than one percent of the content goes to Trending Pool. The magnitude of the content exposure in this category is far more than others. The trending content appears in every user's feed without any specification or differentiation. For example, your interests don't matter when it comes to the information related to ''Black lives matter.''  
Extra Move: Time Lapse Ignition
Another fascinating fact about the TikTok algorithm is that your video may take some time to rank high in searches. TikTok users can notice an eventual rise in the view count of their specific video. Consequently, a single video becomes the cause of ignition that starts your rising zone. If we go in detail, there could be two factors responsible for this drastic change as:
Is your old video dead on TikTok?
First, there is a famous TikTok algorithm with a nickname Gravedigger. It works to find the best old content. For this purpose, it scrapes data about a specific topic and comes out with the most appropriate and high-quality content. If you are experiencing significant traffic to your channel or account suddenly, it means Gravedigger selected your content. The algorithm mostly prefers vertical videos to drive traffic to your account.  
How your video becomes trending in TikTok?
Secondly, Trendy Effects. If one of your videos approaches one million views, then through trendy effects, it will drive traffic to your main page. Thus, your one ranked video favors the ranking of other content, and ultimately your account earned more traffic than before. The vertical creators share their funny cat videos that most cat lovers alike. And after watching your ranked video, they'll land to your main page, from where they will watch the remaining content of your naughty cat.
Sadly, the Traffic Exposure is Not a Long-term Achievement
If we summarize the above conversation, we said that the flow funnel attracts unique information. It passes the tests of duo-audit, weighing repetition, and amplifiers. Then ultimately reward creators account with high traffic, user interaction, fans, and high exposure.
But this traffic doesn't last for more than a week on your account as people's interest changed. They start searching the same content with other keyword terms. Thus, the hot traffic coming to your account reduces slowly, and subsequently, it comes to normal.
Is TikTok hard for new upcoming talent?
Quite the opposite!!! The primary factor is that TikTok wants to raise new upcoming talent to lessen the unintentional biases. That's why the algorithm updates and welcome new content creators to get exposure. It never relays on the same content; thus, everyone gets equal chances to appear in a trendy pool.  
There is another factor that you must consider. If your content is not getting much views or interactions, then TikTok observes your activity and behavior. So, if it feels that the user stops producing further content, it will lift him by lifting his content. The user again starts producing content after watching success.
This cycle is the secret behind why people spent too much time on the platform without getting tired. It keeps your values high and boosts you to create more content for more fun.
Cheers :)