The finest virtual reality experiences are nearly entirely out of this world. It's a common fantasy to be able to enter your favorite video games, and virtual reality (VR) technology lets us at least get quite close to that goal. It's thrilling to play a game while controlling it with your limbs while appearing to be within the game's universe. Additionally, VR technology is improving at an exponential rate. VR headset games are now more comfortable, and researchers are constantly working to speed up response times and reduce motion sickness.
What are the most popular VR games? This list includes games for every VR platform, including Meta Quest 2, Valve Index, and PS virtual reality headset games.
Augmented Reality Gaming Market
The truth is that personal VR headsets still need to be made more common compared to PCs and game consoles. Will that ever alter? It's difficult to say. However, sales are increasing yearly, and it is almost certain that this trend will continue.
In 2023, more than 20 million VR headsets will be sold; two years later, that number will increase to 30 million, predicts IDC. More than 10 million VR headsets will be sold in 2021, which is twice as many as 2020 expanding VR gaming business. Thus, these predictions for the years after are entirely valid. Here are some more intriguing Oberlo VR data. Experts predict that the virtual reality gaming business will expand by 25 to 27% annually, considering VR's exponential development rate. By 2025, the revenue may exceed $45 billion if everything proceeds as expected.
Sales have increased because of the popularity of XR growing as well as headset prices falling. For instance, Quest's initial launch cost at least 399 USD. Quest 2 is now available for 249 USD if you find a reasonable price. In addition, new products, services, and peripherals are entering the market. And those who currently reside there are becoming easier to reach.
A Combination of Virtual Reality and Gaming Across Industries
As time passed, more game creators began to show interest in VR gaming. Generating new VR material or altering existing VR content altered how people perceived the games. The game's companies started developing more intriguing solutions that draw in more new players. While introducing VR game items, suppliers are using VR to assist them in getting through laborious industry hurdles. The value of the VR gaming sector is growing thanks to this new disruptive technology. Gamers are increasingly using virtual reality equipment. Consumers and gamers are also getting more and more aware of virtual reality.
Once the VR headset reached the market, the video gaming industry saw a significant upheaval. VR headsets hit the market at the beginning of 2016, and VR games quickly gained popularity. People are keen to investigate 3D creatures in a computer-generated virtual world utilizing a VR headset like the Oculus Rift.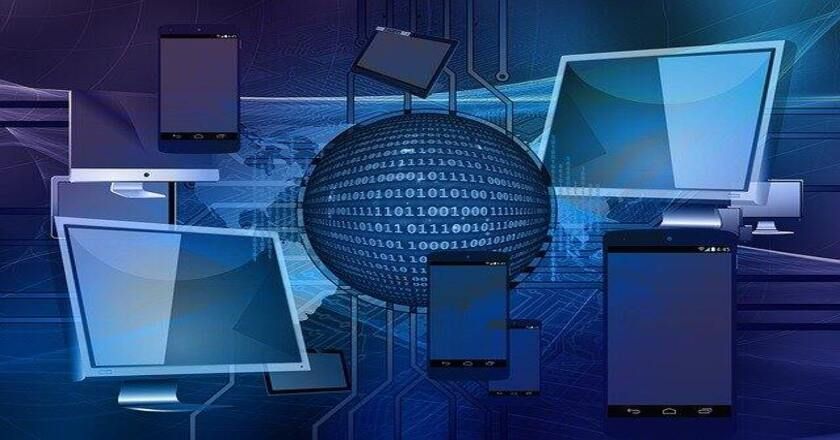 What is VR Gaming Hardware?
The best VR games for the "HTC Vive, Oculus Quest 2, PlayStation VR, Valve Index, and Windows Mixed Reality headsets" are included in our list of suggestions. Many of these gadgets and video games are now more affordable than they were a few years ago, making them easier to justify buying.
Remember that a influential gaming computer or laptop is also required whether you opt for the "HTC Vive, Valve Index, or a Windows Mixed Reality headset" to deliver pixels to the headset displays. Find computers with quick CPUs, top-tier GPUs, and enough USB ports to connect all these gadgets for the most fantastic experience possible.
It's a blessing for PlayStation users that they don't need to worry about specific models working with the PlayStation VR headset (any PS4, PS4 Pro, or PS5) will do. The Oculus Quest 2 and a few others are standalone devices. However, Quest 2 may be connected to a PC to run more visually demanding games.
What are VR Games and their Five Senses
Here are 5 unique sensations that set virtual reality gaming apart from its rivals. The following factors are considered by VR game creation businesses while creating games so that they can be more creative and exciting for gamers. Let's learn how do you play VR games?
1. Visuals and Animations
When it comes to gaming and entertainment, visual impressions are the most important. Players may interact with immersive visual components while playing VR video games, enhancing their enjoyment of the experience. It adds appeal for the players to create a virtual gaming experience with real-world interactive elements. Games on VR are quite successful and famous because of the distinctive user experience provided by the visuals and animation.
2. Sound
It is another essential sense influencing how players feel about different game genres. For instance, if you are playing horror games, the noises accompanying them might make your dreams come true. Additionally, because the sound effects complement the gripping plot, it pushes gamers to continue to the end of the game.
3. Tactile Feedback
When playing the best VR games, the tactile feedback may create a unique playing experience for several sessions. For instance, pressing a button while playing an action game will make it appear like a gun is firing bullets at you. To reach the intended objectives, it indeed provides an intense sensation when the game aims are completed. Because of this, VR games may produce engaging material that is dynamic.
4. Smell
This feeling may be effectively produced for gamers as well with VR technology. Players of the best VR games may now smell gunpowder, for example, thanks to certain firms that create fragrance devices for virtual reality, which significantly enhances the best VR experience.
5. Taste
It is also conceivable to taste in virtual reality since, according to a study, 80% of our tastes originate from what we smell. Coffee, for instance, may already be tasted throughout a virtual reality encounter thanks to the identical gadgets discussed above. Additionally, various additional styles of devices for simulating taste may be used in the best VR games in the future.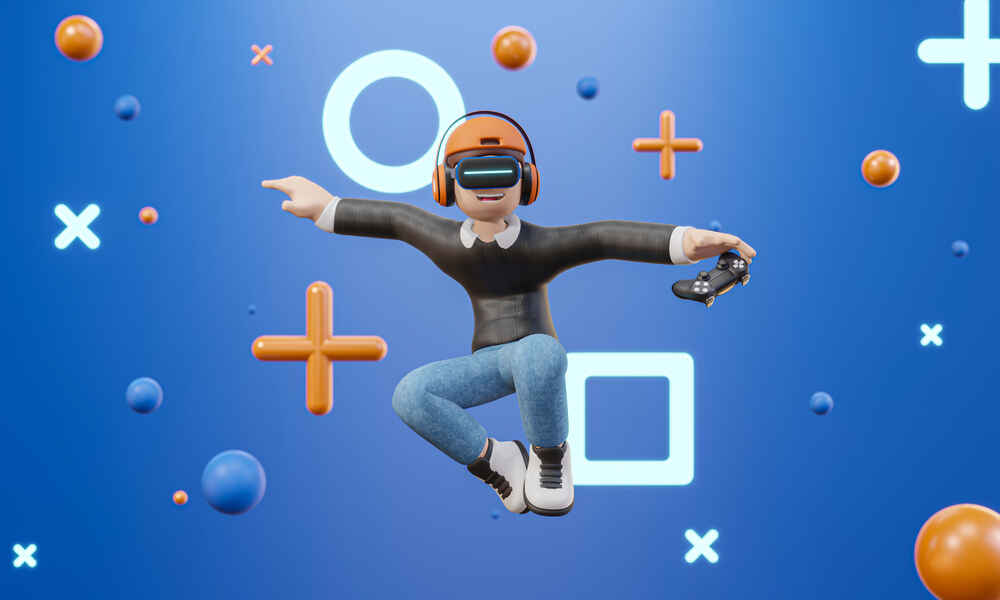 Famous VR Games Available Now

Platforms: PSVR, HTC Vive, Meta Quest 2, Valve Index, and Oculus Rift
If Guitar Hero and Star Wars were to have a child, the result would resemble Beat Saber, one of the best VR games. One of the most well-known VR games today, the rhythmic game, has players swinging bright lightsabers to the beat of their favorite tune.
You must hack and slash at the numerous colored obstacles that are coming at you with your sabers. If all goes according to plan, you should be striking the boxes in rhythm with your selected music, which will result in some rewarding pleasure and, to be honest, a little bit of a workout occasionally.
Beat Saber also offers a wide selection of songs, so everyone who takes it up will find something to their liking. If you wanted, you could even cut away boxes while listening to Linkin Park. Beat Saber VR is a must-have for any aficionado, so there!
You can buy it on Steam, Oclulus Store, Playstation Store, and Humble Bundle.
Who It Is For
Beat Saber songs are worth checking if you enjoy music and action. But Beat Saber is a very active experience; you can't play it while sitting down. As you rock to the beat, be ready to slice music blocks energetically.
Why it is in the best VR games list?
A pleasant exercise.
A vast music selection with Beat Saber mods.
Never has mastery felt so lovely.
Beat Saber music packs.
It is one of the fun VR games.
Why Avoid it?
This game is best played in an environment where you can't break anything.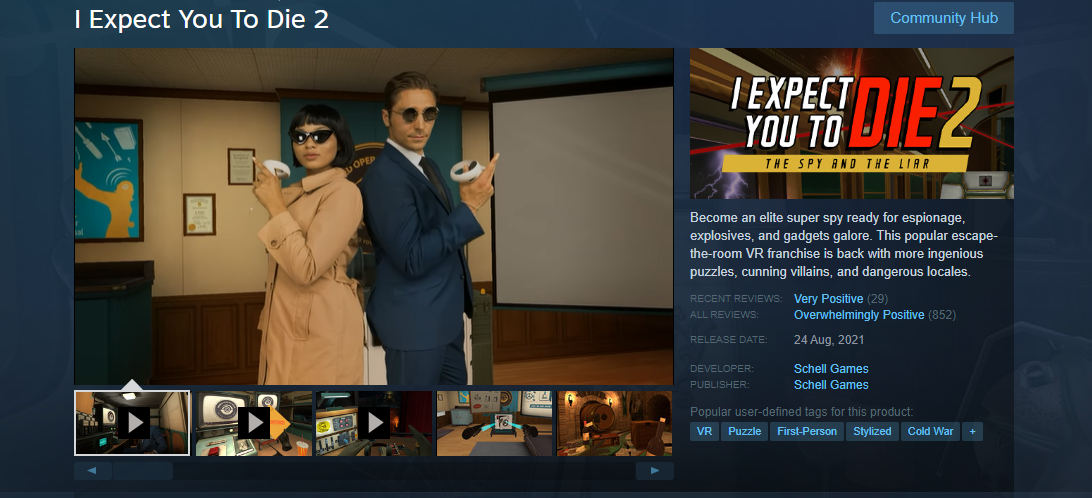 Platforms: HTC Vive, Valve Index, Meta Quest 2, and Oculus Rift
Ever wanted to be a dapper secret agent? A VR puzzle game called I Expects You to Die 2 places you in dangerous scenarios. Your vehicle could be booby-trapped. Perhaps the submarine leaks. If you're fortunate, you could even be offered an all-expenses-paid journey on a luxurious train throughout India. If you're unfortunate, a tank might show up outside your window and shoot rounds into your cabin.
I Expect You to Die 2 (new virtual reality game), the sequel, builds on the first with even more entertaining and engrossing missions. It offers even more complex scenarios to solve. You'll feel like 007 when you manage to escape the peril you find yourself in, even if it can take numerous tries.
Who It Is For
This VR game is for you if you enjoy solving puzzles, espionage movies, or escape rooms. Although the game is brief, the high stakes and open-ended difficulties keep you engrossed. I Expect You to Die 2 download link is here.
Why it is in the best VR games list?
A real spy-themed adventure
Clever puzzle design
Failing is always amusing
Why Avoid it?
No method to check mission goals mid-mission
Handling items may be clumsy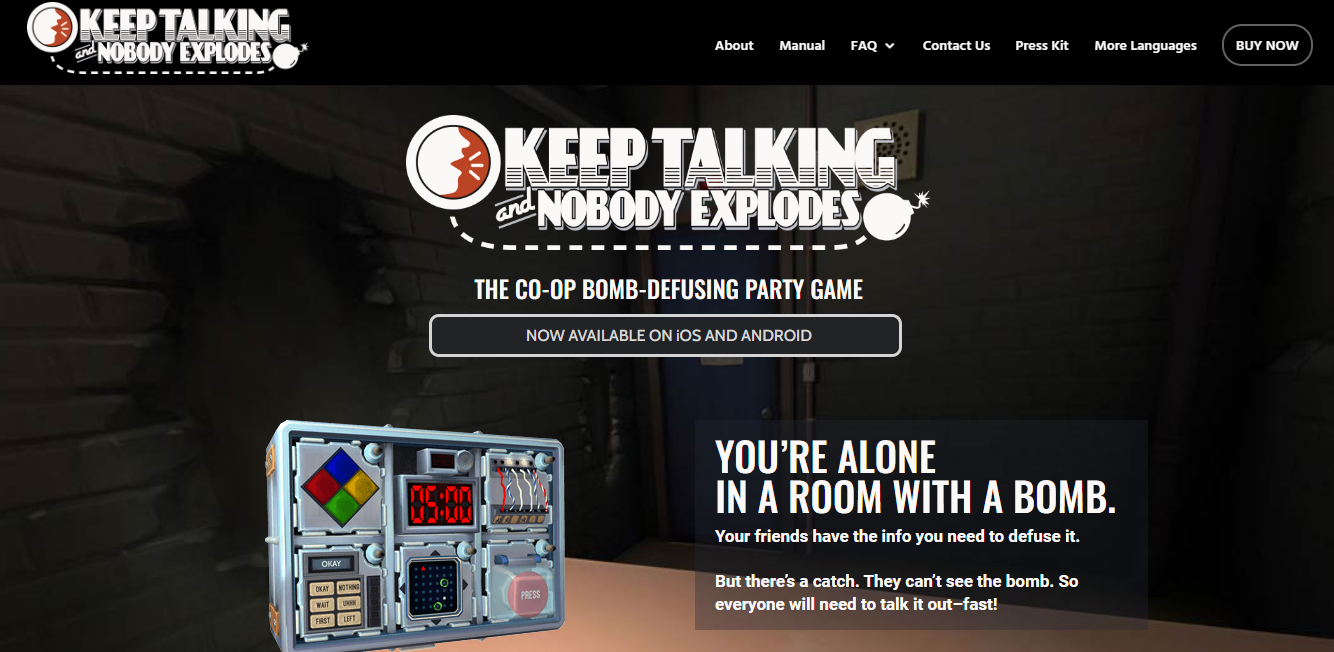 Platforms: PlayStation VR: Valve Index, HTC Vive, Oculus Quest, Oculus Rift, and Rift S
The best way to explain Keep Talking and Nobody Explodes by Bomb Squad is as an asymmetric cooperative game.
Most people would interpret this to imply that this is the finest VR game to play with others, as just one headset is required, which is great news for big groups or players who have motion sickness.
In this one of the top VR games, one player must disarm a bomb. This player sees and controls a complicated explosive device with various cables and buttons. To learn how to defuse it, anyone outside of VR must consult an instruction manual they may access on their phones or computer screens to prevent the bomb from detonating due to a poor decision or time-out; communication must be as precise as possible.
Who It Is For
Games like Keep Talking and Nobody Explodes are one of the good VR games. Playing it with friends is terrific and amusing because of the all-or-nothing game cycle, necessary teamwork, and essential communication components.
Why it is in the best VR games list?
Simple to learn
Enjoyable to play
Keep Talking and Nobody Explodes with mods strengthens teamwork with loved ones
Playable for 6 players
Why Avoid it?
The novelty may wear off.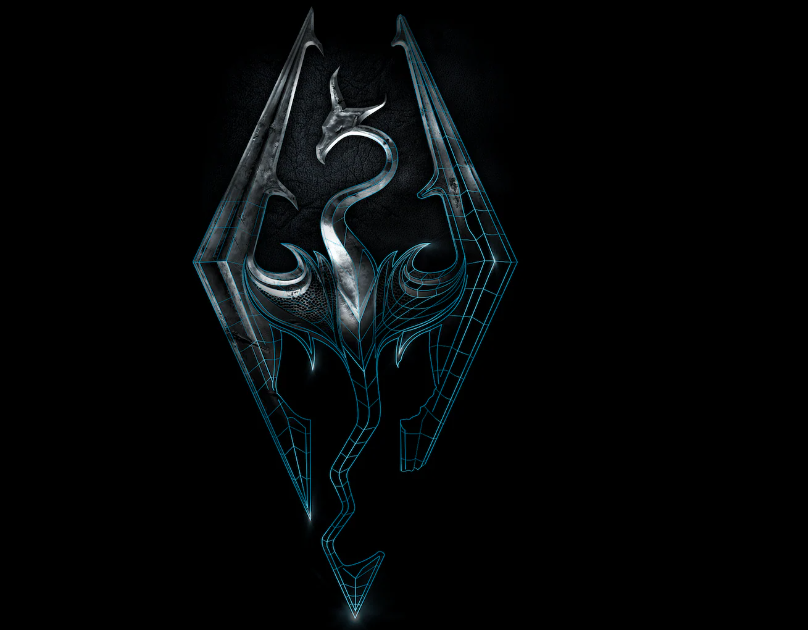 Platforms: Windows Mixed Reality, PlayStation VR, HTC Vive, Oculus Quest, Oculus Rift, and Oculus Rift S.
It turns out that Skyrim in VR is the Skyrim of VR. Although Bethesda's adaptation of its enduringly famous fantasy RPG has some odd idiosyncrasies, we were more than ready to overlook them as we saw Tamriel like never before. Skyrim VR is the closest we've gotten to realizing every adventurer's aspiration with its hundreds of hours of content, complete liberty to create the type of character you desire, and a vast environment to explore (outside of taking an arrow to the knee).
In addition to the original game, the availability of mods for it creates an endless stream of fantastic fan-made material that may transform you into other characters or even allow you to play different games that are just as excellent as the original.
It will be challenging to surpass Skyrim VR for a while, which remains one of the most excellent VR experiences.
It is multiplayer and cross-platform. It functions with "Windows Mixed Reality headsets, Playstation VR, Oculus Rift, HTC Vive, and Vive Pro". In addition to the primary game Skyrim VR, it offers a variety of other games to play. This most realistic VR game makes it quite immersive to play. The mechanics are well-designed and straightforward. Four controls are included in this game to improve immersion and give players a choice in how to play. "Physical skulking, realistic bow aim, realistic shield grip, and natural swimming" are a few of them.
Who It Is For
Fans of RPGs will enjoy this. Skyrim, one of the best games for VR experience, is a large and mechanically complex game that may be played in virtual reality. In contrast to the typical VR game length, Skyrim is virtually as lengthy as you want it to be based on how you play the game and design your character.
Why it is in the best VR games list?
Benefits from a fantastic modding community precisely like the standard Skyrim
A fantastic choice for the VR port
Supported by a variety of VR headsets
Before being ported to VR, it was already well-liked, supported numerous platforms, and offered a variety of games to play.
Why Avoid it?
Limited VR compatibility without mods.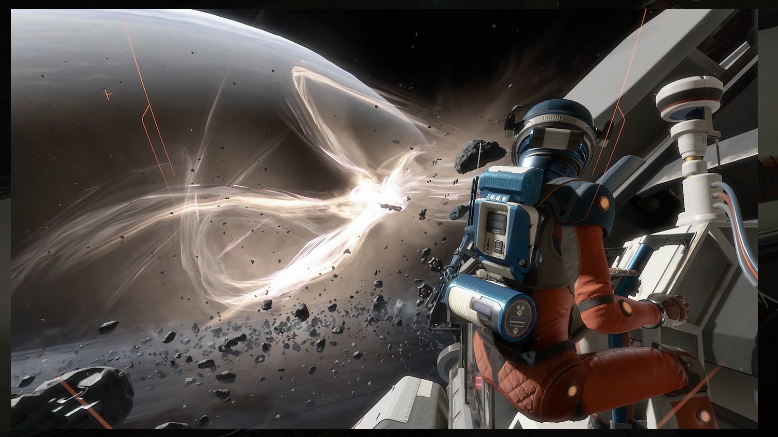 Platforms: Rift S, Oculus Quest, and Oculus Rift
I don't even care if my physical body is gone. My hands are composed of titanium, not flesh, bone, or sinew; when I bend a finger, I can see synthetic tendons flexing. They have plasma cutters and thrusters built into them, which is convenient because I'm trying to repair the space station while in zero-G.
Lone Echo is one of our popular VR games. With its zero-G locomotion, where you must practically grip onto bits of the station to drag yourself along, it fully embraces VR's advantages and disadvantages. It feels unsettling but natural to reach out and contact with items, and the production values are excellent. Because it appears to have been inhabited, the VR environment is compelling.
Even with mentioning the multiplayer feature, Echo Arena, similar to the Battle Room from Ender's Game, uses discs instead of weapons.
Who It Is For
Lone Echo's character-driven plot satisfies that craving for role-playing. A fantastic single-player experience is made possible by the sci-fi atmosphere, fluid movement, and exploration-focused gameplay.
Why it is in the best VR games list?
Lone Echo creates a thrilling mix between exploration and puzzles that give the player the impression that space is a playground.
A science fiction experience that transports players on a virtual reality space adventure.
Why Avoid it?
You could occasionally feel nauseated from that imagined sense of weightlessness.
Unfortunately, if you frequently have motion sickness, you might have to pass on this game.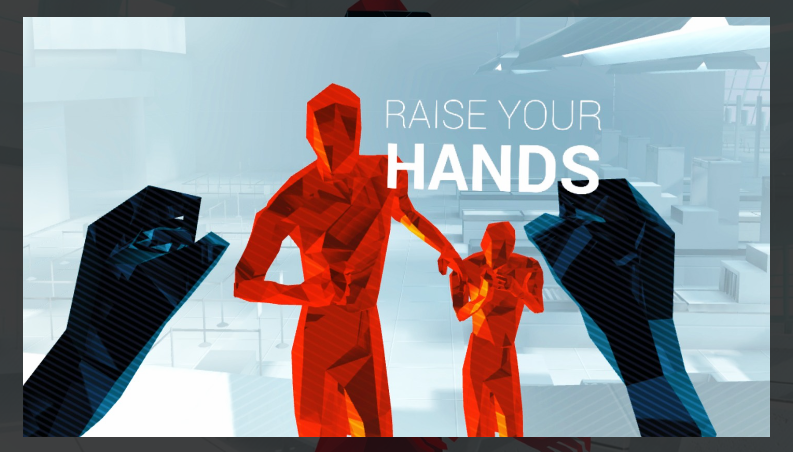 Platforms: PlayStation VR, HTC Vive, Oculus Quest, Oculus Rift, Rift S, Valve Index, and Windows Mixed Reality
In this fashionable shooter Superhot, everything stops going when you do. You must remove all the opponents charging at you in bright red and attempting to kill you to complete a level. To shock and ultimately destroy enemies, you need to use intellect, hands, guns, swords, and any other things (available). Keep a close eye on every weapon discharge since one bullet might kill you and your attackers.
Who It is For
Superhot is a fantastic VR game for puzzle and action aficionados due to its time-shifting gameplay. The fighting situations are hectic but delaying action until after a movement gives you lots of time to plan your next step. However, it's also incredibly merciless, so be prepared to attack, go dead, and keep doing it.
Why it is in the best VR games list?
Fighting feels even more fantastic in VR.
It is an excellent way to work out.
Interesting notion.
Why Avoid it?
Steep learning curve.
It demands more room physically.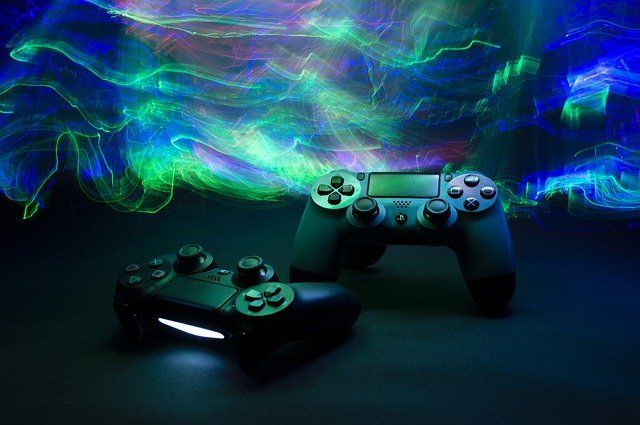 The Future of the Most Immersive VR Games
With VR, you can design various the best VR games across several interactive genres and allow players to feel as though they are physically present in the game world. As devices become more widely available and affordable for the public, and as the top VR device manufacturers try to make virtual reality more inventive, the influence of VR technology on today's games will only grow.
How do you feel about our selection of the top VR games? Tell us about the best VR games to play in the comments section below!