By giving artists new tools and methods to demonstrate their talents and enabling audiences to interact with art in novel and engaging ways, artificial intelligence (AI) has the chance to alter how we produce and experience art fundamentally. Flexibility is a critical feature in the best text to image generator. If you can change elements like brush size and color palette, you will have more influence over the creative process and be able to create work that is exclusively yours.
When choosing the best AI art generator app, user usability is essential. If the interface is simple, you can rapidly create art with little time spent on system learning. The ability to produce a range of styles, adaptability, and usability are essential considerations when looking for the finest free AI art generators like nightcafe image generator. By considering these factors, you may choose an AI art generator that will help you produce wholly original and distinctive artwork.
What is the Best AI Art Generator?
Artificial intelligence (AI) art is defined as art produced with the help of AI. A branch of computer science called artificial intelligence (AI) tries to create robots that resemble or duplicate human intelligence.
Artists use artificial intelligence as a technology for creation and dealing with algorithms to create exact principles that enable computers to analyze hundreds of photographs and comprehend a certain production process, such as a particular aesthetics or style, to create AI-generated art.
Then, to produce new works, the algorithms produce unique forms, shapes, figures, and patterns. To develop tools that push the boundaries of human creativity, AI artists work in partnership with imaginative programmers, mathematicians, and neuroscientists.
Using AI Art Creator
There are several techniques to create the best AI art. One can start a road to study creative coding and produce art wholly from code, generate original graphics from word descriptions, or even build pictures in other people's styles.
Let's take a closer look at the 10 best AI art generator apps to choose which is the most amazing choice for you.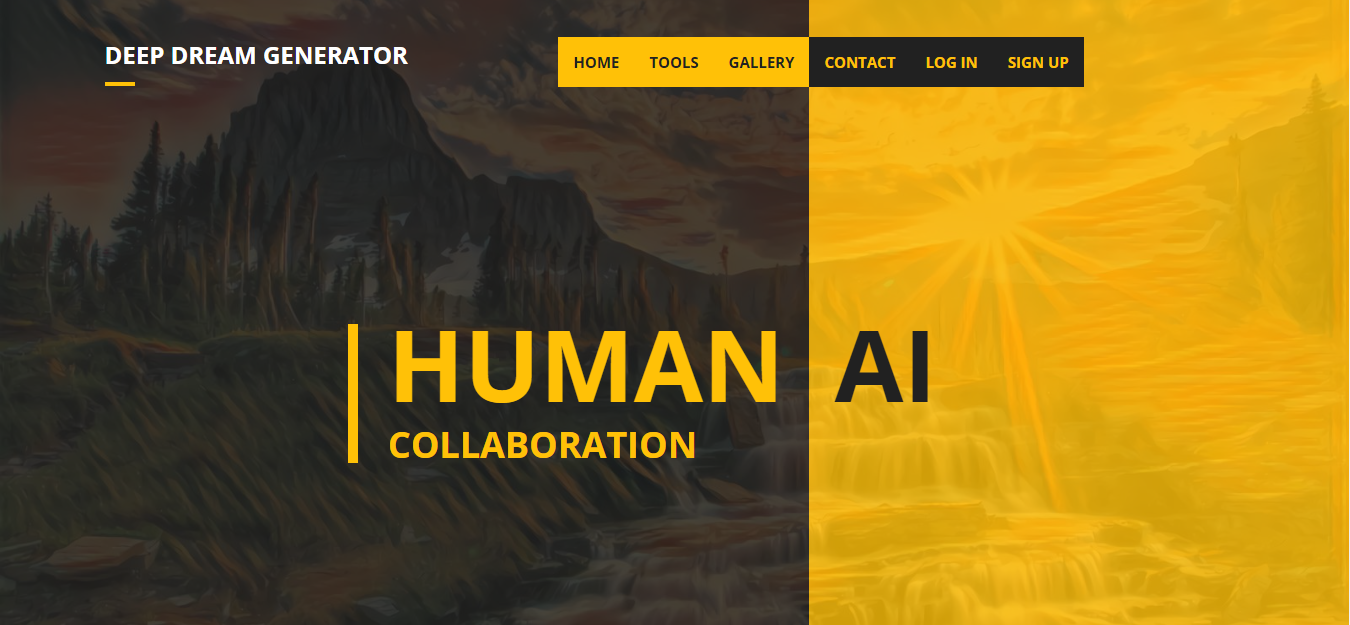 One more of the most important AI art generators is the Deep Dream Generator, an online tool that enables you to utilize AI to create realistic graphics.
Deep Dream is based on a neural network that was trained using trillions of pictures. It is easy to use; all you need to do is upload one image, and the program will generate a new image from it.
Since Deep Dream is one of the best AI art generators that employs several painting techniques to produce images that seem to be from various locations or eras, using it to make artwork is one of its primary purposes. Before the application generates a realistic image based on it, you can select a category like animals or landscapes. Additionally, Deep Dream offers three styles: Deep Style, Thin Style, and Deep Dream. You may get a preview of the image after selecting a style.
They also published their text-to-image program under the name Text 2 Dream.
The following are some of Deep Dream's key characteristics:
Uses AI to provide realistic photos
A neural network that has been trained on countless photos
Three distinct painting techniques
Many images categories
Text-to-picture feature
2. AI Generator Midjourney: Top AI Art Generator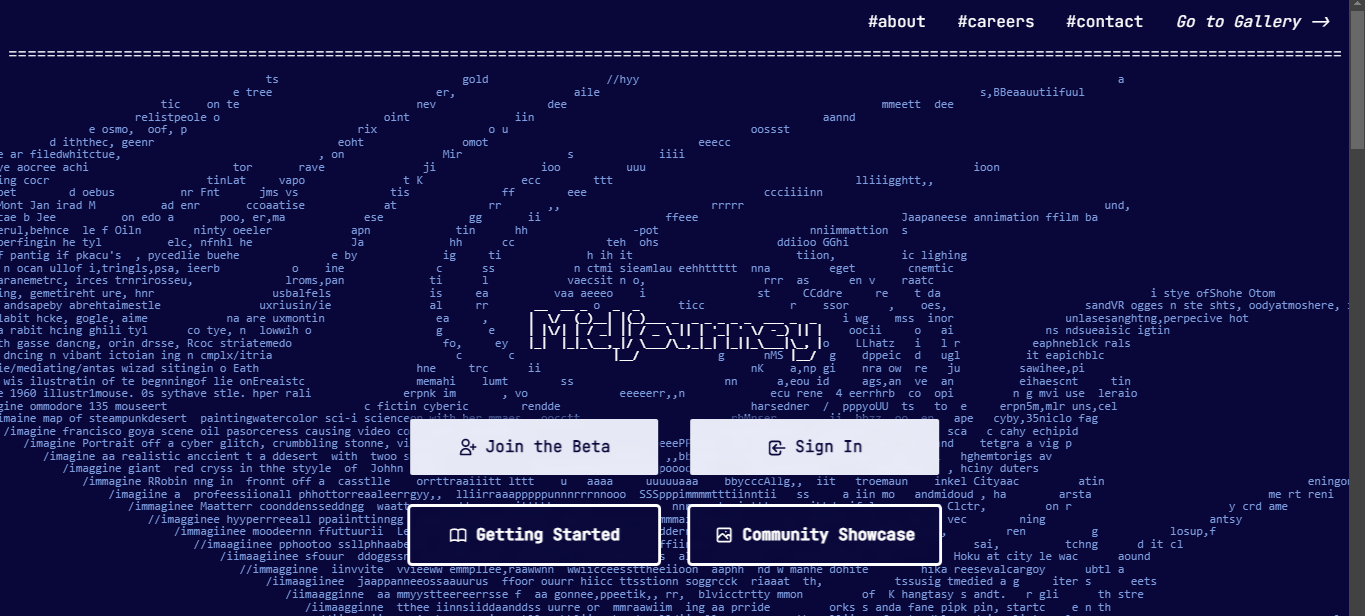 GPU minutes are used to measure credits. An average GPU request (producing four photos) takes one minute to complete. If you decide to upgrade your photographs, you'll use extra minutes.
Midjourney is one of our 10 best AI art generator apps that creates text-to-art on a Discord server, despite not being based on the web. A self-funded team developed this AI bot, and since the beta, it has been incredibly well-liked. Only available as a bot on the Discord server, Midjourney produces the photos there.
You only need to join the server and supply your text prompts with a simple prefix to begin going. After feeding the text, your request is added to a queue, and the AI begins processing it immediately.
Extraordinarily accurate and stunningly attractive photos are produced. The photographs seem lovely despite the lack of an available art style for you to select from. Additionally, you can choose from many alternatives, upscale the image, or use the bot to redo the artwork using a new text query. Additionally, the AI is skilled at handling complex requests, so you may add additional details to your request without worrying about it being perplexing.
Pricing:
Is Midjourney AI Free? This AI art generator is not free to use, as one might anticipate. The first 25 picture creations are free, but after that, you must pay US$10 per month for membership, which entitles you to up to 200 image creations. But after experimenting with Midjourney for a while, you will see that the membership cost is worthwhile. If you want to create outstanding graphics for your projects or blog, give Midjourney a try.
Cost: The first 25 photographs are free; after that, 200 images cost $10.
Basic package: $10 per month (access to 200 GPU minutes per month)
Regular plan: $30 per month (access to 15 GPU hours per month)
Business plan: $600 annually (access to 120 GPU hours per year)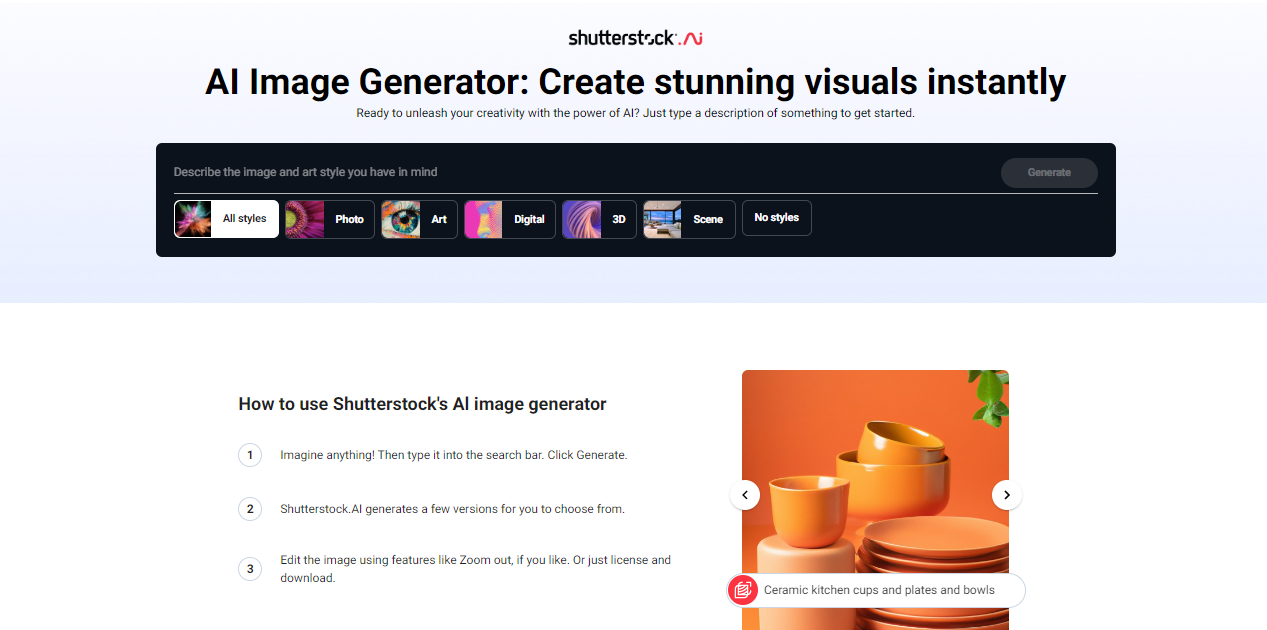 Shutterstock has introduced a new AI image generator to its all-in-one creative platform that allows users to create high-quality visuals by simply describing what they're looking for . This generator uses generative AI technology to create custom images that are unique and one-of-a-kind, and it claims to be able to deliver these images in just a few seconds.
The platform is designed to be user-friendly, and it does not require users to have any design experience or knowledge of complex software tools. This makes it easier for anyone to create custom images for their projects, regardless of their skill level or experience. With this new AI image generator, Shutterstock is hoping to make it easier for people to create high-quality visuals for their projects, and to do so quickly and efficiently.
Its key features include:
The main features of the Shutterstock generative AI image generator include the ability to create custom and unique images based on simple descriptions, fast image generation times of just a few seconds, and a user-friendly interface that requires no design experience or knowledge of complex software tools.
Additionally, the images generated by the AI image generator are available for licensing, allowing users to use them in their projects with ease.
Overall, the Shutterstock generative AI image generator offers a user-friendly and efficient way for users to create custom images for various projects while also providing access to a vast library of pre-existing images and other media.
Pricing:
Shutterstock's generative AI image generator is included with their subscription plans, which start at $29 per month for annual billing or $49 per month for monthly billing. The AI image generator allows users to create unique and one-of-a-kind images quickly and easily by describing what they're looking for in a few words or phrases.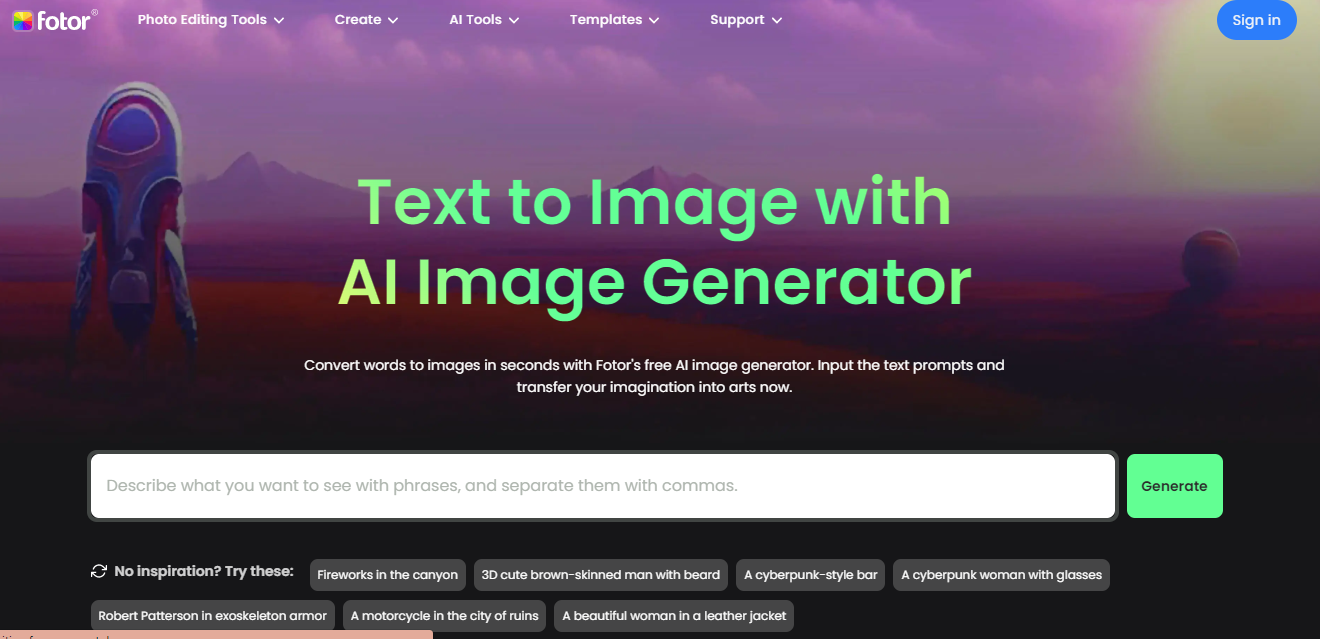 Fotor AI image generator is another AI device that turns text into creative visuals. The algorithm produces related images based on the language description and can generate bulk images from the same series from different angles at the same time.
Instead of simple words, it allows you to input descriptive statements as text prompts.
Its most notable characteristic is that the more specific the input text, the better the produced images will fit your needs. And there is no upper limit to the text description. This implies that the picture alters slightly depending on the text description, and the combinations are limitless.
You may pick the generated picture style, which includes 3D, realistic, oil painting, cartoon, illustration, cyberpunk, Japanese manga, ukiyo-e, art nouveau, psychedelic pop, concept map, photography, and so on.
You may change the details and lighting, for example, to create a bokeh image with a soft light effect. You may also select an image size, such as 1:1 or 4:3.

Price:
Free: Log in to receive 10 free credits.
Paid: Fotor Pro is available for $8.99 per month ($39.99 per year) and allows unrestricted access to this feature.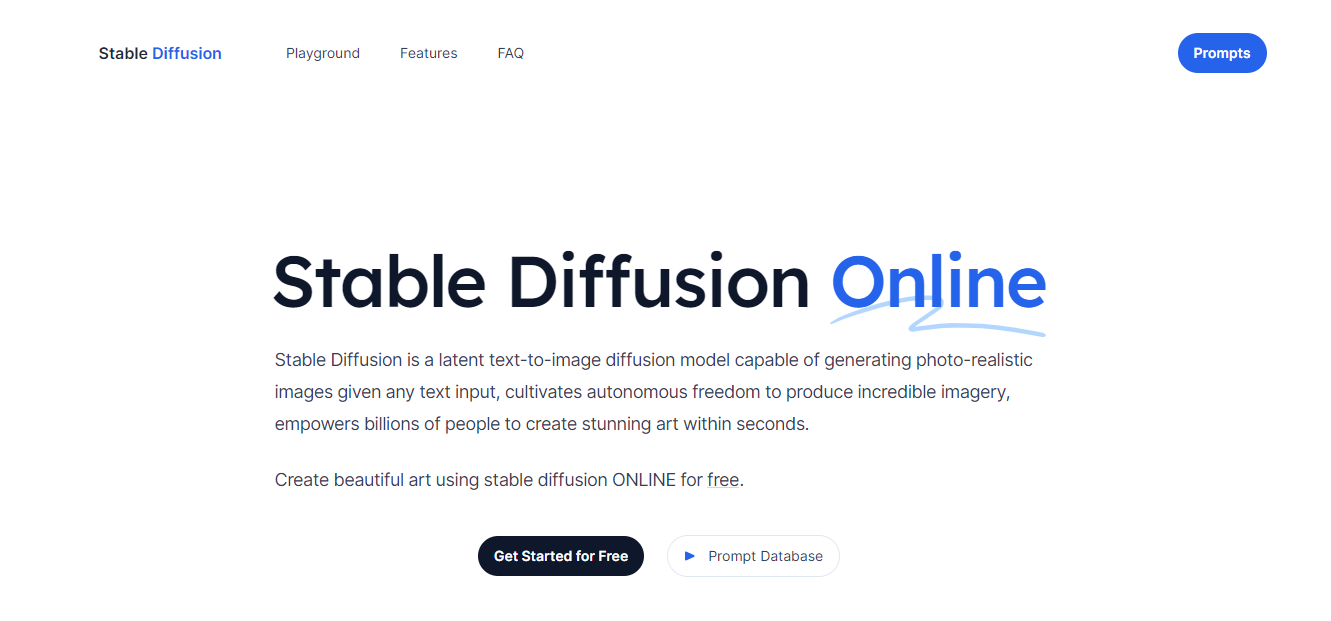 Stable Diffusion (AI art generator from text) converts text to visuals using the most recent developments in AI technology. The AI startup Stability AI developed this AI art generator.
One of the newest AI art generators available is this tool. The tool can produce photographs of incredible quality and is entirely free to use.
The tool's browser version is straightforward to test out. Open the website and create a picture there. In addition, the license permits unrestricted use of the tool for both commercial and noncommercial purposes.
This one of the 10 best AI art generator apps is available in two forms:
Stable Diffusion image-to-image for transforming photos into AI-based art.
Stable Diffusion (AI image generator from text) text-to-image for creating images from text.
You should be aware that using the demo versions will take a while. The photos may be produced in between one and fifteen minutes. It is due to the demo versions' computing power restrictions and queue. For instance, you should wait in line for two minutes to create the images of the four monkeys above.
Key characteristics include:
Numerous demo versions are available and are free to use.
Unbelievably impressive results.
Converting text to images and images to texts.
You may quickly build up your Stable Diffusion demonstration.
Pricing
There is no charge to use the Stable Diffusion AI art generator.
Additionally, you can put up a private Stable Diffusion demo relatively quickly if you have technical knowledge.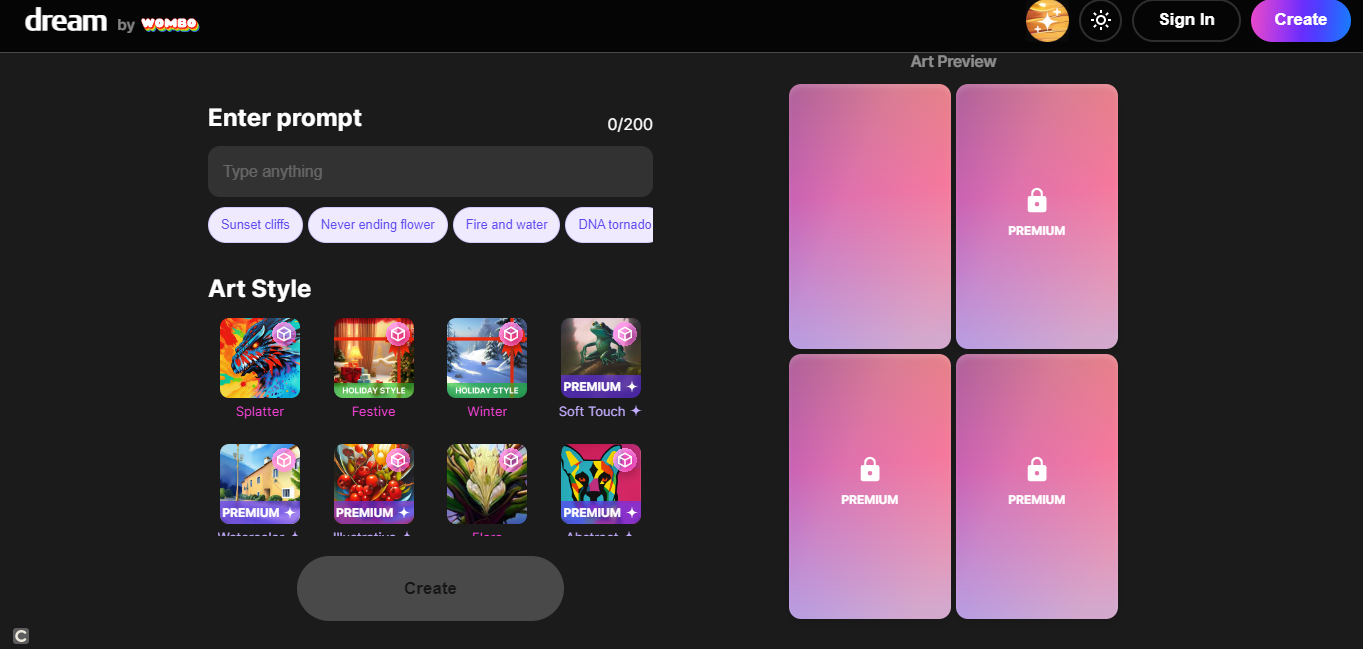 The Dream at the forth position in our 10 best AI art generator apps is a unique AI picture generator that provides a variety of style possibilities, like Steampunk, Psychedelic, Etching, and Street Art, to give the word prompts you to provide some flair. You may preview your art, and the service is free to use. However, to save and publish your creations, you must register.
You can buy your painting on canvas or mint it as NFT to sell it online. The Dream, one of the best alternatives to Dell E that is accessible on the web, Android, and iOS. To better capture the kind of art you want to produce, you also have the option of sharing source photos. In addition, Dream offers a Discord community where users may post their best Wombo art.
Key characteristics include:
High-resolution photographs
Several possible styles
100% ownership of created images
Mobile-friendliness
The ability to sell images as NFTs
The ability to recreate NFTs to boost creativity
7. Hypotenuse: Image Generator from Text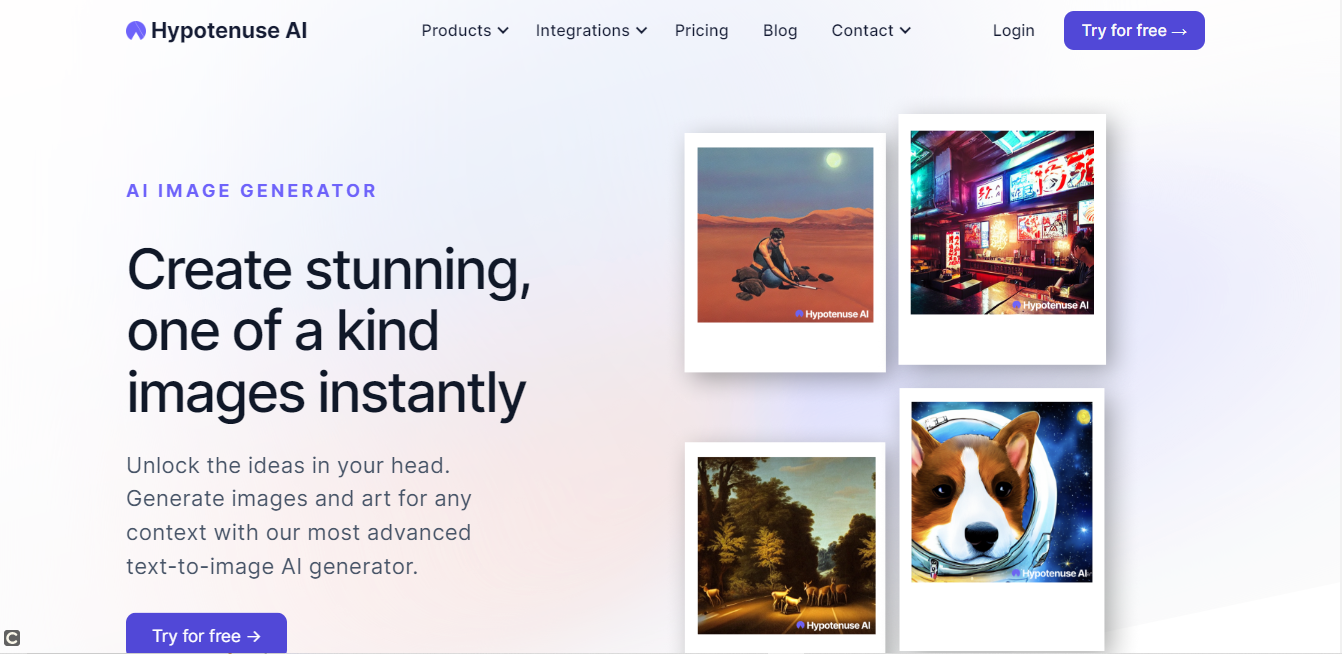 There are two options for generating art from the text in the Hypotenuse AI art generator. Either you can be specific by describing the kind and lighting or provide the descriptive and the image resolution and let it work its magic.
It produced some intriguing and the best AI drawing when you enter "a youngster wandering on the beach at midday observing a surfer riding large waves." Even though it wasn't on target and badly missed the topic, the representations can catch the non-artist eye.
Hypotenuse, text to art generator offers a free edition as of this writing, but renderings include their watermark to guarantee that only premium customers get anything meaningful.
Monthly and yearly memberships are available. Notably, Hypotenuse began as an AI writer, suggesting that the tool for creating images may advance.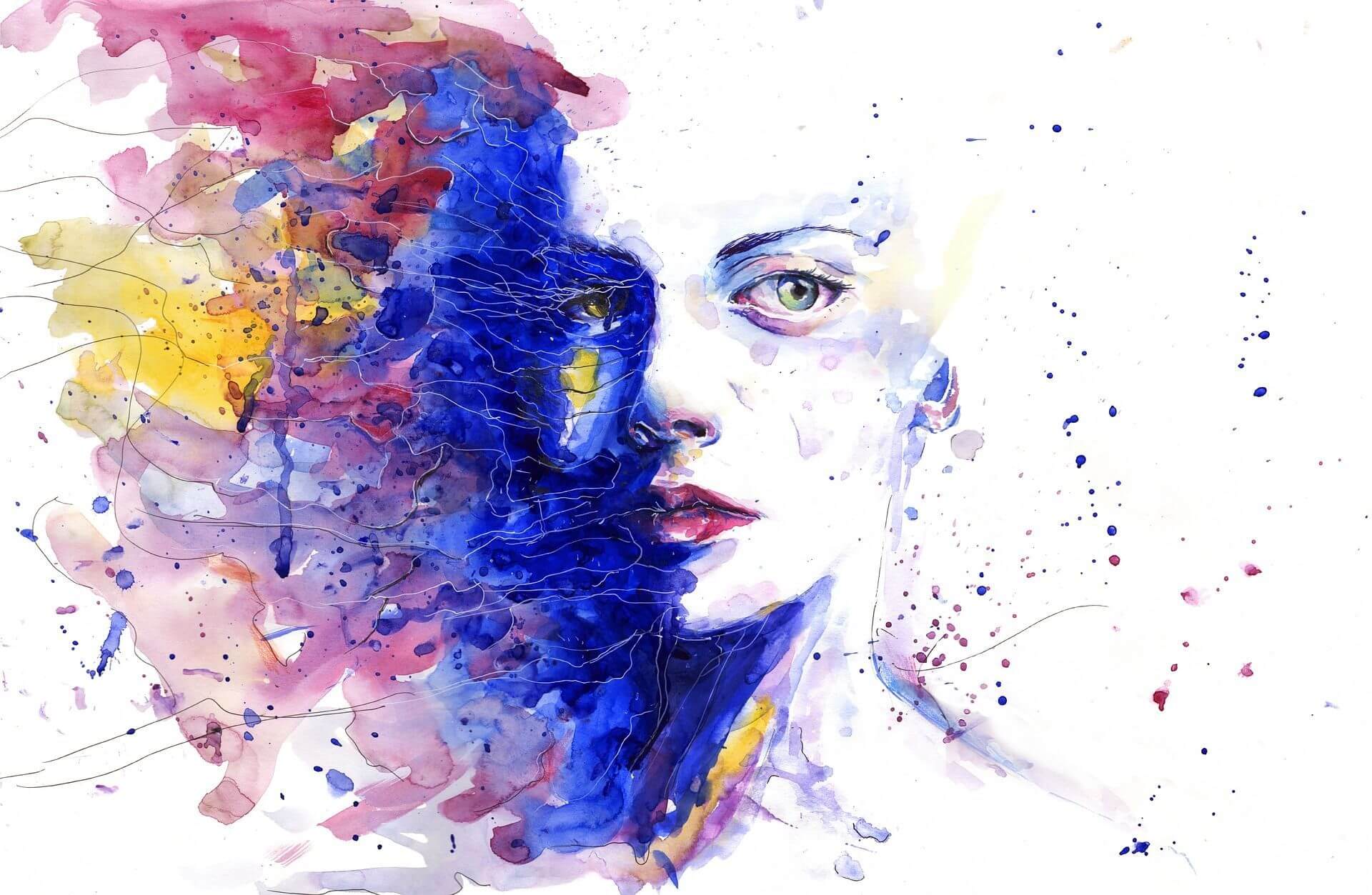 Meitu, a Chinese picture, and video editing tool, employs artificial intelligence to produce lifelike replicas of anime characters. The program's selection of filters may be used to transform you into various anime characters.
You can take your anime photos to a new level by using, MEITU, one of our 10 best AI art generator apps to create a picture of your favorite character. The portal has existed since 2008, and its success in 2017 may be linked to its ethereal hand-drawn images.
When this best AI generated art app initially gained popularity in the US, over one billion people downloaded it. Meitu's AI Art filter became the most talked-about subject on social media after multiple users posted pictures with an anime theme on TikTok and Twitter. You may become an anime character with one of the most significant free AI image generators.
9. The Most Creative AI Art Generator, DALL-E 2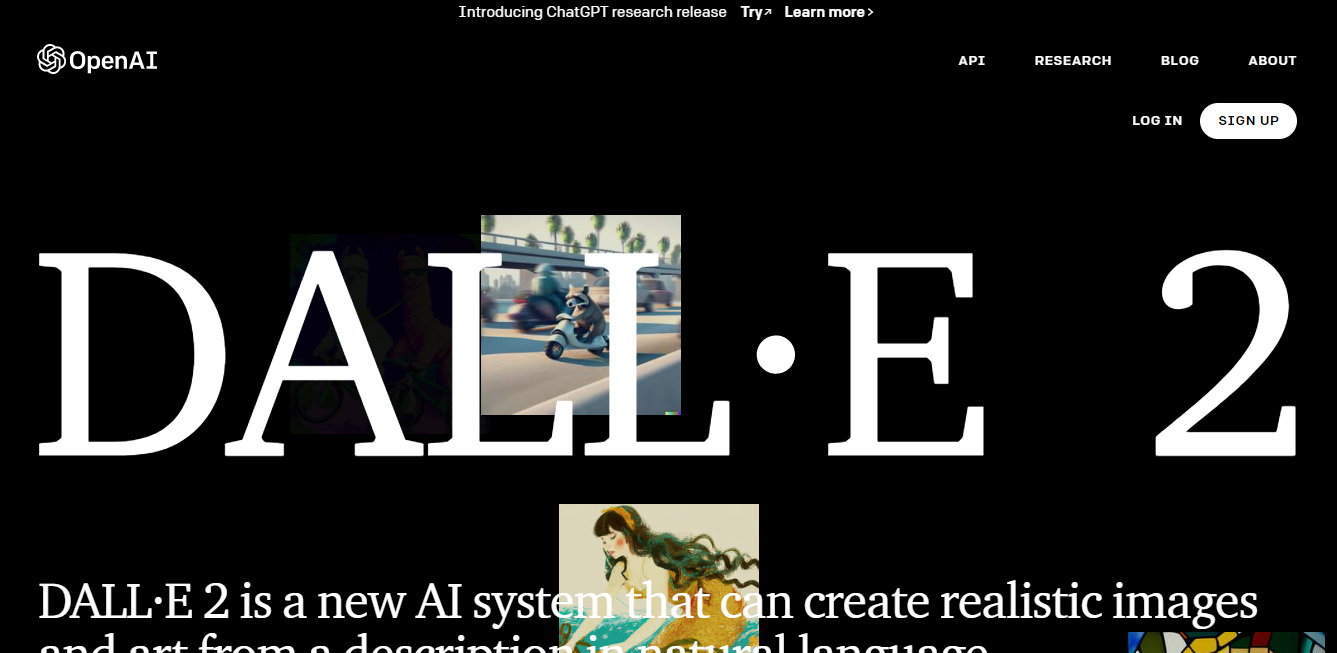 The OpenAI team's text-to-image AI art generator was the first to get widespread public exposure. DALLE 2 is good at developing complex prompts with various characteristics and characters in dynamic and innovative stances and situations because it was trained on stock photos and closed sources. As an aside, the finest text-generation and prediction model ever released, GPT-3, was also created by the OpenAI team.
Key characteristics include:
Website-based
Easy to use AI picture generator from text
Closed source
Best AI painting generator
Out painting
Revisioning
API accessible
Realistic
Dynamic Generations
Simple setup
Complex Prompts
Generational quality of this text to art AI: 9.5/10
Why Is DALL-E 2 High Quality AI Art Generator?
DALLE 2 is covered in our 10 best AI art generator apps for creating imaginative photorealistic items, animal production, paintings, and renderings.
Additionally, DALLE 2's inpainting technique enhances the quality of your era by swapping out all the painted-over components for ones from various generations. A photo might serve as the foundation for the following generation, or you can develop various iterations of the same prompt.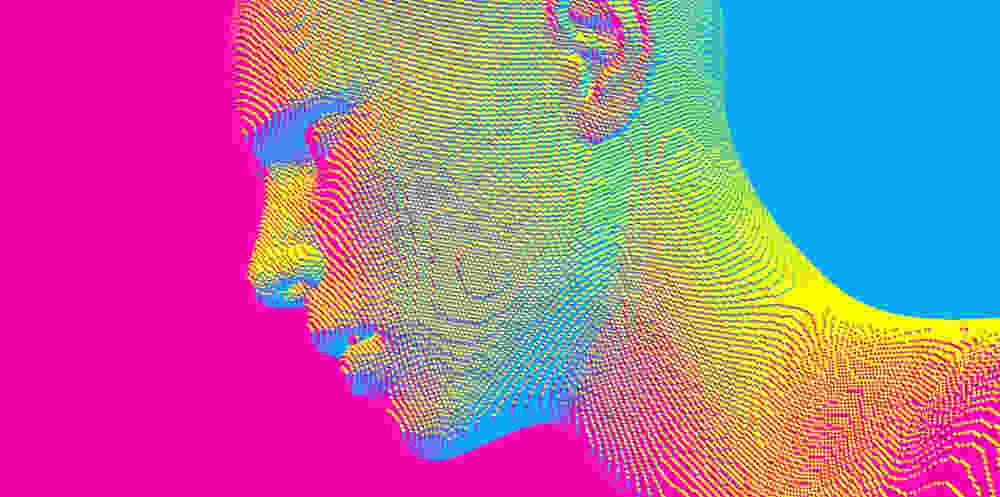 By August 2022, the DALL-E 2 model's editor will include out-painting, allowing you to produce an "extended" version of your photographs. It results in an AI imaging service that can perform all tasks simultaneously with excellent quality and quick efficiency. This model is ideal if you're searching for a specialized, incredibly detailed, unconventional rendering for corporate/business purposes or just for fun.
Pricing
After signing up and visiting the OpenAI beta edition of the DALL-E 2 website, you are given 50 credits. Each prompt allows you to expend one credit, which yields four photos. Inpainting and out-painting go under this as well.
In addition, you can pay $15 for 115 credits, which may be used to produce up to 460 photos, rather than waiting a month to receive 15 free credits. That works out to 7.6 credits (about 30 photos) for $1.
You cannot produce human faces or other prompts against OpenAI's policy because it is the first of its type, available to the public, and subject to their rigorous safeguarding.
10. NightCafe: The Best Text-to-Image AI Art Generator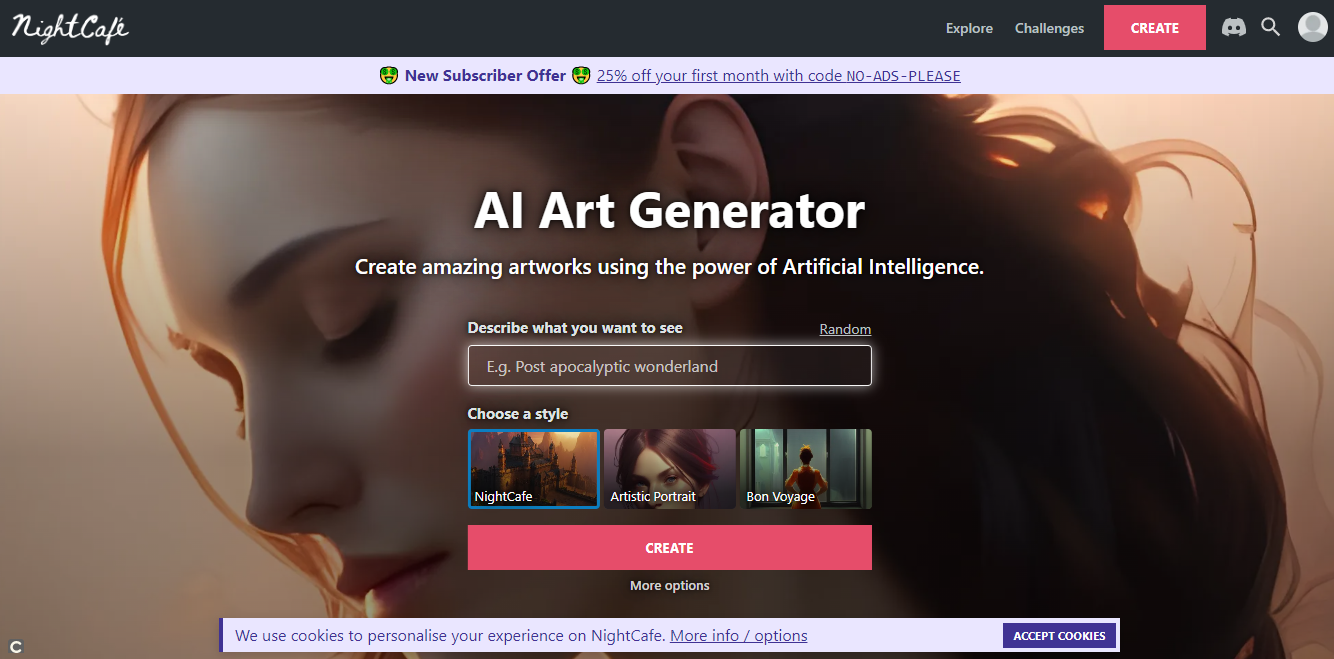 Nightcafe is probably the advanced AI image generator you've heard about the most. The fact that you may choose from various algorithms while creating your work is its best feature.
You can choose VQGAN + CLIP or CLIP-guided Diffusion in addition to DALL-E 2 and stable Diffusion. You may also transform your photographs into works of art by submitting them.
After selecting an algorithm, you may choose between resolution quality and art forms. It may seem not easy, but it's simple to use and understand this one of our 10 best AI art generator apps, making it ideal for novices.
Key characteristics include:
Get going without needing to make an account.
Create an image from text.
There are five free credits available.
Bundles of additional credits are available for $7.99 and above.
You may do specific tasks like making and publishing photographs to earn more free credits.
To produce your art, pick one of four algorithms.
Upload your photos for use in creating art.
Select from various artistic genres, including picture, epic, pop art, and CGI.
Thanks to various complex options, you can regulate image size, quality, and aspect ratio.
Utilize the bulk download function to download all your photos at once.
Make art films in addition to still photographs.
Try new things every day to increase your creativity.
Buy prints of your creations.
Join the vibrant Discord group to discuss anything at Nightcafe.
The photos from the Nightcafe proved to be the most beautiful and wacky of the lot.
Pricing:
You don't need to create an account to get started producing. You receive five credits without charge. One credit equals one image; however, you may pay less if you want it to produce more than one image from the same challenge.
You can choose from a variety of credit combos. The prices range from $7.99 for 40 credits to $469.99 for 10,000. Each image costs less as you purchase additional credits.
Additional Suggestions
1. Starry AI: Create Art with AI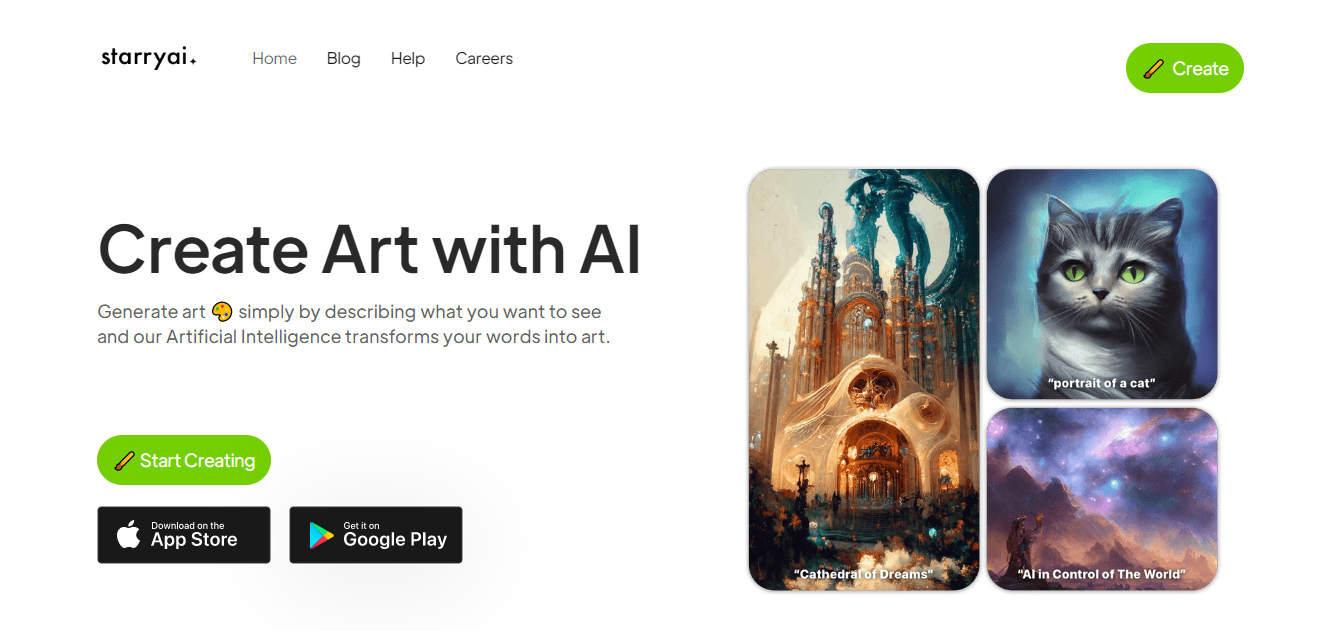 StarryAI transforms text into AI artwork graphics like other best AI generated art app on this list. However, it enables granular control over certain features, which makes results far more individualized than many others.
Start by typing a random word and selecting between Altair and Orion, two artificial intelligence engines that create more abstract, dream-like pictures (produce "unreal reality," often more cohesive). Select one of 16 painting styles, a canvas size, or an aspect ratio after that, and you may also contribute a unique picture of your own to serve as a basis. In these programs, using a personalized picture is typically a bright idea.
You may utilize extra credits in StarryAI to extend the AI's duration and improve your final image. You may pay with credits to specify how closely the AI should adhere to your words. Finally, you may pay credits to upscale the image once it has been produced to get high-resolution AI artwork.
Additionally, you are only sometimes obligated to pay for these points. By watching advertisements or sharing your work on various social media, Starry AI enables you to earn additional credits daily or every week.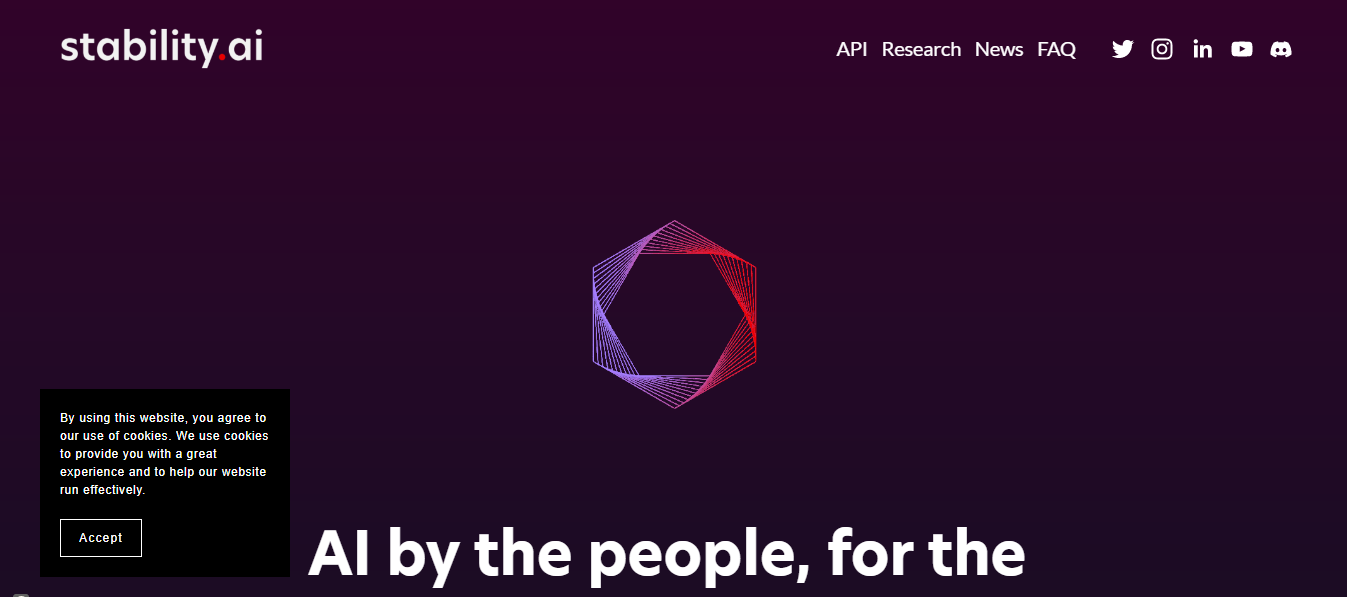 DreamStudio AI art creates visuals based on your suggestions using the Stable Diffusion learning paradigm, and the outcomes are excellent. Even rumors are circulating that this generator is superior to DALL-E 2.
Enter your Google account login information to get going. You don't have to hassle with making an account.
Although the interface is simple, some sliders let you change the quality, set the height and width, and decide how many photographs you want to make. You may adjust other sliders to decide how much autonomy AI should have and how detailed an image should be.
Pricing
So, of all the AI art producers, this one is the least expensive in the list of our 10 best AI art generator apps. For a set of credits, you spend $10. Each picture will only charge you one cent if you utilize the program on its default settings. These credits are used for each image production. Larger pictures and upscaling are more expensive than normal ones. Up to 200 photos worth $2 are supplied for free when you sign up.
Features of StabilityAI include:
Start right away with just your Google credentials.
A $2 bonus credit (up to 200 images).
$10 per credit set (up to 1,000 images).
A neat and basic user interface with sliders for modifying the images' quantity, size, and quality.
The AI is instructed on how precisely to obey your suggestion by the CFG scale slider. Turn it up for more consistent outcomes and down for more creative flexibility for the AI.
The steps slider instructs the AI on how many steps to use while producing your image. The artwork will get more intricate and detailed as you select additional phases.
Prompt instructions that will lead you through the procedure and produce reliable findings. Keep your art pictures in your history folder so you can retrieve them whenever possible.
Although the dream image is cartoonish, the pug is distinct and realistic and is the most exact interpretation yet.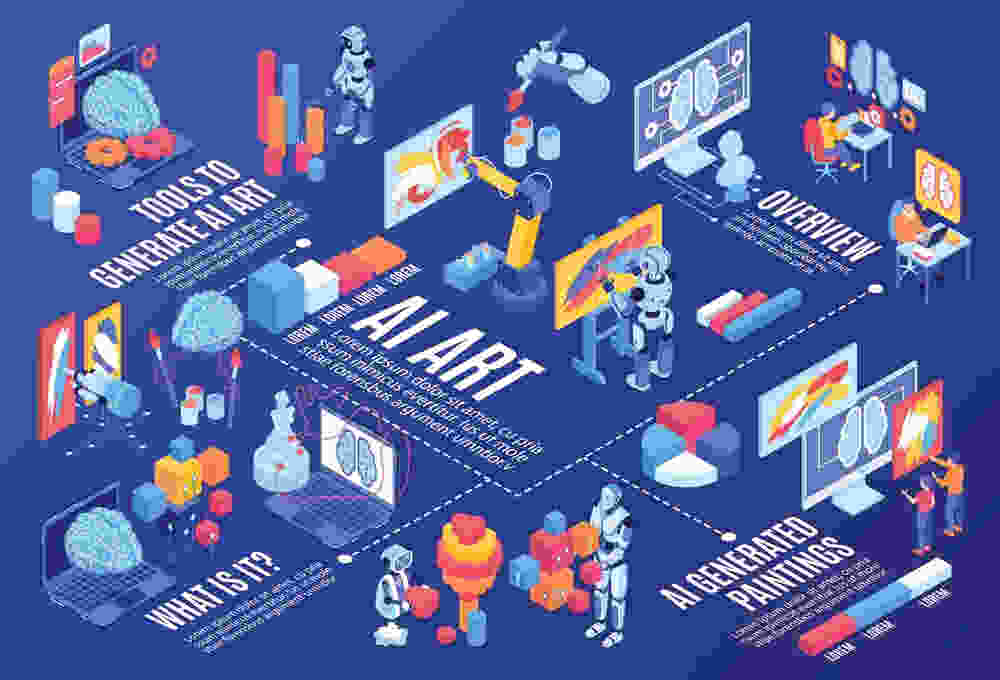 The Practice of Authentication is Being Transformed by Artificial Intelligence
Artificial intelligence can assist in uncovering fraud, identifying art forgeries that defile the art world, and collaborating with artists to create original works and stimulate fresh ideas. Art attribution thinking is evolving among collectors and conservators thanks to AI technologies.
Since AI technology can evaluate many characteristics of the artwork, including brushstrokes and patterns, it is not necessary for it to examine paint or paper or have access to the original piece. In this blogpost, we have mentioned 10 best AI art generator apps to help you making exceptional artworks. It cannot examine the unseen layers of the art using conventional authentication techniques like a microscope, X-ray technology, or infrared reflectography; it can only assess authenticity through a digital image.
AI appears to comprehend the secrets of artistic brilliance better than humans do us, even though the technology's developers acknowledge that the process is not always flawless, and that counterfeit may be detected with an accuracy of over 90%.