Best AI art generator apps are talk of the town these days and the internet is exploding with AI-created art. AI art generator apps would let you transform your thoughts into beautiful images of artwork. Not only that, AI art generating apps would also let you change an old image into something fresh and original. Thanks to AI technology, anyone can become an artist, and the creations are extraordinary. We can teach you how to create AI art if you're ready. We have compiled the best AI art-generating apps for 2023. If you are an art enthusiast or fond of clicking pictures to uncover endless opportunities, take out your phone, and let's start exploring.
How does the AI Art Generator work to produce AI art?
The AI art generator is based on the same potent algorithms as the AI picture generator, allowing the built-in AI drawing tool to be taught by endless datasets often learned from billions of pieces of art and photographs. The AI art generator's internal core algorithm tool can evaluate the user's supplied photos or text and then produce new AI-generated art per the user's chosen style or genre thanks to the hundreds of art styles and features it has learned. AI art generators often support various artistic mediums, including 3D, anime, illustration, cyberpunk, oil painting, cartoon, and realistic. In a nutshell, an AI art generator is a tool that transforms both the technology and the method you create.
How to pick the best AI Art Generator App?
Given the wide range of alternatives available, picking the finest AI Art Generator App might be challenging. However, the following elements can assist you in reaching a wise choice:
1. The Quality of the Product
The most crucial aspect to consider when selecting AI-generating software is the caliber of the created art. Look for examples or demos to determine whether the tool's output meets your desired degree of quality and the model you are using.
2. Flexibility
An excellent AI-generating program should be able to handle several input forms, including photos, videos, and audio. For you to produce artwork that appeals to your interests, it should also provide you with a variety of styles or genres to pick from.
3. Pleasant User Interface
The app's interface should be straightforward so that even users with no prior knowledge of artificial intelligence or the arts may use it. When choosing the best AI art generator app, user usability is essential. If the interface is simple, you can rapidly create art with little time spent on system learning. The ability to produce a range of styles, adaptability, and usability are essential considerations when looking for the finest free AI art generator like nightcafe image generator.
4. Speed
The AI generator app's performance is also quite important, especially if you want to generate a lot of photos or videos. While some programs generate art in only a few seconds, others take many minutes.
5. Cost
The price of the app should also be taken into account. While some tools are free, some may need a membership or a one-time fee. Select an app whose cost is acceptable, given the standard of its features and the results that it produces.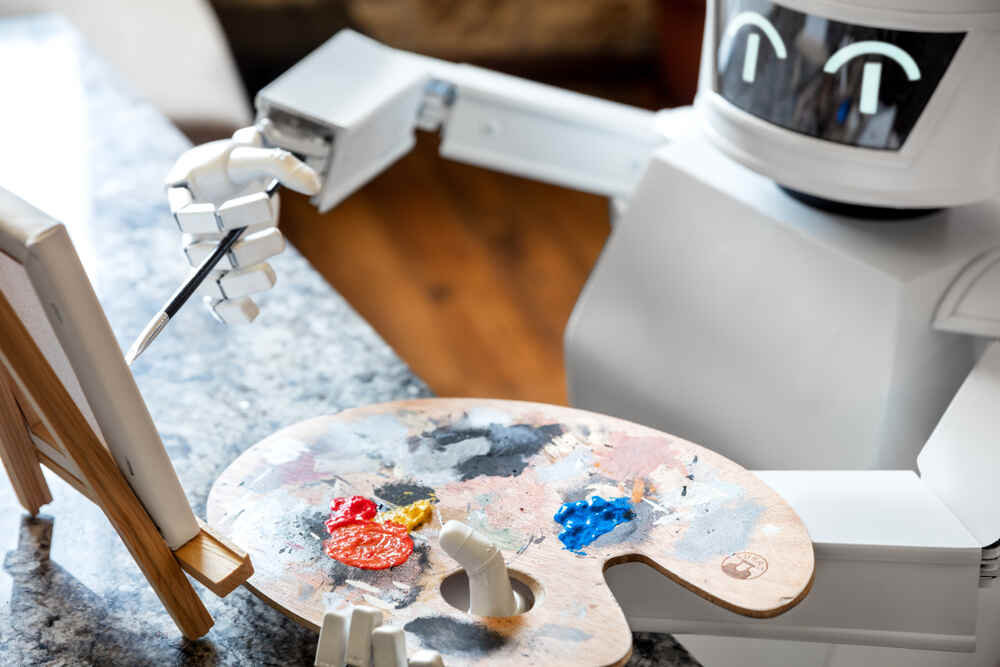 The Best AI Art Generator Apps That You Should Try For Outstanding Results
1. Dream By WOMBO: AI Text to Art Generator
Best for: Using text prompts to create AI art.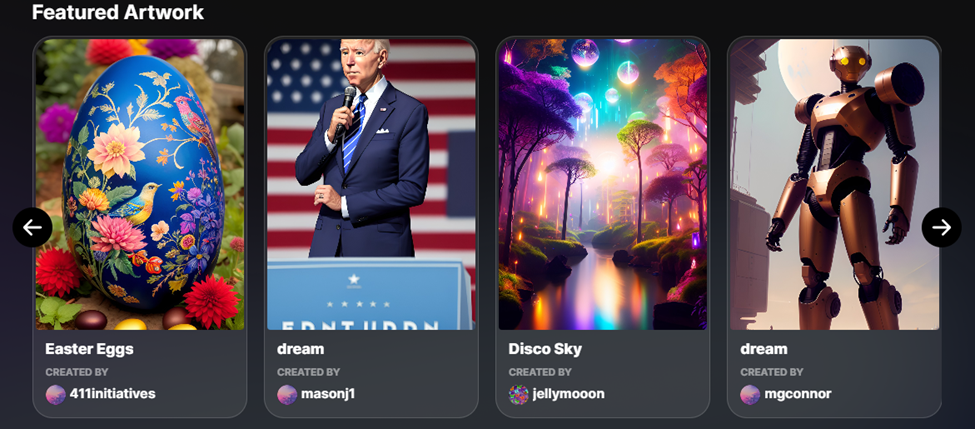 Description
You must do this if you want AI to produce artwork that conforms to the desired picture style. Dream by WOMBO is an AI art tool developed by a Canadian AI firm that aims to revolutionize how people consume culture via AI and art. WOMBO's AI drawing tool swiftly learns your preferred style by uploading a reference image, revolutionizing AI art production. WOMBO Dream aims to leverage artificial intelligence to offer the simplest and fastest way for everyone to bring their ideas to life through technology.
Key Features of WOMBO
Transformative Artistry: Turning words into captivating artwork.
Photo-to-Art Magic: Convert photographs and doodles into stunning masterpieces.
Creative Editing Freedom: Seamlessly edit text and pictures for enhanced artistic expression.
Style Diversity: Explore a multitude of ai art styles for customized creations.
Wallpaper Wonders: Create free backdrops for your mobile wallpaper.
Output Options Galore: Choose from various output formats to suit your preferences.
Community Connection: Join a vibrant community for sharing and learning from AI images.
How To Create AI Art in WOMBO?
Download the WOMBO app to your device.
Enter a prompt or description of the AI art you want to create.
Choose an art style from the available options.
Tap the "create" button to generate the AI art based on your prompt and chosen style.
Dream by WOMBO Pricing
Get 3 days free trial.
Then pay $9.99 per month, or$89.99 per year, or pay once $169.99 for life time access.
2. Wonder: The Best AI Art Generator App from Word
Best for: Producing paintings, sketches, and photographs.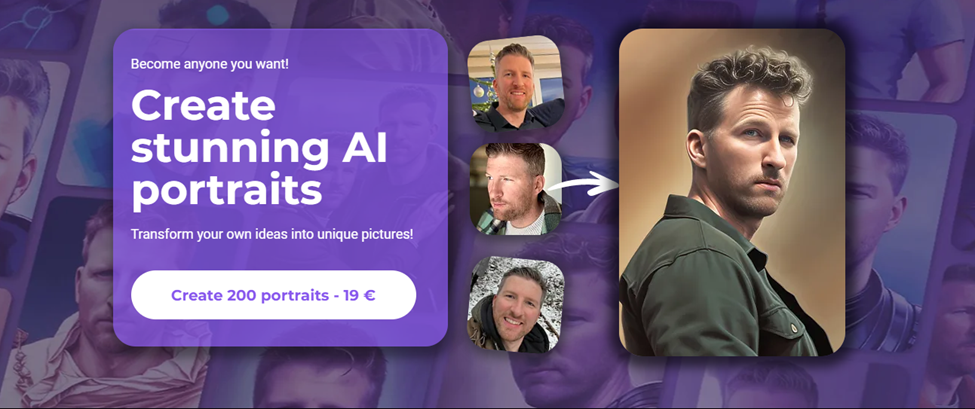 Description
Introducing Wonder, the best AI generated art app designed to turn your ideas into stunning artwork. Overcoming the blank canvas challenge, Wonder allows you to transform your text descriptions into captivating visual masterpieces effortlessly. With just a few sentences, you can vividly communicate the art you envision and select an art technique, and wonder takes care of the rest, delivering breathtaking creations within seconds.
One of the key advantages of Wonder is its unlimited artistic potential. There are no restrictions on the number of art pieces you can generate, allowing you to explore and create to your heart's content. The app's outputs often align closely with the original text, ensuring a faithful representation of your vision.
While it is important to note that Wonder features occasional ads, requiring you to watch one before viewing each artwork, it also provides an ad-free membership option for those seeking uninterrupted creative immersion. Remember this as you embark on your artistic journey with Wonder, where AI technology transforms your words into unique visual expressions.
Key Features of Wonder
Transformative Artistry: Unlock the power to convert your words into beautiful visual art, allowing your ideas to transcend the limitations of text.
Image-to-Art Conversion: Unleash your creativity by transforming ordinary images into extraordinary artistic creations, reimagining reality through a new lens.
Personalized Avatars: Dive into self-expression and create your unique avatar, representing your individuality and style.
Daily Credit Reset: Enjoy a fresh start every day as your credit limit is reset, providing continuous opportunities to unleash your artistic imagination.
Diverse AI Art Styles: Embark on a journey of artistic exploration with many AI art styles at your fingertips, including Cubist, Dali, Synthwave, Steampunk, and many more, enabling you to find the perfect aesthetic for your vision.
Showcase and Download: Share your exceptional AI paintings with the world or download them directly from the dedicated AI art tab, allowing you to preserve and display your artistic achievements.
Inspiring Prompts: Fuel your creative journey with unique prompt inspirations designed to facilitate learning and inspire innovative artistic endeavors.
How to Create AI Art with Wonder?
Download the Wonder app on your device.
Provide a clear and detailed description of the art you desire.
Let Wonder's AI technology work magic to bring your vision to life through painting.
Choose from a range of captivating art styles available.
Tap the "create" button to generate your AI art masterpiece.
Wonder AI Pricing
Wonder premium weekly price is $3.49, while Wonder premium one-time price is $29.99.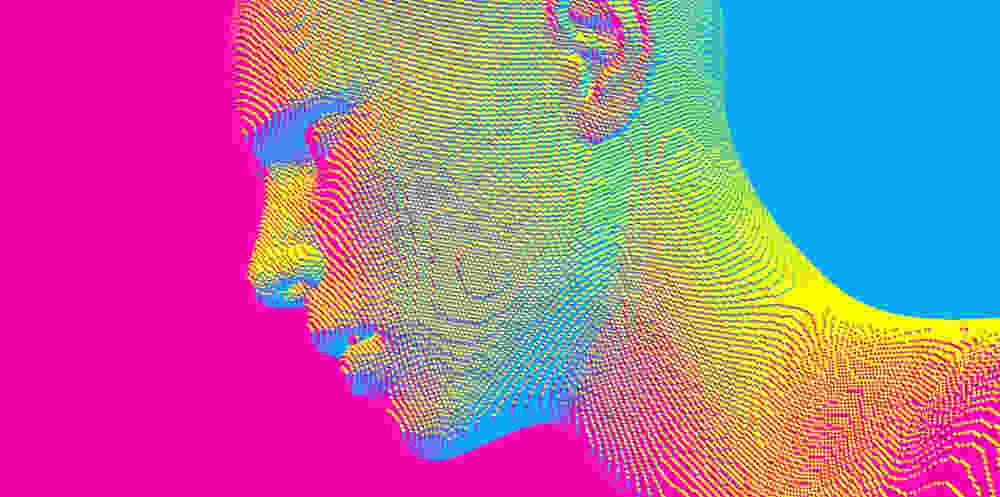 3. StarryAI: Create AI Art from Text Prompts
Best for: Creating personalized artwork using text prompts.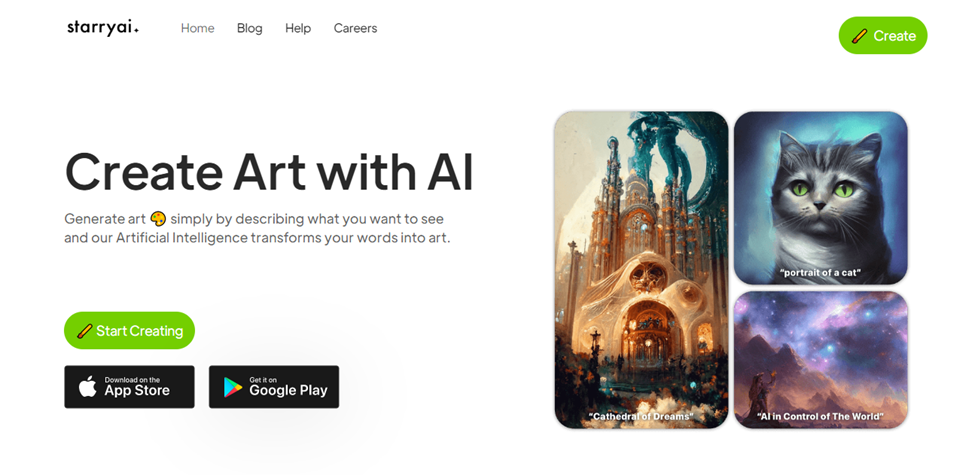 Description
StarryAI is the best AI art generator app that swiftly generates breathtaking artwork tailored to your cues. Whether using keywords or complete sentences, the app comprehends your input and produces stunning visuals accordingly. You can even supply images or existing artworks as references for the AI to derive inspiration from. Maintaining consistently high-quality output, StarryAI crafts impressive artwork within minutes, although occasional queue times may vary. Once your artwork is ready, you'll receive a notification to explore and admire it. Additionally, you can select art styles and switch AI models to match your preferences.
An exciting aspect of this app is that it grants you ultimate ownership of the generated artwork, enabling both personal and commercial use. However, while StarryAI offers 5 complimentary art creations, additional ones incur a cost. Experience the power of StarryAI, where artistic expression meets cutting-edge technology, providing you with limitless creative possibilities.
Key Features of StarryAI
Art Creation from Text Prompts: Generate captivating artwork by providing text prompts to StarryAI, allowing your words to come alive through visual expression.
Diverse Art Styles: Choose from a wide range of artistic styles available in StarryAI, enabling you to tailor the aesthetics of your creations to your liking.
Multiple AR Art Pieces: Unlock the ability to generate multiple augmented reality (AR) art pieces, immersing yourself and your audience in an interactive and dynamic artistic experience.
Daily Free AI Artworks: Enjoy the freedom to create up to five AI artworks without watermarks daily, allowing you to explore and experiment without limitations.
Variety of AI Art Styles and Models: Delve into a vast collection of AI art styles and models within StarryAI, providing an extensive palette of creative possibilities.
Creative Batch Creation: Empower your artistic workflow with the ability to generate AI art in batches, saving time and enabling you to explore multiple variations and iterations of your ideas.
Customizable Image Sizes: Tailor the size of your AI-generated images to suit your specific requirements, ensuring seamless integration with various platforms and mediums.
How to Create AI Art in StarryAI?
Enter any prompt or description for the AI to work with, be it text, emojis, or other cues that inspire your artistic vision.
Choose your preferred art style from the diverse range of options within StarryAI, allowing you to define the visual aesthetics of your artwork.
Patience is key as you wait for the app to generate your art. StarryAI's advanced algorithms will bring your vision to life, crafting stunning AI-generated artwork based on your prompt and chosen style.
StarryAI Pricing
StarryAI is completely free to use.
4. Faceplay: An Excellent AI Art Maker
Best for: Use AI filters to transform your face.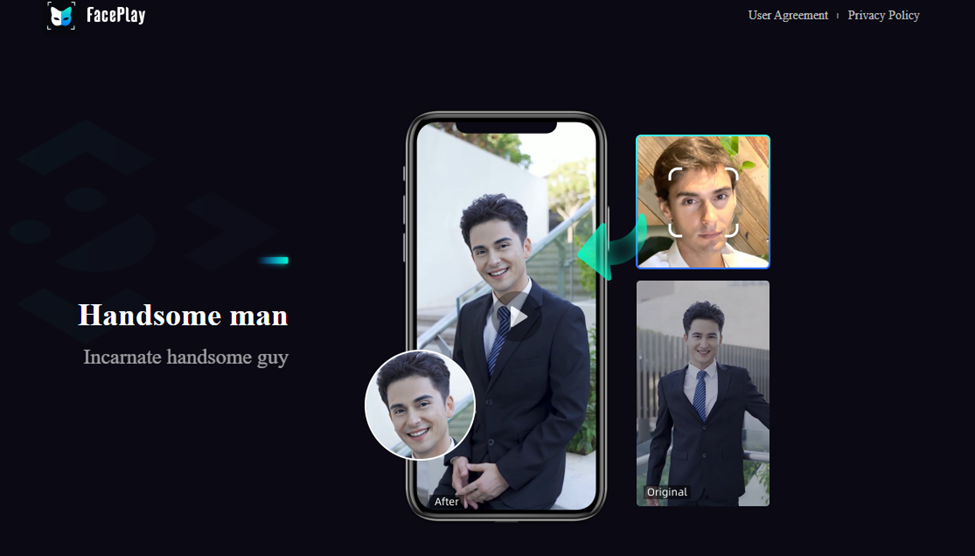 Description
FacePlay is an advanced AI generator designed to unlock creative possibilities. With the power of AI, FacePlay seamlessly transforms user-uploaded photos into a diverse range of avatar styles, offering a captivating exploration of the realms of ACG (Animation, Comics, and Games). Immerse yourself in a rich selection of avatar styles, including sci-fi, war-damaged, art painting, cartoon, cyberpunk, and more. FacePlay's AI generator transcends traditional boundaries, enabling users to delve into many captivating artistic expressions.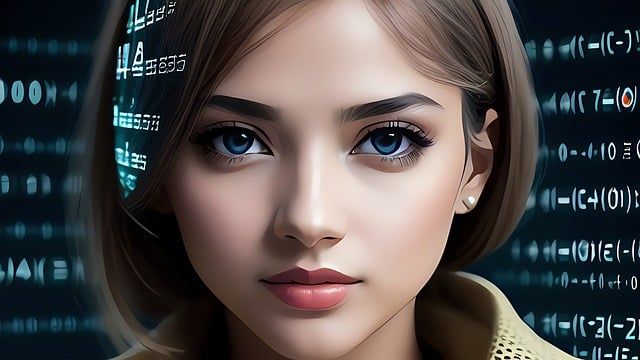 Beyond being an AI art generator, FacePlay offers a remarkable AI face swap feature, allowing users to seamlessly blend their uploaded photos with an extensive library of photo and video templates. The original AI models incorporated in FacePlay's video templates, combined with cutting-edge artificial intelligence technology, ensure exceptional results by analyzing and skillfully merging the features of user-uploaded images. Experience the boundless creativity of FacePlay, where AI technology unlocks the potential for stunning AI artwork, text-based creations, and seamless face swapping, offering an unparalleled fusion of art and technology.
Key Features of AI Generated Art App FacePlay
Magic Avatars: Experience the enchantment of FacePlay's AI-powered avatar generation, allowing you to create personalized and expressive avatars that capture your unique style.
AI Painting Video: Dive into the world of AI-generated painting videos, where FacePlay brings static images to life through mesmerizing animations, unveiling a new dimension of artistic expression.
Anime Animals, Family, and More: Unleash your imagination with FacePlay's vast selection of avatar themes, ranging from charming anime animals to customizable family avatars, enabling you to create art that resonates with your preferences.
Multiple Art Styles for AI-Generated Images: Immerse yourself in a diverse array of art styles available within FacePlay, empowering you to transform your photos into stunning AI-generated images that reflect your desired aesthetic.
Extensive Collection of Video Templates: Explore an extensive library of video templates offered by FacePlay, providing many creative options to enhance your videos and add stunning visual effects.
High-Resolution Support: Enjoy the ability to download high-quality videos and photos, ensuring image quality preservation and seamless integration with various platforms and mediums.
How to Create AI Art in FacePlay?
Download the FacePlay app, the best AI art generator apponto your device.
Take a selfie or select a photo from your gallery as the base for your AI art creation.
Browse through FacePlay's wide range of filters and effects, allowing you to experiment and find the perfect match for your desired mood and style.
Apply the chosen filter or effect to your photo, witnessing the transformation of your image into a captivating piece of AI art.
Explore further customization options within the app, such as adjusting settings and adding personalized touches, to achieve your desired artistic vision.
Save or share your AI art creation to showcase your unique expression and creativity.
FacePlay Pricing
The premium cost of FacePlay is $15 a month and $180 a year.
5. Lensa AI: AI Avatar Art Generator
Best for: Using pictures of you to create an AI avatar.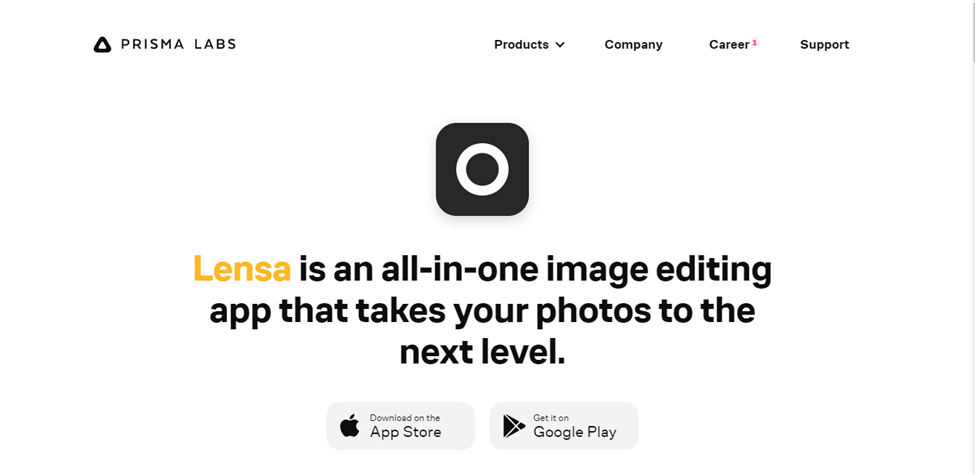 Description
Lensa AI art generator app is a powerful photo editing and enhancement app designed to bring lifelike avatars to life from a selection of prepared images. If you seek to create diverse digital versions of yourself, Lensa AI offers an unparalleled experience. Downloadable for free, Lensa AI provides a seamless user experience. Upon opening the app, a series of steps will guide you toward creating your avatar. As Lensa AI utilizes pre-existing images, you must upload 10-20 of your photos. A one-time payment is required to generate the desired output, enabling the app to process the images. Typically, the generation process takes approximately half an hour to deliver impressive and visually stunning results.
Lensa AI leverages the power of the Stable Diffusion Deep Learning model to generate these avatars. Following its commitment to user privacy, the app assures all uploaded images are immediately deleted. Discover the unmatched capabilities of Lensa AI as it empowers you to create lifelike avatars effortlessly. Upload your images, complete the payment process, and watch as the app transforms them into unique, aesthetically pleasing avatars.
Key Features of the Best AI Art Generator App Lensa:
AI Avatar Creation: Harness the power of Lensa's AI technology to create stunning and lifelike avatars, bringing your digital self to life with remarkable accuracy.
Magic Retouch: Experience the magic of Lensa's retouching capabilities, allowing you to enhance and refine your photos effortlessly, ensuring a polished and professional look.
Video Editing: Unleash your creativity with Lensa's video editing feature, enabling you to edit and enhance your videos with various effects, transitions, and filters.
Output Quality: Lensa delivers exceptional output quality, ensuring that the generated avatars and edited photos/videos exhibit impressive visual appeal and attention to detail.
Simple and Easy-to-Use Interface: Navigate Lensa's user-friendly interface effortlessly, enabling seamless and intuitive interactions and making the creation process a breeze.
Flexibility: Enjoy the flexibility to generate images from uploaded photos and text prompts, unlocking a wider range of creative possibilities and allowing you to bring your imagination to life.
Speed: While the generation time may vary depending on the complexity of the prompt, Lensa strives to provide efficient results without compromising quality, ensuring a satisfying user experience.
Cost: Lensa offers three free daily credits, providing you with opportunities to create avatars and edit photos. A pro version is also available for users seeking enhanced features and unlimited access.
How to Create AI Art in Lensa?
Download the Lensa AI art generator app onto your device.
Upload 10-20 images of your face to serve as the foundation for your avatar creation.
Explore the various style options available within Lensa, allowing you to personalize and customize your avatar to match your desired aesthetic.
It would help if you waited for the app to process all your uploaded photos, ensuring the generation of high-quality and lifelike avatars.
Once the process is complete, download your avatar set, ready to be shared and utilized across various platforms and mediums, showcasing your unique digital representation.
Lensa AI Pricing
When you download Lensa, you can enjoy a complimentary seven-day free trial. Following the trial period, you can make a one-time payment for a set number of unique avatars, with the cheapest option being $3.99 for 50 avatars. Alternatively, you can opt for an annual subscription priced at $35.99, granting you unlimited access to create and explore an unlimited number of avatars.
AI Art Generators in Other Categories
There are many different types of AI generated art apps; this list focuses on text-to-image art generators. Some instances:
FAQs About the Best AI Art Generator App
What is an AI art generator?
An AI art generator app is a computer application that uses artificial intelligence to produce visuals from word prompts, such as drawings, paintings, or photos.
How does the best AI art generator app work?
A neural network, a collection of algorithms that identify underlying correlations from a data set through a method that imitates how the human brain functions, produces graphics by scraping from a massive library of photos acquired from the internet.
Can you sell AI-generated art?
Yes, your computer-generated art is marketable. But first, it's crucial to confirm that the art you sell was produced by artificial intelligence. Although many software packages promise to generate AI art, not all of them can do so.
Are AI-generated images copyright free?
Currently, there is no specific copyright law that explicitly addresses AI-generated images. However, it is important to note that these images exist within a legal gray area, and it may take some time for legislation to adapt and provide clear guidelines on their copyright status.
Is it ethical to use AI art?
The ethical considerations surrounding the use of AI art are complex and subject to ongoing debate. AI art models draw inspiration from the works of real artists, much like how human artists are influenced by and learn from others. Some individuals view AI-generated art as a form of appropriation, likening it to copying and pasting protected artwork. However, AI engineers argue that the creative process of AI art generation is more nuanced than simple replication. The ethicality of using AI art ultimately depends on one's perspective and personal values, making it subjective without a definitive answer.
Will AI Replace Designers & Artists?
As we witness the remarkable intelligence and rapid advancements of AI tools, it is natural to question whether they may eventually replace traditional designers and artists in their respective fields. However, there are two perspectives to consider when pondering this matter; One approach is to harbor concerns about the future of one's career and seek alternative employment, preferably within the AI industry. Conversely, one can embrace the future with excitement and recognize AI's potential in advancing their professional journey.
Many designers and artists have already embraced AI tools like the best AI art generator app as valuable tools that streamline their work processes. Graphic designers find inspiration through AI-generated designs, artists utilize AI to generate conceptual ideas, and filmmakers employ AI to create storyboards swiftly. It is important to acknowledge that AI art generators rely on the data humans provide, and they are limited to replicating existing art styles rather than producing wholly unique and groundbreaking works. The emergence of a new artist with a distinct style akin to Picasso is unlikely to occur through AI alone.
Therefore, designers and artists with creative ideas and unique art styles should be fine with AI replacing their role. On the contrary, they should embrace the potential of AI as a supportive tool to enhance their creativity and professional endeavors.