Technology is not enough to make your home the best if it does not bring exceptional convenience. Fortunately, we live in an era where automatic devices are making our lives more effortless and delightful than ever. Our lights can automatically turn on when the sunlight is dim. Our heating or cooling system can switch on as soon as we step into the main door, ensuring a more energy-efficient atmosphere with a luxurious lifestyle. Whether it is about adjusting your thermostat via your smartphone app from the comfort of your bed, receiving recipe ideas on the smart display screen of your kitchen, or receiving notification from your air fryer when it has done preheating, homes are getting smarter as they are converting into a complete ecosystem of "Smart Gadgets."
The autonomous features of smart gadgets are igniting consumers' interest in the ultimate smart home. A report by Insider Intelligence reveals that by 2025, 48.4% of US households will be using smart home devices. Driven by this, the global market for smart devices is also expected to grow incredibly and is poised to reach $138.9 billion by 2026 at 10.4% CAGR. According to another forecast, the global market for smart home gadgets will grow at a CAGR of 18.7% from 2021-2031 with stupendous growth in revenue. If you are a tech wiz or a gadgets lover, Smart Home devices must have also inspired you. From a smart lightbulb that can turn on/off automatically without flipping the button to a pet camera that lets you monitor the activities of your fur baby through your phone or voice command, a smart home gadget is nothing less than a blessing. However, you don't have to be well-heeled to enjoy the convenience of these devices. Today, anyone can jump onto the bandwagon of smart homes for less than $15 by purchasing one of the simplest smart gadgets like a Smart Plug that can turn any plugged-in device into a smart device to be controlled through your smartphone's apps or voice command.
You will find a great lineup of the best smart home devices in this blog that can be valuable tools for a more secure and cozy life with connectivity and efficiency. Let's explore!
Best Smart Gadgets for Your Home
The selection of the right smart device is intricate. With all the wide-ranging smart gadgets in the market, it's not surprising if you feel confused about deciding which smart gadget will be worth the money.
We have rounded up some must-have gadgets to help transform your home into a smart home. Our list explains the best smart gadget in each category of smart home devices that you can add to the following 4 main and most active areas of your home:
The Main Gate Security Area
The Kitchen
The Living Room &
The Bedroom
Remember, most smart home gadgets are controlled through a smartphone app or voice command. Therefore, the right selection of a smart gadget depends on which voice assistant you prefer. Is it Amazon's Alexa or Google Assistant? Or do you like AI assistant by Apple i.e., "Siri"? If you already have a setup for a smart home and want to add more smart home devices, make sure to buy a device that is compatible with your existing setup so you can easily monitor it with any of your connected smart gadgets like a speaker, smart display etc. Most people prefer Alexa or Google Assistant, so our main focus will be their compatible smart gadgets.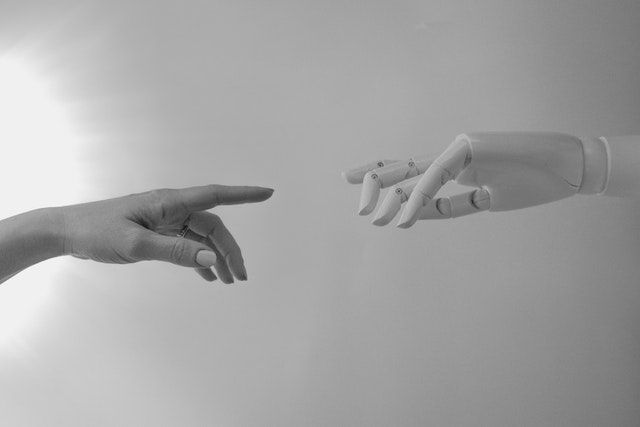 V Best Smart Gadgets for Main Gate Security Area
The safety and convenience of your home begin from the main gate. You will only be able to enjoy indoor convenience if you are completely satisfied with your home security system. It used to be quite expensive to costume your entire home with a complete security system, but today, several smart home devices for security are available in the market to keep your home safe at affordable prices.
Let's look at the most useful and affordable subcategories of smart security gadgets and our top pick in each category.
Category: Outdoor Security Camera
A smart outdoor security camera is one of the most useful connected smart home devices to keep you safe. You can just stay in the comfort of your bed and check what's going around outside of your home on your smartphone or a smart display. Some smart security cameras need a hub and wiring, while the more advanced ones do not require such. Motion sensors and color night vision are some of the standard features. Some outdoor smart cameras include additional features of two-way communication and free cloud storage, Wi-Fi, spotlights, IR LED lights, and facial recognition.
Our best bet for an outdoor security camera that includes most of the above-discussed features is: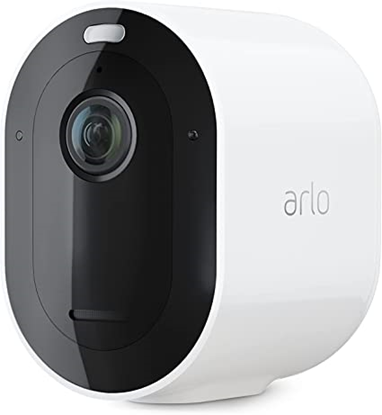 Integrations: Alexa, Google Assistant, Apple HomeKit and 3rd party
Field of View: 160 degrees
Resolution: 2K
Connectivity: Wi-Fi
Pro 4 is a high definition, waterproof security camera with built-in Wi-Fi that captures 2K motion-triggered videos using HDR technology and a 4-megapixel 1/3 inch sensor. It casts light on anyone moving around your premises and delivers intelligent motion detection through live streaming. It also includes a two-way audio feature. The built-in motion-triggered spotlight comes with color night vision, a speaker, a microphone, and an 80dB siren to repel unwanted strangers. The magnetic mount included in this wireless Arlo Pro 4 spotlight camera makes it easy to attach to your house wall or any other structure. The box also comes with mounting hardware, a charging cable, and a battery pack; no hub is required.
To get access to captured video, a history of 30 days via cloud storage, smart alerts, motion zones, and some other interesting features, you need to subscribe to Arlo's Single Camera Secure Plan for $2.99 per month.
Category: Smart Video Doorbell
Another smart gadget to avoid an unwanted visitor, a stranger, or a home invader is using a video doorbell. It works well for the defense of your home; however, it can't replace a smart security camera if you have to monitor huge premises or a parking lot as it can't give you wider coverage. With a smart doorbell outside your home, you can check who's knocking on your door without leaving your couch. It is the first line of defense against any unfortunate situation. You can watch and communicate with the visitor ringing it. It further records the video of people approaching your door to help you determine who came to visit you when you were away.
Some top-notch smart video doorbells offer all the features for free while others allow you to access additional features like 3rd party integrations, Ultra HD video, and smart alerts only if you pay for a premium plan.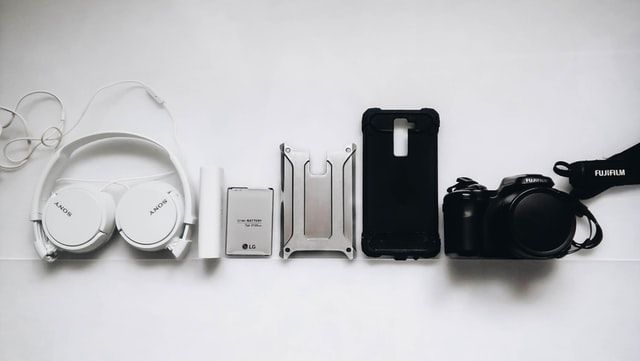 Our budget-friendly top pick for a smart video doorbell is: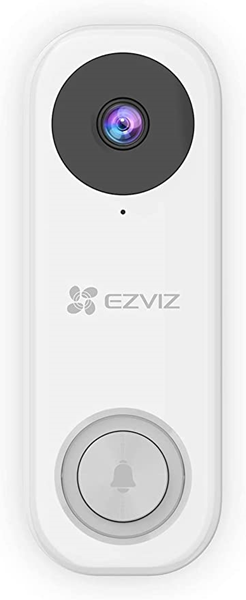 Integrations: Google assistant and plenty of 3rdparty smart devices
Field of view: 170 degrees (vertical)
Resolution: 1080 pixels
Connectivity: Wi-Fi 2.4GHz/5GHz
EZVIZ DB1Cis a smart video doorbell that offers numerous features, including AI-powered person detection, sharp HD video with dual-band Wi-Fi (2.4GHz & 5GHz), and third-party integrations, without any extra subscription. DB1C doorbell is weather resistant with IP65 protection. It is connected to your smartphone through a mobile app. EZVIZ DB1C has a white faceplate which has a camera on the upper half and the doorbell button on the lower half. An LED ring surrounds the button, which turns blue if the doorbell is working efficiently, and red if it's facing some connectivity issue. Its motion detection sensors can differentiate human movement from other objects' movements, like that of passing cars, and sends notification only for those movements triggered by human beings. DD1C doorbell records the video of every movement around your property on its SD card for free (local storage) or in the cloud if you have a CloudPlay subscription.
To get the video history, subscribe to the EZVIZ Cloud option.
For 3-Days video history: $5/month
For 7-Days: $7/mon.
For 30-Days: $13/mon.
Category: Smart Lock
Another significant piece of technology for the security of a connected home is a "Smart Lock," which lets you move freely around your home while strictly monitoring other visitors when you are away. It can be locked or unlocked remotely. Most advanced smart locks have built-in connectivity and a convenient feature of "motorized deadbolts."
Our top choice for a "Smart Lock" is: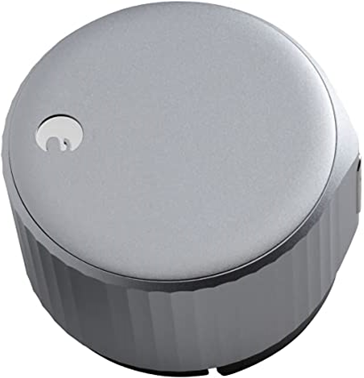 Integrations: Alexa, Google Assistant, Apple HomeKit, 3rdparty
Lock Type: Deadbolt
The 4th Generation of Wi-Fi Smart Lock is August's firstsmart device with a sleek design offering embedded Wi-Fi. No hub or any other hardware is required for a Wi-Fi connection. You have a virtual key for this smart lock, i.e., your "smartphone" or "Apple Watch," to open it through the August app or voice assistant. However, it has auto-lock and auto-unlock features. Once you approach the door, the smart lock will recognize you and automatically unlock to let you enter; no need to pull out any other smart device to unlock it. You can also generate guest keys to share the smart lock's access with others permanently or temporarily. Its "activity feed log" on the August app helps you find when your guests entered the home and when they left if you were away.
The DoorSense feature of the August Wi-Fi smart lock, which sends you an alert if your door has been left open, makes it stand out among others. Two CR123 batteries power this smart gadget; however, they have a short life and can last up to three months.
V Smart Kitchen Gadgets
No matter you are a new chef or a master chef, a smart kitchen gadget is something that can bring convenience to the most valuable area of your home – The Kitchen.
Category: Smart Displays
The most confusing question as a chef might be, "what to cook for a dinner?" A smart display is a kitchen gadget that can instantly offer you a wide range of cooking ideas with just a simple voice command. Then while following a recipe, the most difficult part might be the conversion between different units; how to convert ounces to cups? A smart display can help you by asking Alexa to answer the question. From finding a substitute for a food ingredient to getting the visual details of a recipe, a smart display on your kitchen countertop is all, you need to help you settle on a recipe. A smart display can also help you set timers, watch your favorite TV show or stream music playlist while cooking. It helps you make your shopping list of the ingredients you need for future recipes.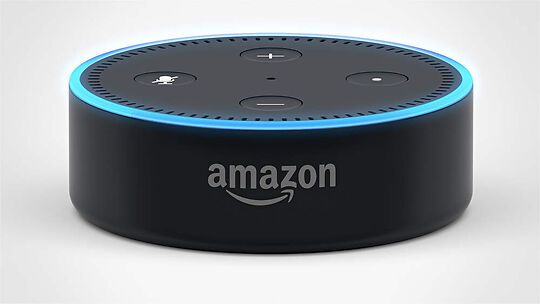 Following are our favorite smart kitchen companions: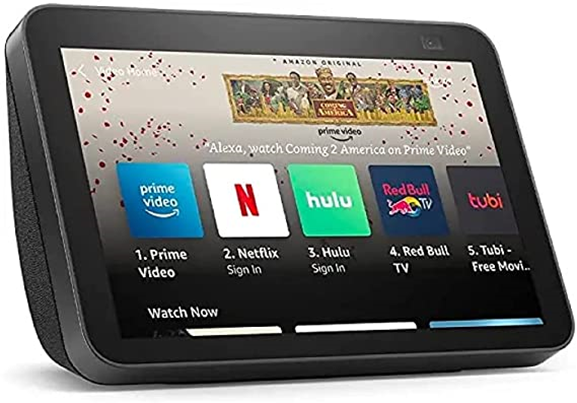 Integrations: Alexa
Speaker: 2-inches neodymium
Resolution: 1280x800pixels
Connectivity: Bluetooth, Dual-Band Wi-Fi
Echo Show 8 (2nd Gen) with a 13MP camera and 8-inch screen is our top favorite smart gadget for the kitchen. The size of this smart display is perfect for kitchen shelves. When your hands are busy cutting or mixing, verbally ask this smart home device to display recipes, convert measurements, set timers, and many more. You can watch cooking videos or get visual details of anything you find difficult to understand while cooking. Dual stereo speakers, HD touchscreen, and Alexa compatibility enable you to get an answer to any cooking relevant question, watch recipes, and listen to your favorite music while cooking. In addition to food-related visuals, you can also make video calls and control various other smart gadgets with Google Assistant. You can watch live streaming or take online cooking classes as Echo Show 8 (2nd Gen) works with Zoom. Just sync your calendar to Alexa, and when the meeting time approaches, command it, "Alexa, let me join Zoom meeting." That's all!
Category: Smart Kitchen Appliances
Once you set up the recipe using a smart display, a smart kitchen appliance is what you need to assist you during the cooking process.
We have picked a couple of the best smart kitchen appliances for you.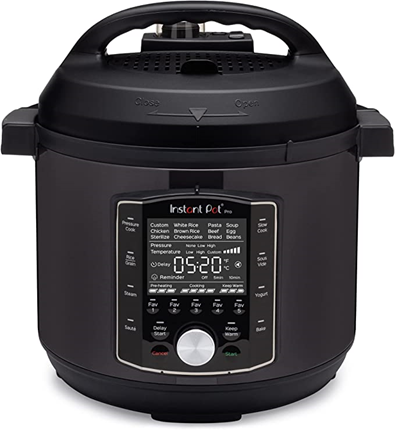 Compatibility: Alexa
Capacity: 6 Quarts
Wattage and Voltage: 1200 Watts and 120 Volts
If you are a new chef, "Instant Pot Pro 10-in-1" is a common recommendation to help you cook a wide range of tasty meals. It serves best as 10 cooking pots in one. Whether using it as a rice cooker, pressure cooker, steamer, roasting pan etc., this smart home gadget is your perfect smart companion in the kitchen that can cook for you in a matter of seconds while allowing you to focus on some other tasks. Using this smart gadget, you can cook chicken, sauté vegetables, stir up yogurt, and many more. The Wi-Fi-connected app offers around 800 recipes and gives you alerts when you are not close enough to hear the timer. Don't worry if you put this instant pot on the stove and get too busy with some other activities to check the status of your food on the stove. This smart kitchen gadget is amazingly safe to cook with various sensors and shutdown features to ensure nothing gets burnt.
Smart Coffee Maker
The kitchen is incomplete without a coffee maker. And having a smart coffee maker controllable through an app or your voice command while sitting on your couch is exactly what you need after your busy routine. You just have to tap on your smartphone or instruct it verbally: "Hey Alexa, turn on my coffee maker." This smart kitchen gadget will automatically turn on, make coffee for you, and then turn off. You can also fix some specific times and program this smart coffee maker to brew your coffee at those times every day.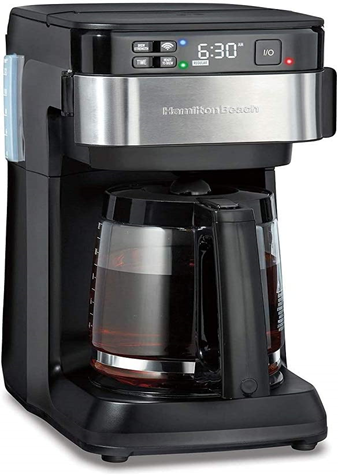 Compatibility: Alexa, Google Assistant, IFTTT
Capacity: 86 fluid ounces (12 cups)
Wattage and Voltage: 950 Watts, 110 Volts
Suppose you wake up half asleep on Sunday morning, deadly craving for some coffee, but you are too cozy in the bed to leave, and what you have to do is just say, "Hey Alexa, switch on my coffee maker." And after a while, you smell the aroma of freshly brewed coffee, wouldn't you consider yourself the luckiest person on the Earth? Yes, Hamilton Beach Smart Coffee Maker is here to deliver that comfort and pleasure. You can give it a command to make coffee through a compatible smart speaker or Alexa app. This 12-Cup coffee maker comes in a compact design to occupy little space on your kitchen counter and offers regular and bold options for brew strength. You can also program your smart coffee maker to fix a routine for automatically making coffee at specific times of the day.
V Best Smart Gadgets Common for Living Room & Bedroom
A living and a bedroom are the areas where everyone wants coziness and a little entertainment after every day's hectic routine. In a truly smart home, several smart devices work together to bring convenience and boost the ambiance of your living and sleeping space.
Let's walk through our top-picked smart home gadgets for the living area and bedroom. Though you can add several other smart gadgets to both areas, we have lined up a couple of those that work best for each area. Let's explore!
Category: Smart Speakers
Besides playing music, an advanced smart speaker is connected to other smart gadgets and serves as a command center that allows you to control other smart home devices by voice. Therefore, select a smart speaker compatible with your preferred voice assistant.
If you want a smart speaker to be compatible with both Alexa and Google Assistant, "Sonos One (Gen 2)" would be a perfect choice.
If Google Assistant is your preferred voice assistant, we recommend "Google Nest Audio."
However, our front-runner for the smart speaker category is the Alexa-compatible "Amazon Echo (4th Gen)."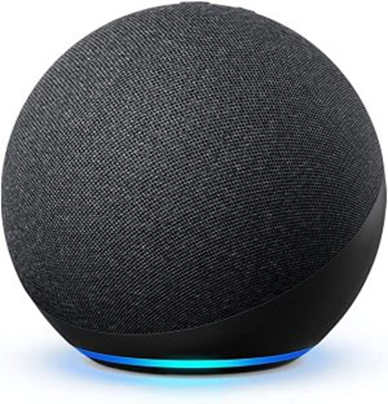 Integrations: Alexa
Speaker: 3.0-inch woofer – neodymium, 0.8-inch tweeters
Connectivity: Dual-Band Wi-Fi (2.4GHz/5GHz) & Bluetooth
The 4th Generation of Amazon Echo is a budget-friendly small, cute ball of sound which is an amazing smart gadget with enhanced audio performance than its earlier models. Place it anywhere in the living area or bedroom and use it as a voice assistant to control other connected devices while enjoying music. The most distinguishing feature that makes "Amazon Echo 4th Gen)" a preferable choice is "off-axis listening." It means its sound is hearable even if you are not close enough to this smart gadget because of its 360-degree sound. Its built-in Zigbee hub and temperature sensor are some other prominent features. An LED ring at the base of this Echo speaker turns blue when you activate Alexa by connecting it to the Alexa app. Get weather updates and news, set alarm clocks and timers and make calls with this smart home device. If you want to listen to a song, just ask Alexa to play it for you. Echo (4thGen) also has a built-in Spotify Connect to play music directly from its app. Press the button on this smart speaker to turn off the microphone if you are no more using it as a voice assistant. You can download more Alexa skills to get more functionality for your smart speakers, like playing YouTube or Google Chromecast.
Category: Smart Display:
A " Smart Display " is the best option if you want all the remote voice assistant features of a smart speaker and a touchscreen in your living room. On this connected smart gadget, you can view live streaming videos that your smart security camera or smart doorbell capture. This smart display can make video calls with your loved ones. It can serve as a digital photo frame when not in use as a smart display in your bedroom or living room.
If your smart home setup is compatible with Google Assistant, then Google Nest Hub Max is a good choice. However, our favorite smart display gadget for the living room is compatible with Alexa; lets have a look at it!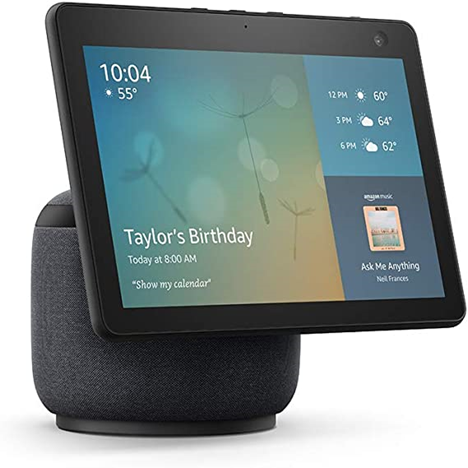 Integrations: Alexa
Speakers: 3-inch Woofer, 1-inch Tweeters
Connectivity: Bluetooth, Wi-Fi (2.4 & 5GHz)
Resolution: 1280x800 pixels
The third generation of Amazon Echo Show 10, with a built-in Zigbee smart hub and a 10-inch screen, is far better than its earlier versions. It is an excellent combo of the screen and smart speaker. The 13MP camera on its 10.1-inch motorized screen detects your direction. It can rotate at 360 degrees, tracking where you move while on a video call, reading or watching some video to allow you to continue viewing. You can watch the song title, pause the audio, and skip a song on this all-in-one smart display. Some amazon music tracks also display lyrics on Echo Show 10 screen. Watch Amazon Prime Videos and Alexa's Flash-news briefing on this smart gadget. Connect Echo Show 10 with your security devices and watch live streaming of what's going on at your main gate area.
Category: Smart Lightbulbs
Smart lightbulbs are the most affordable smart gadgets to upgrade your living room. You don't need to leave your couch to turn on/off the light bulbs when they can be automatically controlled through your smartphone app or voice control. Besides the ease of automatic flipping of the light switch, a smart lightbulb is a cheaper alternative to incandescent or halogen lightbulbs and helps you save energy. You can connect your smart light bulbs with other smart home gadgets like a smart lock or smart security camera. The lights will be automatically switched on if a stranger touches your smart lock or the smart security camera observes any unusual movement. Hence the house will stay lit to avoid any unfortunate situation.
Our best bet for a smart lightbulb is: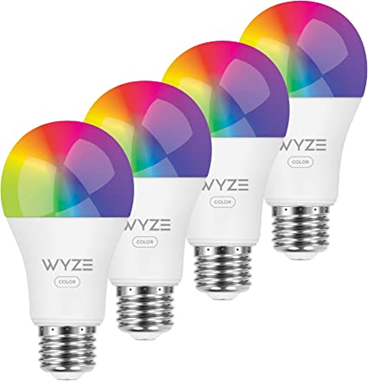 Integrations: Amazon Alexa, Google Assistant, IFTTT
Power: 12Watts
Connectivity: Bluetooth, Wi-Fi (2.4GHz)
This Wi-Fi-connected value-rich smart light bulb is one of the brightest bulbs that offer an output of 1,100 lumens, whereas most bulbs emit 800 lumens. The Wyze Bulb Color is among the brightest and most economical smart bulbs with plenty of features. You can adjust its white light temperature from 1800K for soft light to 6500K for daylight. It shows objects in vibrant colors as its CRI is 90+ out of 100. Its amazing color-temperature range, easy-to-use app, timers and the ability to replicate the sunlight at sunrise and sunset are the most distinguishing features. You can dim this smart bulb's light as low as you want and make scheduling to let it automatically turn on/off at different times. Just set the "vacation mode" to turn the bulb on/off arbitrarily to make it look like someone is home. Connect it with other smart gadgets at home, like the smart security system, to create triggers. However, to access most of the controls, like vacation mode and wake or sleep routines etc., you need to access Wyze mobile app.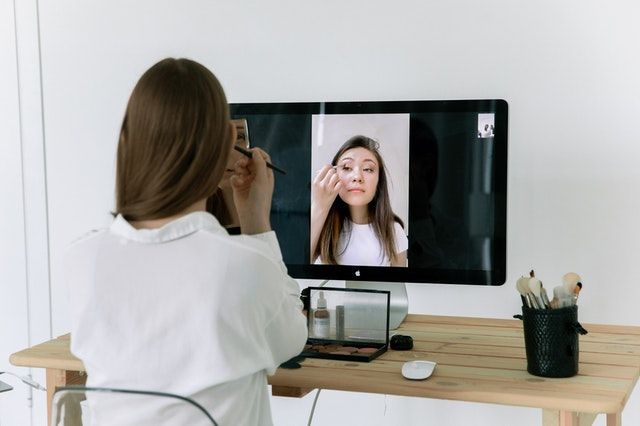 Category: Smart Thermostat:
A connected thermostat is another smart gadget for your living room to make your life easier and reduce energy consumption. It can do much more than control your home's heating and cooling system. You can set temperature schedules and monitor and control your living area's heating and cooling system. Many advanced smart thermostats offer voice control features with a compatible smart display or speaker. Some leverage occupancy sensors figure out if you are home or not, then change the temperature accordingly. At the same time, others detect your smartphone's location and automatically switch to "Away Mode" if you are not home. Some smart thermostats can even extend their detection range to other areas of your home by leveraging proximity sensors and remote temperature.
Our suggestion for the best smart thermostat is as follows: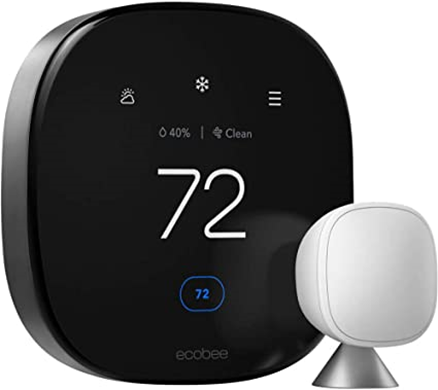 Integrations: Alexa and Siri (built-in), Google Assistant, 3rd party
Ecobee smart thermostat premium is our top choice for a connected thermostat. With a wide array of settings to monitor your home's climate, Ecobee, compatible with almost any HVAC system, has a built-in smart speaker compatible with Alexa. So, it does not need any additional smart device for voice control. You can also control it from a touchscreen or smartphone app. Its savvy remote SmartSensor is the best we have ever tested to detect the temperature and your presence in the area. Place it in any area that is too cold or hot to balance the temperature. You can save your cooling and heating costs by up to 26% using this premium version of the Ecobee smart thermostat. Another distinguishing feature is its ability to monitor air quality and consider humidity while adjusting the temperature. Its built-in air quality monitor sends notifications when air quality is poor and suggests how to improve it. Its advanced occupancy sensors also protect against home intruders. It is also amazing at low energy consumption and can reduce electricity bills by 7%. Another money-saving advantage is you don't need to subscribe to any plan to enjoy the full perks of the Ecobee Smart Thermostat.
Category: Smart Plug
You might be struggling to upgrade your home into a smart home; however, all the devices in your home might not be smart. A smart plug is just like an economical smart version of virtually everything and can smartly control anything plugged into it. You can control your lightbulbs, speakers, fans, lamps, TV and more through your smartphone app or voice command. You can even set the schedules of turning on/off the devices plugged in a smart Plug, and it will control the power flow accordingly. However, the functionality of each smart plug is different.
Our best pick for a smart plug is: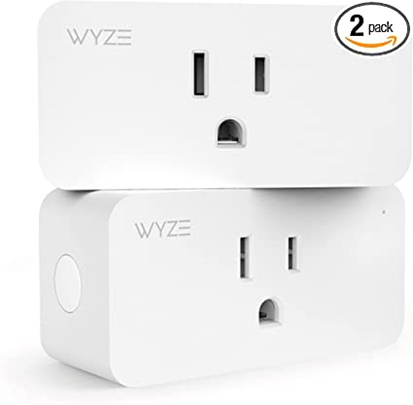 Integrations: Alexa, Google Assistant, IFTTT
Connectivity: Wi-Fi (2.4GHz)
Voltage: 110 Volt (AC)
Current: 15.0 Amp
IPR: IP 60
Wyze Smart Plug is a budget-friendly smart gadget that lets you control your devices automatically by turning them On or Off. If you have got your hands full and want to turn on a device plugged in, give a voice command to Alexa or Google Assistant to turn on the smart device. You can also control this smart plug from the Wyze app. The app alerts you if you have left this smart plug on. Just tap on the app to switch it off remotely without leaving your couch. If its "vacation mode" is enabled, the plug will randomly turn your stuff, such as lights, on/off to make it seem like you are home to avoid burglars.
Category: Robot Vacuum
If the thick layer of dust below your bed or sofa horrifies you, and you are fed up with using an upright vacuum cleaner as it is too bulky and noisy, a "Robot Vacuum" is there to automatically manage all the dirty work more efficiently. In some traditional models, you must empty your robot vacuum after each cleaning shift. However, some self-emptying models must be cleaned after a month or two.
Our front runner for a robot vacuum is: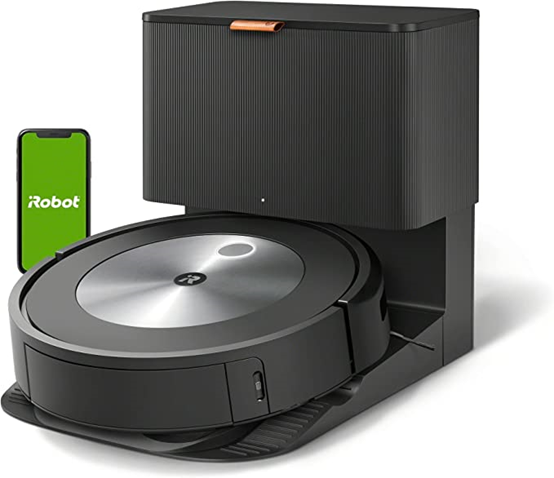 Compatibility: Smartphones, Tablets, Amazon Echo
Filter Type: Cartridge
Batteries: 1 Lithium-Ion battery (included)
iRobot Roomba J7 is an auto-empty intelligent robot that does not just learn your home but also gives real-time reactions. The PrecisionVision Navigation technology enables Roomba to identify and avoid obstacles. This smart robot vacuum is intelligent enough to avoid pet waste while cleaning. If it finds some hazards while doing its job, it captures the images and sends you to make you aware of them. Roomba empties itself automatically in an enclosed bag inside the Clean Base. You just have to pull out that enclosed bag after 60 days, no need to make it empty on daily basis. If you find some mess in an area, just use your voice assistant or iRobot home app to ask Roomba for immediate cleaning. You can also set up its cleaning schedules and let it automatically clean the area whether you are home or away. Its 10x suction power and dual rubber brushes enable it to pull out pet hair or debris efficiently. Our top-picked robot vacuum j7 leverages Reactive Sensor Technology, which informs this smart home gadget about the Keep-Out Zones where it cannot pass, so it rarely gets stuck.
Final Take
Thanks to Smart Gadgets for creating endless possibilities to make our homes as cozy as ever. However, selecting the best but most affordable smart gadget is complex. If you are just dipping your toes into the smart home space, don't outfit your entire smart home in one go as you'll find it quite expensive. We recommend you purchase just a couple of smart home devices first to check if you like them. If your budget is low, considering smart plugs and smart lightbulbs would be the best choice. Or if you are security conscious, a home security camera must be your focus.