Now a days, almost every aspect of life is supported by technology. The eye candy of modern technology is artificial intelligence. Artificial intelligence is a process to make certain tasks intelligently automated, using machine learning techniques. Although the main definition was to make machines equally intelligent to humans, it looks more like intelligent automation (IA) rather than artificial intelligence (AI). The banking sector was considered the old-fashioned industry adapting the technological advancements too late. But now, AI in banking is the word of mouth for many c-suite offices related to business and finance.
How artificial intelligence (AI) can help in the banking sector?
To understand the role of artificial intelligence (AI) in the banking sector, first, we have to understand the operational divisions of banking. An investment bank usually holds three offices i.e Front office, middle office, and back office. Each office has definite as well as overlapping duties and each operation requires technological advancements in the form of AI. Let us have a detailed look into these offices concerning artificial intelligence helping the operations.
Division of banking operations: front office vs middle office vs back office
A.    Front office in investment banking
The front office is the face of an investment bank. It usually involves the operations regarding customer services, product marketing and sales, and wealth management. The front office also includes Equity and merger/acquisitions research team but this team is not directly involved with customers or sales. The client can be an individual or a corporate person. In simpler words, the front office brings money to the bank.
B.    Middle office in investment banking
The middle office directly supports the front office in dealing with the clients. It involves risk management, compliance, investment laws and somehow technology (although technology is of more concern for back-office). The middle office is the brain of an investment bank. It checks whether the front office's negotiations with clients fulfill the organization's terms of services or not. Moreover, it also tracks the loss and profit of a certain trade. In either case, what laws and regulations are brought to the front,  is the middle office's concern.
C.    Back office in investment banking
The back office is the heart of an investment bank. Even when there is no client of investment, the back office is always present somewhere. All the operations of the front office and middle office are regulated by the back office. The back office involves in settlements. Their purpose is to make sure the payments for trade are executed. They deal with human resources i.e. paying salaries to staff, hiring or firing the staff, and offering incentives to the best employees, etc. Technology is another concern of the back office. It is responsible for maintaining the IT infrastructure and making sure all digital operations and banking servers are working. Handling the accounts and maintaining the database of transactions is also an integral duty of the back office.
After having a brief introduction to banking operations, let's look into how artificial intelligence (AI) helps in banking operations.
A.   AI for front office operations
1.  Customer Service
How is AI used in customer service?
Customer support is considered as the face of any organization. People usually perceive an organization to be successful if the customer feels easy while interacting with it. When you enter the bank, you will go to the customer service agent for your queries. You have to inquire about account details, transaction history, cheque clearance and opening a new bank account. These might be long waiting tasks to meet a CSR if the queue is long. Many investment banks are now deploying artificial intelligence to speed up this tedious and repetitive task.
The main limitation of manual customer support service is that you cannot interact 24/7. Shopping patterns have become so opposed to banking hours. People use to shop or hang out in a very out-of-schedule manner. So they want to have access to their account all the time. It is where digital banking jumps in. Several banks have deployed chatbots and voice assistants to interact with customers in a quick, safer and intelligent way.
The positive side of these chatbots is they continue to learn from previous user experience to perform better. The best example of such customer-oriented chatbots is Erica. Erica is the virtual assistant of The Bank of America. It is programmed to send notifications to customers, and help them inquire about their transaction history, credit scores or even helps them to pay their bills.
Besides these chatbots, banks are also deploying humanoids (human-like robots) to interact with customers. SoftBank's humanoid "Pepper" is the best example here. It greets the clients, guides them on how to operate in the bank, and answers preinstalled questions from customers. It gets confusing when an unrelated question is asked. Softbank Pepper robot costs $14000.
Kasisto is the mother of all customer service related AI. Kasisto is a conversational AI platform knows as KAI. Bank can use its functionality to make its chatbots and virtual assistants. KAI uses AI reasoning and natural language processing, so it can handle sophisticated and complex problems, that others like Erica cannot.
2.  Internet & Mobile banking
How AI is changing online banking?
The use of smartphones has been increasing tremendously and people are giving up personal computers. All the communications, scheduling, reading, lifestyle management, and personal finance have been confined to mobile phones. Now banks need more sophisticated AI apps for customer services and banking operations. Recently, The Royal Bank of Canada has added Siri's functionality into its iOS mobile application.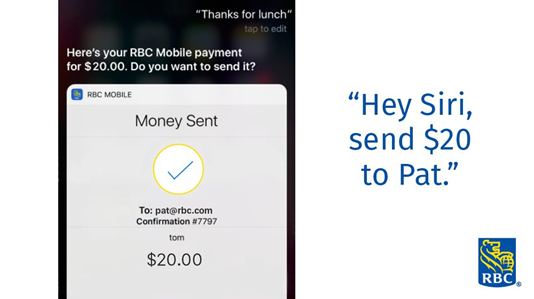 Apple has added Siri's shortcuts to new iOS 13, which are more customizable and user-friendly. It is not collecting information about the user's activities and learning more about personal preferences. Banking apps can use this customization for better services.
Varo Money has taken advantage of technology into banking. Their Varo app is an intelligent banking app that manages the user's spending behavior to boost their savings and borrowing habits. This app encourages the user's positive spending and suggests personalized preferences and insights.
3.  AI for Capital markets
Capital market is a place where investors can generate revenue by investing in bonds, shares, and other long-term investment plans. Previously, Capital markets were visiting places of big guns only. With the advent of technology, it is now possible for a common man with low income to enter into capital markets. In other words, capital markets are not more decentralized and anyone can participate even from home.
Capital markets require foolproof and efficient transactions. These markets bring together two parties, one who holds the capital, second who needs it. But before investing in a certain marketplace, investors are worried about the potential outcome. Previous transactions, deals, and outcomes have to be analyzed to predict future outcomes based on a certain data model. Many of these models are still residing in the brains of experienced capital investors and brokers.
Artificial intelligence, using Artificial Neural Networks, may help collect, store and analyze all the previous transactions of the capital market. Based on this data, new insights and risk-management aspects may arise, and it can help the investor to predict whether a certain investment will bring fruit or not.
What can AI do for the Capital market?
The enormous potential is hidden in AI for banking, fintech and capital market. However, the Capital market is undergoing faster adaptation from old technology to AI. What AI has to offer in the capital market, let's have a look:
Simplify the deal-making process i.e. automated investment, and using predictive analytics to automate due diligence.
Analyzing non-traditional or unstructured datasets (which were ignored or overlooked by manual analysis) using machine learning to enhance risk-assessment and new business insights.
Faster documentation process, record handling, and accurate prediction.
Designing attractive investment models with minimum loss ration to attract more investors.
Voice assistant and chatbots to guide the investors regarding their investment's progress.
The best examples of AI manifestation in the capital market are Forex bots like eToro, MTtrading and XM Global for forex and CFDs trading.
4.  Wealth management
How AI can help in wealth management?
Nowadays, wealth managers are gradually arranging important scenarios related to AI to fulfill the banking requirements of rich clients. AI helps the various Wealth management organizations to perform vital chores efficiently in banking. They can get better experience regarding the wealth management tasks which makes the customers comfortable.
In 2019, the latest round table event was established. Some modern banking trends in wealth management were discussed and highlighted their significance in the market. The main factors that were conferred such as the value of quality data and investment records of people. Fresher, tech-savvy great net worth persons are modeling the developments in wealth management. These are also determined by their liking for digital touch-points. For the last many years, fintech firms are providing good customer services. In the field of wealth management, they are playing an important in clients' communications.
Wealth managers use AI software to generate the customer's accounts. This profile may include transaction data and other investment strategies. It deals with the analysis of money that when and on where the customer used. For this purpose, NLP software or techniques are used.
B.   Artificial Intelligence for middle office operations
1.   AI for Compliance in Banking
Compliance is the guideline that has to follow by certain banks with some changes. Because these regulations are very essential for process update and to avoid any risks or losses. The baking sector without compliance rule faces extreme difficulties like the loss of authorizations. Bank officers can change the compliance rules according to their banking sector's requirements. Along with wealth management, different regulatory compliance are also developing. These financial advisory amenities may include the GDPR or MiFiD II.
The maintenance of compliance is a very challenging activity for wealth consultants because they have to deal with thousands of customers. The clients are becoming maximum day by day. Compliance plays a role in evaluating the various policy restrictions and assists in searching for more reliable and profitable tactics for customers. These strategies may include the scrutinization of individual strength by data and assessing the duration of time.
To reduce the time consumption and to get accurate results the advisers use the latest AI software. These trending software can standardize and monitor the risks related to compliance. AI software can currently offer wealth managers' understandings and approvals. They can observe the accounts by analyzing the customer's desires and preferences. Different financial trades and trends in compliance and wealth management can be monitored at high speed. Human analysts could not able to calculate or evaluate more accurately than this AI software.
AI's proficiency to process great measurements of statistics with quickness and exactness can alter regulatory compliance. Compliance necessities can easily understand by modern technology. This might be helpful for the traders so that they can take appropriate action. Ultimately, the constant use of artificial intelligence in regulatory compliance can eradicate the requirement for individuals in the development.
Compliance in banking can be maintained by regular notifications and alterations in rules and regulations. AI assists businesses by providing the latest banking trends and applications. This can guarantee that trades stay on topmost of developing and controlling necessities. The semantic web helps in the organization of all the data and make it readable by using various formats by readable machines. It can modify in a very efficient way and can be read by AI-tools or software.
The best example to be quoted here is Amelia, the perfect AI-based wealth management solution, developed by IPSOFT.
2.   Artificial intelligence for risk management
AI acts as a game-changer for risk management in the economy. With the help of AI tools and software, various frauds and risks can detect in the banking sector. AI and risk management are essential to evaluate and organize unstructured statistics. In finance, the risk managers focus on the losses and risks and trying to control them with the help of AI tools.
AI is becoming a vital share of finance and business developments. Machine learning permits monitoring and evaluating unstructured records, therefore saving money and time. These also help to compensate for the various risks by controlling the factors and minimizing them.
Risk management policy helps to monitor the operational systems without wastage of time. Risk management in banks should practice intellectual tools to achieve competitive benefits. This practice may improve the performance of banks and firms. Online lending technology is the main problem for the banks. Nowadays, alternative lenders have appeared that are the risk factors for the banks.
Customers' profiles and other information like mobile data, GPS data, online purchasing, bill payments can also be assessed by the lending technology and software. AI provides successful solutions to the risk management team by implementing intelligence strategies.
Model validation and Back testing are popular models for risk management to provide AI solutions. US and European risk managers are using the stress testing model for risk assessment.
If you are looking for the best AI solution for risk management, we recommend AdviceRobo. AdviceRobo is offering:
Advanced analytics including neural networking and reinforced learning.
Richer data including psychographics and customer touchpoint behavior.
Financial risk assessments automated and bespoke.
C.   Artificial Intelligence for back-office operations
1.   Settlements
How Can AI help in settle cases?
Settlements are cash flow transactions that the system transforms into payment instructions for different financial institutions. In the banking sector, the settlements are considered very complex regarding security and economy.
In financial markets, these are growing day by day creating complexities. AI and other technologies have improved the procedures of settlements in various fields. But a negative aspect of the settlement is not negligible. Historically, numerous transactions were not established until a physical credential of possession was reassigned to the customer.
The constant settlements help in improving the effectiveness of the banks by AI solutions or guidelines. These may help in the understanding of clients' needs and can build their trust during investments. When a customer purchases any stock the money will have already sent to the retailer's account by using the latest AI tools. The contract remains half-finished until the stock and its discussed rights of possession. So the settlements are playing a crucial role in the dealings and investing money in the industry.
To settle and monitor the trades effectively, custodians play a vital part. These also provide security to various processes like anti-money laundering (AML) and Office of Foreign Assets Control (OFAC). The settlements are established by technologies and performing the following functions.
Fast solutions for the problems
Transaction security
Flagging inaccurate/false trades
Artificial intelligence tools are planned to investigate huge volumes of historical transaction statistics at a fairly low cost. The main objective of settlements is reducing the cost and increasing the reliability and accurate results. AI and related settlements also help in saving time and improve finance status. These settlements should be planned according to the modern and latest designs.
Azati Softwarehas designed a promising AI solution for settlements and fraud claim detection. This AI tool is fed with all evidence of the claim and software decides if the claim is rightful or fraudulent.
2.   Records Maintenance using Artificial intelligence (AI)
Record maintenance is an essential application of AI software in banking. Because it is very important to keep the information or data of the clients in a secure form. So an excellent software Optical character recognition generates the good and perfect scanned pictures of the documents. OCR converts the paper files into a digital presentation by adjusting the shapes and all the characters of the documents. This can modify the official bank papers into a unique format.
In the banks, modern AI software is commonly used to digitized the vital information of the clients and make them for long-term records. So by using this software record maintenance would be more accurate and reliable. These records can easily be edited by desired changes when needed.
Using OCR, the bank can digitize the various type of official documents:
To make a record of clients' remote payments
Digitize the debit /credit card information
Records of customer's services
Advance or loans applications
Mortgage application forms
New data or records will be more helpful for the bank staff or also access to different sectors to be utilized or analyzed. These scanned documents will show the history and records of old and new customers. To maintain the record of huge data is not an easy task without using AI software. The implementation of this strategy will surely save time and give more accurate results.
3.   Accounting
How can artificial intelligence be used in accounting?
Accounting helps in computing the data into a more accurate form. Traditional methods for computing are not so fast or they consume more money and time. But now AI software improve the accuracy and bookkeeping ability and make them easy and reliable. AI can assist with accounting by applying business strategy, streamlining statistics and investigation.
AI technology provides a new world of data computing in the banking sector. Just like the folks, the software can also adjust and modify the details according to the clients' requirements. Machine-based learning playing a very important role in the accounting departments. It is the replacement of human responsibilities. Most of the accountants are utilizing the AI for the analysis and evaluation of huge data with quick speed and within a short time. AI technology can enhance the productivity of any company and business.
Nowadays, in the accounting department AI software is used because of its impacts on the positive results. It provides a low cost, more productivity, and 100% accuracy. Machine learning can meet the highest demands of mathematics and accountants. AI associated technology can quickly analyze the data and reduce the human labor and time consumption. These smart machines in the finance sector can speedily receive and send the information with certain required modifications.
For the automation of data different software are used by various companies in accounting. QuickBooks and Smaccare using AI accounting software to improve their data analysis and automation.
4.   Human Resources
How artificial intelligence is reinventing human resources?
The human resource department deals with the recruitments listing, production, and maintenance. In the past, HR had to face serious challenges in efficiently maintaining the whole process. But now with the advancement of new technology in AI, everything becomes controllable and easy to handle. AI provides the banking officers to make HR strategies for managing their work and get more benefits. It helps in enhancing the engagement and involvement of the bank staff and increase their overall output. Artificial intelligence can boost up the average profits and provide the strength to the workers.
How to improve HR through Artificial intelligence?
AI helps to improve human resources practices and HR can reach the highest level of experience. With the help of AI, simple to complex calculations can be done. It provides a chance for HR managers to enhance their monitoring ability more accurately.
Talent acquisition is an excellent software that enables the HR managers to review the thousands of candidates' applications. It helps in reading, scanning and analyzing the documents and provides genuine information about the applicants. This process will be time-effective and cost-effective in banking sectors.
Onboarding procedures are effective for recruitment purposes. AI helps in the detection of response rates of new and old workers and HR can plan various practices for them. This can lead to high productivity or benefits
AI offers different digital skills to enhance the knowledge of the staff. HR can easily organize training programs for its banking staff by using AI technologies. Training and online courses may polish their dead skills.
Assessment of the engagement and performance of the staff is a very essential step. With the help of AI technology, HR can easily evaluate their performance and objectives. This step may enhance the yield or outcome and the bank could get better results.
5.   Internal Document Search
Internal document search is the collection and organization of data. AI provides various tools to compile important information or records related to banks. It enables the indexing of the data to make them searchable and accessible. Machine learning and NLP can be used to generate the index. During the search, the basic option can be used to offer the clients.
These may include the numeric search, fuzzy or concept search, Boolean, advanced searches, etc. Banking sectors also trying to utilize these tools to enhance the accessibility of their data. These document search tools are playing a very effective role to achieve different goals such as product development, credit scoring, and mortgages.
The banking sector can use artificial intelligence to extract statistics from organized, partially-organized and unorganized documents. Bank officers or data science experts use the AI tools to scan, monitor and digitize all information into an organized form. It can reduce human labor time consumption and also cost-effective.
Different NLP techniques and OCR software can be used for data mining and digitizing the records. Different bank channels also extract the data through emails, from social media platforms, phone calls and other interactions with clients.
AI-based credit scoring tools like ZestFinance and Lenddo provide the best and quick history for the payment transfer between seller and buyer.
6.   Fraud and Anti-Money Laundering
How AI is transforming the fight against money laundering?
Fraud or money laundering is a process in which different scammers or fraudsters can transfer the money from any bank accounts. They try to attempt these crimes in different ways. Therefore, AI provides the anti-money laundering tools to save the cash of their customers. AI develops various techniques to prevent the bank accounts from such fraudsters.
Here are two popular AI anti-money laundering techniques.
SAS Anti-Money Laundering Solutions
SAS solution comprising detection software that can identify the exact source of information. It identifies the records transfer from different sources. The CRM system analyzes all the transactions and money transfers from the official accounts. This AI-based system provides all data and records to the customers. This tool can detect any money laundering fraud method and aware of the customer about every threat or crime.
Users can easily visualize that who attempts to track their business accounts and how they transfer the money. So AI offers complete security to the official account in the banking sector to make them more trust able. SAS AML solution tools are used by different Israel companies like Ayalon Insurance.
Ayasdi's Anti-Money Laundering Solution
Ayasdi is specially designed for the complete solution of health departments, finance and banking sectors. With the help of AI-based Ayasdi software, all the changes and alterations in the behavior of a client can be analyzed. Its application can detect that either the buyer is willing to transfer payment to companies or not. By using this tool bank managers create a specific strategy to prevent different crimes or frauds. Ayasdi ensures legitimate payments to banks or companies. It detects the behavioral patterns of the client and performs the following functions:
Behavioral Visions
Auto Feature Engineering
Contextual Alert Data
Intelligent Event Triage
Intelligent Segmentation
In a nutshell, AI makes the banking sector more accurate and reliable regarding any payment or business processes. With the help of AI software, huge documentation can be compiled within a very short time with more profit and low cost.
Cheers :)