Whether you are a business owner or planning to own one, you have landed right. We will suggest in this article 10 of the must-have AI tools for business available in the market. These tools will streamline the workflow and uplift the yield of your business when employed correctly.
So, read along to grow your business at a faster pace.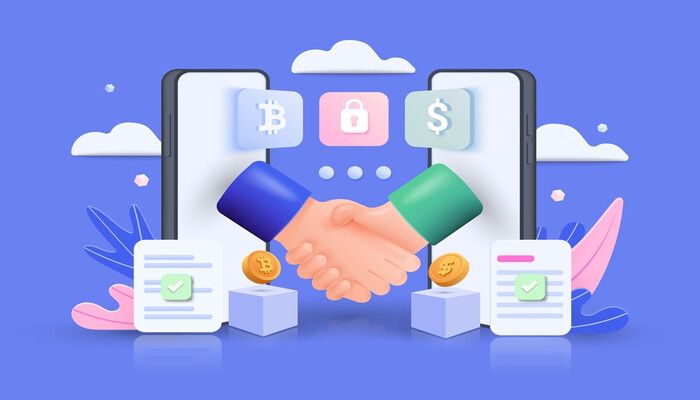 What are AI Tools?
Before we dig deep into our recommendations, it is essential to know what AI tools exactly are.
10 Must-Have AI Tools to Boost Business Growth
Following is the list of 10 AI-driven tools you must have;
1. Otter.ai: Best AI Speech Recognition Tool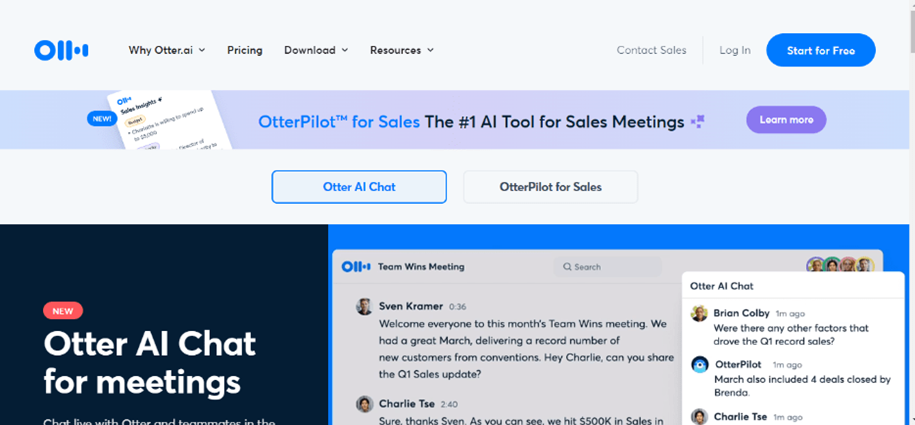 The artificial intelligence software claims to be the number one tool for sales meetings. It can automatically join and record meetings if connected to Google or MS Calendar. The AI transcription tool can also take notes during meetings. It further eliminates multitasking by sending you an email afterward. The email contains all the key talking points of meetings.
So, the tool enhances your concentration and engagement during the meeting.
Pros
+ It accurately synchronizes transcription with the recording.
+ The Otterpilot feature is compatible with Google Meet, MS Teams, and Zoom.
+ It enables you to skip silences during the talk.
+The AI tool has a variety of playback speeds. (0.5x-3x)
+It generates a real-time summary of the meeting.
+ It allows collaboration with the teammates in the live transcript.
Cons
- The AI-driven tool only works with English (UK and US).
- It has a limited free version.
- Shows occasional inaccuracies in accurately naming different speakers.
Basic: free.
Pro: $10.
Business: $20.
2. SheetGod: AI Excel Formula Generator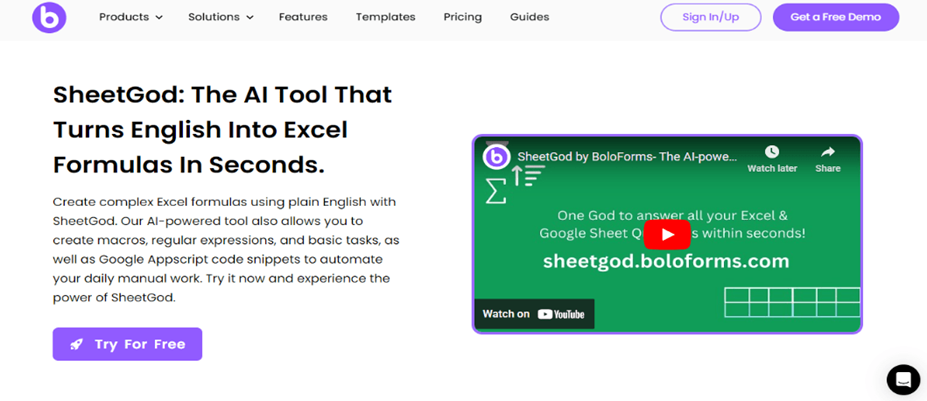 It can help businesses create reports, calculate taxes, analyze financial data, etc. This way, the AI software both automates the processes and saves time.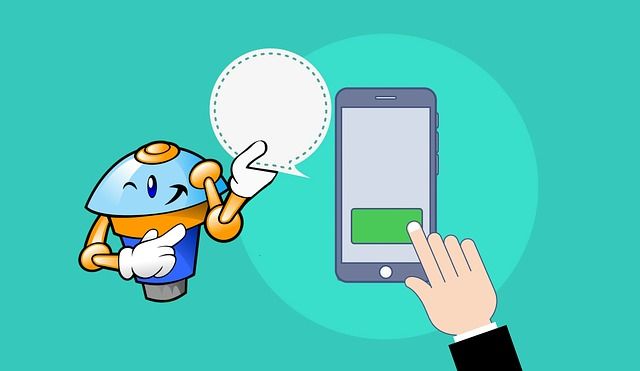 Pros
+ Free to use with a 30-day money-back guarantee.
+ It automates basic manual work.
+ Simple user-interface.
+ Availability of Live Chat.
+ It can also generate macros and PDFs.
Cons
- It works with the English language only.
- The mobile version is not available.
- It requires a strong internet connection.
- The macros generated are not user-friendly.
3. Scalenut: AI Tool for Content Marketing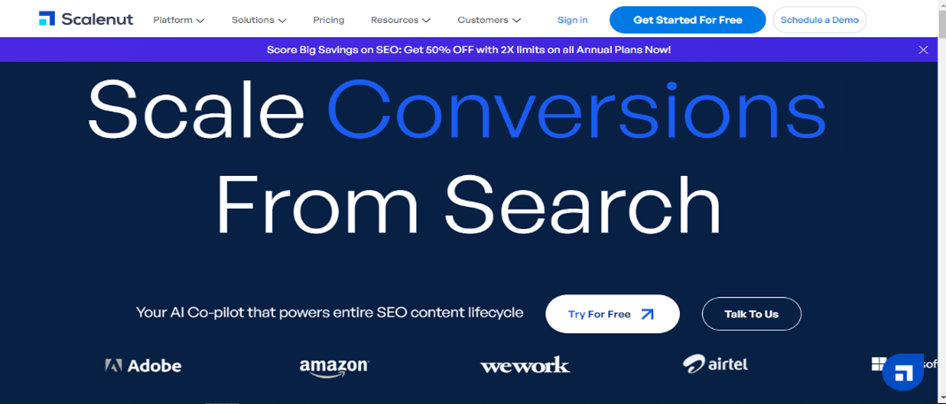 Thus, the AI-powered tool is helping writers and agencies drive organic traffic and elevate ranking.
Pros
+ NLP models for SERP optimization.
+ Thorough topic research and powerful keyword cluster.
+ Real-time SEO score.
+ On-page SEO and content optimization.
+ Insights about the traffic on the content.
+ The AI writer can create an article with 1500 plus words within 5 minutes.
+ It also enables you to set the tone of the content.
Cons
- A Limited free version.
- Some users did not find the editing feature user-friendly.
- The generated output may contain some irrelevant content.
Pricing
Essential: $20
Growth: $40
Pro: $75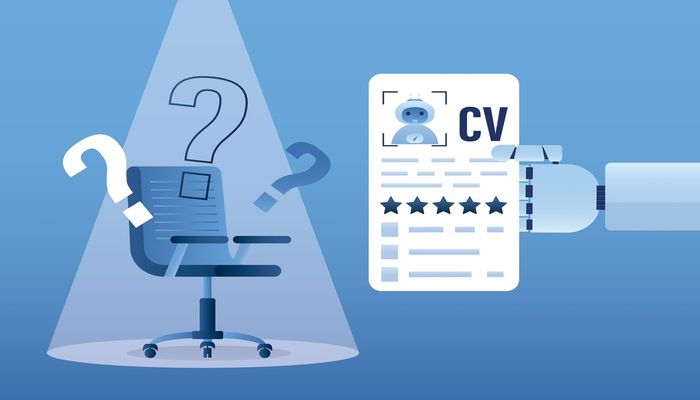 4. Synthesia: Best AI Text-to-Video Generator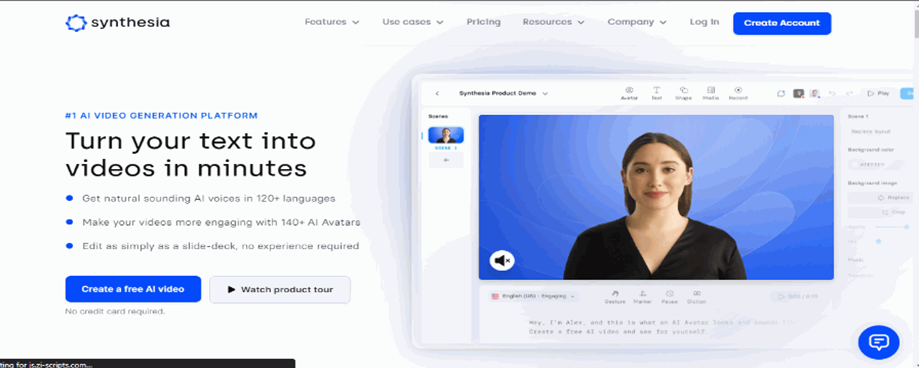 The AI algorithm enables the tool to learn the facial features of a human in detail. Thus, it can create digital avatars that look like real human faces. Furthermore, you can record voice or use the AI voice generation option for professional voiceovers. The AI video generator also has 60 plus pre-designed templates to choose from.
Synthesia is a powerful video marketing tool. It allows businesses to create sales and technical training videos. Furthermore, it automates the creation of how-to and product description videos. Google, Nike, and Amazon are consumers of this AI video creation tool.
Pros
+ 140+ AI avatars.
+ 120+ languages and accents.
+ Creation of your avatar.
+ Generation of video from any written text.
Cons
- No free trial.
- There is no automatic translation feature.
It starts with $22.5 a month.
5. GetFloorPlan: AI Software for Real Estate Agents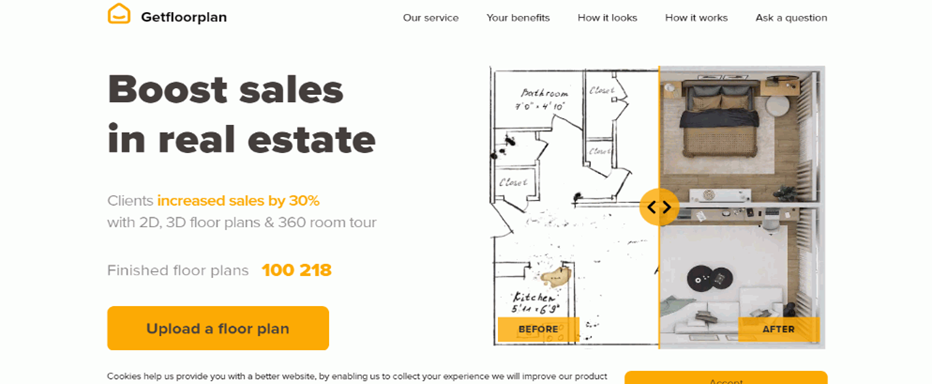 So, the AI tool is used by companies for showcasing properties, enhancing listings, and designing floor plans.
Pros
+ 30% raise in client calls.
+ Improved property visualization.
+ Easy to use on mobile and desktop.
+ Affordable.
+ Money-back guarantee.
Cons
- Limited customization.
- Questionable data security features.
- No free version.
Pricing
It starts with $35 for 1-9 floor plans.
6. Flair.ai: AI Photography for Consumer Packaged Goods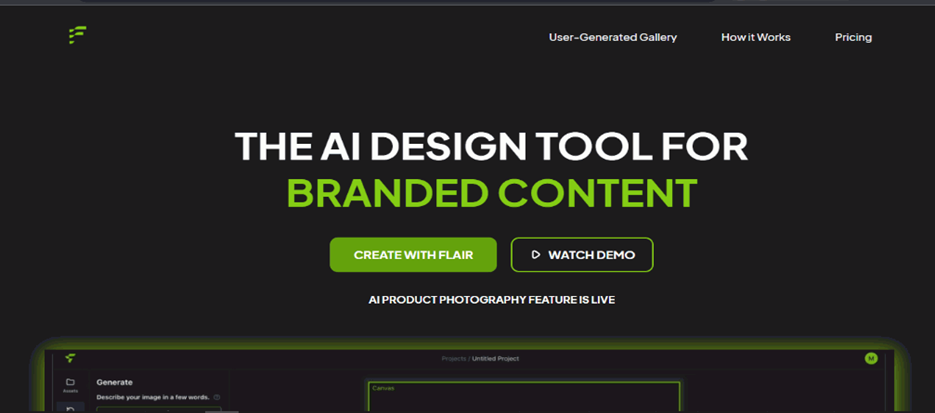 The AI-driven software employs machine learning techniques to automate the generation and optimization of the design. The design process is easy due to its simple interface. First, upload the product image onto the canvas. Then, prompt the tool about placement, surroundings, and background. Finally, adjust the desired features. Your design is now ready to be exported.
Businesses use high-quality photos generated by the AI software for digital marketing, campaigns, and product listings.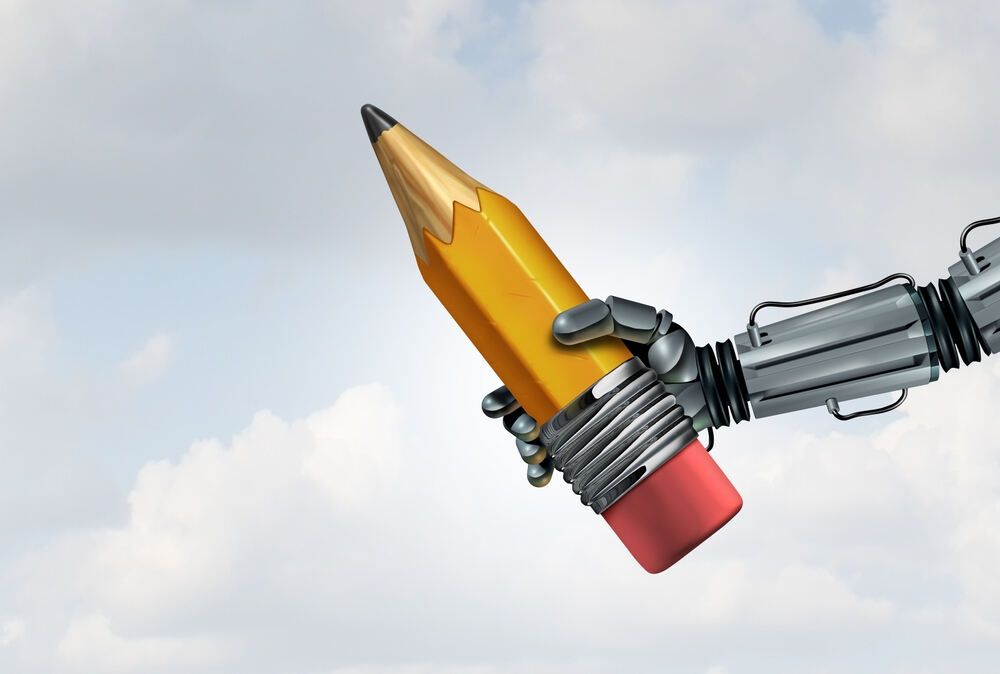 Pros
+ A simple drag-and-drop interface.
+ Team collaboration feature for enhanced communication.
+ AI-powered editing features for further product enhancement (color, light, etc.).
+ 200+ prompt recommendations.
+ AI technology creates a cohesive scene around the product.
Cons
- A Learning curve for beginners.
- It requires an internet connection.
- Inefficient handling of advanced design projects.
- Limited free version (up to 30 images).
It starts from $10 a month.
7. Quillbot: AI Paraphrasing Tool for Professionals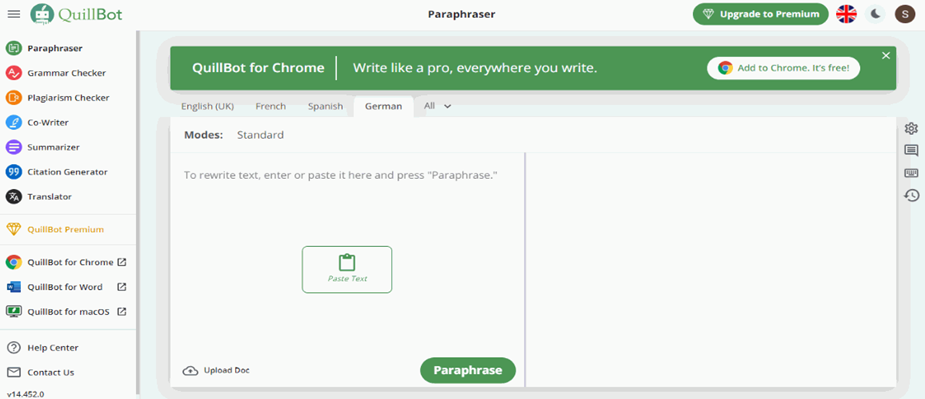 The AI paraphrasing tool is so easy to use. Firstly, you paste or upload the desired text. Next, you adjust the tone of the text from 9 available options. Quillbot will then use pre-fed knowledge to analyze text and generate results.
Marketing professionals use this AI-driven software to reword promotional copies. Business writers also use Quillbot for the formal rephrasing of documents. In addition, content creators use it for curated rewriting of blog posts and social media content.
Pros
+ Free and affordable.
+ In-built grammar checker, plagiarism detector, and citation generator.
+ Extensions are also available for Chrome, Microsoft, and MacOS.
+ 3-day money-back guarantee.
Cons
- Limited features in the free version.
- Text may require manual proofreading.
Premium Subscription: $9.95 a month.
8. Quickchat: AI Chatbot Building Tool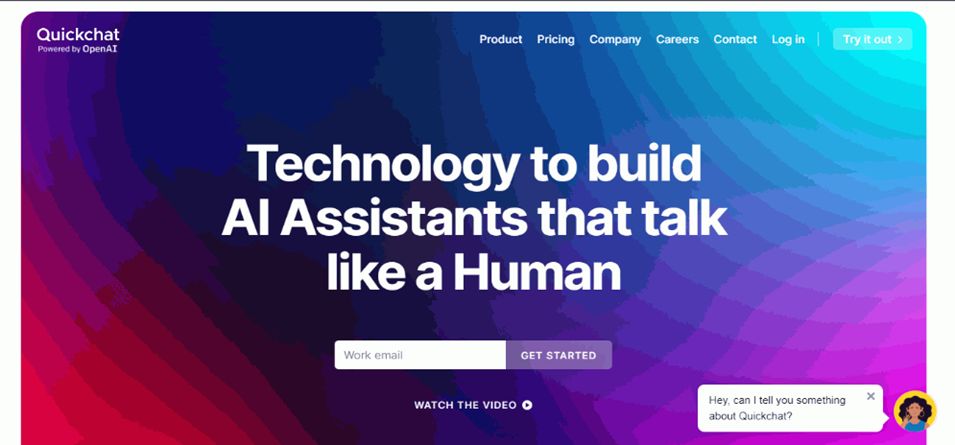 Chatbot creation does not require any complex programming or coding. Because the AI assistant creation tool builds the bot. You have to follow the step-by-step guide. The AI-driven tool also enables you to select the personality of the virtual assistant that matches the brand's tone.
Businesses and website developers use this AI tool to create virtual assistants for enhanced communication with the customer.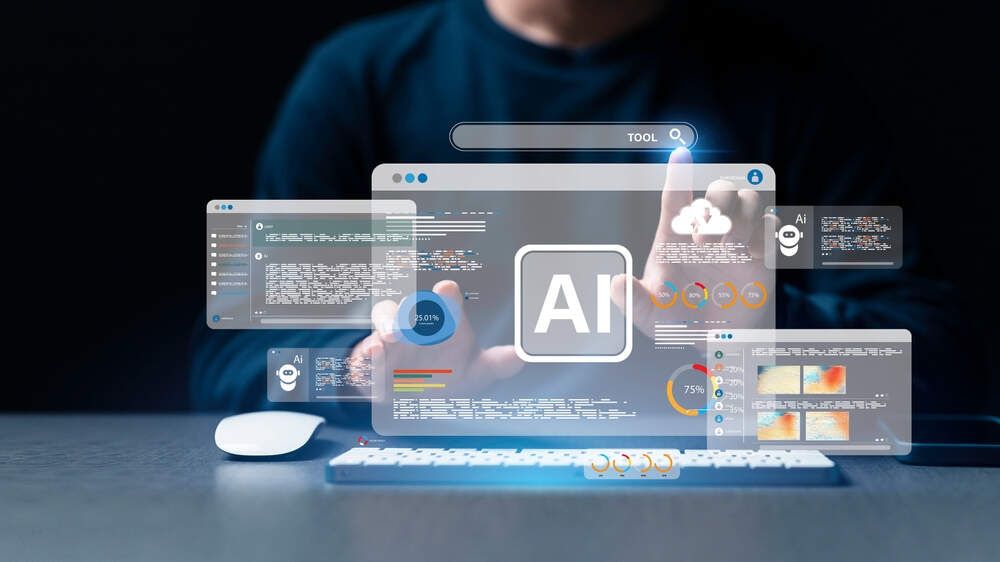 Pros
+ Human-like communication.
+ Reduction in response time.
+ Enhanced customer satisfaction.
+ Seamlessly integrates with websites and applications.
+ Multilingual chatbots.
Cons
- Occasional inaccurate responses.
- Integration is limited to popular messaging apps.
Pricing
It Starts from $99 a month.
9. Jasper: Best AI Writer for Businesses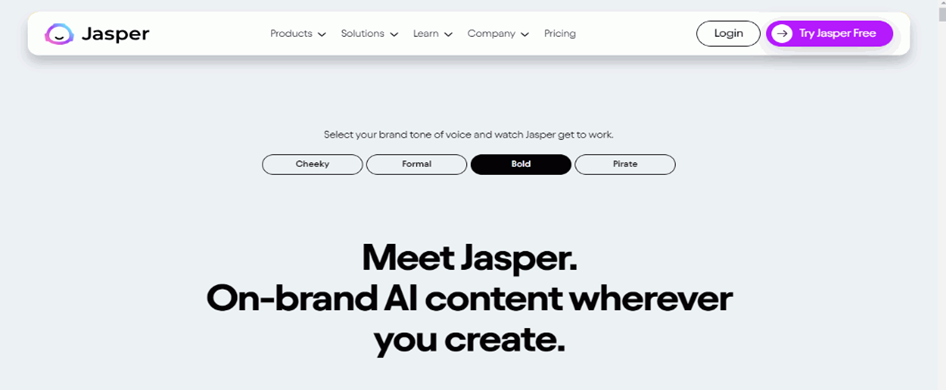 The AI-driven software has a simple user interface. Firstly, click Create New Content and select a desired template. Then, input the background information and click generate. After that, the AI writer will create content aligning with the tone of your brand.
You can also write the content on a blank document from scratch. Jasper will then act as an AI assistant and help you in writing.
Pros
+ The content generated is 100% original.
+ An Integration library containing Grammarly and others.
+ One-week refund policy.
+ AI chat and image generation.
+ Answers in more than 20 languages.
Cons
- Limited free trial.
- Extra cost for plagiarism detection.
- Content may require editing and proofreading.
Creator subscription: $39 a month.
Teams subscription: $99 a month.
10. TimeHero: AI Time Management Tool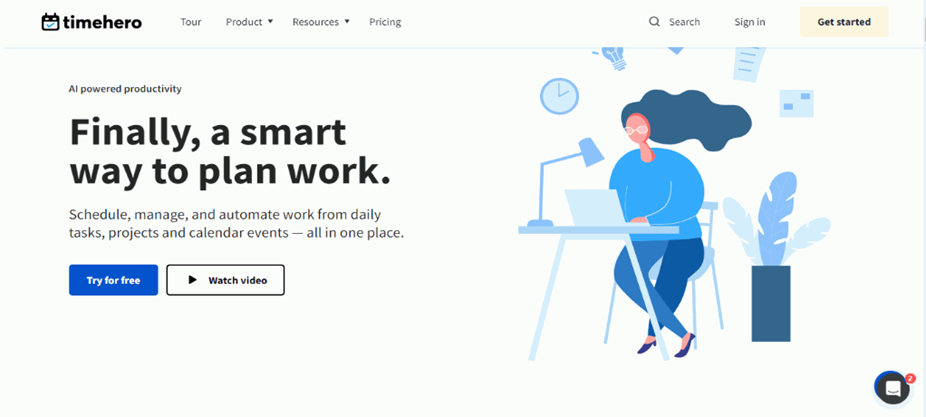 The AI tool allows you to manage projects at work more effectively. It also enables you to set deadlines and organize tasks based on the urgency. Furthermore, The software sets notifications and reminders when an event is approaching. Moreover, AI technology can automate the sorting of recurring weekly and monthly tasks. The artificial intelligence application also has a built-in timer. The timer creates an automatic timesheet to compare the actual and estimated time of the task.
So, Companies use TimeHero to plan meetings, track the time of events, and prioritize work errands.
Pros
+ Automated timetabling.
+ Enhanced work productivity.
+ Minimized time wastage.
+ Improved team collaboration.
+ Seamless integration with Gmail, Google Calendar, Zoom, etc.
Cons
- No Integration with MS Teams.
- Finding a task may get difficult sometimes.
- A limited free trial.
Basic: $4.60
Professional: $10
Premium: $22
Conclusion
The abovementioned are our recommended must-have AI tools for businesses. Pick a tool that suits your business the most and changes the future of your start-up. You surely don't want to risk lagging in this race of success and innovation.
Or Do you?