Artificial intelligence has made significant progress with some amazing applications in fields like image recognition and machine learning. What about art created by AI? Can machines produce art that seems genuinely creative and unique? Step into the realm of creativity and innovation with the list of the best AI art generator tools (web-based) that unleash the power of artificial intelligence to transform the boundaries of artistic expression. These virtual canvases serve as portals to a captivating world, where algorithms seamlessly blend with human inspiration, bringing forth mesmerizing visuals and redefining the very essence of artistic creation. From brushstrokes to color palettes, embark on a thrilling journey as we delve into the realm where technology and imagination converge, pushing the frontiers of artistry like never before.
Market Worth of AI Art Generator from Text
The size of the worldwide AI text generator market was estimated at USD 335.1 million in 2021, and it is anticipated to increase at a CAGR of 17.3% from 2022 to 2030 – According to Grand View Research.
The market for the best AI image generator is anticipated to grow from an estimated US$ 215 million in 2021 to US$ $534 million by 2028, at a CAGR of 16.4% between 2023 and 2028 – According to Vingle Research.
Market size for generative AI will reach US$110.8 billion by 2030, growing at 34.3% CAGR – According to GlobeNewsWire.
What Exactly Is AI-Generated Art?
Any image produced by a generative AI model is considered AI-generated art. It usually entails writing some text—referred to as a prompt—into an AI art generator. The ultimate result of these text-to-image systems, which employ a variety of sophisticated technologies including deep learning algorithms and generative adversarial networks (GANs), is quite astounding. The model is an expert at producing a picture that corresponds to your description with human-like creativity using only a few words or sentences. Although AI technology can be challenging to understand, the great thing about AI-generated art is that you don't need to have any prior knowledge of drawing or painting, or computer programming. With nothing but your ideas, there are several free tools you can utilize to create original artwork.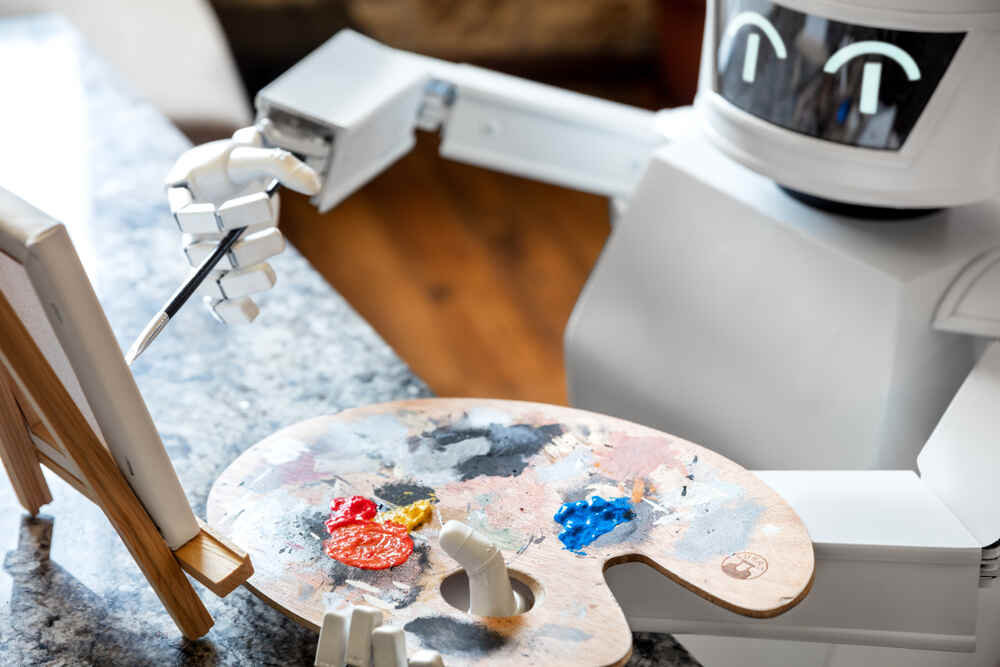 How Does the Best AI Art Generator Work?
Deep neural networks and machine learning algorithms are used by AI art generators to produce excellent works of art. These algorithms are trained to detect patterns and styles that are applied to create new works of art using large collections of already-created artwork.
The following steps are commonly involved in the creation of AI art:
Dataset selection: It is the first stage in developing an AI art generator. This dataset of existing works of art will be used by the machine learning algorithm to teach it about the art's patterns and style.
Training: The machine learning algorithm is trained using the photos in the dataset after the dataset has been chosen. This entails passing the photographs through a neural network, which discovers the traits and trends shared by the artwork in the collection.
Generation: After being taught, the machine learning algorithm is used to create new artwork. The algorithm will then provide an output based on the patterns and characteristics it has discovered from the training data after receiving a random input.
Refinement: To produce a more visually acceptable final image, the created artwork is frequently improved using extra algorithms and techniques, such as style transfer or image filtering.
Depending on the type of art and the desired aesthetic, AI art generators can employ a variety of algorithms and techniques to boom the world. DeepDream, StyleGAN, and CycleGAN are a few well-known examples of AI art generators.
Is AI Art Protected by Copyright?
The legal problem of who owns the copyright for AI-generated art is complicated, and there is no definitive solution. It may vary depending on the unique conditions surrounding the development of the artwork. Generally speaking, copyright laws are designed to safeguard original works of art that are composed or illustrated on physical media. Who owns art created by AI may depend on how much human involvement there was in the creation process.
Who would hold the copyright if an AI system created all of the work on its own, with minimal assistance from humans? Some contend that the maker of the AI system, such as the programmer or business that built the AI system, should own the copyright. Some claim that similar to how an artist would hold the copyright to their creations, an AI system may be regarded as the author and owner of the copyright.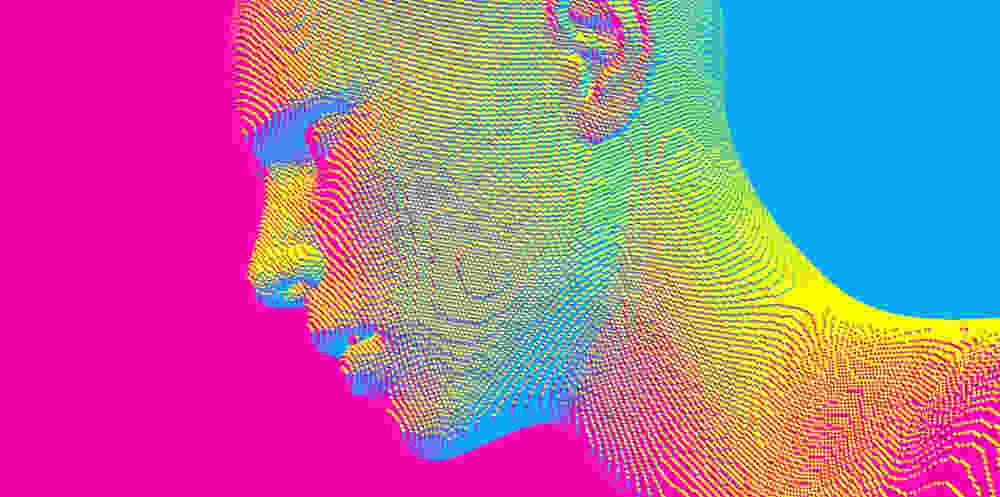 Choose the Best AI Art Generator for Your Next Art Creation
AI art generators can be accessible online through web-based programs or downloaded as an app. The best place to start if you want to dangle your toes in the AI pond is with one of the several free and paid AI text-to-image generators. Among the most potent AI art generators are DALL-E 2 and Midjourney. You should also give Google Imagen, NightCafe, and Craiyon a shot. They are easy to use and keep becoming better as technology advances. Let's explore them in detail one by one.
Platform: Web-based tool
Ideal for:
DALL-E 2 is the most user-friendly tool on our list and is accessible to anyone. As it is the foundation of so many AI art-generating tools today, it is perfect for individuals who are new to the AI art generation.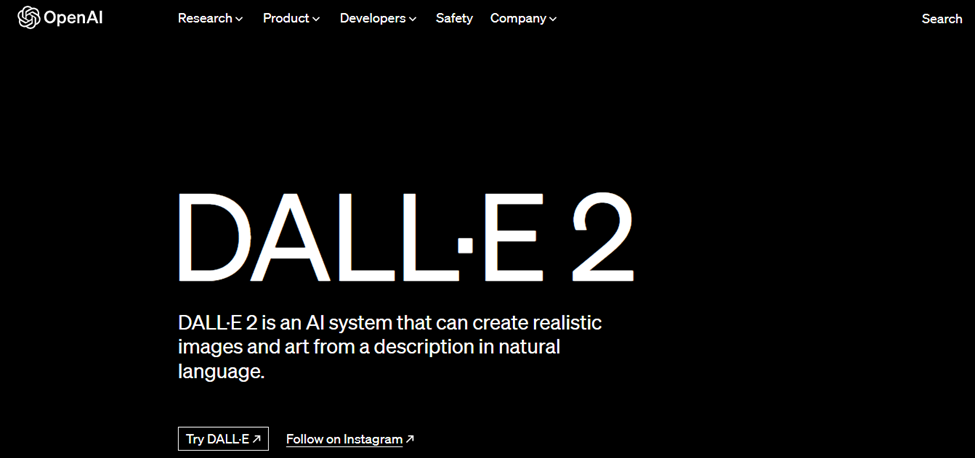 Description
The amazing AI art generator DALL E 2 produces original, innovative pieces of art. A few words can be used to create something incredibly original and appealing. Without requiring your level of artistic skill, DALL E 2's AI-driven creativity may help you realize your vision by giving you the tools you need to produce breathtaking photographs and AI movies as well as surprising new avenues for research.
DALL-E 2's beta version gives you the chance to use the best AI art generator to modify and recreate exceptional art. In contrast to other AI art generators, this one lets you select a region of the uploaded image to remove a portion of it. The picture can also be enlarged or reduced. It is advised to save your work as you edit pictures, especially for more complex adjustments, because this feature is still in development.
How to Use the Best AI Image Generator DALL-E 2?
DALLE 2 is the easiest to explore AI art generators. Here is a succinct summary:
Go to the DALLE 2 online web page and register (that's free).
On the homepage, enter your prompt and choose "Generate".
After a little pause, you will be presented with four AI-generated photos to select from.
Click on the best of them to download, save to a collection, share to DALLE 2's public feed, edit, or create more variations.
Key Features of DALL-E 2
Easy user interface.
Random-prompt maker.
The history tab shows a generated can.
Save produced art collections as collections.
Produces art with excellent resolution.
Pros
+ Easy to use and simple interface.
+ Right prompts result in the creation of stunning lifelike outputs.
+ Allow variations by various editing tools.
Cons
- Sometimes, it freezes while loading.
Pricing
50 free Credits in the first month, followed by 15 free Credits.
$15 for 115 Credits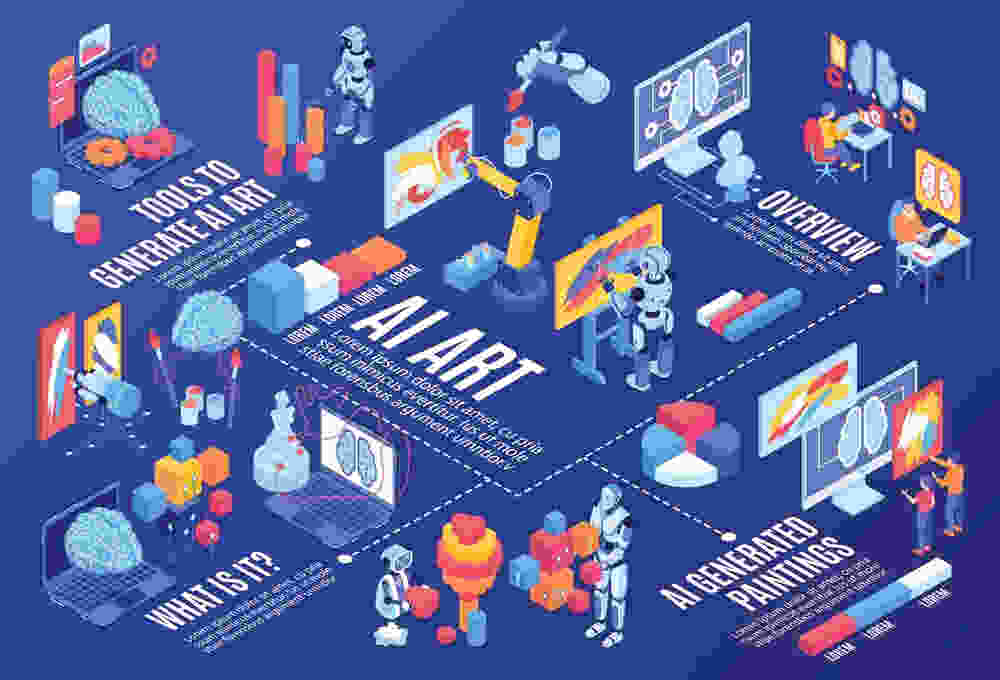 Platform: Discord
Ideal for:
Midjourney is a Discord AI art generator for people who are comfortable with Discord servers and want to be a part of a vibrant community of AI artists. Midjourney stands out despite lacking many of the bells and frills that other sites on our list have, thanks to its consistently high-caliber artwork. If you want to become a part of a strong digital art community, it's an excellent option.

Description
AI art generator Midjourney is unique in that the entire system is run through Discord (an instant messaging chat program). After clicking the Join button on the Midjourney website, you'll be sent to Discord via a proper guide and prompted to create an account before joining one of the Newbie channels. If you're new to Discord, it can be a little complicated at first, but the instructions on the Midjourney website are fairly straightforward. Once you're in, creating art is a breeze. Simply type "/imagine," and a prompt box will display. Enter your sentence, and you'll get four photos with upscale possibilities. That's all! It is the art generator for individuals who desire something simple. You can also request to join the beta version. However, you will wait for their response but it's worth waiting.
From my perspective, it has way more support for the choice of different rendering options where you specify certain commands for the choice of rendering. It also has a discord community where people share extremely insane stuff. A lot of concept artists are using it who are directly or indirectly associated with the gaming industry.
How to Use Midjourney AI Image Generator?
Here's a quick rundown on how to utilize Midjourney:
Sign up for Discord.
Register on Midjourney and accept the Midjourney Discord channel invitation.
Enter /subscribe (slash command) into a #newbies channel.
Choose your Midjourney plan.
Return to Discord and begin creating photos.
Your works can be edited, improved, and downloaded.
Key Features of Midjourney
Midjourney is renowned as the best AI art generator for producing distinctive, high-caliber oil paintings.
You may test it out for free to see whether you like the artwork it produces.
You may view the Midjourney prompts used and the artwork produced by others in Midjourney, which makes it simple and quick to come up with several ideas.
A beta version of the Midjourney AI Art generating program is presently accessible. To get the free trial, you must sign up for Discord.
Images are produced with a straightforward word prompt.
Pros
+ Excellent renditions.
+ This the best AI image generator creates eye-catching profile images.
+ Beautiful and precise results.
+ Understands difficult prompts.
+ Upscaling and other output modes
Cons
- The free image limit rapidly expires.
- Discord is the only place where you can get it.
Midjourney Price
Three premium tiers are available beyond the free tier of 25 images:
$10/month for 200 photos.
$30/month for an unlimited number of photos.
$600/year for commercial membership.
The illustrations created by Midjourney remain the user's property until they are sold.
Platform: Web-based tool
Ideal for:
Google Imagen is best AI image generator for creating unique and visually stunning digital art pieces. It helps to explore new and innovative artistic styles and techniques. AI generates art with a wide range of artwork using text prompts. Moreover, it's an inspirational tool for sparking creativity and generating ideas for future art projects.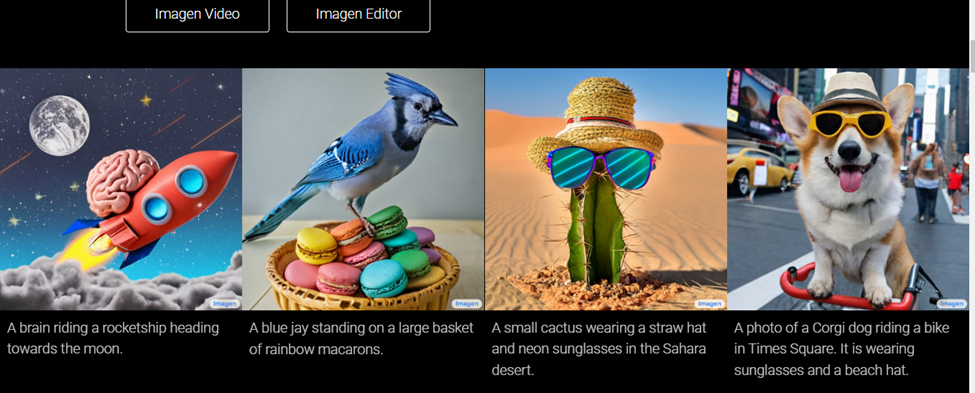 Description
Imagen is a sophisticated AI text-to-image art generator developed in Google's AI Test Kitchen that can convert textual suggestions into convincing visuals. So far, the results indicate that it can compete with the greatest AI art generators, which have sparked a lot of debate owing to their increasingly convincing outputs and alarms about copyright, misuse, and the future of artists' jobs.
Imagen is concerned with two topics: photorealism and language. It's a text-to-image AI generator capable of creating photorealistic or creative graphics. It voyages through a frozen text encoder and text embedding to the super-resolution diffusion model, resulting in a 1024 × 1024 picture of the supplied text. In simplest terms, Imagen's operations generate patterns of dots that the tool recognizes.
How to Use Google Imagen AI Image Generator in Beta?
During the beta period, Imagen, the best AI art generator is only available to a restricted set of individuals via the AI Test Kitchen app. It provides Google with a much-needed opportunity to gather customer input and address any issues with the concept before it goes widespread.
Key Features of Imagen
Imagen is a text-to-image diffusion model that generates highly photorealistic images with a deep understanding of language.
It utilizes large transformer language models which demonstrate surprising effectiveness in encoding text for image synthesis.
Imagen achieves state-of-the-art FID score on the COCO dataset, without ever training on COCO.
Human raters find Imagen samples to be on par with the COCO data itself in image-text alignment.
Imagen outperforms other recent methods in text-to-image generation as per the DrawBench benchmark.
Pros
+ Imagen generates highly photorealistic images with a deep understanding of language.
+ It is more effective than other recent methods in a text-to-image generation.
+ Imagen achieves a state-of-the-art FID score on the COCO dataset.
Cons
- Imagen has several societal prejudices and preconceptions.
- Not available for public use.
Pricing
During the beta period, Imagen is only available to a restricted set of individuals via the AI Test Kitchen app. There is no price information available at this time.
Platform: Web-based tool
Ideal for:
Freepik AI Image Generator is a powerful resource for individuals who want to create professionally designed visuals. With this tool, businesses won't need to hire a graphic designer or buy expensive software to create the images they need — they can easily generate stunning graphics in a minute. Furthermore, its advanced artificial intelligence technology enables it to create highly detailed, realistic images that look professional.
Description
This powerful text-to-image tool lets you generate graphics and illustrations in any style with just a description of what you are looking for. And the best part? You can download your creations in PNG, JPG, and PDF formats. Freepik AI Image Generator is ideal for businesses, marketing teams, and individuals alike. In this sense, this generator is perfect for quickly producing eye-catching visuals for blog posts, social media campaigns, website banners, product presentations, and any other personal project. In addition, thanks to its user-friendly interface and limitless customization options, you'll have no trouble making your work stand out from the crowd.
How to Use Freepik AI Image Generator?
Enter a clear and descriptive text of the image you want to create in the input box. If you need inspiration, you can rely on the suggested prompt
Choose your style: generic, photo, digital art, painting, or 3D
Click on Generate
Wait a few seconds
The generator offers five different images. If you don't like any of them, click on Generate new images or attempt another prompt.
When you are happy with the generated image, download it.
If you want to personalize the image before downloading it, click on Edit online.
Edit as needed and download the image.
Key features of Freepik AI Image Generator
It is a very intuitive tool, so it is very easy to use.
This tool generates 5 different images per text prompt.
You can choose among different styles, which allows you to generate images that perfectly suit your needs.
Pros
+ User-friendly
+ Free membership available
+ The outputs can be personalized using Freepik's online editor, which allows advanced editing options
+ Different styles
+ Available for public use
Cons
- You need to sign up or log in to access the generator
Pricing
You can choose among these three options:
Free: 10 downloads per day and free assets available
Premium: $14.99/month. It gives access to premium assets, unlimited downloads and you won't need to attribute the content
Ultimate: $16.59/month. It's like the premium subscription, but it also includes ultimate videos and extended legal protection
5. Picsart: Free AI Image Generator
Platform: Web-based tool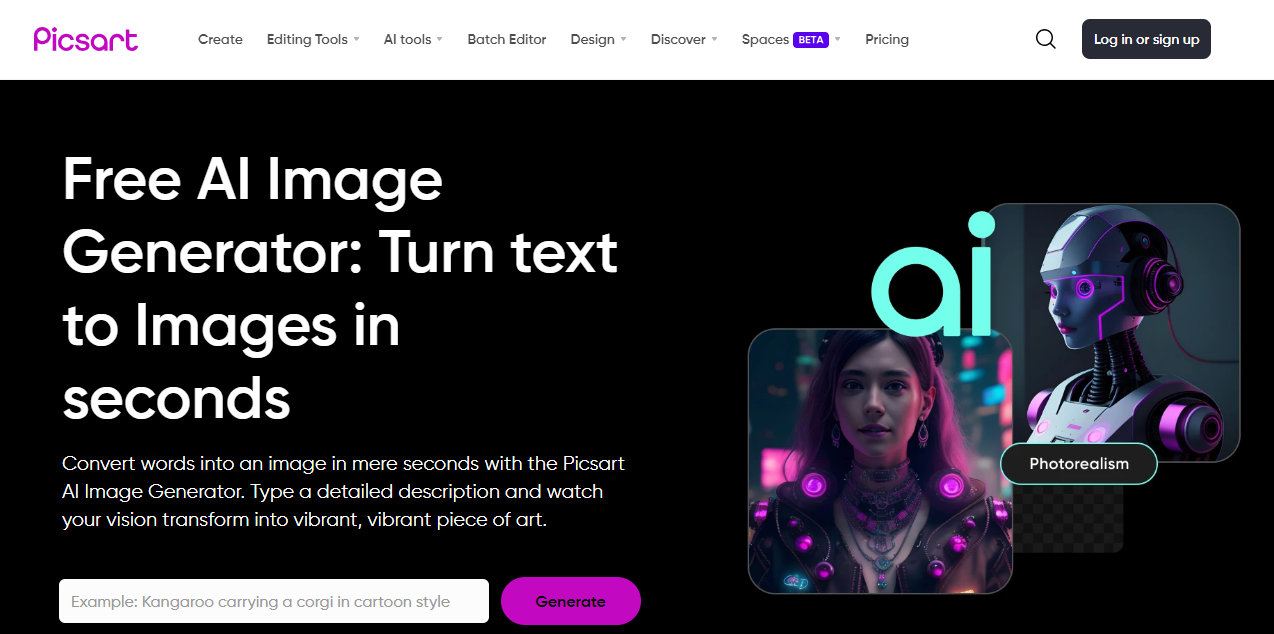 Description
Picsart is an all-in-one photo editing platform with a built-in AI image generator. You can easily generate visuals of all kinds for free and make additional fine tuning all in one place. Picsart also allows you to use GenAI in new and innovative ways to perform complex edits, like replacing a distracting object or creating a new background for your images.
Key features of Picsart
Ability to upscale the generated image with a built-in AI enhance tool.
Full suite of AI-powered tools available in the same app, like AI writer, AI text styles, and even AI logo generator.
You can easily turn the generated image into stickers with the background remover and export the image with a transparent background.
Get inspired and use millions of free-to-use AI-generated images created by Picsart's creator community.
Pricing
Picsart's AI image generator is available for free with a daily limit. You can lift the usage limit with a paid subscription that starts from $5/month.
6. Craiyon: The Best Free AI Art Generator
Platform: Web-based tool, also available as an app for Android users.
Ideal for:
Craiyon is a suitable fit for those who want to utilize an AI art-generating tool but don't want one that is too complicated. It makes it simple to produce photos with AI, with minimal barriers to entry in terms of prompt understanding and convenience of usage.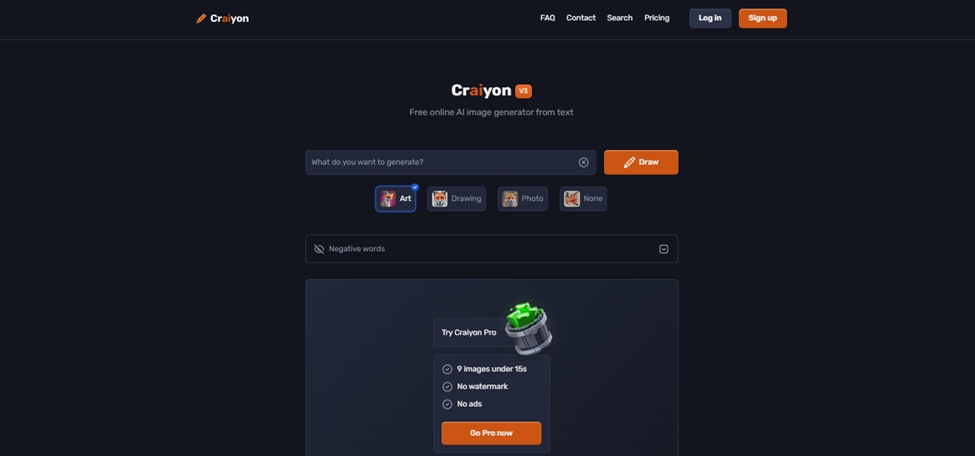 Description
Craiyon is a renamed version of DALL-E Mini, which is now available via mobile applications and a dedicated website. However, bear in mind that the app is a progressive web app (PWA), so when you launch it, it effectively loads the website. Craiyon's design is as straightforward as it gets. Simply type a word prompt into the barebones webpage and wait for the art to appear. You cannot select an art style, and the photos take up to two minutes to appear.
Unlike DALL-E 2, Craiyon's output is of poor quality. What's the good thing then? You have an endless number of prompts; you can keep tweaking until you get precisely what you want. The website is also quite easy to use, which adds to the overall attractiveness and makes this AI generator a good consideration.
How to Use the Best AI Image Generator Craiyon?
To use Craiyon AI to create images, follow these steps:
Go to the Craiyon AI website.
Enter your text prompt in the input field. This should be a clear and descriptive sentence that describes the image you want to create.
Wait for a few seconds for Craiyon AI to generate the image based on the text prompt you provided.
Check the generated results.
Choose a picture that best fits your requirements.
If you didn't like the output, you have the option to attempt another prompt.
Now view the most recent results and choose the one that best describes your query.
Rinse and repeat to generate as many images as you need for your project.
That's it! Using Craiyon AI is a quick and easy way to generate high-quality images based on text prompts without any artistic skills or prior experience.
Key Features of Craiyon
Interface that is simple to use.
Capability to store and share screenshots of your projects.
Adjustments and settings that can be customized.
Craiyon is also the best AI art generator mentioned in this list! However, it does display advertisements on its website to compensate for its free availability to the public. If you despise advertisements, try an ad blocker or an alternative AI image generator.
Pros
+ Free AI art generator from the text.
+ Unrestricted access.
+ Easy to use.
+ Free for the public without a credit system.
Cons
- More time to wait.
- Distorted images.
Pricing
It's free for public use.
7. NightCafe AI Art Generator
Platform: Web-based tool
Ideal for:
You may transform your photograph into a work of art by using neural style transfer. Text-to-image AI of this the best AI art generator allows you to produce artwork from nothing more than words on a page. Enter a word prompt, and the generator will produce beautiful graphics.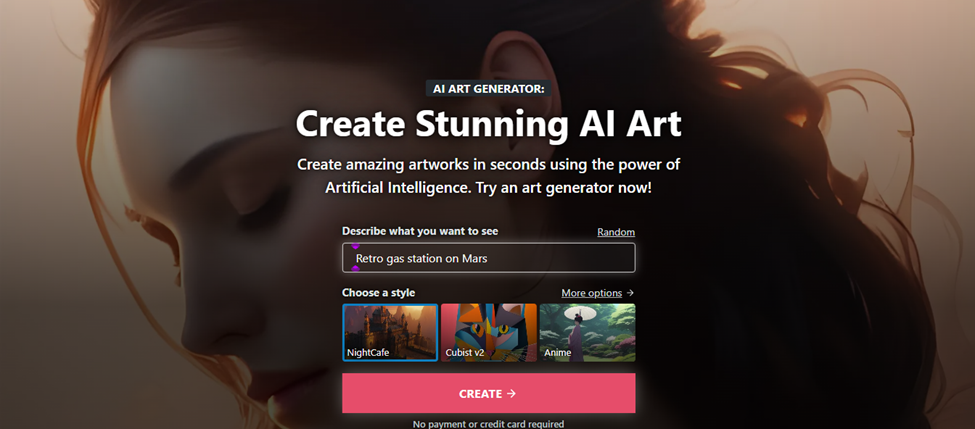 Description
With a few clicks, toggles, and a brief description, NightCafe can help you become an AI artist. It is another the best AI image generator paid tool that provides trial credits to allow you to test the waters before diving in. It all starts with selecting a creative mode--there are presently five options. Following that, it requests text prompt(s). Following that, you may choose between basic and advanced modes. Basic mode allows you to output rapidly by inserting appropriate text, but Advanced mode gives you more flexibility over resolution, aspect ratio, sample image(s), runtime, and so on. With its Advanced mode, you can also generate films. Overall, the depth of possibilities provided by NightCafe in advanced mode makes it an AI art generator that should not be overlooked.
NightCafe is an online AI art generator that employs several cutting-edge machine learning algorithms, including Stable Diffusion, DALL-E 2, Neural Style Transfer, VQGAN+CLIP & CLIP Guided Diffusion, and the Real-ESRGAN algorithm, which enriches your works even more.
How to Use NightCafe AI Image Generator?
NightCafe has powerful features that no other AI Art program has, such as various style photos, many prompts, bulk creation, bulk download, and custom seeds - all of which are limitless. NightCafe allows you to produce AI-generated art in a variety of ways.
Open the browser of your choice and navigate to creator.nightcafe.studio.
Enter your prompt in the prompt box or generate one at random using the random button on the upper right corner of the prompt box.
Decide on a style. Press the Create button.
Key Features of NightCafe
For starters, one of its strongest qualities is its inventive and creative tone of voice—it allows users to experiment with different ideas and discover new methods of creatively expressing themselves.
The AI will evaluate all of your inputs and offer the most creative artwork possible using this function.
Furthermore, the powerful algorithms utilized in this AI system can optimize each drawing to generate stunning textures, forms, and colors that are matched the tastes of each user.
As if that weren't enough, the NightCafe AI generator art also contains a strong image recognition engine that can make works based on scanned items or real-life pictures.
NightCafe allows you to quickly and simply purchase prints of your AI-generated images.
Pros
+ Can select an AI algorithm.
+ There are several art styles to pick from.
+ Can upscale photographs (paid feature).
Cons
- The credit limit is small.
Pricing
NightCafé operates on a credit system.
$9.99 per month for 100 monthly credits.
$19.99 per month for 250 monthly credits.
$49.99 per month for 700 credits.
$79.99 per month for 1500 monthly credits.
Use the Best AI Art Generator to Unleash Your Creativity
So yeah, we hope you enjoy using these top AI text-to-image generators to create hours of beautiful artwork. One thing is certain: with the rapid advancement of AI in 2023, the relationship between humans and machines will continue to change, for better or worse. One has to question if this acceleration is safe for human progress and whether it comes at a cost. Check out these 5 instances of AI in your life as you reflect. Which one is the best AI art generator online? Please share your thoughts in the comments section below.
Frequently Asked Questions About the Best AI Art Generator
Can You Sell AI Generated Art?
Yes, you can sell the artwork that an AI creates. To draw consumers, you must make sure the artwork is exceptional and of excellent quality. Understanding copyright rules and other legal issues is also crucial when selling digital goods online.
How to Make AI Generated Art?
To make AI-generated art using an AI art generator, choose a platform or software, input your desired artistic style or reference image, adjust parameters if available, and generate the art. Refine and iterate as needed, then save or export the final artwork.
What is AI Generated Art?
AI-generated art refers to artwork that is created or influenced by artificial intelligence algorithms. These algorithms can analyze patterns and styles from existing artwork and generate new pieces of art that imitate or expand upon those patterns. AI-generated art showcases the fusion of human creativity and computational power, often resulting in unique and visually captivating compositions.
How to Use AI Art Generator?
To use an AI art generator, you typically input your desired artistic style or reference image, configure any available parameters, and initiate the process of AI generated art from text. The AI art generator will then utilize its trained models and algorithms to create a unique piece of art based on your inputs, allowing you to explore and experiment with different artistic possibilities.