The advancement in AI has made the task of content generation quick and easy. AI writing tools have become very popular, with the projection to gain a market share of $6464.3 million by 2030 at 27% CAGR (2023-2030). These AI writing assistants have made drafting college essays, blog posts, and creative marketing content a piece of cake. But here is a problem: Google focuses more on the content demonstrating E-E-A-T as per the helpful content update. It can identify low-quality, plagiarized, and AI-generated content and impose penalties on it, hence badly impacting the ranking and SEO of a website. The authenticity of content and integrity of a brand is also affected. So, whether you are an online business owner, a blogger, or even an educator, it is necessary to ensure that the content you publish on your website or receive from your student is original, human-written, and plagiarism-free. It is where an AI detector comes to the rescue.
AI writing detectors are designed to identify AI-generated content. They are becoming increasingly popular with the prevalence of AI writing tools. They can tell if the text was generated using an online tool like ChatGPT or written by a human. In this article, we have reviewed the five best AI content detectors for you. Let's dive into it!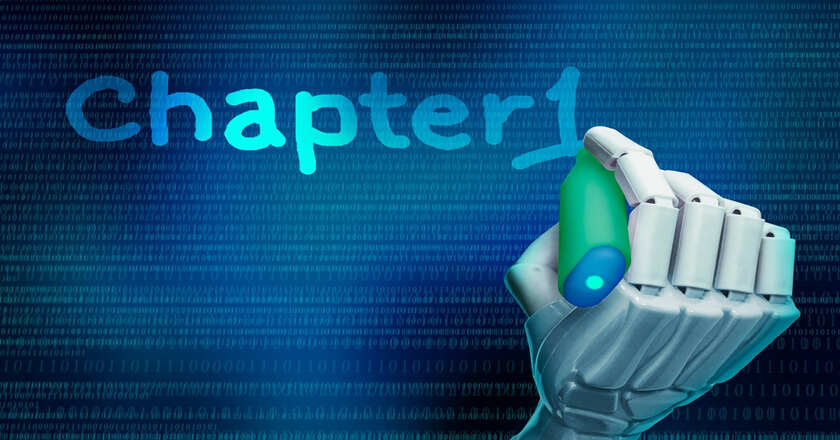 What is AI Detector and How Does It Work?
AI detector, also known as AI writing detector, is software specifically created to detect if some text is AI-generated. It works on advanced ML algorithms and language processing models like those used by Google. They analyze the writing patterns leveraging the huge datasets of human-written and AI-generated text. These language models focus on the following elements in a text to decide if an AI or a human writes it:
Perplexity
It evaluates the randomness and predictability of a text. It measures the probability of the content to confuse the reader. AI-generated content makes sense and is easier to read as compared to human-written. Low perplexity suggests that the content is AI-generated.
Burstiness
It measures the variations in the sentences' length, tone, and structure. AI-generated content reads more smoothly with little variations. The content with high variations is more "bursty" and is more likely to be written by humans.
Top 5 AI Detector Tools
Following is a list of the 5 best AI detectors to help you catch cheating and plagiarism.
1. Originality.AI – Best Overall AI Content Detector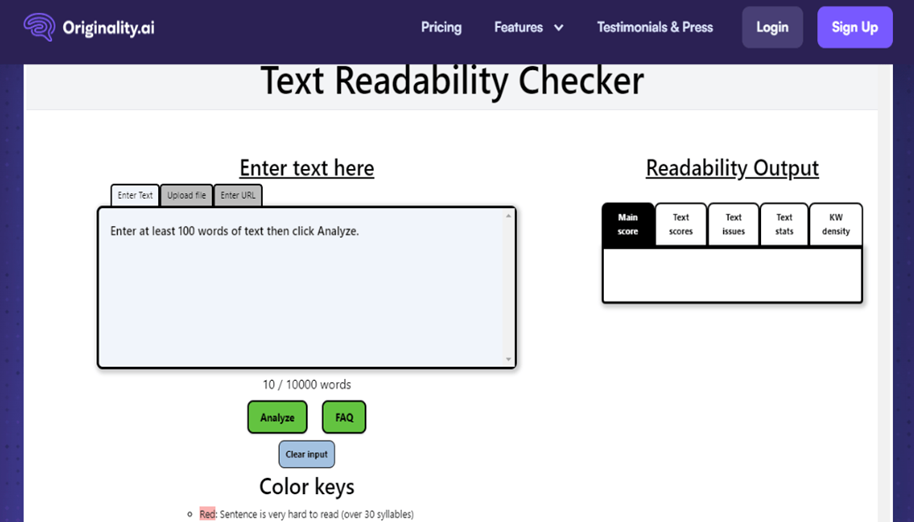 Originality.ai is one of the best AI detection tools for publishers, agencies, and writers. This AI content detector scores the AI-generated text on a scale of 0-100. It can also perform user-friendly plagiarism detection and readability checking. This AI detector is also designed to give accurate results on text that has been rewritten using online paraphrasing tools.
Why Originality.ai?
One of its outstanding features is its compatibility with multiple language models, including GPT-4, GPt-3, GPT-2, GPT-Neo, and GPT-J. The accuracy of originality.ai is more than 94% plus on the content written by GPT, GPT-3, and GPT-3.5. For the text generated with GPT-4, its accuracy exceeds 99%. This AI content detector boasts 94.5% accuracy on paraphrased content. The tool has a downloadable Chrome extension so that the users can scan their content in Google documents. It is thus a valuable tool that provides real-time detection of AI-written text. It can scan email text, Google docs, website, and WordPress content. Perfect for institutes having distributed editorial teams.
Pros
+ Fast result generation.
+ It offers a Free plan.
+ Support natural language processing.
+ Minimal chances of false positives.
+ API access.
+ The customer support team is very responsive.
+ Cost-effective.
Cons
- No free trials
- Not suitable for students.
- Only supports English.
- The batch file can't be uploaded
$0.01/ credit. One credit can scan 100 words. Buying 3,000 credits costs $30.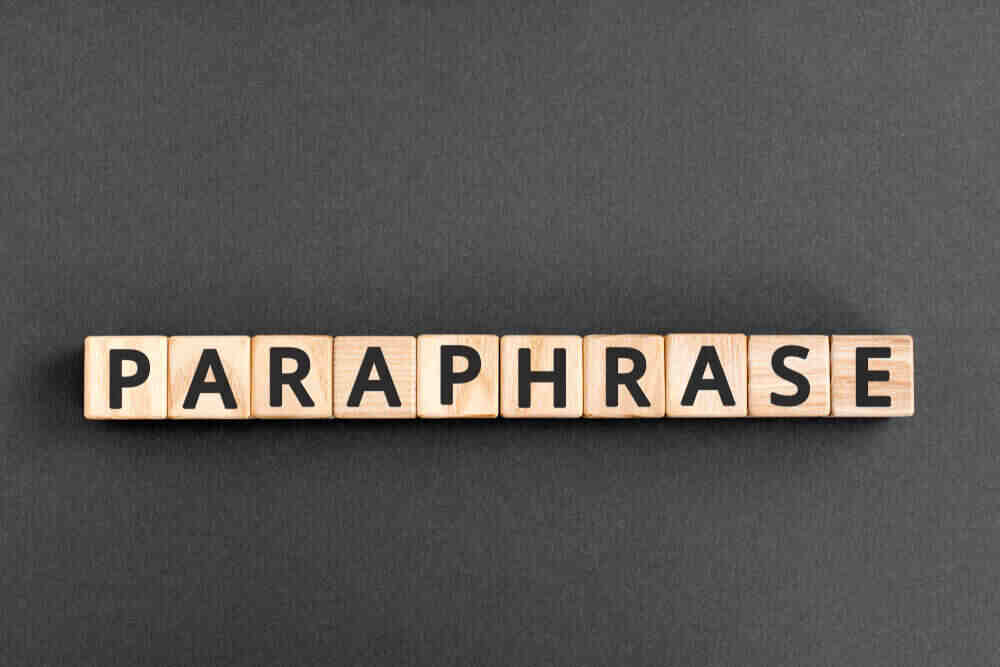 2. Winston AI – Best AI Detector for Content Writers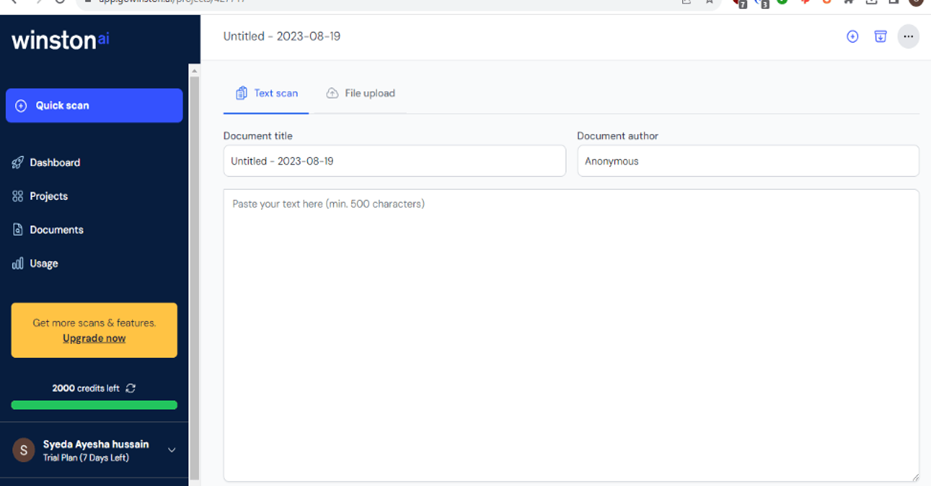 Next on the list is the Winston AI detection tool. It is designed to be used by content writers, web publishers, and educators. It helps to prevent academic dishonesty. Winston AI can detect text generated with large language models like GPT-3, GP-4, Bard, etc. The tool allows team creation and the addition of multiple team members. Accurate plagiarism checking is also a feature of this AI detector. It scans the document for AI content and displays the result on a percentage scale of 0-100.
Why Winston AI Detector?
This AI content detector comes with an Optical Character Recognition (OCR) feature that helps to scan image files and handwriting. It delivers results in PDF files that are shareable. Besides human score and plagiarism, it also shows the readability score.
Pros
+ You can upload files in multiple formats like pdf, jpg, png, tiff, and docx.
+ It Supports English and French.
+ Claims to generate 99.6 percent accurate results.
+ Email and chat support.
+ It can download the report as a PDF.
+ API access upon request.
+ It supports .docx, .png., and .jpg. and many other formats.
Cons
- Cannot detect the use of paraphrasing tools.
- The free plan is limited.
- Does not offer any Chrome extension
Free Plan: You can scan up to 2000 words a week.
Annual Billing Plans include: 80,000 word scans a month for $12/month, and 200,000 word scans a month for $19/month.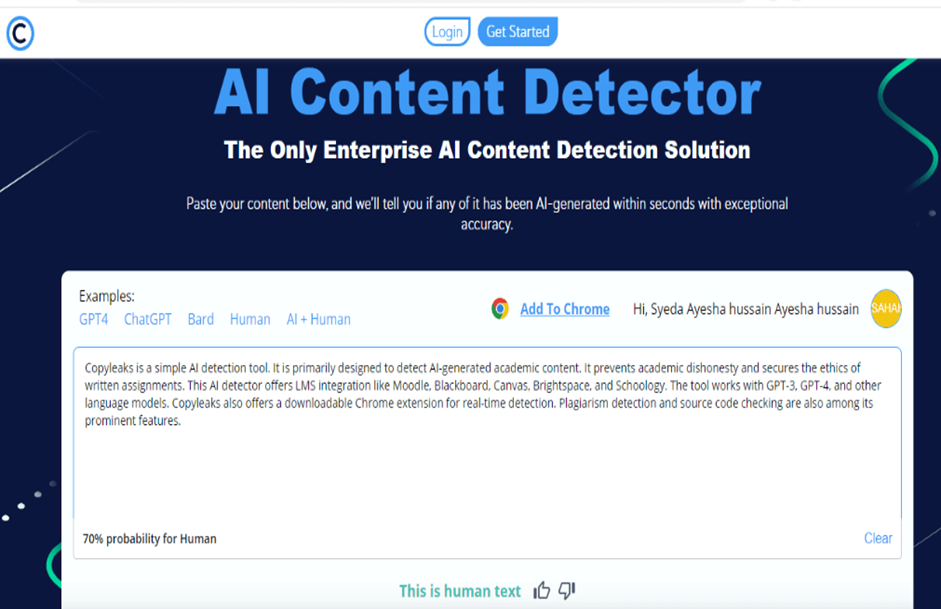 Copyleaks is a simple AI detection tool. It is primarily designed to detect AI-generated academic content and plagiarism. Therefore, it prevents academic dishonesty and secures the ethics of written assignments. This AI detector also offers LMS integration like Moodle, Blackboard, Canvas, Brightspace, and Schoology. The tool works with GPT, GPT-2, GPT-3, GPT-4, Jasper, T5, Bert and other language models. Copyleaks also offers a downloadable Chrome extension for real-time detection.
Why Copyleaks?
This AI content detector claims 99.12% accuracy in detecting AI-generated content. A recent study on arXiv declares Copyleaks as the most authentic tool to detect AI content generated by LLM(Large Language Models). Source code checking and detecting the use of paraphrasing tools are also among its prominent features.
Pros
+ Simple user interface.
+ It supports 12+ languages, including English, Portuguese, Spanish, German, Italian, Russian, Czech, etc.
+ API integration.
+ A whit-label option and chrome extension are available.
Cons
- False Positives.
- A limited number of daily checks.
- AI content detector is in beta testing.
- It would help if you hovered over the text to get results in a percentage.
$9.16/month (annually) for 1200 pages a year. Each credit allows the scanning of 250 words. Prices go up as credits increase.
4. GPTZero – Best AI Detector for Educators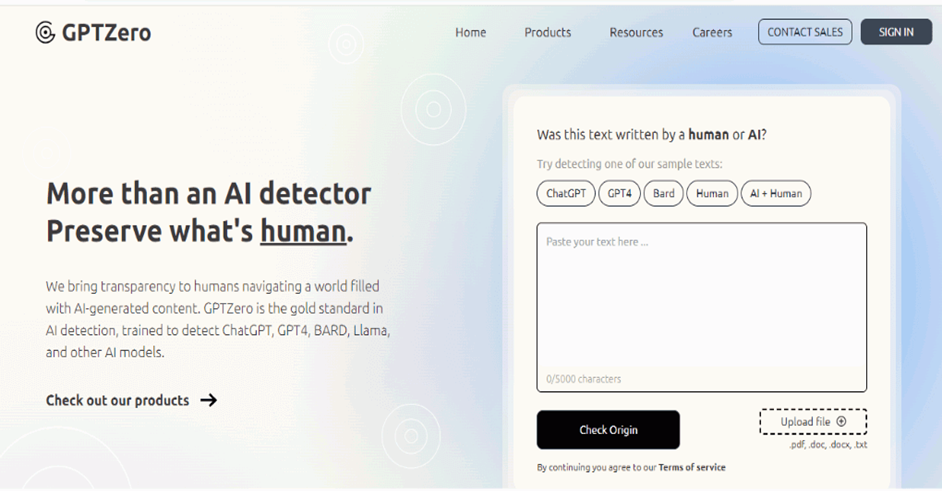 GPTZero is an AI detector that gathered a lot of fame after its release. Educational institutions primarily use it. The aim is to prevent plagiarism and the use of AI writing tools for writing assignments. It works with GPT-3, GPT-2, and all the popular language models (LLaMA). The tool scans the content and highlights the AI-generated text. In addition, it also displays the perplexity and burstiness score of the text. LMS integration is one of its key features.
Why GPTZero?
This AI detector is trained on huge and assorted AI-written and human content. It focuses on Perplexity and Burstiness to determine whether the content is AI or human-generated. GPTZero also comes with a batch file upload option.
Pros
+ Simple interface.
+ Support multiple file formats.
+ No sign-up is required.
+ Upload multiple files for checking, including txt., docx, and pdf.
+ API access for enterprises
Cons
- False Negatives.
- Limited free use.
- It supports only the English language.
- Detection accuracy is comparatively lower.
- The score presentation sometimes needs to be clarified.
Pricing
Free Plan: 5000 characters limit per document
Paid: $19.9 per month for 50 thousand characters per document and up to 1 million words monthly.
The price goes up as the word limit increases in the pro version of GPTZero.
5. Sapling.AI – Best AI Content Detector for Sales Professionals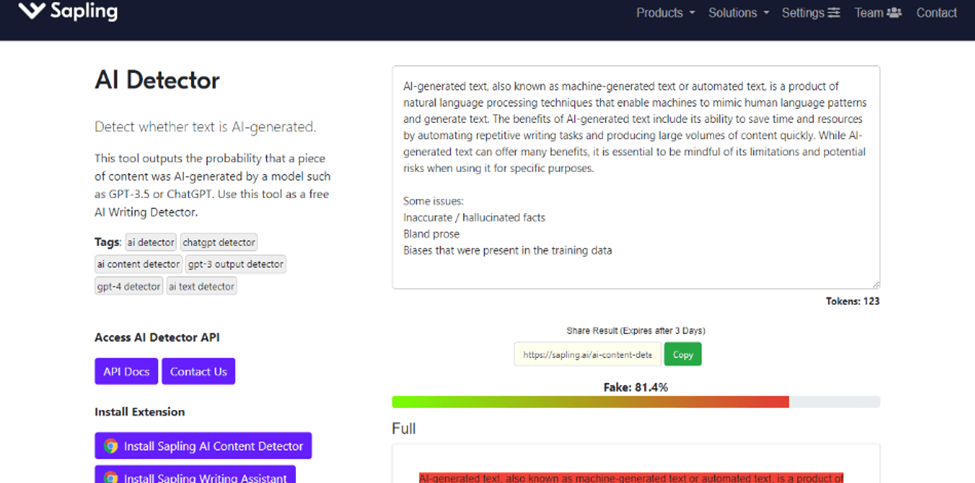 Sapling.ai is mainly used by agencies and customer-dealing teams. The AI detector can sniff out AI content starting with 50 words of text. For that reason, it is the best tool for short-form content. It can also detect ChatGPT, GPT-3, GPT-3.5, and GPT-4 text. The results are color-coded.
Why Sapling.ai?
Sapling is the best free-to-use multipurpose AI detector. You can also correct spelling, grammar, and punctuation using this AI content detector. It displays the overall percentage of AI content and the sentence level score. Moreover, it has a downloadable Chrome extension. It can thus perform real-time detection.
Pros
+ Claim a 97% accuracy rate.
+ Predictive typing.
+ API Access.
+ Free to use.
+ Chat support
Cons
- Lacks plagiarism detection.
- Chances of false positive results
Paid plans start from $25/month.
Accuracy of AI Detectors
All of the AI detectors reviewed above claim to be accurate. However, the accuracy can vary based on the AI detection tool being used. It also relies on the complexity of the text analyzed. Moreover, AI writing tools are coming up with improved language models. So, it is rare for an AI detector to be 100% accurate. There is always a risk of a false-positive or false-negative result. Thus, it is recommended that you never rely on any AI content detector entirely. Edit and proofread your content using common sense as well to make it more human.
Final Word
In conclusion, not every AI detector is suitable for every purpose. AI content detector compatible with your needs will increase the probability of getting accurate results. Therefore, you must do thorough research before going for any of the AI-powered detection tools.