Do you want to turn those boring everyday selfies into flawless self-portraits? Well an AI selfie app would do that for you in no time. In this era of social media, everybody wants to click on the best photos and post them online. According to a survey, more than 45% of middle-income Americans use editing apps to enhance their photos. People also like to have their presentable pictures on work profiles and portfolios. But not everyone is a skilled photographer. Nor do everybody like photo editing. This is where an AI selfie app comes to your rescue.
So, if you are interested in transforming your selfies from ordinary to awe-some, you have landed right. We have discussed in this article the best AI selfie generator apps for you. Read along if you want to learn how each AI selfie app can spice up your every click.
What is an AI Selfie App?
AI Selfie generators are online software that use AI and machine learning to transform your photos.
What Can AI Selfie App Do for You?
The AI selfie generator analyzes your selfies and makes auto-adjustments where required. It can tweak your features and remove blemishes. It can further use different filters and effects to enhance your selfie. Turning your selfie into a digital avatar is another benefit of using AI Selfie generators. Moreover, it can modify the visuals according to your creative preferences.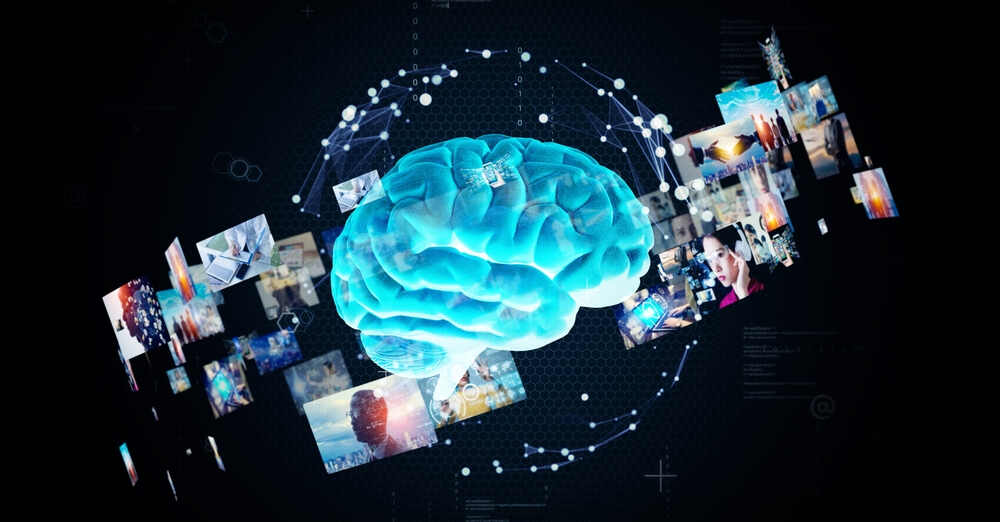 Best AI Selfie Apps You Must Try
Following is a list of AI selfie generator apps at the top of their game.
1. Lensa: AI Selfie App for Best Digital Avatars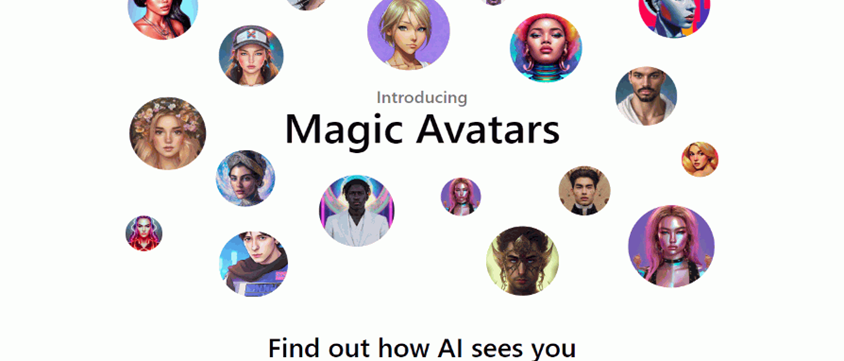 Platform: iOS, Android
Lensa is an AI photo editing app owned by Prisma Labs. It is viral all over the internet because of the AI-induced magic avatars feature. This feature allows you to turn selfies into fancy digital avatars. And the best part is, you can use it on your pets too.
The AI selfie app is so easy to use. Start with selecting your type and gender. Then, Lensa will ask you to choose from several available styles. Next, upload 10-20 close-up selfies following Lensa's guidelines. After that, wait for the AI selfie generator to do its magic. It will use AI technology to combine your photos with different filters and effects. The result is an amazing magic avatar.
Although the app is famous for AI avatars, it also has some strong photo editing features. Using Lensa, you can;
Use a magic corrector to retouch facial features.
Remove any imperfections on your face.
Remove or change the background and foreground.
Pros
+ A simple user interface.
+ It has more than 30 avatar styles to choose from.
+ You never get the same results twice.
+ Affordable.
+ Fast processing.
Cons
- Privacy concerns about user data.
- Some avatars may not look like you.
- Some dark-skinned users have complained about getting light-colored avatars.
- Limited free trial.
Pricing
The price of a magic avatar starts from $3.99 for 50 avatars
Premium subscription: almost $29.9 per year.
2. Fotor: Best Multi-purpose AI Selfie App

Platform: iOS, Android, Web Browser
Fotor is another great AI selfie app. It uses artificial intelligence to make your selfies artistic and creative. The AI selfie generator responds to both text and image prompts. It is a beginner-friendly tool that does not require expert design skills. Like Lensa, the process of creating an AI selfie is quite simple. After gender selection, you upload 10-20 selfies. You can view Fotor's photo uploading guide here. Then, you select your style and generate an AI selfie. Fairy Tale, Disney, game art, and 3D illustrations are some available styles for AI portraits.
Following are the AI selfie variations fotor offers;
AI anime selfie generator for anime fans.
AI Barbie selfie creator to turn yourself into a Barbie character.
Generation of AI profile pictures for social media.
Creating AI avatars specifically made for online gamers.
AI selfie headshot generator for professional purposes.
Lastly, the AI Selfie app has smart editing tools to modify your portraits. It enables you to reshape your face and adjust your weight. You can further tweak all the facial imperfections. Background replacement and object removal are also possible.
Pros
+ Free
+ Advanced editing tools.
+ Availability of free AI art effects and filters.
+ Compatibility with mobile, desktop, and tablets.
Cons
- The interface design is not very modern.
- Image processing is a bit slow.
- Limited features in the free version.
- Customer support needs improvement
Pricing
Basic: $0 per month.
Pro: $8.99 per month.
Pro+: $19.99 per month.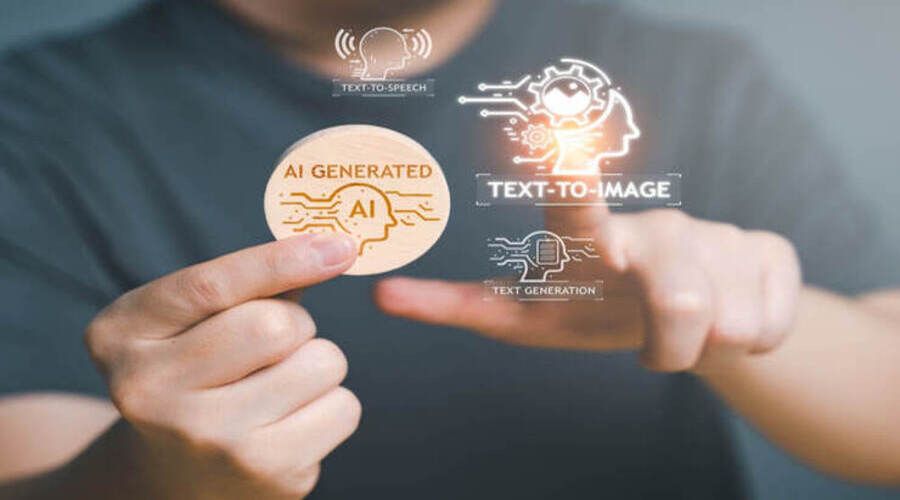 3. FaceTune: AI Selfie App for Fine tuning Selfies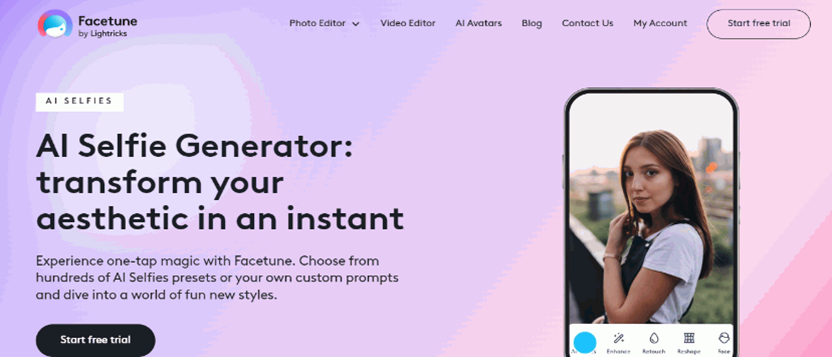 Platform: iOS, Android
Facetune is the best AI selfie app if you want to turn your selfie into an artistic masterpiece. It uses AI-driven innovative tools to create catchy visuals and avatars.
Selfie creation is a fun experience with Facetune. You can adjust the color and lighting angles of your selfie. You can further change hair color and add funky face make-up. Moreover, any facial imperfections can be removed with a click.
The avatar creation is also easy with this AI selfie generator. You upload a few selfies on the app, and that's it. AI takes care of the rest. It analyzes all the photos and generates a variety of appealing avatars. Superheroes, anime, and cartoons are some of the avatar styles.
As the name suggests, the app is famous for its smart tools for editing facial features. Using the photo editing tool of this AI selfie application, you can;
Remove background or objects.
Tweak your features and whiten your teeth.
Brighten the portrait.
Increase the clarity of a blurred portrait.
Pros
+ Easy to use
+ Several frames and filters are available.
+ It has a relight option.
+ Plenty of styles to choose from.
+ Allows the     sharing of transformed photos.
+ Beginner friendly.
Cons
- A 7-day free trial with limited features.
- Some think it sets unrealistic beauty standards.
Pricing
Single platform: 49.99 a year
Cross-platform: 69.99 a year
One-time payment: $79.99
4. Relight by ClipDrop: AI Selfie App for Light Adjustments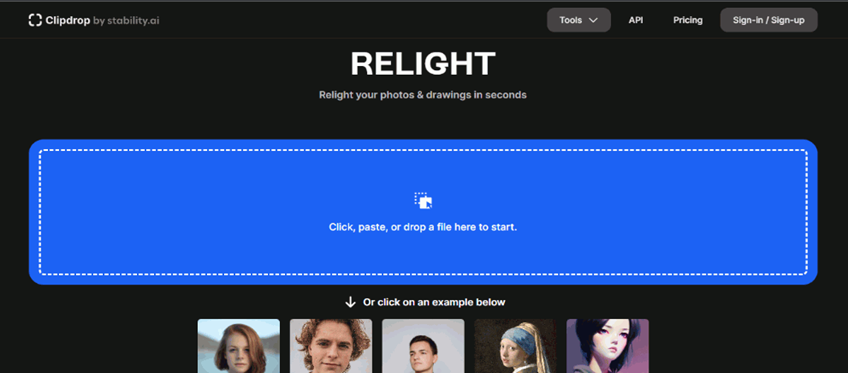 Platform: iOS, Android, Web Browser
Imagine this. You are all dressed up and took lots of pictures at a party. But the photos turned out horrible due to poor lighting angles. Sounds like a nightmare, right? Not anymore. Relight by ClipDrop is an amazing tool that will light up all your dull selfies.
Professional photographers use complex light sources to illuminate portraits. But Relight saves you all the money and time you spend on expensive studio photoshoots. The AI selfie app uses AI and pre-fed datasets of images to brighten the photos.
You can easily adjust the source light in your photos using this AI Selfie tool. It not only allows you to refocus light but also helps to fix colors on your portraits. You can either warm up an image or give it a cool tone. You can further choose specific angles and distances to expose the subject to light.
Apart from the relight tool, other features of Clipdrop are
Background remover
Object remover
Sky replacer
Text remover
Image generator using stable diffusion.
Pros
+ Free to use.
+ A simple drag-and-drop interface.
+ AI filters and transitions for your portraits.
Cons
- Customer support needs improvement.
- A few users faced login issues due to authentication errors.
- Generated images are a bit inaccurate sometimes.
Pricing
Pro subscription: $7 a month.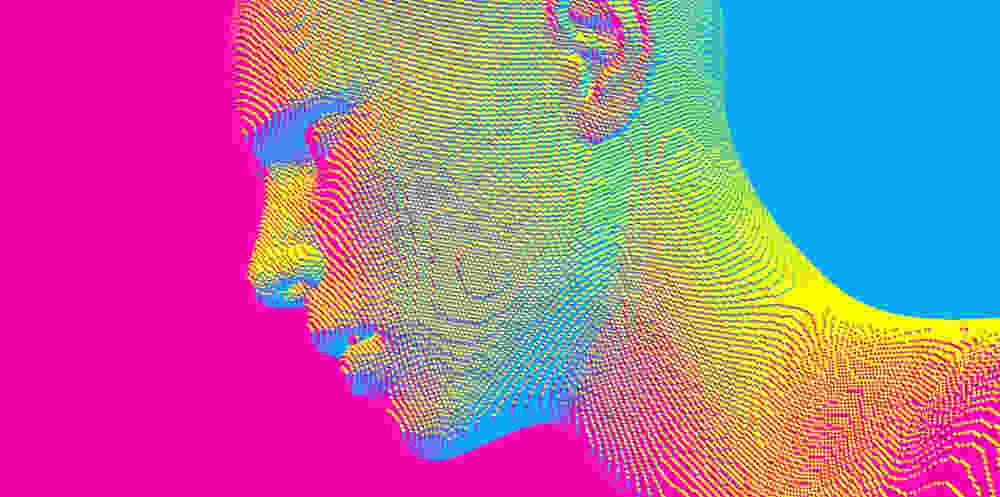 5. YouCam Makeup: Best AI Selfie Editing App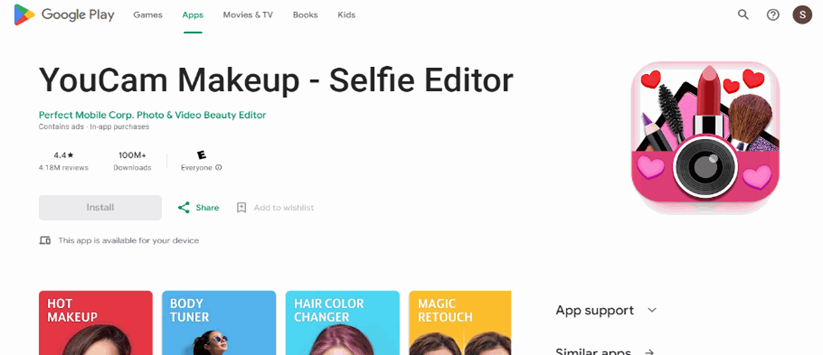 Platform: iOS, Android
YouCam Makeup is an AI selfie app that spice up your bland selfies. It uses patented AR technology and facial recognition to analyze your portrait.
The tool is a must-have for girls who are too lazy to dress up. As the name suggests, the AI selfie application has all the virtual makeup tools. You can upload a candid selfie and try different lipstick, blush, eye makeup, etc. options. After that, you are ready to post a glamorous selfie on social media.
AI real-time hairstyle change is another stand-out feature of the tool. You can try on 15 plus hairstyles and more than 100 hair colors with the AI Selfie generator. It further allows virtual clothes changeusing AI image-to-image technology.
Other than the abovementioned features, the AI selfie app further allows you to;
Reshape your facial features.
Smooth out all the imperfections on the face.
Readjust your weight.
Edit the background and apply special AI filters.
Generate aged selfies using AI.
Lastly, the YouCam skin health score feature enables instant skin analysis. It scans your face for spots, wrinkles, and dark circles. After that, give a generalized score on your skin condition.
Pros
+ Free.
+ User-friendly interface.
+ A variety of tools to edit all the facial features.
Cons
- Limited features in the free version.
- Some of the filters and effects do not look natural.
Pricing
Premium version: It starts from $5.99 a month.
What to Keep in mind while using AI Selfie App?
Although AI Selfie tools help you take aesthetically pleasing photos, that does not mean you are ugly otherwise. These AI tools and filters are for fun and creative purposes. It feels good to see yourself as a seemingly perfect digital character sometimes. But always remember, your flaws are what make you unique. So, never shy from showing your naturally beautiful self.
Wrap Up
In conclusion, an AI selfie app saves you the time and money of hiring an expensive photographer and editor. Such apps can create high-quality self-portraits for professional use or social media. But as with all the other AI tools, Selfie apps also have their strengths and limitations.
So, we suggest that you do thorough research before opting for one.