Are you a songwriter stuck in the worst creative block ever? Do you think your creative juices have stopped flowing, and all the songs start to sound the same? Or have writing lyrics and making melodies become your most tiresome task ever? If yes, then the AI lyrics generator is the perfect solution to your problem.
These AI lyrics generators are a blessing for struggling songwriters who sometimes feel it hard to find the right words or meet deadlines. Even if you love songwriting, a tool like an AI song lyric generator can help you write it quicker and better. According to research, almost 40% of people believe that an AI songwriter produces more powerful lyrics than human songwriters. This article will explore five of the best AI song lyrics generators to help musicians unleash new realms of creativity and nail their next releases.
What is an AI Lyrics Generator, and How Does it Work?
AI song lyric generator, as the name indicates, is a technology that leverages AI to generate new lyrics. The technology is so advanced that you can't distinguish if the lyrics are human or AI-generated. An AI lyrics generator is based on huge datasets. It uses machine learning algorithms that scan vast music databases and understand and analyze lyrics, rhythm, and melody patterns. Then suggest ideas and create new and original lyrics. The AI-generated songs are based on your prompt, preferred music genre, style, theme, and mood. When you enter your input, the tool analyzes it with its existing poetry lines to create new and unique lyrics. These AI song lyrics generators are invading musical artistry. They are taking the musicians out of their writing slump and helping them write their next hits.
Top 5 AI Lyrics Generators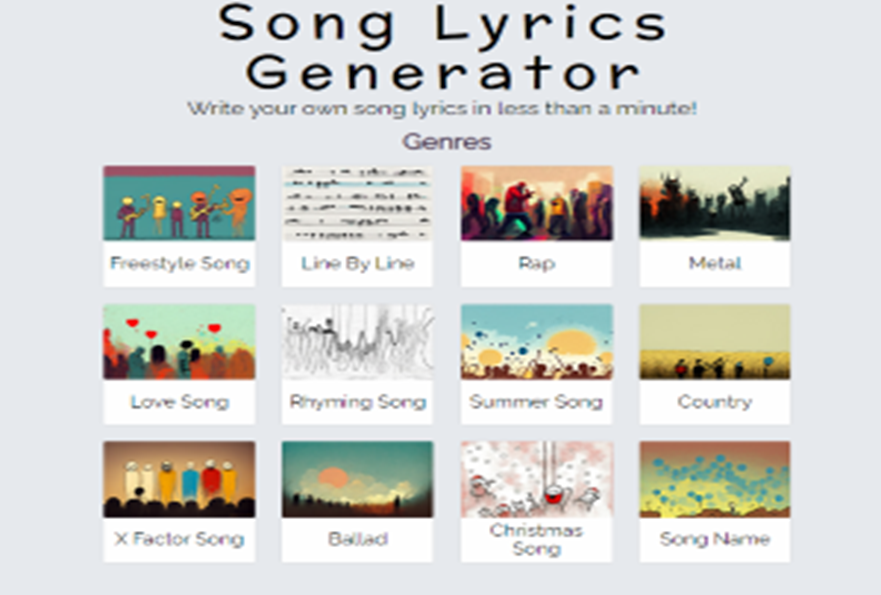 Masterpiece generator is an AI tool that allows you to generate content like songs, storylines, and poetry. Lyrics generation is one of the best features it provides. This AI songwriter has a collection of songs by famous musicians like Taylor Swift, Adele, Justin Bieber, etc. It allows you to generate lyrics in the style of your preferred artist.
What makes Masterpiece Generator the Best Choice?
This AI-powered lyrics generator has a user-friendly interface. It requires no sign-up process and is completely free of charge. If you are looking for a customizable AI lyrics generator, then this AI tool is worth trying. Masterpiece Generator produces lyrics in less than a minute based on your preferred features. A variety of musical styles is another reason to like this tool. It allows you to pick from multiple genres, such as rap, country, metal, ballad, etc. This AI music generator lets you choose from multiple song-related variables like verbs, adjectives, gender, relationship, etc. It also provides the option of getting free-style songs or composing line-by-line music.
Cons
The frequent appearance of Ads is annoying.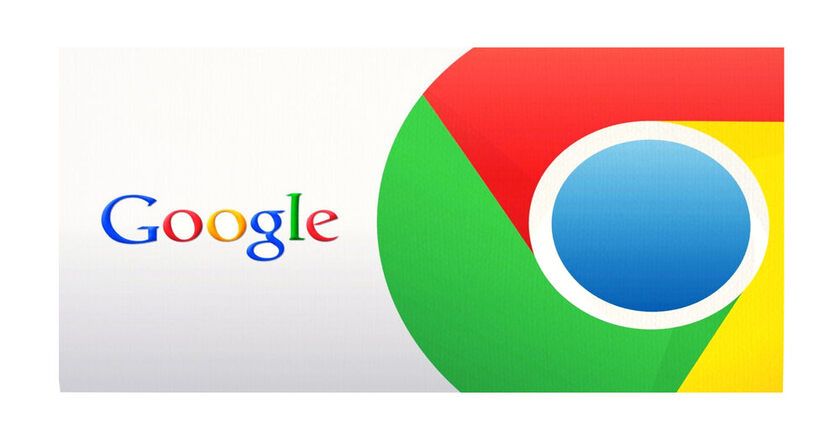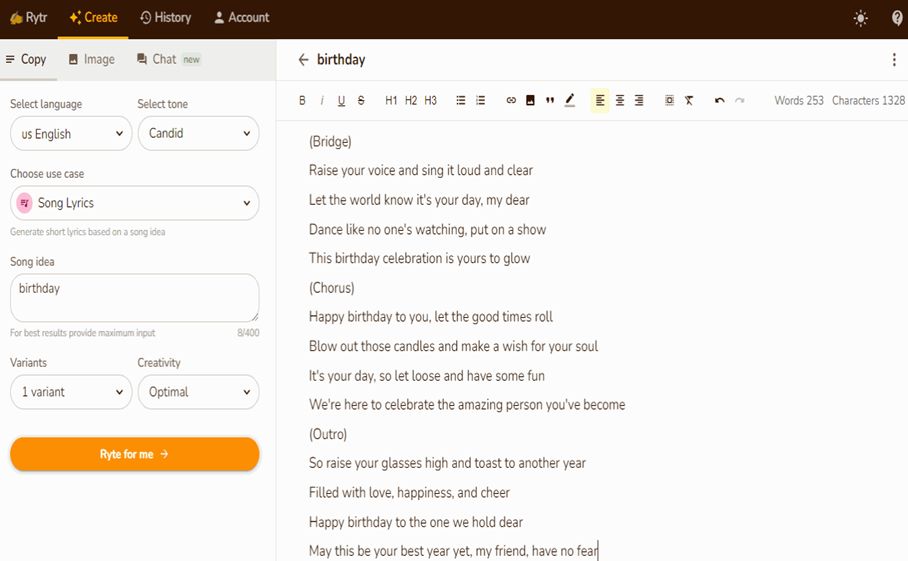 Rytr is another powerful writing tool that claims to generate plagiarism-free lyrics. This AI lyrics generator is very fast in working. It is a mobile-optimized AI lyrics creator that enables you to write, view, and edit your songs. Songwriting using This AI song generator is simple and requires only a few steps. You have to start by selecting your desired language. Then pick the preferred tone and use case. Lastly, enter some keywords related to the theme or idea of your song. So, here you go with a new song with an intro, stanza, and chorus.
Why Rytr?
This online tool's User-friendly interface and design make it accessible and easy to use. It allows you to generate 10,000 characters a month for free. It also has an affordable premium plan for monthly unlimited character generation in 30+ languages. Rytr offers more than 20 tone options and 40+ use cases.
Cons
Songs generated by this AI lyrics generator are not unique. Sometimes it repeats the same words.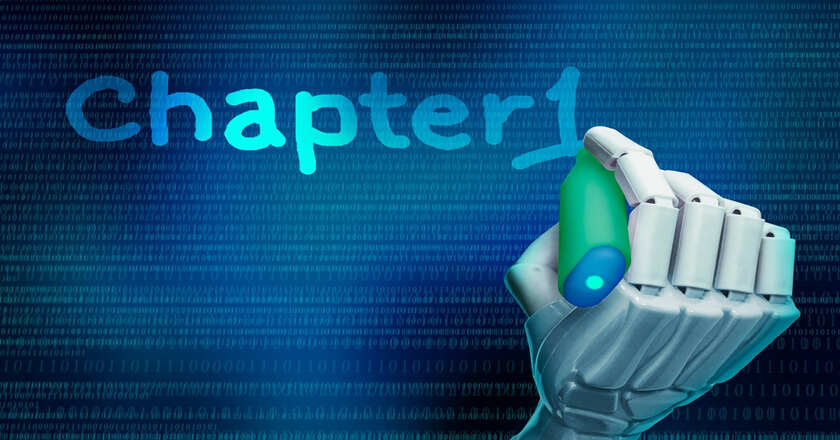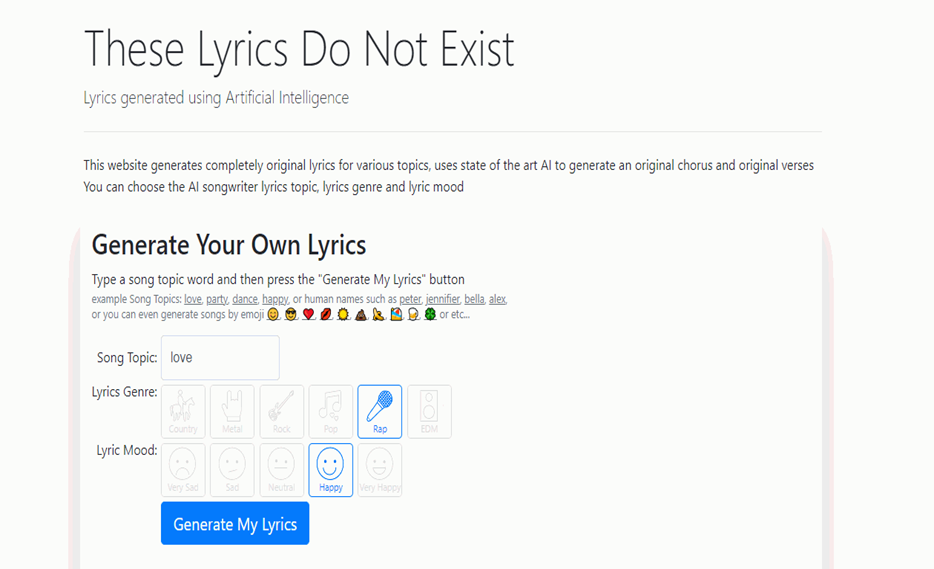 "These Lyrics Do Not Exist" is next on our list of best AI Lyrics generators for a reason. As the name implies, this Artificial Intelligence songwriter promises to deliver original and non-plagiarized songs. It uses a neural network to create new and original lyrics. This web-based AI songwriter has a simple interface. You need to enter the song topic, select the genre and set the mood, and click ''Generate My Lyrics,'' it will craft free unique lyrics for you in just 5 seconds. It has six genres: country, metal, rock, pop, rap, and EDM, and five different moods.
What makes "These Lyrics Do Not Exist" Distinguishing?
Using emojis to set the mood of lyrics before generating results is its distinguishing feature. You can widely customize your song lyrics and also get the option to download the resulting lyrics as a text file or regenerate them.
Cons
The only little distraction is the advertisement displayed on the site, but that is a small price you have to pay for using this magical tool for free.
4. BoredHumans – The Least Customizable AI Lyrics Generator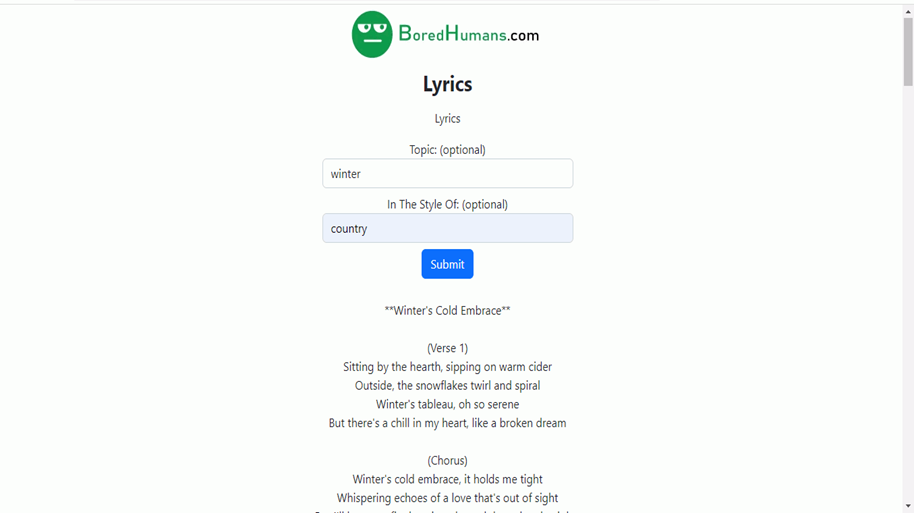 BoredHumans is another useful AI lyrics generator if you love writing songs. It uses GPT-3 language model and machine learning algorithms to scan vast databases of songs. It generates captivating lyrics in 20-30 seconds. This AI songwriter is also free of cost and provides unique and original lyrics. The uncomplicated interface of this tool makes it easy to use. You need to enter your song's topic idea and the musician's name or genre. That's all! This lyrics writer will craft unpredictable lyrics with a single click.
What makes BoredHumans Unique?
One of its distinguishing features is predictive artificial intelligence. This AI song lyrics generator can anticipate the lines of a song based on the first few starting words.
This AI songwriter can also act as a random lyrics generatorand produce results without submitting any keywords.
It has a candid user interface and can produce 360 unique lyrics in just 1 hour.
The handy tools offered by this AI lyrics generator make it unique. BoredHumans offers a Story generator, Meme Generator, Poetry Generator, AI Paintings, and many more.
Cons
Customizing lyrics options are limited.
You can't select the type of lyrics genre.
You can't pick a lyric theme.
Sometimes the AI-generated song lyrics seem funny.
5. DeepBeat – Best AI Song Lyric Generator for Rappers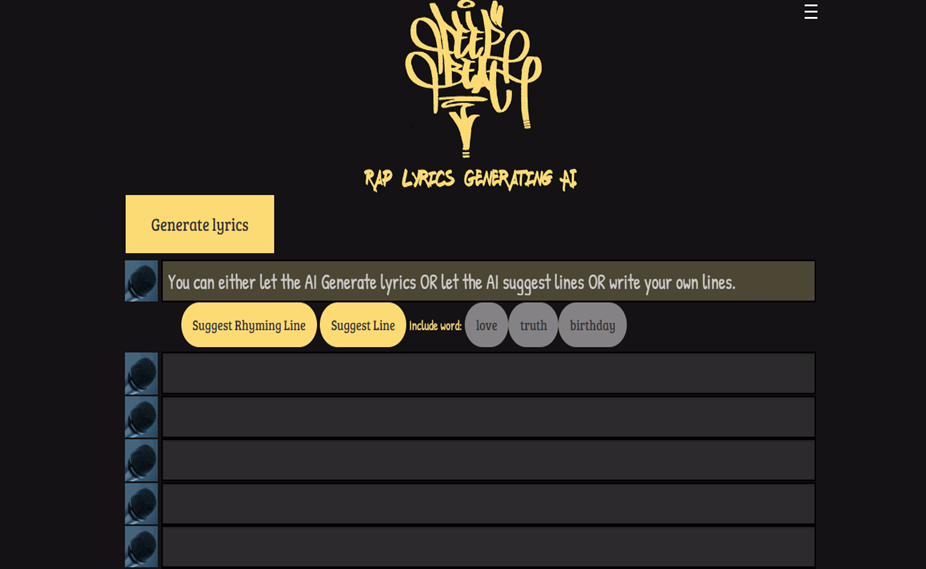 DeepBeat is an amazing AI songwriter primarily designed to write rap lyrics. So this tool is a must-have artificial intelligence lyrics generator if you are a rapper. Like many other AI-supported songwriting tools, it uses machine learning techniques to scan through the databases of existing rap songs. It then creates unique rap lyrics on a variety of topics. DeepBeat is free to use and provides multiple options. You can input the main keyword of your future hit and click the ''generate lyrics'' button to get the result. It also allows you to write your lyrics and hit the ''suggest line'' or ''suggest rhyming line'' option to get the AI-generated lyrics when you feel stuck.
What's new in DeepBeat Rap Lyrics Generator?
You will find a Deep Learning feature in the settings tab in the top-right corner. If the AI-generated lyrics are not appealing, turn on that feature for better results.
Cons
The unfriendly interface is a weak point of this tool. The setting tab, which allows you to enter keywords, is in the top right corner. It is not easy to locate, which creates confusion for first-time users.
Helpful Tips While Using the AI Lyrics Generators
Creating lyrics using AI is an enjoyable and inspiring experience. Following are some suggestions to get optimal results from an AI lyrics generator.
Provide clear and specific words or phrases regarding the theme, mood, and tone of the song you intend to write.
Use more descriptive prompts to create mental imagery in your lyrics.
Refine the AI-generated lyrics according to your taste and style. It will make the final output more coherent and appealing.
Always edit the output to rectify any grammatical errors.
Use AI to search synonyms and metaphors related to the topic to add a more realistic touch to the song.
Infuse your approach, emotions, and imagination into the AI-created lyrics to improve the overall quality of the content.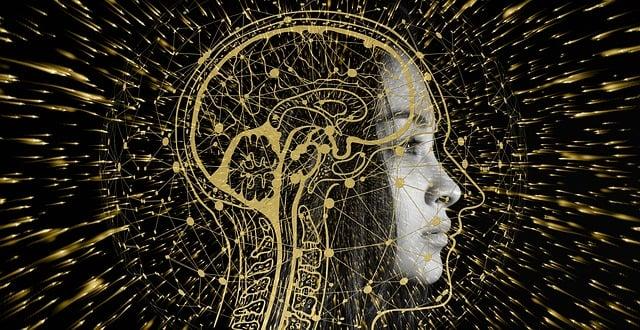 Wrap Up
Like many other sectors, Artificial Intelligence has revolutionized the world of music. Thanks to AI lyrics generators that analyze and learn from huge datasets of song lyrics and create original and captivating lyrics. Though AI songwriters may not fully replace the creativity of a human mind, they have great potential to save you time, take you out of a writing slump, stimulate your active imagination, widen the horizons of your creativity, and provide you with a unique song that you can further polish, tweak, and add a personal touch to.
So excite your creative songwriting process with the best AI lyrics generator and get amazing lyrics for your future hits.
Happy songwriting, folks!