Have you ever wished your favorite movie star you have always idolized to address you by name? Or send a "Get Well Soon" note in their own voice? What about getting a Birthday Greeting from Scooby Doo or Snoop Dogg? Or singing songs with Nicki Minaj or Eminem? Isn't it sensational to just think about it? Then have you ever thought these wishes might come true? Well, how can artificial intelligence leave this sensation untouched? Besides all other miraculous inventions, AI has unsurprisingly jumped into it to save the day. Uberduck AI - One of the latest AI developments is here to make your dreams come true. Now you can make your favorite personality address you in the words you want to hear from them or recite the verses of your all-time favorite song by converting your text into speech via this speech synthesizer called "Uberduck AI ."With this natural voice generator, you can synthesize the human-like voice for personal and professional purposes.
Uberduck AI, launched in 2020, uses TTS (Text-to-Speech) algorithm and generative machine learning models to enable you to synthesize vocals of your favorite movie or TV star, a cartoon or a fictional character, an anime figure, a politician, a rapper and many more. From Scooby Doo to Jay-Z to John F Kennedy, anyone available in the library of this AI tool can reach out to entertain you through their simulated voices on Uberduck AI. The AI behind this software captures the voice of your selected celebrity and transcribes it to create some voiced content similar to the actual voice of that celebrity, making it hard to identify if the voice is real or fake. If you are curious to know everything about this trending AI voice bot, you are at the right place!
What is Uberduck AI?
Uberduck AI is an open-source AI bot to turn your text into the voice of a celebrity or a character you want. This voice AI community claims to generate AI voiceovers in more than 5000 voices. Uberduck is built on WebRTC – an immersive audio chatbot that employs a transformer model to generate text responses and convert them to audio. This web app works by creating a virtual assistant through neural voice synthesis and aims to augment human creativity by interacting with the generative ML models. This extensive, open-ended voice-making bot offers various editing and other options for creativity. Uberduck AI library has an inclusive catalog of celebrity voices that offers a wide range of voices in multiple categories, including rappers, movie stars, cartoons, fictional characters, anime figures etc. In the rapper category, you will find Snoop Dogg, Tupac, Biggie and many more big names. Micky Mouse, Kanye West, Patrick Stewart, Jimmy Neutron, Spongebob Squarepants, Scooby-Doo, Mario, Jay Z, Weird AI, Sonic the Hedgehog and Nicki Minaj are among the most prominent voices available in the Uberduck AI library. You can use this tool in multiple creative ways: add "Biggie verses" to your tracks or let Bohemian Rhapsody lyrics rapped by Kanye West. You can even upload the voice of a celebrity you want to hear. Uberduck AI voice maintains some specifics to enable you listen to the voice of your favorite selected personality. You select the voice of your favorite personality and enter some text into the uberduck.ai program that you want to hear in that celebrity's voice. This AI tool converts it into the tone of a specified personality. It also allows you to upload your voice and convert it to a celebrity's voice. You can also use Uberduck AI to create new verses for your favorite artists to recite.
Though Text-To-Speech (TTS) is the most recognized and distinctive feature, other voice functions of uberduck.ai include:
Using these synthetic media features, you can boost the quality of your content by adding music and customized voiceovers. You can even add subtitles to your created videos to enhance the reach of your content.

How Uberduck AI Became Viral?
Though Uberduck AI was launched in 2020 by a team of students, including Luer and Wener, it was not the talk of the town. This AI tool exploded for the first time on TikTok when in the mid of 2021, Bev Standing – the default voice behind the text-to-speech bot on TikTok filed a case against the app for stealing her voice. Therefore, being in hot water, the app was forced to replace her voice with a different version. But this new version failed to impress many users, and they started looking for other options to convert their text into speech. Fortunately, the internet stumbled upon an amazing AI tool named "Uberduck AI." The users loved this unique AI voice synthesizer as it was offering them way more than they were looking for. So, this was the time when Uberduck AI became viral on TikTok. Mike Shinoda, a famous musician and rapper from the American rock band "Linkin Park," used the Uberduck AI voice of Notorious B.I.G for his track named "Happy Endings ."The synthesized rap song blew up TikTok when posted. Many social media app users and content producers are now replacing their voice generators with Uberduck AI. Singers and actors also use this speech synthesizer to adjust their voices and make them sound more convincing.
Case Study: Yotta – In late 2021, Uberduck blew up in the business community when Yotta reached it to generate a great year-end wrap-up for Yotta users. Uberduck demonstrated its capabilities by creating and shipping 150,000 customized rap tracks with lyric videos within two weeks. Yotta's users loved their captivating customized videos with rap songs and shared them publicly on social media apps. It was high time when Uberduck AI came to the limelight on numerous social media apps. Now, it has become so popular that users are making amazing covers for this Speech synthesizer.
How to Use Uberduck AI?
The user-friendly design of uberduck.ai makes it convenient to use. Whether you use it on the website or API, it is easily understandable; you just have to follow the below given steps:
Visit the official page of uberduck.ai and get all the relevant information. Then click on "Get Started."
To join Uberduck, you need to sign up first. Initially, this app could be signed up just through a Discord account, but now uberduck.ai offers you three options for signing up: sign up via a Google account, sign up via Discord, or sign up via email.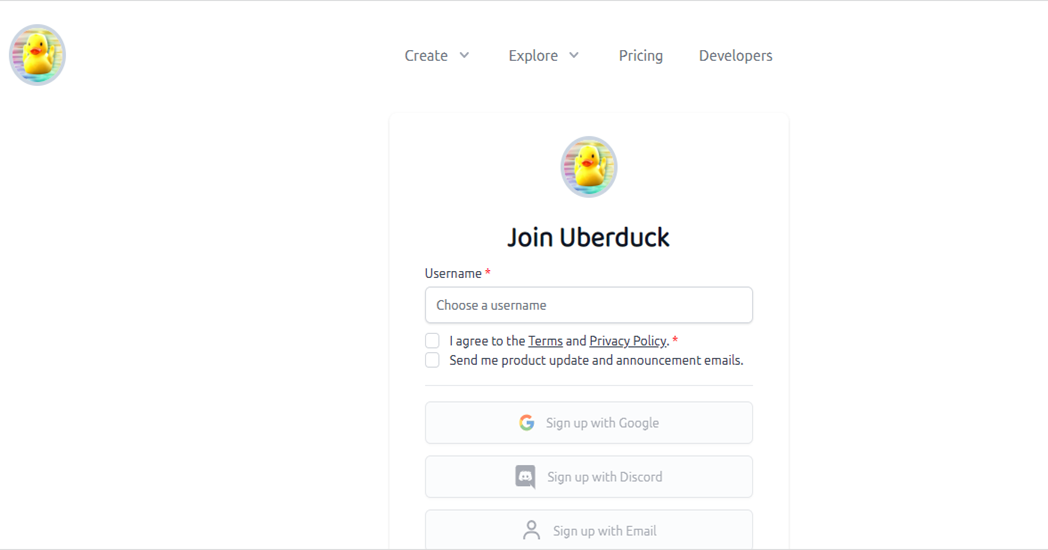 Select one option to continue. Selecting the "sign-up with Google" Option will directly connect you via your Gmail account. For the "sign up with Discord" option, it will log in to you with your discord account. In case you select the last option of "signing up by email," you will have to fill out a form and create your account on uberduck.ai.
Once you select a sign-up option, it will show you the pricing plan (to get details about the pricing plans, continue reading this blog). Select a pricing plan and click "continue." Now you are logged in to the Uberduck AI app.
On the homepage, click the top most option "Text to Speech."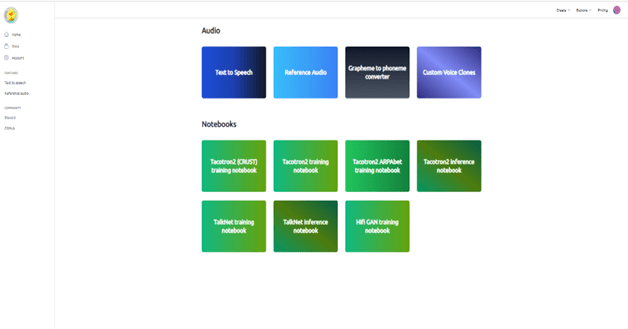 Select the voice category, followed by the celebrity or character you want to hear reciting your text. In the "Enter Text to Synthesize" option, write any text you want to convert to speech. Then click on "Synthesize."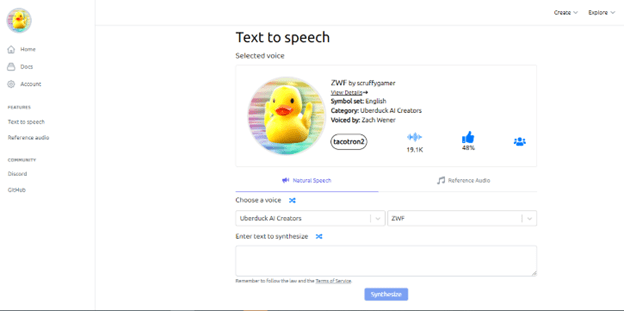 After a minute or so, you will get the result. Click on the Play button to listen to your text in the tone/voice of your selected celebrity/character. If you don't like it, change the character and experiment with another voice.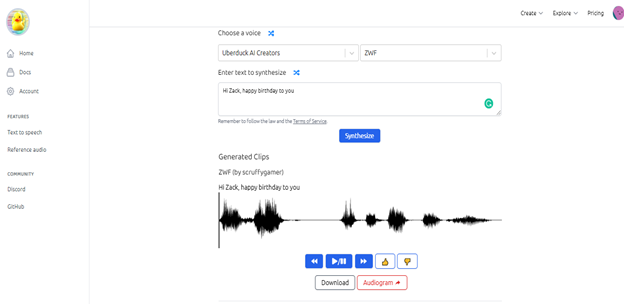 Download your preferred AI vocal created by uberduck.ai. That's all!
How to Use Uberduck AI on Discord?
Visit uberduck.ai webpage.
Click the second option of "sign up with Discord." (You must have a Discord account for this purpose. Click here to know how to sign up for a Discord account if you don't have it.)
Enter the email address for the Discord account or your phone number and the password.
Get access to the Discord server. After getting authorization, sign in to Uberduck AI. Once you are signed in via discord, the rest of the text-to-speech generation process is simple, as discussed above.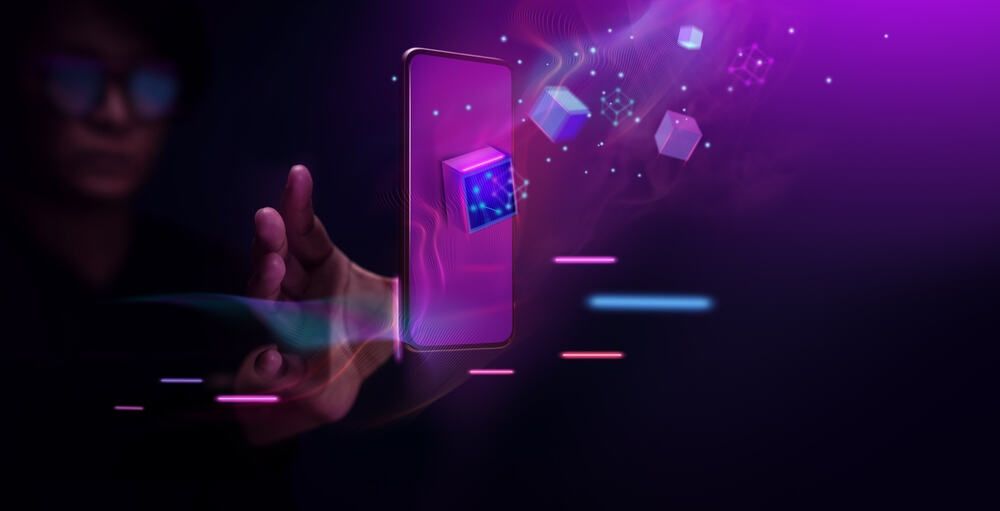 How to Use Uberduck AI on TikTok?
Though Uberduck AI is at its initial and experimental phase, its hype is great. At present, TikTok is the prime app making it rise to fame. TikTokers are using Uberduck AI  to boost their content as it is a perfect video voiceover replacement for TikTok videos.
You can use this amazing web app on TikTok by following these steps:
Go to the official webpage of uberduck.ai via your computer or mobile phone. And sign up via Gmail, Discord or uberduck.ai email account.
From the text field, choose a voice actor, then enter the text you want to hear in the tone of the selected voice actor.
Hit the "Synthesize" button.
Listen to your synthesized file when received. Download the file in MP3 if you like it.
And there you go! Use this downloaded Uberduck AI voice in your TikTok videos to enhance the quality of your content.
Is Uberduck AI free to Use?
Uberduck.ai offers three pricing plans for its users; one of them is a Free Plan. Let's have a look at all three plans; you can choose anyone based on your preferences.
Free users can get access to the followings:
a. 2000+ famous voices
b. Throttled API Access
c. 1GB storage and more.
By signing up for the Clone plan, you can enjoy the following perks:
a. Free Plan
b. Unthrottled API access.
c. Uberduck studio voices for commercial use
d. Monthly 2000 priority renders.
e. Cloning of your own voice to use it where you want.
The perks offered by the Enterprise plan include:
a. Clone Plan +
b. Prompt audio generation with minimal delay
c. Collaborative voice bots
d. Unlimited cloud storage
e. Exclusive support
f. Twilio Integration
Is Uberduck AI Safe?
There are different opinions regarding the legitimacy of the uberduck.ai website. According to ScamAdvisor – a website helping more than 2.5 million users every month to find out if a website is safe or a scam, Uberduck.ai is a secured website with an average to good Trust score of 92/100. This high score is based on the data collected from third-party sources on the internet, and user reviews about the site. Moreover, Uberduck.ai has a valid SSL certificate issued by R3. This SSL certificate is enough to confirm the original identity of this web server that ensures safe and encrypted communication between Uberduck.ai and its users. This ranking by the ScamAdvisor algorithm demonstrates that Uberduck AI is more likely a legit app rather than a scam.
Symantec and Google Safe Browsing also confirm that Uberduck.ai is a secure domain free from any malware, phishing, or harmful applications.
Though Uberduck AI seems safe and various authentic websites confirm its legitimacy, many people are still concerned about hostile hackers' risks. Signing in again and again via Gmail or Discord ID might not be secure as it frequently asks you to grant access to your account. To avoid security risks and enjoy the Uberduck AI app peacefully, I suggest creating a fresh account on uberduck.ai and logging in from there instead of harnessing your Discord or Gmail credentials.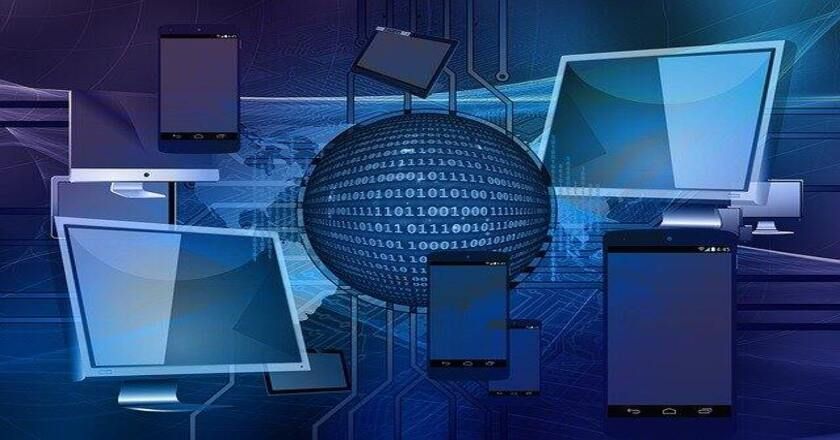 What are Uberduck AI Alternatives?
Being at its experimental phase, Uberduck AI Voice app is not yet available on Google Play Store or App Store. Still this web app has 1.6M total visits with global rank @ 24,530, country rank @ 11,186, and category rank (USA) @ 320. Alexa places uberduck.ai at 3,442 rank all over the globe with 4,669 unique visitors and 16,343 pageviews on a daily basis.
Let's have a look at a few sites like uberduck.ai that can work as Uberduck AI alternatives:
15.AI: a non-commercial text-to-speech synthesis AI web app that converts your text into an audio clip in the voice of your favorite character that you select from the list.
Voicegenerator.io: a completely free AI tool that produces voice from text and even works offline. The voices generated by voicegenerator.io will be different in different browsers as it uses incorporated voice synthesis technology of the browser you are using. You can also add some effects to the audio. For instance, you can make the voice more robotic or add the sound effect of an evil demon, a scary ghost, etc. This Uberduck AI alternative also allows you to download the generated audio clip.
Melobytes.com: a free-to-use app that falls in the category of audio and music. This text into song app analyzes the lyrics that you enter and generate a unique melody. If you don't like the results, experiment with another melody option until you get a tune that satisfies you. Download the best-generated tune from this Uberduck AI alternative and have fun.
Below is a quick view of the authenticity and similarity score of these top Uberduck AI Alternatives:
| Uberduck AI alternative | Global Rank | Country Rank | Category Rank | Total visits | Similarity Score |
| --- | --- | --- | --- | --- | --- |
| 15.ai | 56,339 | 36,881 | 1,134 | 1.1M | 100% |
| Voicegenerator.io | 288,971 | 314,500 | 8,411 | 222.6K | 79% |
| Melobytes.com | 218,466 | 95,971 | 2,839 | 208.1K | 76% |
Source: similarweb.com
Some other sites like uberduck.ai include:
What Distinguishes Uberduck AI from other Voice Generators?
Though there are numerous tools working on the same, Uberduck AI is doing a remarkable job of simulating celebrity voices. Most of the text-to-speech voice generators lack the library having voices of famous personalities. So, they just convert the text into any of the default voices. The most distinguishing feature that makes Uberduck AI prominent is its ability to convert text into realistic speech such that it sounds like being read by some famous personality or a fictional figure. Other distinct features of Uberduck AI include:
You can recreate/simulate famous voices.
You can even upload your own voice.
Do fake duets with your favorite artist.
Simulate a rapper's flow in the most incredible way.
Write new lyrics and let artists recite them.
Mimic the voice of a well-known figure, either real or fictional.
Create hilarious simulated situations in their voice.
Create GIFS of rappers.
Create beautiful melodies in the voice of rappers.
Take an actor's avatar and make it speak in an actress's voice.
Listen any new song in the voice of your favorite late singer.
Get low-latency output.
Last but not least, the official webpage of Uberduck AI displays a set of instructions to help you make your dream of Tupac rapping to the Jaz B song a reality.
Easy and free access to Uberduck AI voice is the icing on the cake.
Uberduck AI – Potential Threats
Uberduck AI can be used to disinform or defame famous personalities. However, Uberduck AI's terms strive to alleviate these concerns. It prohibits using synthesized vocals for commercial purposes or to create defamatory material. The users are informed that they will get banned in case of rule violations. As it seems a disrespectful act to use the voice of a person without their permission, so the tool's creator is also liable to remove synthesized voices from the app upon the request of someone whose voice is replicated.
Uberduck AI – Challenges
Though AI is helping Uberduck program to create AI vocals, at present, it is not doing it as perfectly as it could. In AI vocal, you may feel algorithmic glitching as the Uberduck AI voice bot, being at its experimental phase, is not perfect. If you enter a lengthy text, some text might lead to a malfunction, and the generated voice seems like a blended dictionary. Though the synthesized voices are not perfect, you can get far better accurate replications by adding extra vowels to expand the syllable. It is also recommended to enter short text in Uberduck AI software to get the best results.
Whatever the challenges might be, isn't it creepy to see how eerily close we are to creating DeepFake audios that are hard to identify if they are real or fake? If Uberduck AI can surprise us at its developing phase as of today, just imagine how it will explode the internet once fully developed!