Video content on social media has become the most influential business asset. It is an excellent way to explain how things work in any industry. Businesses and enterprises throughout the world understand the role of taped content. Such modes are more likely to promote their products and services. It helps them to reduce the bounce rate on their websites. Studies reveal that 86% of marketers use filmed content for promotional strategies. The audience in 2023 is 52% more prone to circulate video content than any other type of content. But, such content generation is a hard nut to crack by anyone. It costs too many resources, like money, shooting equipment, and production crew. Until reaching a finalized promotional content, the list of tasks goes on and on. With the addition of video editing, the whole process is quite laborious. Even though the editing tools have assisted, they also need manual input. Thanks to AI! You can now automate such a strenuous undertaking with AI text to video generators.
Yes, there are digital tools to create filmed content. These online AI tools help you to generate engaging and professional videos from text without any skill or software. The market share for text to video AI is projected to grow above 35% CAGR from 2023-2032 as these AI video generators help businesses stay ahead of the competition with simple clicks. This blog will discuss the 5 best AI tools to convert text-to-video. These tools are at the top, and we have ranked them based on "ease of use" and "customization options." So, let's dive into machine learning!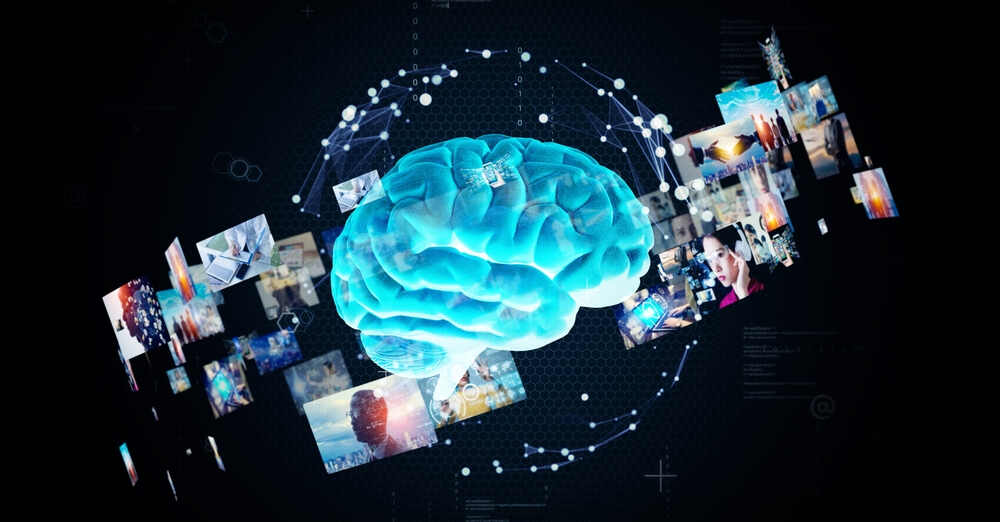 Why Use AI Text to Video Generators?
AI tools to convert text to video are the next-level technology for video marketing experts. These productive AI video generators are effective, flexible, and adaptable and reduce your cost of production. The wide range of customization options available aids in generating quality video content in no time. Simply speaking, filming without filming isn't a hoax anymore. These text to video AI tools can do everything that goes into videography for you. You can sit back and edit anything you want to change, and off you go. Download the filmed video to promote your business or for personal use to enhance your target audience base.
Let's discuss the top 5 AI text to Video generators:
1. InVideo.io – Best AI Tool to Create Social Media Videos from Text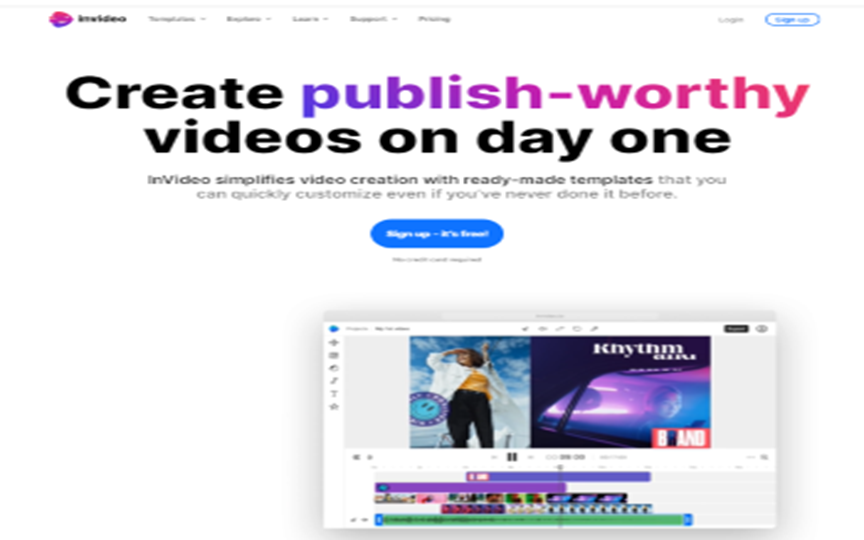 "InVideo" is an amazing AI tool to convert text to video. This online video maker requires a script as input. After a few clicks, your video processes within a few minutes. With diversified editing options, you can change anything inside the film. It ensures high quality by using already available designed animated video templates. Besides quality content, the videos are also customizable.
Why InVideo.io?
Invideo.io has a collaboration option for converting text to video (even in the free trial version). So, anyone from your team can use it. You can also cut a scene from anywhere in the video and share it on your Instagram, Facebook, or YouTube channel. Isn't it amazing? If you don't have any written script, ask the tool's AI to write a script on a particular topic and convert it to a video. This AI video generator allows you to create all sorts of videos. Now, you can produce memes, presentations, and much more without any hassle with this online video maker.
Is InVideo IO Free or Paid?
InVideo offers Free Plan with no limited trial period; it's free forever. Just sign Up and start creating videos from the text. However, the videos you create from the text in Free Plan have a watermark and can't be downloaded. You have to upgrade to Paid plan if you want it to download videos without any watermark. Moreover, you can only share your AI-generated video with your team.
InVideo offers 3 standard plans. Have a look at the current Invideo Pricing: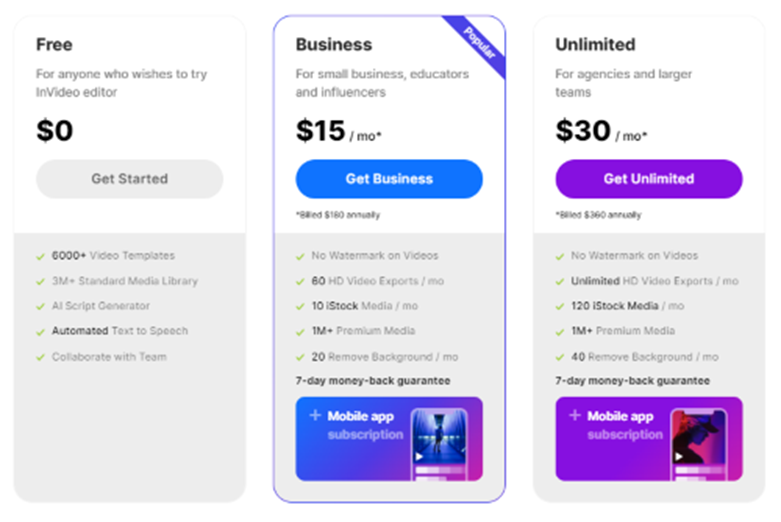 Pros
+ Easy-to-use interface with thousands of ready-to-use templates with cool animations.
+ Video conversion can be time-consuming.
+ No background is required to create a video.
+ Best stock footage and images are limited to the paid plan only.
+ An abundance of features to create customized videos.
+ Allows you to upload your fonts.
+ Just create the video and share it directly on social media.
+ Reasonable Price
Cons
- Video conversion can be time-consuming.
- Best stock footage and images are limited to the paid plan only.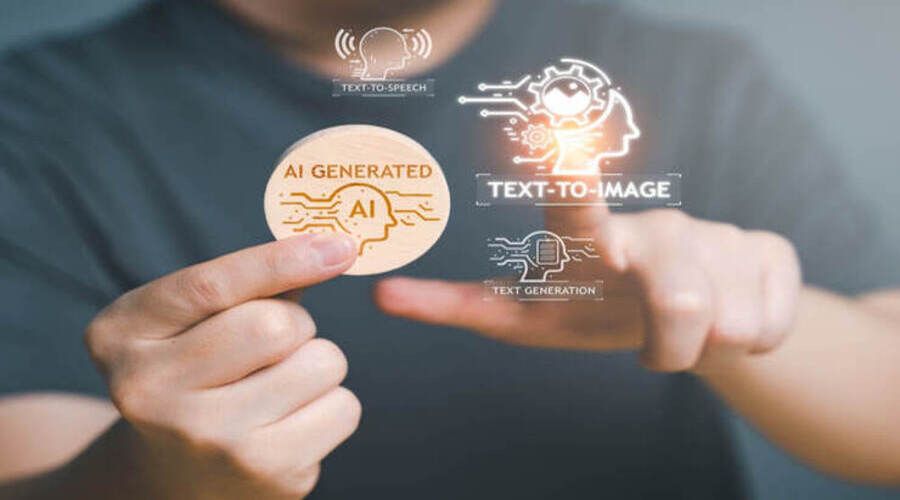 2. Lumen5 – Best AI Text to Video Generator for Bloggers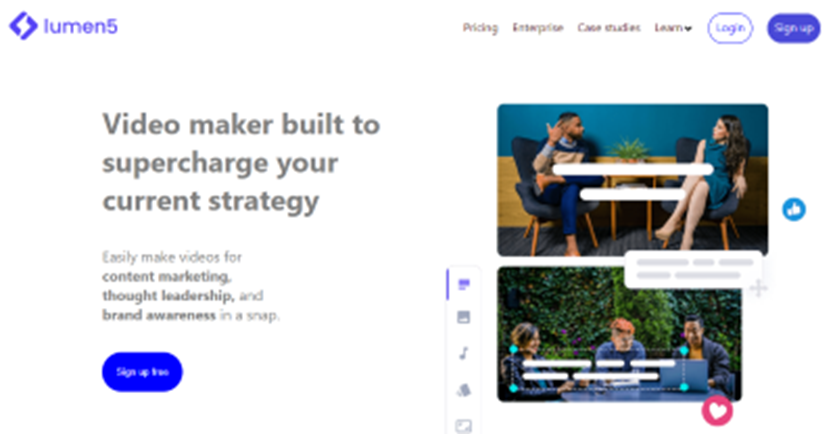 Lumen5 is an AI tool to convert text to video for marketing and branding. This AI video generator creates captivating content for your business, including visual stories and Instagram reels. Your videos are now a few clicks away. You only need to input your script; this AI tool does the rest.
You can use this text-to-video converter to make "talking head films" for your blogs or websites. Just put the URL of your blog post or copy-paste the entire content of your article and let its AI compose a brief script from your content. Then ask it to convert your text into video. In Lumen 5, you can even do branding with your logo. With this text to video AI tool, you can convert your blog posts to videos. Isn't that an enticing feature to bring your text to life?
Why Lumen5?
In Lumen5, you can even change each image element while editing the video. This AI video generator finds the layout that best fits your text and uses it. Its AI functionality makes it an excellent AI tool for converting text to video. If you are a blogger and creative enough to choose relevant visuals for your video, Lumen5 is the perfect fit. Otherwise, opt for another tool, as this online video maker offers limited template choices.
What is Lumen5 Cost?
Free Plan – It offers to create 5 free videos per month.
Monthly Subscriptions
Starter Plan: 29$
Premium Plan: 79$
Business Plan: 199$
Pros
+ Fantastic Drag & Drop User Interface with different pricing plans to fit your needs.
+ Wide range of customization options.
+ Can easily create "Teasers" for your blog post.
+ Works amazingly even with a poor internet connection
Cons
- Free trial is too restricted, and the video created can have replaceable irrelevant scenes.
- A limited number of templates, even in paid plans.
- Stock Videos are mainly US-centric and not free to use.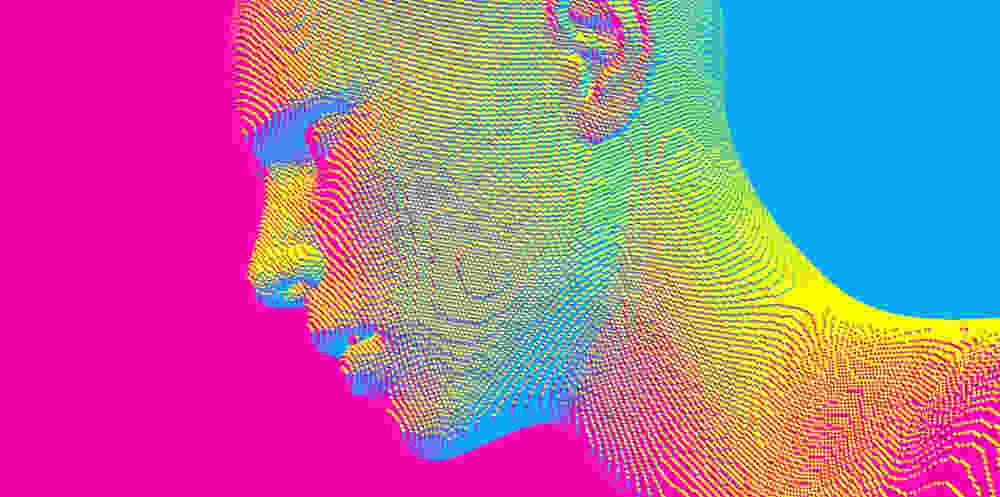 3. Synthesia – Best for Worldwide Marketing, Training & How-to Videos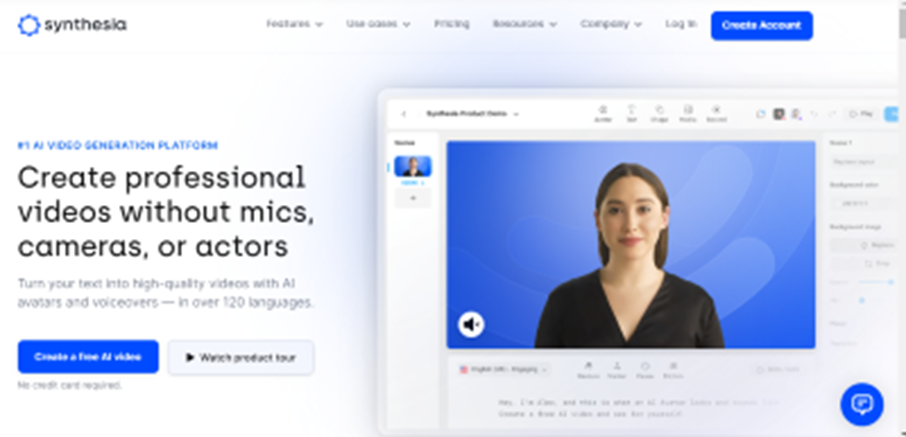 Discussing AI video makers and forsaking Synthesia? How's that possible? Synthesia.io is a text to video generator tool that uses advanced machine learning algorithms. This digital tool uses Natural Language Processing (NLP) models to generate high-quality videos. It's suitable for small enterprises and individuals who can only afford a little marketing cost.
This AI-powered video creator analyzes blog posts, scripts, articles, and web pages to generate engaging videos. It can produce videos in 120 different languages from your input. Now, that's convenient for digital marketing.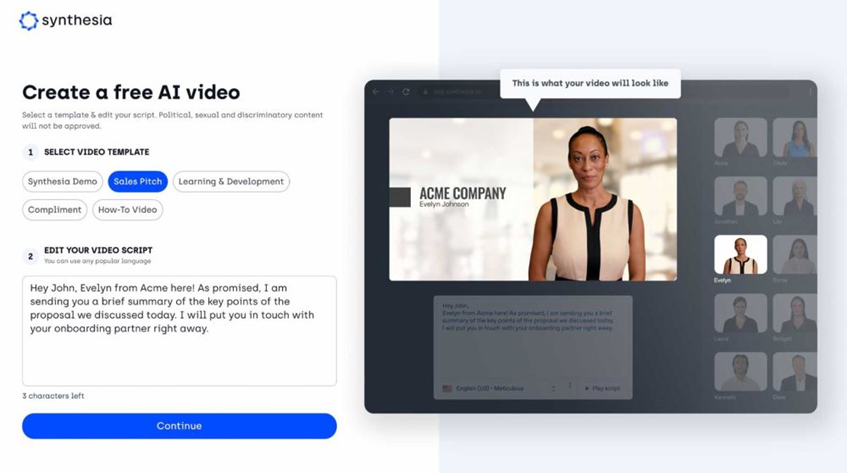 Why Synthesia?
In Synthesia, you can select an avatar from more than 120 options available for your clips. If you want to customize your avatar, record your voice, and see the magic. Besides using avatars, you can choose a narration style and an accent of above 120 languages. These peculiarities make this a go-to text to video AI tool for content creators.
Pricing Plans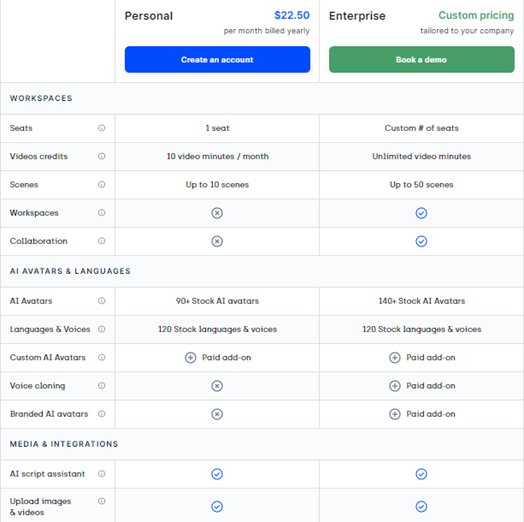 Pros
+ Human Avatars are best for those who are shy about camera.
+ 2-3 new avatars are weekly added to this text-to-speech voiceover generator to help users create a unique look.
+ You can upload text or video on it
Cons
- No free trial, but a demo video page is available to test the tool out.
- It lacks an automatic translation feature. You need Google Translator or any other AI tool to convert your text from one language to another.
- Not good to create social media videos.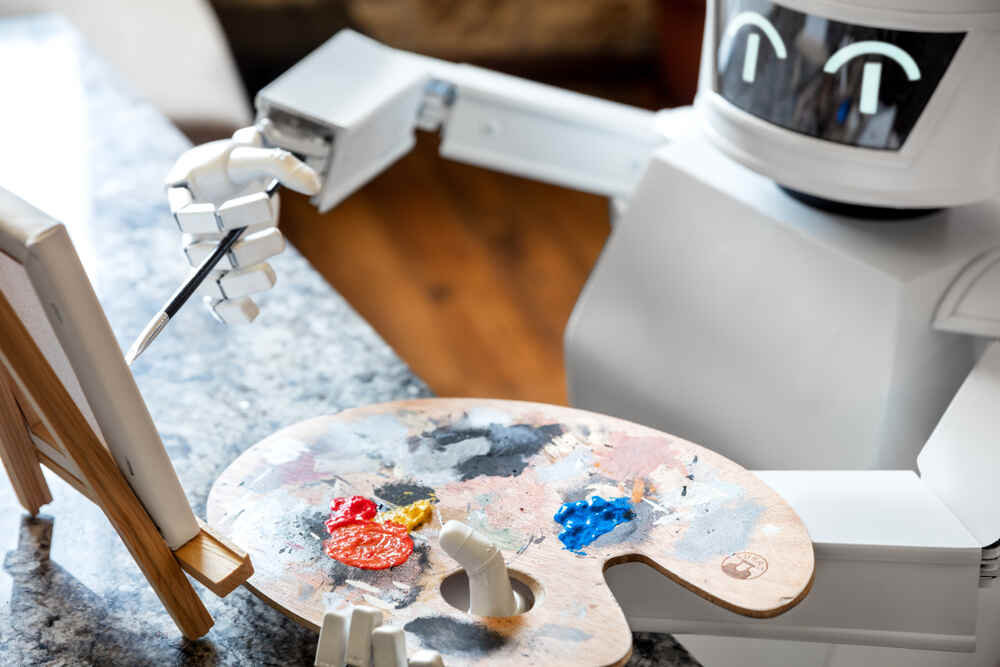 4. Runawayml – A Text to Video Generator with a Wide Range of Sub Tools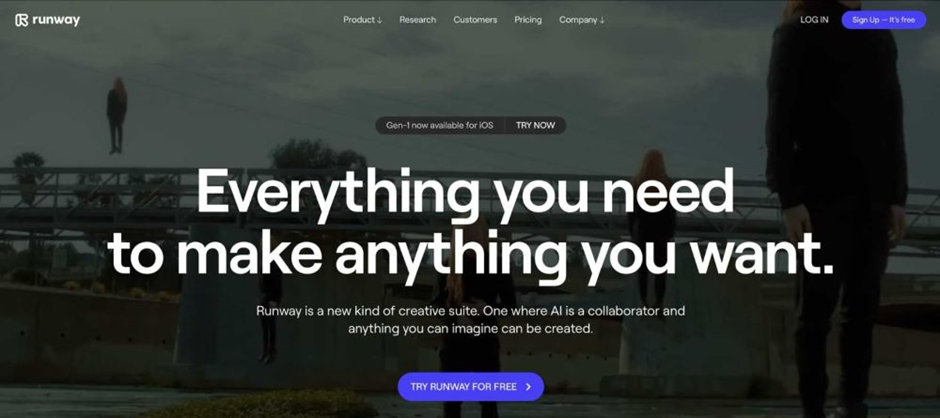 Like other AI video creators, Runawayml does everything for you. It uses natural language descriptions to edit and create videos. The script provided helps to generate a relevant clip. This AI-powered text to video maker offers various layouts and backgrounds to choose from. Besides layouts, it analyzes the contextual lyrics to produce relevant films with diverse editing options. Backdrop remix and online toolbox are some of its amazing features.
You can remove any object inside a filmed clip and use it with Runawayml. You don't need to worry about anything, as you can remove it. If your text generated a video with a somehow irrelevant clip, it's removable.
Why Runwayml?
Runawayml has a plethora of other machine-learning tools as well. You can get access to these sub-tools and use them without any coding experience. Besides creating videos from text, it allows you to improve the visuals of any existing video. This text-to-video AI tool even lets you transcribe audio to your video. If you are a midjourney lover, you would love Runwayml. This AI tool leverages AI to create videos from text with similar efficacy as the Midjourney incorporates to create Art.
Free Plan
Monthly Subscription starts at 12$
Pros
+ Sub tools available for image editing as well.
+ Can accommodate diverse types of data.
+ Easy Integration with API
Cons
- Sometimes error of less space for data occurs. This error means that the storage space provided might need more for all users.
- Limited Customization Options
5. DeepBrain.io – The Best Alternative to Synthesia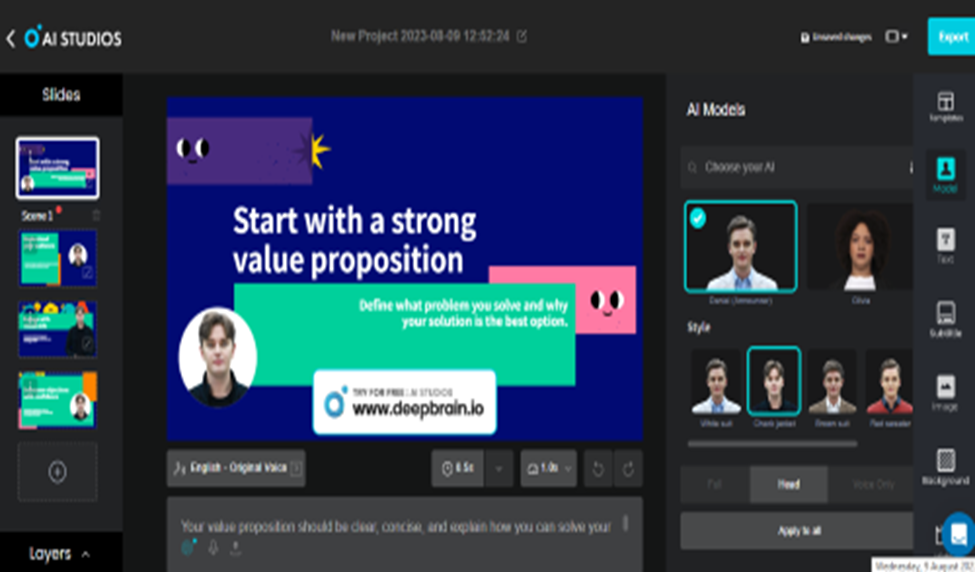 DeepBrain is a generative AI video maker. Like other AI tools, it will convert your text into clips. Give your prompt, and a relevant film will be ready in minutes. In this text to video AI tool allows you to add background images and customize your videos. These images can be your own or stock images of your choice.
The stunning thing about DeepBrain is that you don't need editing experience. So, it's best for beginners in the content marketing industry. Like Synthesia, you can select any from above 100 avatars and over 80 languages to deliver your message worldwide. It also has different avatars to choose from. But in this AI tool-created video, the avatars can exhibit motion.
Why DeepBrain.io?
DeepBrain.io uses ChatGPT. Thus, you won't even need to write the script. ChatGPT can write anything you want with relevant prompts. You would have to enter some prompt to this text to video generator. AI-generated videos or clips with DeepBrain have subtitles as well.
Is DeepBrain AI Free?
This text to video maker offers only a Free Trial rather than a Free Plan. It allows you to create a 1-minute video in its free trial.
Paid Plans start from 29$ per month.
Pros
+ ChatGPT integration.
+ Avatars in the videos can move
Cons
- The motion of avatars and accents of voiceovers needs improvement.
- No Preview option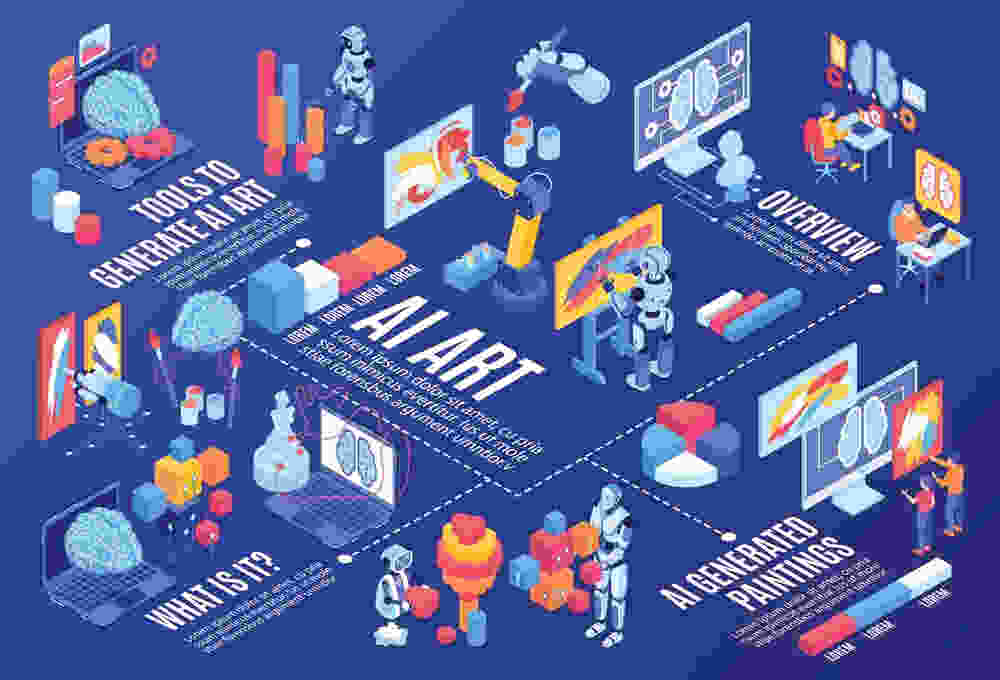 How do these Text-to-Video AI Tools Work?
Simple steps to convert your text to mp4 clips through all AI video generators are:
Add your text or a script for your video. Some AI text to video generators don't need even text; they can write the script for you.
Choose and customize your selected template.
Let the AI tool generate video from your text.
Download the finished video content (if you have paid version)
Wrapping Up
We've arranged the best AI video generators based on "user experience" and "customization options" available. But, selecting the right text for any AI video maker depends on user preferences. Every digital tool we've mentioned has certain peculiarities that make them stand out. Opt for a script to film generator that works with your preferred features.
Don't fret over it too much! You can try any AI tool on a free trial or request a free demo. All the videos in the free versions will have a watermark on them and fail to download. But you can judge the quality of the filmed content through the free trial. So, pick the best AI tool that can convert your text to video tailored to your needs.