The advancements in artificial intelligence have taken the digital marketing industry by storm. Gone are the days when you had to hire a professional graphic designer to design posters and visuals. An Artificial intelligence poster generator can create attractive designs in a few clicks. Visually appealing posters help you captivate the attention of the audience more. A survey suggests that 35.5% of marketers design graphics and visual content using AI tools. The AI poster generator saves you time and money. It also eliminates the need for expensive design software. So, if you are a marketing professional, an entrepreneur, a graphic designer, or an art enthusiast, this article is for you. We have reviewed some of the best AI-powered poster makers to help you design catchy posters in no time. Explore our list of the top 5 free artificial intelligence poster generators.
What is an Artificial Intelligence Poster Designer?
AI poster maker is software designed to automate the process of creating posters. Like any other AI art generator, the AI poster designer tool uses advanced AI algorithms and machine learning techniques. It allows individuals with no professional design background to generate impressive posters.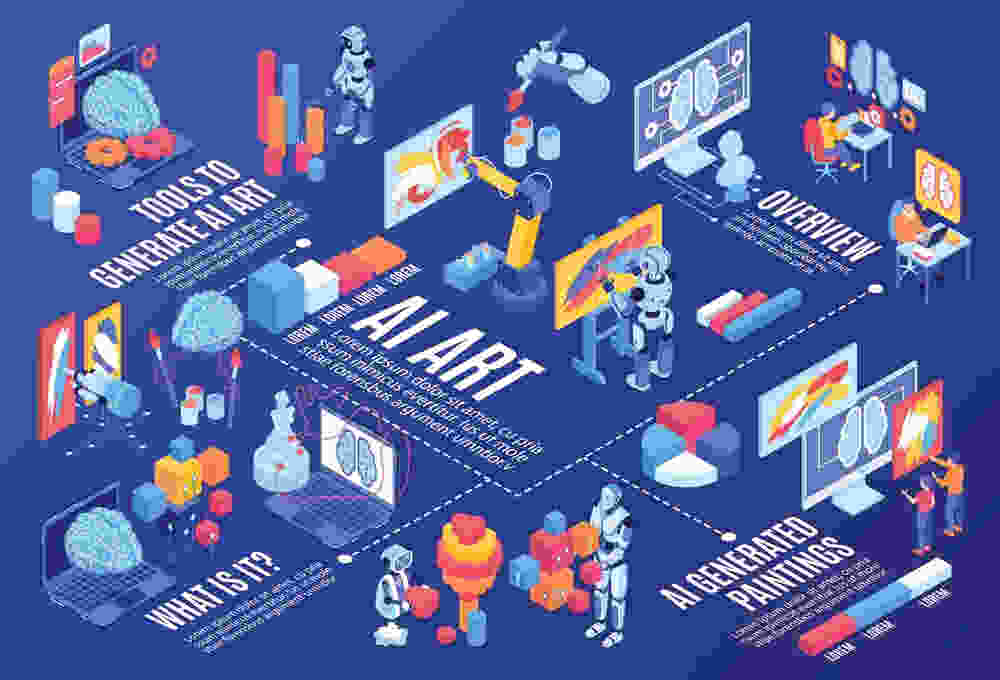 Free Artificial Intelligence Poster Makers: The Best Five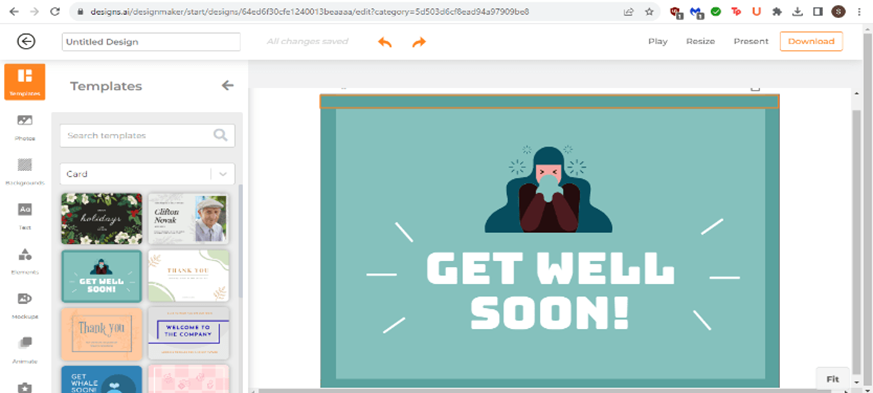 Designs.ai is first on the list of free AI poster designer tool list. It is a web-based tool that offers a variety of AI design tools. You can create a professional-looking poster using this AI-powered poster maker within minutes. The tool applies an AI algorithm to analyze the input information. It then generates multiple creative results based on that information. The online poster maker produces multiple font combinations and styles using artificial intelligence. You can incorporate the creative fonts in your poster as headings or body text. The editing tools of the AI poster designer enable you to enhance the poster's visual appeal. The high-quality graphics and illustrations further intensify the brand's message on the poster. Lastly, you can also resize the image for the desired platform. Customize your poster according to your needs and download it.
Pros
Drag-and-drop interface.
AI suggestions on color, font, and layout of the poster
The collaborative feature allows teamwork.
Import and export of the files is easy.
It allows project synchronization across various devices.
Cons
Reliance on AI recommendations may limit creative freedom.
Access to advanced resources is limited to premium plans.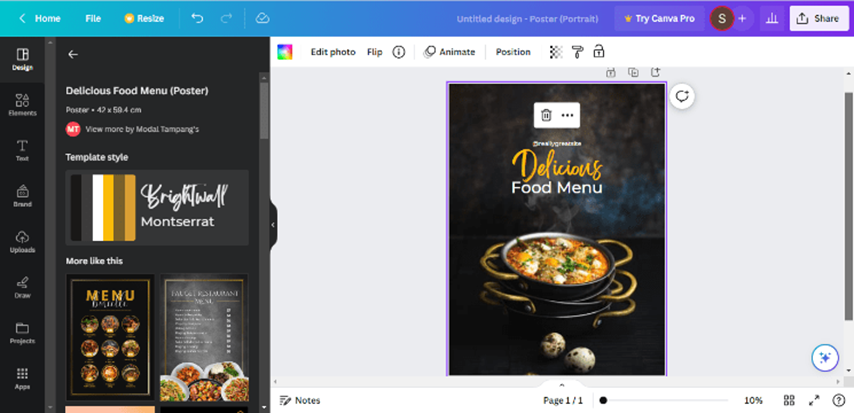 Canva is a popular online graphic design platform that is free and easy to use. Its simple user interface makes it the best option for people with no design background. In 2021, Canva introduced a free AI design tool called Magic Design. It helps you create visually impactful posters and designs. The artificial intelligence poster maker can create a poster from any uploaded image. The AI algorithm of the tool also generates results from a text prompt. It saves you time from building everything from scratch. The online poster generator also has many templates available for numerous themes. You can further customize the template to meet your purpose. It includes many design elements, editing tools, illustrations, and icons. All these features work together to improve the quality of the poster.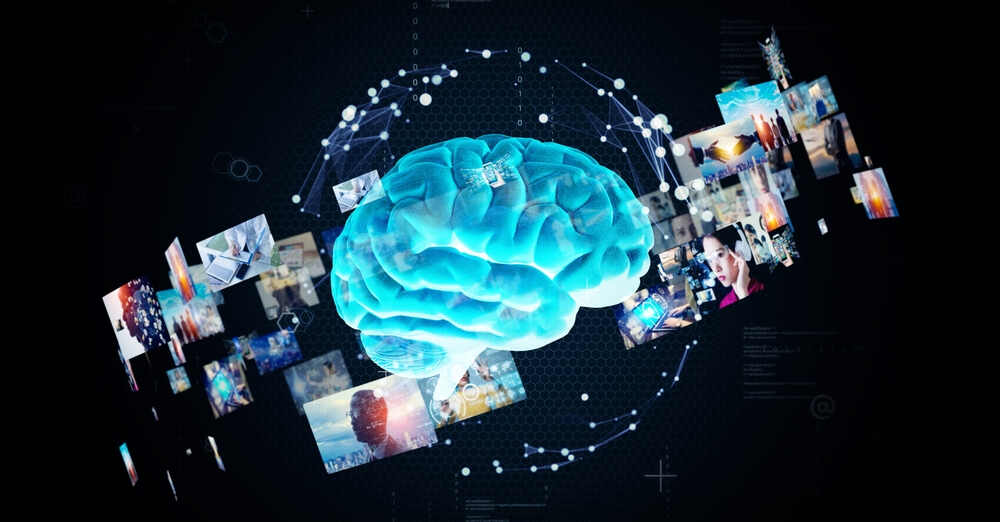 Pros
Drag and drop interface
Multiple-format export of the file.
Cons
Watermark on the free version of the poster design.
Access to advanced design tools is only available in the premium version.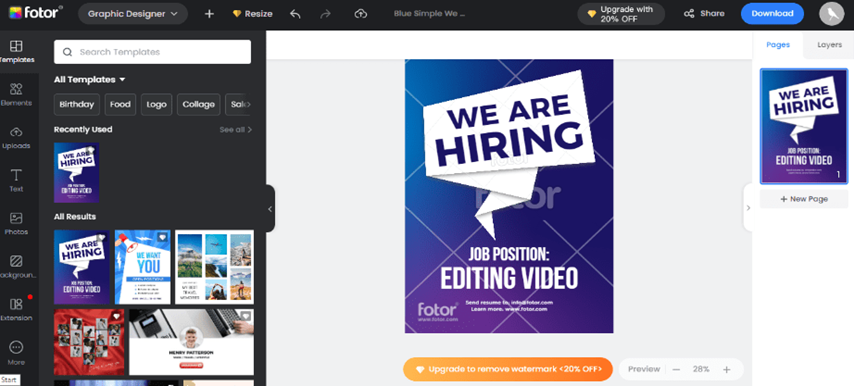 Fotor is an online design tool with a free AI poster generator. Its smart editing tools make it a good option for photography enthusiasts. The tool has extensive features that allow you to create captivating posters. Fotor has a vast collection of templates to suit your needs. These templates can be further customized according to your preferred style and purpose. Also, it has a wide compilation of fonts and design elements.
Moreover, Fotor has a graphic library with many illustrations, shapes, and icons. This feature helps you further refine and embellish your poster. AI enhancement features are one of the prominent features of this AI poster maker. The AI algorithms of the tool will deeply study your image. It then makes adjustments to enhance the appearance of the poster. Advanced AI editing tools further help you tweak your poster. The AI poster designer has a drag-and-drop interface. It makes usage easy for both beginners and professionals.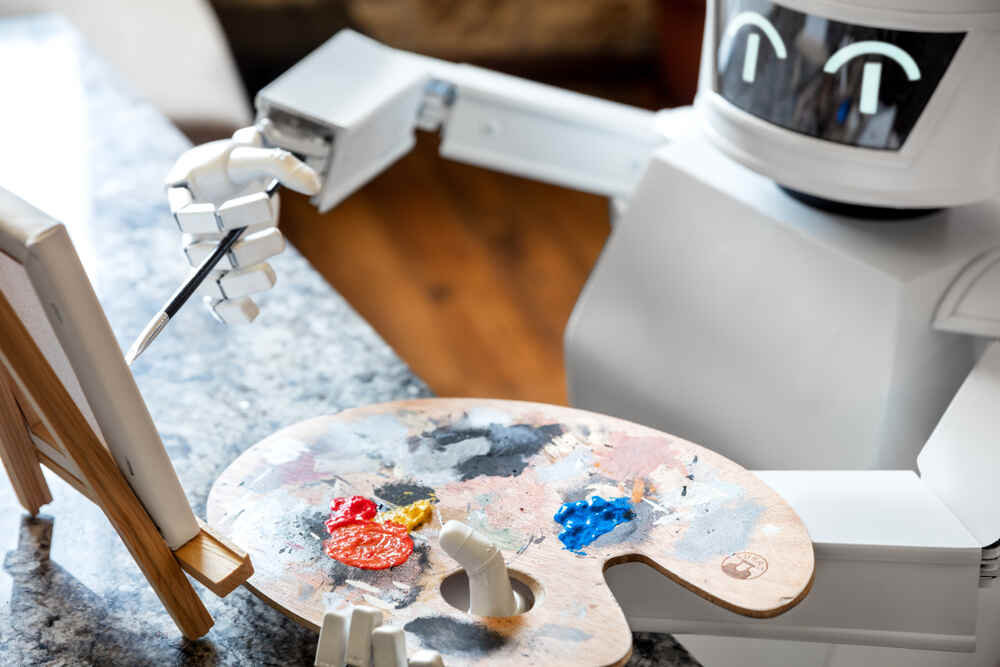 Pros
User-friendly interface.
File export in multiple formats is possible.
Real-time visualization of the changes made to the poster.
AI enhancement (brightness, saturation, contrast, etc.)
Cons
Some advanced features are available on the premium plan only.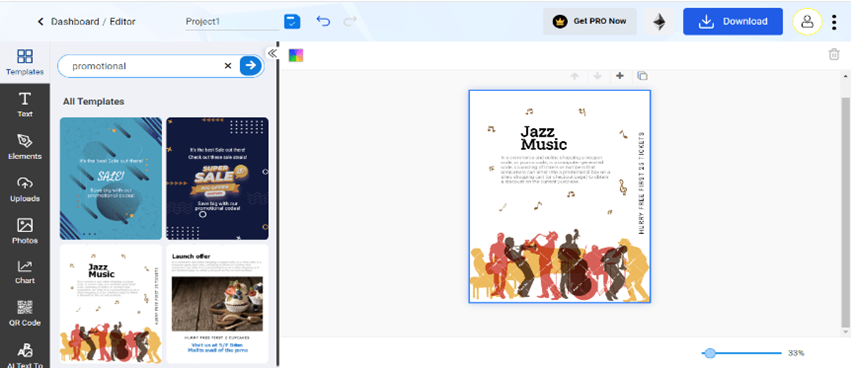 Appy Pie is next on our list for a reason. This web-based tool provides a robust and free AI marketing poster generator. It uses AI algorithms and learning models to produce stunning visual masterpieces. The online poster maker has an extensive library of templates to choose from. The templates can be personalized based on your needs and preferences. You can further upload images to enhance the brand's message. The AI poster maker has a collection of royalty-free graphics, images, and illustrations. These design elements enable you to create a professional-grade poster design. In addition to that, you can modify and edit the poster to improve the overall design quality. The poster can be further resized to suit different platforms. The last step is to download the resulting poster design.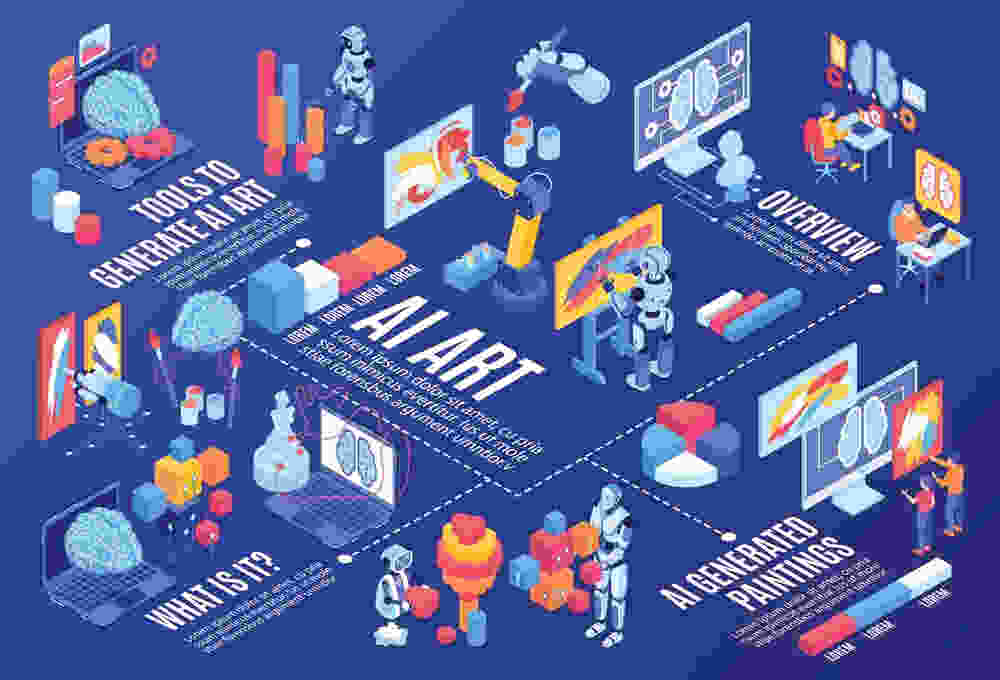 Pros
Simple drag-and-drop interface.
Multiple formats are available to download the files.
Poster designs are compatible with different devices.
Real-time editing is possible.
Customer support is easily accessible.
Cons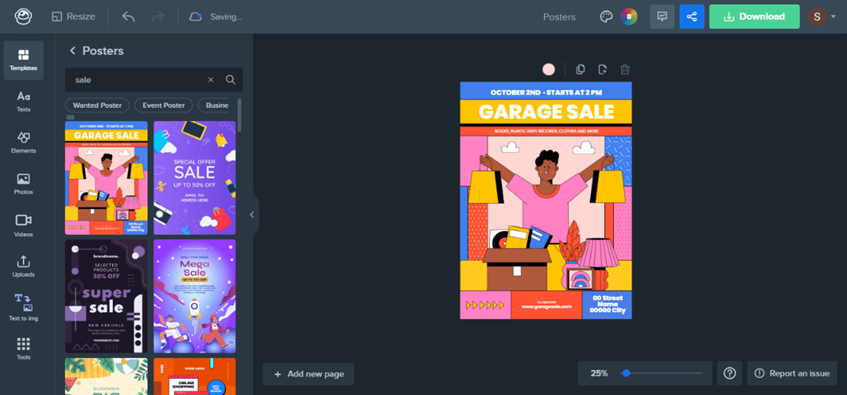 Wepik is last on our list of free artificial intelligence poster generators. It is a web-based tool used for designing visual content. The text-to-image AI feature of the tool helps you create attractive poster designs from text. It can build posters for brand marketing, agencies, and occasions. The online poster maker uses AI algorithms to analyze your prompts. After prompt analysis, it creates a myriad of creative designs. The free poster designer also has a vast library of customizable templates. It has numerous templates related to marketing and social media. Therefore, this online poster maker is best suited for small businesses. Once the template is selected, you can modify it using design elements. The element includes illustrations, icons, and stickers to beautify your poster further. Wepik also offers a variety of font styles to suit your specific needs. The AI writing tool is one of the stand-out features of this free poster generator.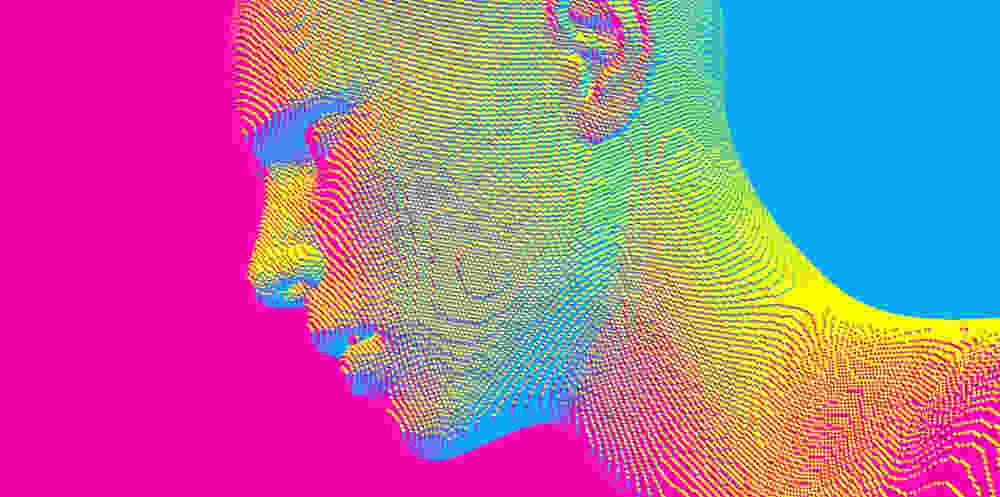 Moreover, the AI poster maker enables you to upload images and videos. You can use this feature to clarify the purpose and identity of your brand. Once the poster design is ready, it can be easily downloaded. You can also resize it if needed.
Pros
Completely free to use.
User-friendly interface.
Download options are available in many formats.
Direct publishing of poster design on social platforms
Cons
AI suggestions may limit creative freedom.
How to Use Artificial Intelligence Poster Generator?
Designing posters using an AI poster maker is a simple process. It involves the following steps:
Select the software of your preference.
Input a specific prompt. You can also use any image of your choice.
Adjust the available design parameters.
Finally, refine the poster with smart-editing tools.
Voila! A stunning new poster is ready. Save or export it.
The AI poster maker analyzes all the information you provide. AI uses its advanced algorithms and learning techniques in the process. As a result, the AI generates multiple templates based on your input. All the poster designs created vary in color, design, and aesthetics. This enables you to experiment with multiple creative possibilities.
Wrap Up
Artificial intelligence poster designers have great potential to craft stunning masterpieces. They save you time and money and provide professional-grade design results. Such AI poster makers are a valuable asset in this fast-paced world of technology. We have recommended the top 5 artificial intelligence poster generators after good research. You can select one for yourself according to your needs and preferences.